Choosing the best Dual Sport gloves for your type of riding, whether trail or adventure riding is important to ensure you get the most enjoyment out of your ride.
Whether it's a weekend trail ride, an enduro, or an adventure touring trip, a small thing like your choice of gloves can make or break your riding experience. If your gloves are doing their job, you shouldn't even be conscious of them.
I have been riding and racing dirt bikes for over 30 years and have worn out more gear than I care to remember. I have used my experience in my selection of 10 of the Best Dual Sport & Adventure gloves available today, starting with the lightweight MX style, though to the more rugged Dual Sport and Adventure riding gloves.
Don't treat gloves as an afterthought when purchasing gear. No matter what gloves you choose, they should provide breathability, flexibility, and protection in the event of a spill.
Quick Summary
Here's a quick summary of 10 of the best Dual Sport gloves reviewed here:
Fox Head Men's Bomber – Top Pick Dual Sport Glove
Klim Mojave Pro
Fox Racing Dirtpaw – Best Budget MX Glove
Cortech Men's DX 2
Alpinestars SMX-1 Air
Scorpion Klaw II Leather Gloves
Alpinestars Highlands Leather Gloves
Klim Dakar Pro
Klim Induction Gloves
Klim Adventure Short Gloves
Top 3 things to consider when choosing your gloves:
Functionality: Priority number one is to buy the right gloves to suit the type of riding you do most.
Do you spend most of your time off-road, or on-road?
Is most of your riding in cold weather, or in the warmer months?
Do you do a lot of wet weather riding? If you buy waterproof gloves will these be too hot for the rest of your riding?
Durability: If you ride off-road mostly and like to ride aggressively, the lighter-weight breathable MX-style gloves will typically be suited to you. The tradeoff is that they don't last as long, but are a lot cheaper than the more durable Dual Sport or adventure gloves.
If you ride on the road a lot more to get to the trails, the thought of your hands sliding along the bitumen will make you look at the longer glove with more protection. You lose a bit of breathability, but again that is the tradeoff for the extra protection.
Value for money: As with anything, you have to weigh up what is the best quality product for your budget. So in this Best Dual Sport & Adventure glove list, I have included my top choice for value for money/quality, top-of-the-range gloves, and inexpensive but still quality gloves.
Features to Look for in a Glove:
Cuff Length: Dirt bike gloves are generally short cuff. They are all about being able to move around. When riding off-road a long cuff can be restricting. For Dual Sport and Adventure riders, it would be a good idea to also carry a long cuff waterproof adventure motorcycle glove in your bag for those long road stretches.
Abrasion resistance: Lightweight off-road gloves tend to be designed more for comfort and breathability, but if you do a fair bit of riding on the road, the bitumen will make short work of these. Dual Sport and adventure gloves need to be tough enough to protect you during a slide on the pavement, so features like knuckle protection and leather palms are the way to go.
Flexibility: The Dual Sport glove needs to be the best of both worlds: you need the flexibility and breathability of the dirt bike glove, but also the durability of a street glove. The best Dual Sport gloves will feature stretch materials to allow movement, reinforced leather palms, and some armor for the top of the hand.
Water Resistance: Off-road gloves are not waterproof. Dual Sport gloves that claim to be waterproof are pretty rare. If you start riding hard off-road in even moderate temperatures, a waterproof membrane will get too warm. Again, it's a good idea to also carry a long cuff waterproof adventure motorcycle glove in your bag if you do a lot of road riding.
The gloves reviewed include lightweight breathable MX style, heavier duty Dual Sport gloves, through to the higher end Adventure Riding gloves.
1. Fox Head Men's Bomber Glove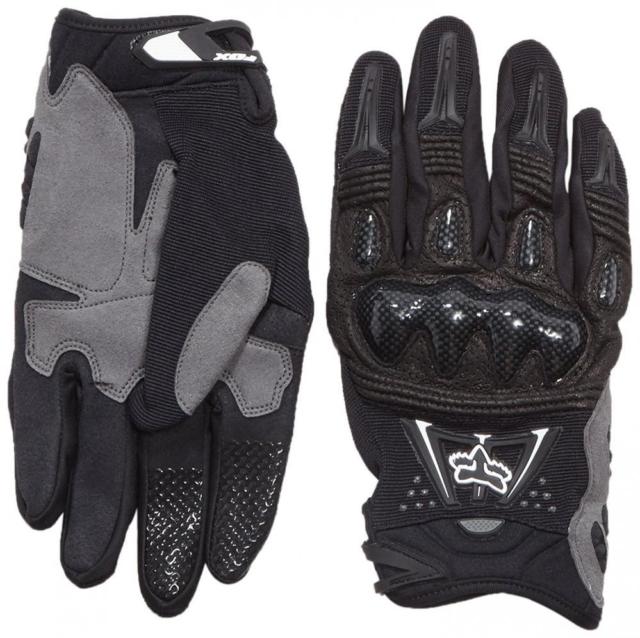 Any dirt bike rider who has ever clipped a tree branch with their hand will appreciate the knuckle protection on these gloves. They are lightweight breathable gloves designed for some aggressive off-road riding, but they also provide all the protection you'll need for off-road riding.
Because of all the protection on the top of the hand, they may feel a bit too warm for the hottest months, but the breathable stretch fabric around the thumb and between the fingers helps counteract this.
The neoprene rubber wet-suit-type material around the cuff gives good protection to your wrist, which is usually the first place to contact the ground when you drop your bike.
The double-thickness Clarino synthetic suede to the palms is a definite bonus, especially if you are prone to getting blisters on your hands.
The silicone wrapping on the first two fingers helps with that fine brake and clutch level control.
Features
Pittards perforated leather across the back for ventilation
Molded Polycarbonate Knuckle pieces for knuckle protection
Elasticated panels on the back of fingers and hand for flexibility
Stretch textile between fingers and around the thumb for breathability and comfort
Double layer Clarino palm with silicone wrapping on middle and index finger for lever control
Pros
Excellent Knuckle protection
Double layer leather to palm
Flexibility and breathability
Cons
No touch screen ability to fingertips
Sizing is on the small side. If in doubt, go a size larger

These gloves are really designed for the off-road rider who does lots of woods riding, enduro riders, and Dual Sport riders who need a bit more protection than the average lightweight MX style glove will give.
2. Klim Mojave Pro Glove
The new Klim Mojave Pro has taken a big leap forward over the older Mojave Pro, with a bigger level of investment also, coming in at about $60. It is at the upper end of the price scale but you know with Klim quality is second to none.
The Mojave Pro is a two to three-season off-road glove for warmer weather.
There are numerous upgrades in protection over the old Mojave. The Poron XRD protection goes across the knuckles and on the back of the fingers.
Combine this with the Pittards micro-perforated leather palm, the rolled leather fingertips, and fully ventilated glove chassis and you have one of the toughest ventilated off-road gloves available today.
What is Poron XRD? It's a dense shock-absorbing foam used in high-impact areas.
Features
Poron XRD impact protection pads to knuckles and fingers
Fully ventilated glove chassis for excellent airflow
Pittards micro-perforated sheepskin to the palms for good grip and resistance to perspiration
Breathable inner material to sides of fingers for increased ventilation
Rolled leather fingertips for better durability and to increase dexterity
Reflective material to the back of the hand for nighttime visibility
TPU and Velcro closure at the wrist for a secure fit
Breathable elastic spacer mesh at wrist closure for increased breathability
Pros
Excellent Knuckle protection
Heaps of ventilation through perforated construction to the entire glove
Longer Neoprene cuff for extra wrist protection
Cons
No touch screen ability to fingertips
No silicone to the first two fingers
Finger sizing is on the narrow side. If you have 'bear claw' hands, these will not be suitable for you.

Note: The Klim Mojave Pro Glove is currently unavailable on Amazon. The Mojave Pro glove is available at Klim
As with all Klim products, you know you're buying quality well-designed off-road gear. They have really set the standard in all their off-road products.
3. Fox Racing Dirtpaw Race Glove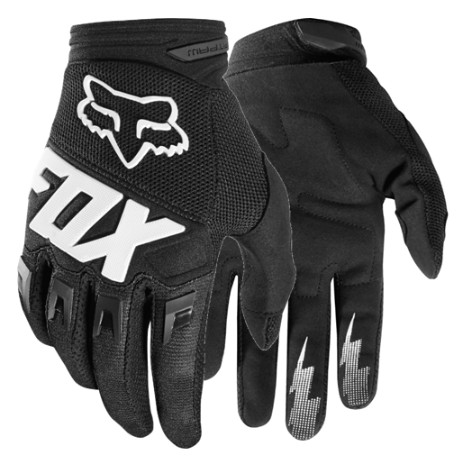 The Fox Racing Dirtpaw is a lightweight high-performing MX glove that comes in at the cost-effective end of the price scale. It has been around for years and has been a firm favorite for MX, enduro, and mountain bike riders because of its durability and reliability.
The 2018 Dirtpaw features a padded palm and knuckles and comes with built-in flexibility over the whole glove. It is a warm-weather glove that gives you plenty of breathability and flexibility.
When you sweat through your hands, that is when blisters are likely to start. The padded Clarino to the palm is a moisture-wicking fabric that allows sweat to dry quickly.
It is not the sort of glove to use if you do any dual Sport riding that involves road riding. The short cuff and light construction make it a strictly off-road glove.
It is certainly a glove that gives you 'bang for your buck'.
Features
Stretch polyester construction which gives you the maximum flexibility
Padded single layer Clarino to palms for comfort
Padded knuckles for extra protection
Stretch mesh to finger gussets
Hook and Loop closure at the wrist for a secure fit
Silicone print on the middle and index finger for lever control
Pros
Excellent hot weather glove with excellent breathability
Built-in stretch for flexibility and comfort
Padded palms to reduce the chance of blisters and improve your grip
Silicone print on first two fingers
Cons
Opening to the glove is quite small. Can be difficult for some to get their hand in
Sizing is on the small side. If in doubt, go a size larger

Fox Racing has been manufacturing off-road gear for years and is a well-known and respected brand, especially in the MX scene.
4. Cortech Men's DX 2 Glove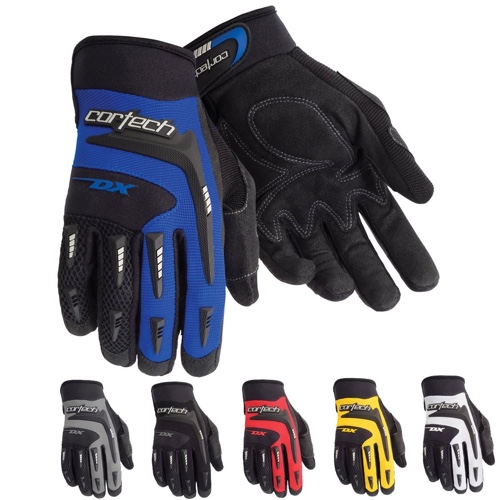 The Cortech Men's DX 2 is another lightweight, breathable warm weather glove in the below $30 price range similar to the Dirtpaw, but offering a little more protection to the wrist with the longer cuff.
The DX 2 glove retains all the elements of the DX gloves from previous years and continues to be a well-built lightweight glove for Dual Sport use.
Although not a glove designed for road use, the extra wrist protection is a bonus if you happen to come off on the road.  But for off-road use where speeds are lower and wrist protection is not a top priority, it's still good to have.
For the price, you will be hard-pressed to find a better Dual Sport glove than the Cortech DX 2. You will have to go up in price if you are looking for more protection.
Features
Clarino 0.8mm material with internal foam padding which is ergonomically designed for better grip comfort
Two-way stretch fabric to the thumb, fingers, and on the top of the hand which helps with flexibility and comfort
Clarino panels located on the thumb to help resist wear from grip flanges
Neoprene knuckle and wrist panels for flexibility, comfort, and roost protection
Stretch elastane material between fingers to help with finger dexterity
TPR (Thermo Plastic Rubber) molded fingers, top of hand panels, and on cuff closures
Pros
Plenty of stretch for flexibility and comfort
Longer cuff for wrist protection offering some road riding protection
Sizing is accurate. They will stretch a bit in time as they wear in
Cons
Minimal protection to the back of the hand
No Silicone print to fingertips

The Cortech DX 2 is your entry-level Dirt bike/Dual Sport Glove that still provides the durability, flexibility, and breathability you find in a more expensive glove.
5. Alpinestars SMX-1 Air Men's Glove
The Alpinestars SMX-1 Air is actually a lightweight street glove. Still, because of the extra protection they have over the average MX glove, and the built-in flexibility and breathability, this makes them excellent for off-road use. They're really more of a hybrid glove.
The main feature of this glove is the carbon knuckle protection, which is great if you get hit by rocks or branches.
If you are a Dual Sport rider who does a bit of road riding, these are built to withstand a fall on the road, being street gloves.
With this glove, the focus is airflow and comfort, and with the additional reinforcement and protection, you're getting the best of both worlds: street-bike protection & durability, but with the flexibility and breathability of an off-road glove.
Features
Molded hard nylon compound knuckle protection
Heavy Duty goat leather construction with 3D mesh inserts on the top of the hand for airflow and comfort
Suede reinforcing on the outer hand with foam cushioning for added abrasion resistance
Stretch inserts between the thumb and index finger, and between the fingers for an improved range of movement
Thumb and Palm reinforcement gives a greater grip on the controls and better seam protection and durability
Pros
Carbon knuckle protection with padding on the inside, so you hardly feel them
Built-in stretch fabric for flexibility
Touchscreen ability to the index finger
Extra built-in protection on the palm and side of the hand is great in the event of a fall on the road
Cons
No silicone wrapping to fingertips
Velcro stitching on wrist prone to fraying

Alpinestars is a leader in motorcycle gear, both for on-road and off-road use. You can be assured of a good-looking stylish product made to the highest standards.
6. Scorpion Klaw II Leather Gloves

The Scorpion Klaw II is a short cuff leather glove that is suitable for 3 season riding – Spring/Summer/Fall.
This is a great bang for the buck glove in the sub-sixty dollar price range for the Dual Sport or adventure rider who spends most of their time on the road.
It is pre-curved in design which gives you a comfortable handlebar grip and there is a double layer of leather on the palm with an extra Clarino layer for longevity and to give a tactile grip on the controls.
A new upgrade is the generous TPU knuckle protection and there is also TPR protection on the fingers, with stretch expansion panels to the back of the fingers mid-digit.
There are two dense foam pads at the heel of the hand and the base of the thumb where you need it most for impact protection.
A neoprene panel at the wrist gives you flexibility and the closure is velcro with a TPR strap with a snap fixing to connect it to the other glove.
It is available in Black and White.
Features
Durable goatskin leather construction
TPU molded knuckle protection
Pre-curved palm and fingers for grip comfort
TPR molded finger protectors
Rib-stretch knuckle expansion panels for flexibility
Neoprene wrist relief panel
Hook and loop wrist closure
Pros
Excellent knuckle protection
Leather construction
Cons
Sizes run about one size small
No silicone print on the first two fingers

7. Alpinestars Highlands Leather Gloves
The Alpinestars Highlands Glove is for riders who spend about an equal amount of time on the road as off-road.
It is a 2 season warm weather short glove that gives you the protection you need on the street and the flexibility you need for off-road riding.
On the back of the hand, you have polymer knuckle protection with 3D mesh for airflow and a full-grain leather palm with strategically positioned abrasion-resistant 'Aramidic' fiber reinforcements.
There are stretch panels across the back of the fingers and between the thumb and forefinger for a better range of motion.
So you get breathability as well as comfort and you have the touch screen fingertips so that you can operate your electronic devices without having to take your gloves off.
The Highland glove is ready to tackle the toughest off-road riding, and at equally at home cruising the streets.
It also comes in black if brown isn't your thing.
Features
Constructed from durable goat leather with 3D mesh top surface which provides optimized airflow
An innovative microfiber and PU grip inserts strategically positioned on the palm and thumb for excellent grip control and durability
Premium full-grain leather palm construction which is durable and offers excellent abrasion resistance
Ergonomically engineered 'ARSHIELD' reinforcements consisting of high abrasion-resistant 'Aramidic' fiber and polyamide strategically positioned on the outer hand with padding on landing zones.
Excellent impact performance is provided by an advanced over-molded polymer knuckle protector.
Palm and thumb are padded with energy-absorbing EVA foam for additional protection.
Pre-curved finger construction reduces rider fatigue while offering excellent comfort and fit
Wrist flap with velcro on the cuff provides a secure closure
Touchscreen-compatible index fingertip and thumb allow the use of smartphone and GPS systems
Pros
Touch screen ability to index finger and thumb
Good Knuckle armor
Cons
Sizing is on the small size. If in doubt go one size up
Seams along each thumb are noticeable at first, but just need some breaking in

8. Klim Dakar Pro Glove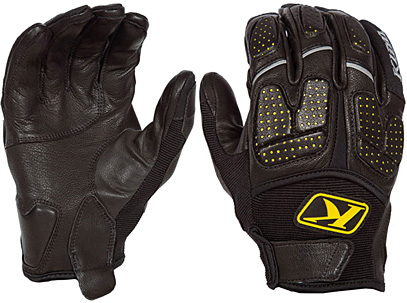 The Klim Dakar Pro is the beefed-up big brother to the standard Dakar glove.
It is an armored and ventilated leather glove that is designed to give the most amount of protection possible, without losing the lightweight breathable, flexible feel you get from an MX style glove.
The upgrades on the Dakar Pro are:
Leather construction with reinforcing on the palm, improved breathability thanks to the perforations between the fingers and nylon panels on the back of the hand, Poron XRD padding on the knuckles, backs of fingers, and heel of the palm where you're most likely to need it in a fall.
With all these features it gives you a level of abrasive resistance and impact protection that you don't get in a lightweight MX type glove. Top-level protection for the under $100 price range.
Features
Perforated leather in optimum ventilation zones for breathability
Corded nylon stretch panel on top of the hand for extra flexibility
Poron XRD padded knuckles, fingers, and wrist for impact protection
Lap seam construction on palm side fingers
3M Scotchlite reflective material on fingers for nighttime visibility
Pros
Excellent knuckle and finger protection
Rubber squeegee on back of left thumb for wiping goggles or visor lens
Longer cuff for wrist protection
Pull tab on palm
Cons
Sizing is on the small side. If in doubt, go a size larger
No silicone wrapping to fingertips
No touchscreen ability to fingertip

The Klim Dakar Pro is a highly durable leather adventure glove that is designed to still be flexible and breathable enough to handle some aggressive off-road riding.
9. Klim Induction Glove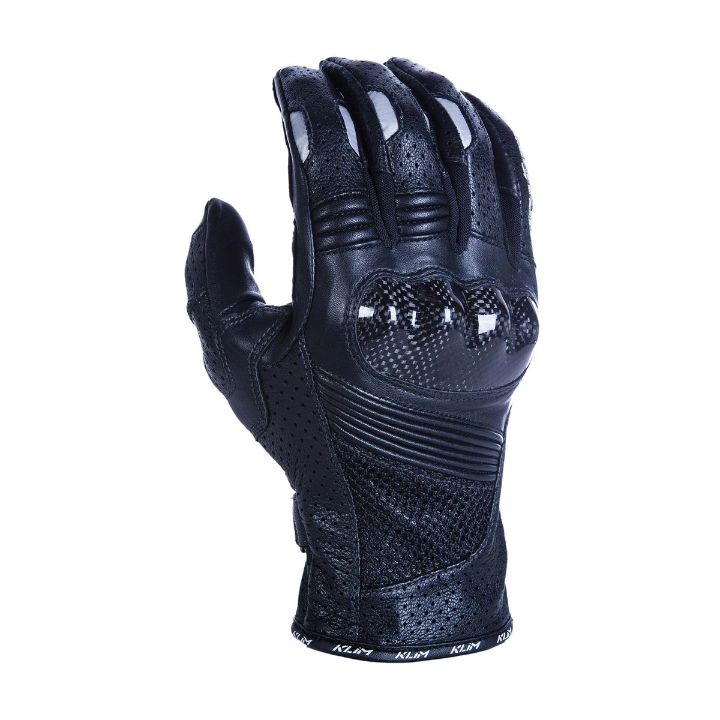 The Klim Induction glove is a warm-weather adventure touring glove designed to reduce fatigue by keeping your hands cool and comfortable during a long ride.
They are constructed using premium-grade perforated leather and 1000 Denier Mil-Spec mesh. The Quick-Dry liner provides a wicking capability on the inside to draw sweat away from your hands.
What is Pittards Armortan? It's a high-end style of cowhide leather. The way that the leather is tanned has a ceramic infusion built into the fibers of the leather. This means that it has better abrasion resistance, better water resistance, and is more durable over time.
What is Poron XRD? It's a dense shock-absorbing foam that Klim uses in a lot of their higher-end jackets. Great that they've used it on the base of the palm of this glove.
This is the short cuff version, but the cuff is still longer than the average short cuff glove, and there is a classic and simple wrist adjuster strap.
Features
Pittards Armortan ceramic reinforced leather palm which is more durable than plain leather and provides excellent protection and good grip
Carbon fiber knuckle impact plate and integrated Poron XRD extreme impact protection foam for the back of the hand protection
Accordion gussets at the base of the finger and back of knuckles for maximum flexibility
Micro-fine mesh between fingers for extra ventilation
Moisture-wicking liner material to draw sweat away from your skin
Foam pad at the base of the thumb which is right where you need it for those long rides
Kevlar-coated Poron XRD impact protection foam padding at the base of the palm and outer wrist, which is right on the landing zone for a fall on the road.
Colors: Black, White
Pros
superior knuckle protection
Ceramic reinforced leather palm
Accordion stretch panels on the back of the hand
excellent ventilation
Cons
Can slightly feel the extra stitching on the inside of the fingers at mid-knuckle where the reflective panels are located
No touchscreen ability to fingertip

10. Klim Adventure Short Glove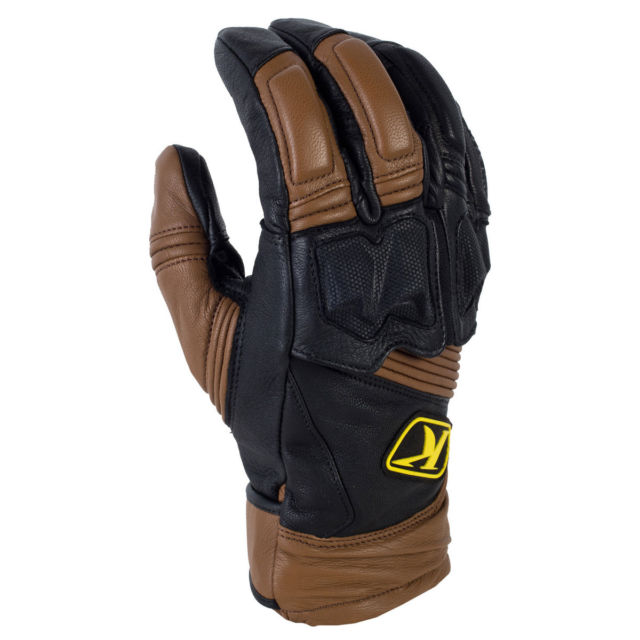 The Klim Adventure Short is the ultimate all-terrain adventure glove which was the upgrade on the Klim Element glove in 2016.
They took the best off-road features of the Element glove and refined them and put them into the Adventure. It is now a super durable waterproof Gore-Tex glove for warm weather three-season adventure riding in the spring to fall transition months.
Klim has selected premium materials for these gloves. The entire chassis is a durable leather with reinforcement layers to the palm. To maintain dexterity there are gusseted movement panels on the top of the knuckles, at the fingers, and base of the thumb.
The main protection is in the leather itself, with the added protection of Poron XRD impact protection at the fingers and palm heel. The knuckle protection is backed by silicone padding and covered in a rubber-coated ceramic welded material.
What is Gore Grip technology? It is strategically placed grip tape inside the glove material so that the different layers of material in the palm don't feel like they're sliding around, and gives you a good firm grip on the bars.
Even in the short glove version (there's an Adventure Long version) you're getting a top level of protection and comfort, which makes it one of the best adventure and Dual Sport riding gloves available.
Features
Gore-Tex and Gore Grip technology
All leather construction
Ceramic print knuckle and palm panels
3D Silicone knuckle pads
Accordion stretch panels on the back of the hand
Poron XRD impact protection foam padding at the base of the palm and fingers
Moisture-wicking liner material to draw sweat away from your skin
Visor/goggles wiper on index finger for wet weather riding
Assist loop to aid easy entry
Velcro wrist closure
Colors: All Black, Black/Brown
Pros
Excellent knuckle and finger protection
Waterproof due to Goretex construction
Good flexibility due to stretch panels on the back of the hand
Cons
May feel a bit hot in warmer summer months due to the Goretex layer

Note: The Klim Adventure Short is unavailable on Amazon. It has been discontinued by Klim and replaced by the Adventure GTX Short Glove. Alternative link to Klim
Final Thoughts:
All of these gloves are excellent. They all excel in their own way for the use they were designed for. They all have overwhelmingly positive reviews on Amazon. Click the links to read what others say about them.
Top Pick: Fox Head Men's Bomber Glove. Best lightweight Dual Sport style glove for its protection, breathability, and value for money
Best Budget MX glove: Fox Racing Dirtpaw Glove. A name-brand MX glove for under $30 that has been a popular choice for years.
Related Posts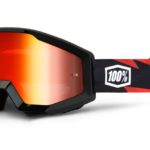 6 Best Dirt Bike Goggles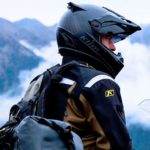 6 Best Dual Sport Helmets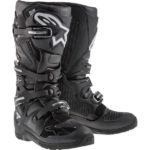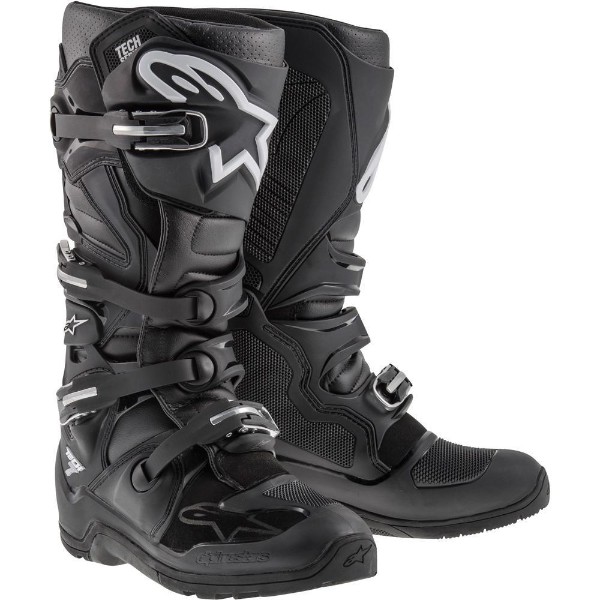 10 Best Boots For Enduro & Dual Sport Riding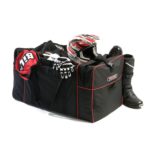 10 Best Gear Bags for Dirt Bikes 2018
Is there a glove you think should be on this list? Have you used any of these gloves? Please feel free to share your thoughts with readers to help them choose the best glove for them.
Please follow and like us: