The Dakar Rally is considered to be the toughest motorsport event on the planet. The Dakar Rally (formerly known as the Paris-Dakar Rally) started in 1979 and derives its name from the original finishing location.
In the early days, they had rainy and muddy conditions in Europe before heading into north-west Africa, through dunes and harsh country, finishing at Dakar, Senegal.
In 2008, the event was canceled because of terrorist threats in Mauritania. Events from 2009 to 2019 were held in South America, but 2020 marks the start of a new era with Saudi Arabia staging the event for the next 5 years.
Saudi Arabia becomes the 30th country to host the Dakar. The event started in Jeddah on 5th January and finishes in Qiddiya on 17th January after 12 stages of competition.
Two times Dakar winner
Toby Price
from Australia will defend his title in the mainly sandy conditions which will be favorable to him.
After winning the 2019 Dakar riding with a broken wrist, it will be interesting to see how he goes in 2020 injury-free.
"Shakedowns are complete, bike is great thanks to my mechanic Joe" says Toby.
Best of Luck, Toby.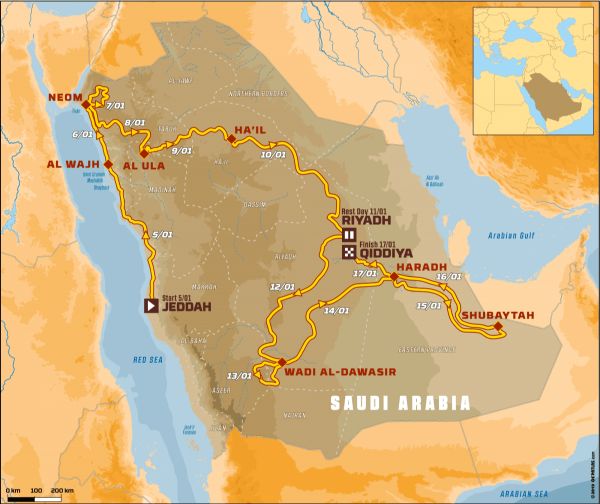 STAGE ONE
Toby Price Wins Stage 1
The opening stage was run between Jeddah and Al Wajh, a distance of 319km.
Two-Time Dakar winner Toby Price won the opening stage of the 2020 Dakar Rally, despite having issues with his roadbook. He finished ahead of his KTM factory racing teammates Matthias Walkner in third, and Sam Sunderland finishing in fifth place.
Toby said: "I had a really good day today up until about 140 kilometers where my road book started to play up a bit. Something had got in there and jammed the rollers and so I was left without a roadbook for a while. Luckily, I caught Matthias after he lost a little time and I was able to stay with him towards the finish. My result looks good on paper, but it turned out to be quite a tricky day. I'm also opening the stage tomorrow, so hopefully, that'll go well, too."
American Ricky Brabec led for about the first 100 km before being overtaken by Price. Brabec kept the gap close for the whole stage, with Price recording a stage win by 2m 05s.
RESULTS STAGE 1
1. Toby Price (AUS), KTM, 3:21:33
2. Ricky Brabec (USA), Honda, 3:21:38 +0:05
3. Matthias Walkner (AUT), KTM, 3:22:13 +0:40
4. Kevin Benavides (ARG), Honda, 3:24:04 +2:31
5. Sam Sunderland (GBR), KTM, 3:24:48 +3:15
STAGE TWO
Ross Branch Wins Stage 2 – Sunderland Takes Overall Lead
Ross Branch won the second stage of racing in the bike category, becoming the first winner from Botswana. Branch, who is a privateer KTM entrant in his second Dakar, moved to the front a little over halfway through the 393km stage.
Early leader Joan Barreda (Honda) dropped almost four minutes ahead of the 214km mark.
Toby Price has dropped to ninth overall after finishing 17th in the second stage. Price endured a day to forget on the ride from Al Wajh to Neon.
He had the unenviable task of opening stage two. The limited amount of time (25 mins) riders get to acquaint themselves with the roadbook makes navigating the stage from the front of the pack very tricky.
Toby Price: "Starting first is always going to be a disadvantage and today was a day I knew the rest of the field would make time on me."
"I don't plan on starting first too many more times after my efforts today."
At the end of stage 2 Price gave away 12 minutes to Branch.
Laia Sanz, riding KTM's sister brand Gas Gas this year, suffered a crash towards the start of the stage and lost some 20 minutes before she was able to continue.
After two days of racing, Britain's Sam Sunderland leads the overall rankings followed by Chilean Pablo Quintanilla and Argentina's Kevin Benavides.
The three other Australians in the motorcycle category performed well in Stage Two.
Queensland veteran competitor Rodney Faggotter finished just two spots behind Toby in 17th and is 17th outright for the stage.
Ben Young (KTM) finished 93rd and is 92nd in the overall rankings while Matthew Tisdall finished 132nd and is 131st outright.
RESULTS STAGE 2
1. Ross Branch (BWA), KTM, 3:39:10
2. Sam Sunderland (GBR), KTM, 3:40:34 +1:24
3. Pablo Quintanilla (CHI), Husqvarna, 3:41:31 +2:21
4. Kevin Benavides (ARG), Honda, 3:42:50 +3:40
5. Luciano Benavides (ARG), KTM, 3:42:54 +3:44
17. Toby Price (AUS), KTM, 3:51:23 +12:13
RESULTS STAGE 2 Overall
1. Sam Sunderland (GBR), KTM, 7:05:22
2. Pablo Quintanilla (CHI), Husqvarna, 7:06:40 +1:18
3. Kevin Benavides (ARG), Honda, 7:06:54 +1:32
4. Matthias Walkner (AUT), KTM, 7:07:22 +2:00
5. Ricky Brabec (USA), Honda, 7:09:33 +4:11
STAGE THREE
Ricky Brabec Wins In Honda Top 3
American Ricky Brabec won the third stage to take the lead over runner-up and team-mate Jose Florimo, while fellow Monster Energy Honda Team 2020 rider Kevin Benavides took out third for a Honda podium lock-out.
The 414km loop from Neom to Neom was a mixture of terrain with riders encountering massive rocks, canyons and navigational challenges while reaching the highest point of 1,400m.
Toby Price has risen to sixth overall despite another navigation issue.
After winning stage one and finishing 17th in stage two, Tuesday's result has lifted Price up to sixth overall.
Price and Frenchman Xavier de Soultrait were both in the top four when a roadbook error displayed a waypoint incorrectly.
Rally officials were then forced to record the duo's stage times before they veered off track, which saw Price rise from 11th to fifth in the Neom stage.
Toby Price: "In the early parts of the stage we were getting on pretty damn good but unfortunately, I made a few mistakes which really cost me."
"One of those mistakes was towards the end of the stage, where I had a hard time tracking down a specific WPC which was marked in a really tricky position; not sure what the go is here."
Riders once again received the ready-to-use roadbooks just minutes before the race start, but this didn't slow down Brabec, with the American rider registering the best times at the various waypoints of the special before reaching the goal back in Neom.
The Californian now leads in the general standings and was the clear leader even before the shortened course was used to determine the results.
Australian Rodney Faggoter (Yamaha) finished 14th in the third stage, moving up to 15th outright, with countrymen Trevor Wilson (89th), Ben Young (90th) and Matthew Tisdall (125th).
RESULTS STAGE 3
1. Ricky Brabec (USA), Honda, 3:29:31
2. Jose Florimo (CHL), Honda, 3:35:27 +5:56
3. Kevin Benavides (ARG), Honda, 3:36:53 +7:22
4. Matthias Walkner (AUT), KTM, 3:37:44 +8:13
5. Toby Price (AUS), KTM, 3:38:06 +8:35
RESULTS STAGE 3 Overall
1. Ricky Brabec (USA), Honda, 10:39:04
2. Kevin Benavides (ARG), Honda, 10:43:47 +4:43
3. Matthias Walkner (AUT), KTM, 10:45:06 +6:02
4. Joan Barreda Bort (ESP), Honda, 10:50:06 +11:02
5. Jose Ignacio Cornejo (CHL), Honda, 10:50:23 +11:19
STAGE FOUR
Jose Cornejo wins Stage 4 – Brabec Retains Lead
Stage 4 of the Dakar Rally was a long day in the saddle for riders, who needed to complete a total of 672 kilometers, including a 453-kilometer timed special, offering a mix of sandy pistes and travel tracks, traveling from Neom through to Al-Ula.
It was a continuation of the battle for the overall lead as Honda's Ricky Brabec held his overall lead from Honda teammate Kevin Benavides. KTM's Sam Sunderland was denied the victory and relegated from first to eighth place after being hit with a time penalty for speeding in a restricted zone.
This left Jose Cornejo as stage winner from teammate Kevin Benavides, while Ross Branch completed the top three, with only a minute separating the three. Paulo Gonçalves then completed the top four places.
Jose Cornejo: "I'm very happy with the stage victory. The truth is that I wasn't expecting it with Sam's penalization. I'm really pleased to have achieved my first Dakar stage win. Today was a very long stage, very demanding physically and above all mentally. The first part was very fast where there was practically no time difference between the riders. From the first refueling, difficult navigation areas began with poorly visible tracks and many tracks on either side. It was quite difficult until I have caught Ricky approximately at kilometer 220 and we helped each other to open the track until the second refueling. It was a difficult stage where we went through some very beautiful places. I'm very happy with this stage in which we kept a cool head to be able to find the route more easily."
Toby Price has edged up to fourth place overall after coming sixth behind Californian Ricky Brabec. The Australian finished three minutes behind Chile's Jose Ignacio Cornejo.
Australian Rodney Faggotter finished Stage Four in 18th position on his Yamaha, 13min-4s off the leader, moving into 17th in the standings.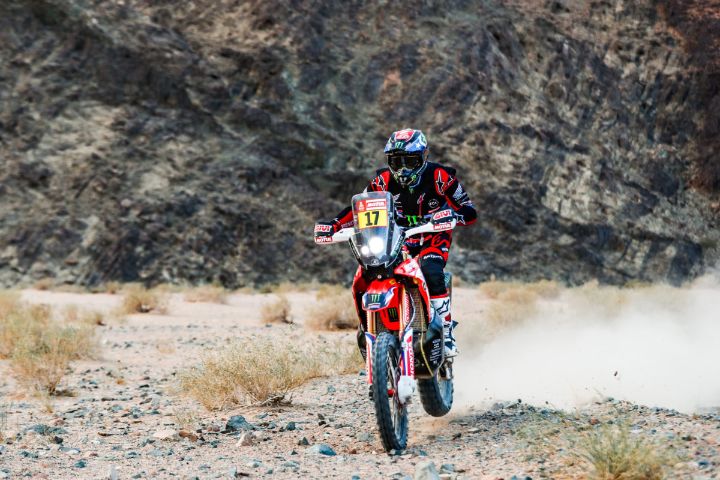 RESULTS STAGE 4
1. Jose Ignacio Cornejo (CHL), Honda 4:24:51
2. Kevin Benavides (ARG), Honda, 4:25:26 +0:35
3. Ross Branch (BWA), KTM, 4:25:46 +0:55
4. Paulo Gonçalves (PRT), Hero, 4:27:02 +2:11
5. Ricky Brabec (USA), Honda, 4:27:39 +2:48
RESULTS STAGE 4 Overall
1. Ricky Brabec (USA), Honda, 15:06:43
2. Kevin Benavides (ARG), Honda, 15:09:13 +2:30
3. Jose Ignacio Cornejo (CHI), Honda, 15:15:14 +8:31
4. Toby Price (AUS), KTM, 15:18:52 +12:9
5. Pablo Quintanilla (CHI), KTM, 15:24:35 +17:52
STAGE FIVE
Price Wins Stage 5 – Sunderland Crashes Out
Stage 5 was run from Al-Ula to Ha'il over a massive 564 km.
Toby Price became the first two-time stage winner of the 2020 Dakar Rally when he took the Stage 5 win. Price took the lead at the beginning of the stage and was fastest through the remaining four checkpoints.
The Red Bull KTM rider finished 1:12s ahead of Rockstar Energy Husqvarna Factory Racing's Pablo Quintanilla, with the second factory Husqvarna of American Andrew Short taking third, his first top-three of the rally. Short finished 2:32s behind Price and sits 12th overall, 1:1.33s off the lead.
Toby Price: "It's been a good day, except for my teammate Sam Sunderland taking a nasty crash, wishing him a speedy recovery. I pushed hard at the start, made some good navigational calls and by then I caught up with the Honda boys. It's been a good stage, it's actually the first time I've ridden with a big group, so it was quite enjoyable, but at the end of the day we are competitive and need to stay in front of them! We're happy with the day and we'll see how day six goes now… I think that's what we're up to… I'm starting to lose count of it all!"
Price's KTM teammate, Britain's Sam Sunderland crashed heavily and is now forced to retire from the event. The 30-year-old injured his back and left shoulder in the fall 187km into the stage.
RESULTS STAGE 5
1. Toby Price (AUS), KTM, 3:57:33
2. Pablo Quintanilla (CHL), Husqvarna, +1:12
3. Andrew Short (USA), Husqvarna, +2:31
4. Ricky Brabec (USA), Honda, +3:03
5. Matthias Walkner (AUT), KTM, +6:54
RESULTS STAGE 5 Overall
1. Ricky Brabec (USA), Honda, 19:07:19
2. Toby Price (AUS), KTM, +9:6
3. Kevin Benavides (ARG), Honda, +11:32
4. Pablo Quintanilla (CHL), Husqvarna, +16:01
5. Jose Ignacio Cornejo (CHL), Honda, +20:25
STAGE SIX
Ricky Brabec Dominates – Price Moves To Third
Ricky Brabec continues to lead the Dakar 2020 standings, claiming the Stage Six win, in what is the second-longest stage of the event running from Ha'il to Riyadh with 830 km covered inclusive of a 477-kilometer special consisting mainly of sandy tracks and dunes.
Andrew Short put in a good performance, but in the true spirit of Dakar chose to stop to assist Toby Price by giving him his rear wheel after Toby had a rear tire problem.
Andrew ended up completing the stage in 24th place, just 35 minutes behind the winner.
Fellow Monster Honda Team rider Joan Barreda finished second, trailing Brabec by 1 min-34s, while KTM's Matthias Walkner completed in third place, 2 min-45s behind Brabec.
In the overall standings, Toby moves up to third position, just 25 minutes down on Brabec.
Ricky Brabec: "The day was good. I didn't really have a strategy. I wanted to catch Andrew Short who started in front of me and I did just that. I rode with him all day. It was very unfortunate for Toby because he had a wheel mishap at maybe kilometer 330. I rode to the end and now we have a rest day and I have a 20-minute lead in the general and that's really awesome…The problem with Toby is going to set him on fire next week, so we have to be careful next week. Hopefully, we can stay ahead of him. I won the stage today so I have to lead out. Hopefully, I can lead out well. So we will rest and put our things together and hope for a good day."
Toby Price: "Today's stage started out really good, we were navigating really well from the front and was only losing small amounts of time on the riders who started behind me so I was quite happy with the way I was racing, but unfortunately around the 400km mark my rear tire fell off! I have no idea why this would have happened but I'm super grateful that Andrew Short pulled up and gave me his wheel which allowed me to get to the finish as quick as possible so thank you again for this mate! Overall I'm pretty gutted that this is how we finished up today but I guess that's just how it goes sometimes!"
Andrew Short: "It was certainly a very different day for me today. I was really fast at the beginning of the stage – I started third and was able to push right away to try and catch my teammate in front of me. Things were going really good, the sand was a lot of fun to ride. About 50 kilometers from the end I stopped to help Toby. In situations like today you have to think quickly, I figured I was an hour down already in the overall after a tough couple of stages early on, so I helped my friend. Overall, I'm happy because I rode really well today and was able to mix it with the top guys. Some rest tomorrow will be good, and then it's all systems go for the second half of the race."
Jose Cornejo and Joan Barreda are coming fourth and fifth overall, while Rodney Faggotter currently sits 13th.
Rodney Faggotter: "Position 16th and up to 13th overall! Very happy with how things are going and to make it to the rest day tomorrow in good shape. Time for some sleep!"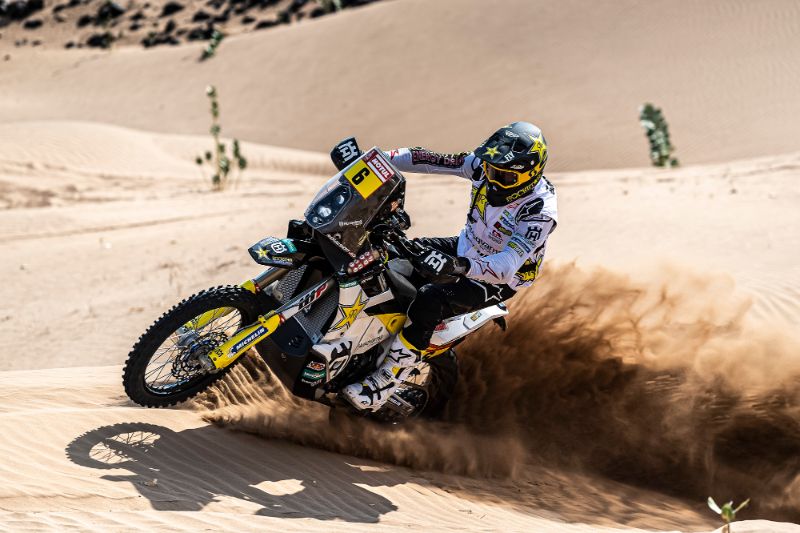 RESULTS STAGE 6
1. Ricky Brabec (USA), Honda, 4:36:28
2. Joan Barreda Bort (ESP), Honda, +1:34
3. Matthias Walkner (AUT), KTM, +2:45
4. Pablo Quintanilla (CHL), Husqvarna, +4:55
5. Luciano Benavides (ARG), KTM, +5:02
RESULTS STAGE 6 Overall
1. Ricky Brabec (USA), Honda, 23:43:47
2. Pablo Quintanilla (CHL), Husqvarna, +20:56
3. Toby Price (AUS), KTM, +25:39
4. Jose Ignacio Cornejo (CHL), Honda, +25:41
5. Joan Barreda Bort (ESP), Honda, +32:58
STAGE SEVEN
Paulo Gonçalves Dies In Fatal Crash
Dakar 2020 is mourning the death of Portuguese Dakar Rally legend Paulo Gonçalves who died after crashing heavily about 276km into the special stage from Riyadh to Wadi Al Dawasir on Sunday.
40-year-old Gonçalves was taking part in his 13th Dakar since making his debut in 2006.
He was an experienced rider who had competed in Dakar on three continents, from Africa to South America, and this year in the Middle East.
He was a runner up to Marc Coma in 2015 and has been a top 10 finisher four times.
"The organizers received an alert at 10:08 and dispatched a medical helicopter that reached the biker at 10:16 and found him unconscious after going into cardiac arrest," organizers said in a statement.
"Following resuscitation efforts in situ, the competitor was taken by helicopter to Layla Hospital, where he was sadly pronounced dead."
"The entire Dakar caravan would like to extend its sincere condolences to his friends and family."
Australian defending champion Toby Price was the first to discover the fallen Gonçalves lying in the sand and explains below how the situation unfolded.
"Paulo took off into the stage about five minutes before me and I came over a small crest and saw a rider down and it was Paulo. Worst fears kicked in cause I knew this one was serious. I called for help ASAP and helped get him on his side (plus more serious checks). Then tried calling for more help and by this stage, Stefan Svitko (also a champion) had arrived and was helping where he could. The first helicopter arrived and Luc Alphand was starting to help and as the medical helicopter arrived they were already on CPR and the doctors got to our sides and worked all they could. Helping to hold drip bags, getting bags of medical equipment and guiding other riders around a bad scene. We all worked as long as we could but there was nothing we could do. I helped assist in carrying him to the helicopter as it was the right thing to do. I was first at his side and wanted to be the last to leave. We will miss your smile and laughter in the bivouac Paulo. My last 250km of the special stage was tough, I'm dehydrated from tears. At the moment I'm not even worried about the result, I couldn't care. Many thoughts with family and friends on this day, we don't start the rally day 8 for bike #8 in respect to family and friends and the loss of a HERO.. Thank you to everyone for the messages of support worldwide, especially those from Portugal with all the kind things. We are human and this is nothing but just a race, I would give up all my wins to have any of my fellow racing mates back with us."
The organizers have decided after consultation with the races' motorcycle fraternity to cancel stage eight of the race on Monday "in order to give the riders time to mourn their friend".
RESULTS STAGE 7
1. Kevin Benavides (ARG), Honda, 4:36:22
2. Joan Barreda Bort (ESP), Honda, +1:23
3. Matthias Walkner (AUT), KTM, +4:17
4. Luciano Benavides (ARG), KTM, +4:48
5. Ricky Brabec (USA), Honda, +4:52
RESULTS STAGE 7 Overall
1. Ricky Brabec (USA), Honda, 28:25:01
2. Pablo Quintanilla (CHL), Husqvarna, +24:48
3. Jose Ignacio Cornejo (CHL), Honda, +27:01
4. Toby Price (AUS), KTM, +28:44
5. Joan Barreda Bort (ESP), Honda, +29:29
STAGE EIGHT –  Cancelled For Bikes
STAGE NINE
Quintanilla Wins Stage 9 – Toby Price Moves To Third Overall
After stage 8's cancellation, it was Pablo Quintanilla who took the victory in stage 9, a 476km route between Wafi ad-Dawasir and Haradh. 300 kilometers in and the top four riders were separated by less than a minute.
It was Quintanilla's first stage win in the 2020 rally. Under pressure from Toby Price and the Honda duo of Joan Barreda and Ricky Brabec, Quintanilla pulled away to win and eventually finished ahead of Price by 1m 54s.
Ross Branch (KTM) was fifth ahead of Benavides brothers Kevin (Honda) and Luciano (KTM).
American Ricky Brabec still leads overall by 20m 53s over Quintanilla in second, with Price and Barreda moving up to third and fourth respectively.
Toby Price: "Another long stage today covering 410km wide open at top speed, with the stage been so fast it is really difficult to make any time up on other competitors due to us all being able to follow and do much the same."
"That been said, I'm happy to have that stage behind me and now I can really focus on the small number of remaining days to try and close this gap up to the lead, bring in the marathon stage tomorrow."
RESULTS STAGE 9
1. Pablo Quintanilla (CHL), Husqvarna, 3:30:33
2. Toby Price (AUS), KTM, +1:54
3. Joan Barreda Bort (ESP), Honda, +2:42
4. Ricky Brabec (USA), Honda, +3:55
5. Ross Branch (BWA), KTM, +5:30
RESULTS STAGE 9 Overall
1. Ricky Brabec (USA), Honda, 31:59:29
2. Pablo Quintanilla (CHL), Husqvarna, +20:53
3. Toby Price (AUS), KTM, +26:43
4. Joan Barreda Bort (ESP), Honda, +28:16
5. Jose Ignacio Cornejo (CHL), Honda, +29:29
STAGE TEN
Barreda Wins Shortened Stage 10 – Honda Takes Top Three Places
Stage 10 was set to test riders and their machines over a 534km timed special from Haradh to a temporary overnight bivouac at Shubaytah, but in the interest of safety, the stage was cut to 345km, with strong winds proving an unexpected risk. Riders traveled to the marathon bivouac untimed.
Pablo Quintanilla lead the riders into the special, followed by Toby Price three minutes behind, then Joan Barreda three minutes back from Price.
Barreda stamped his authority on the special, leading Matthias Walkner and Ricky Brabec. After 223km with overall leader Ricky Brabec closing in, and Toby Price dropping to three minutes off the leader, now behind Kevin Benavides.
When riders resumed the special after the neutralized section they had 175km left to run, but with conditions deteriorating further, the race direction halted the stage after 345km.
The final stage results were taken from the neutralized section. Joan Barreda Bort won with a time of 2hr-11mins-42s for the day, followed by Ricky Brabec and Kevin Benavides making it Honda 1-2-3. Brabec and Honda are now odds-on favorites to end KTM's 18-year winning streak at the Dakar.
Barreda's stage victory now puts him in third overall, displacing Toby Price with two stages left to run. Brabec continues to lead and is now a massive 25:44s clear of Quintanilla.
Toby Price: "My day has gone well. It's a little frustrating that the stage was cut short as I was planning on finishing a little further back to make up more time tomorrow. It is what it is and of course, it was definitely the right decision to make regards safety. The good news is, the bike's in good shape and we're all ready for tomorrow. Unfortunately, I'll still be starting quite near the front, so it'll be tough to make up a lot of time on the leaders, but I'm feeling strong and looking forward to the last couple of days."
RESULTS STAGE 10
1. Joan Barreda Bort (ESP), Honda, 2:11:42
2. Ricky Brabec (USA), Honda, +1:07
3. Kevin Benavides (ARG), Honda, +2:31
4. Toby Price (AUS), KTM, +2:57
5. Luciano Benavides (ARG), KTM, +4:14
RESULTS STAGE 10 Overall
1. Ricky Brabec (USA), Honda, 34:12:18
2. Pablo Quintanilla (CHL), Husqvarna, +25:44
3. Joan Barreda Bort (ESP), Honda, +27:09
4. Toby Price (AUS), KTM, +28:33
5. Jose Ignacio Cornejo (CHL), Honda, +41:31
STAGE ELEVEN
Quintanilla Wins – Brabec Leads With One Stage To Go
Stage 11 saw riders cover 744kms from Shubaytah to Haradh, with a timed special of 379kms.
The three Honda riders Brabec, Quintanilla & Kevin Benavides set off first in the stage which featured 100 kilometers of dunes at the beginning of the special, favoring those pursuing the frontrunners and a group soon formed including Joan Barreda, Ricky Brabec, and Kevin Benavides, all finally making it to Haradh without difficulties.
Reaching the special it was Pablo Quintanilla leading Matthias Walkner and Luciano Benavides, but 103 km in it was Luciano who was setting the pace, three-minutes ahead of Toby Price.
Matthias Walkner closed in on leader Quintanilla, just 11-seconds behind at kilometer 212, with Brabec falling further behind.
Pablo Quintanilla took the stage win from Matthias Walkner, with just nine-seconds between the two riders. Luciano Benavides was just under 3 minutes behind in third.
Chilean rider José Ignacio Cornejo finished fourth on the day, less than three minutes behind his fellow-countryman Quintanilla.
Ricky Brabec holds on to the lead that he has held since day three. The American maintained his advantage at the top of the general rankings, despite dropping 12 minutes to the day's eventual winner Quintanilla and now is looking good in his bid to end Honda's 31-year drought and become outright Dakar Rally winner.
Pablo Quintanilla: "Honestly, the stage was really tough today – all off-piste and very fast. I felt good and was able to push as hard as I could. Overall, I'm really happy with my race and to be in this position going into the final day. After difficult months I have had coming back from injury, it feels great to be here and second overall going into tomorrow. As always I will give my all and we'll see what will happen."
RESULTS STAGE 11
1. Pablo Quintanilla (CHL), Husqvarna, 4:09:22
2. Matthias Walkner (AUT), KTM, +0:09
3. Luciano Benavides (ARG), KTM, +2:48
4. Jose Ignacio Cornejo (CHL), Honda, +2:53
5. Toby Price (AUS), KTM, +5:49
RESULTS STAGE 11 Overall
1. Ricky Brabec (USA), Honda, 38:33:28
2. Pablo Quintanilla (CHL), Husqvarna, +13:56
3. Toby Price (AUS), KTM, +22:34
4. Matthias Walkner (AUT), KTM, +29:53
5. Jose Ignacio Cornejo (CHL), Honda, +32:36
STAGE TWELVE – FINAL STAGE
Brabec And Honda Win Dakar 2020 – Toby Price Third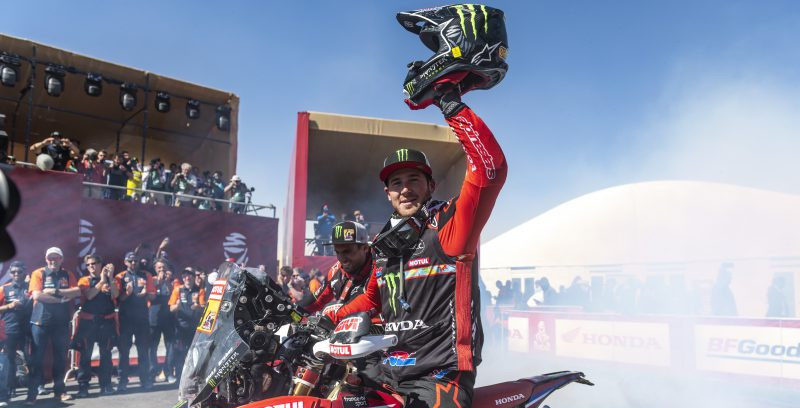 Californian Ricky Brabec (Monster Energy Honda Team) has taken the overall victory in the 2020 Dakar Rally. He becomes the first American to achieve the feat and ends KTM's 18-year Dakar winning streak.
Brabec finished second to Honda teammate Jose Ignacio Cornejo by 53 seconds on the final stage from Haradh to Qiddiya, but it was enough to give him a 16:26s victory over Rockstar Energy Husqvarna's Pablo Quintanilla.
The win is compensation for Brabec, who was leading the 2019 race until he retired with engine failure.
"It's a dream come true," Brabec said at the finish. "Hopefully we can come back next year and repeat it. I know that it's not going to be easy as the Husky and KTM boys will be breathing down our necks. I'm really excited to be here for Honda and for America as well. To be the only American to accomplish this goal is amazing. I think it's really a dream come true. Now we've got to set our goals higher and accomplish more."
The 2020 rally covered some 5000 kilometers of timed special stages and a total distance of 7800 kilometers.
Honda has had incredible success this year. In addition to the two Brabec stage victories (stages 3 and 6), those of José Ignacio Cornejo (stage 4 and stage 12), Kevin Benavides (stage 7) and Joan Barreda (stage 10), along with the Honda team taking podium 1-2-3 lock-outs on both stages 3 and 10.
Brabec's win is the sixth Honda victory at the Dakar Rally after the five won in Africa, the most recent occurring 31 years ago:
Cyril Neveu (1982, 1986, 1987), Edi Orioli (1988), Gilles Lalay (1989) taking the previous top honors.
Two-time Dakar champion, Red Bull KTM's Toby Price, finished third in the overall standings.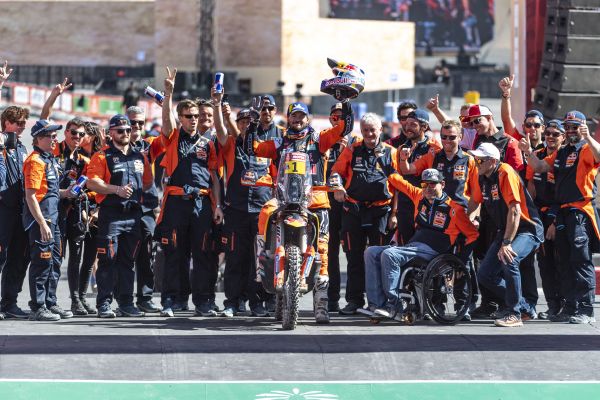 Toby was lying third overall going into the 447-kilometer 12th and final stage of the event. It was always going to be difficult for Toby Price to make up the necessary time on the race leader.
Price didn't give up, giving his all on the final 374-kilometer timed special, ultimately posting the third-fastest time.
During the event he had two stage wins. Toby has shown incredible tenacity to bring his KTM 450 RALLY home safely and claim a podium spot.
Toby Price: "I'm really happy with another podium at the Dakar – every time I've made it to the finish at this event I've got onto the podium. So far, I'm either a number one or a number three guy. The most important thing is to be here safely at the finish."
RESULTS STAGE 12 Friday, January 17th, 2020
1. Jose Ignacio Cornejo (CHL), Honda, 1:28:15
2. Ricky Brabec (USA), Honda, +0:53
3. Toby Price (AUS), KTM, +2:57
4. Luciano Benavides (ARG), KTM, +3:09
5. Pablo Quintanilla (CHL), Husqvarna, +3:23
FINAL OVERALL RESULTS STAGE 12 
1. Ricky Brabec (USA), Honda, 40:02:36
2. Pablo Quintanilla (CHL), Husqvarna, +16:26
3. Toby Price (AUS), KTM, +24:06
4. Jose Ignacio Cornejo (CHL), Honda, +31:43
5. Matthias Walkner (AUT), KTM, +35:00
6. Luciano Benavides (ARG), KTM, +37:34
7. Joan Barreda Bort (ESP), Honda, +50:57
8. Franco Caimi (ARG), Yamaha, +1:42:35
9. Skyler Howes (USA), Husqvarna, +2:04:01
10. Andrew Short (USA), Husqvarna, +2:10:40
Related Posts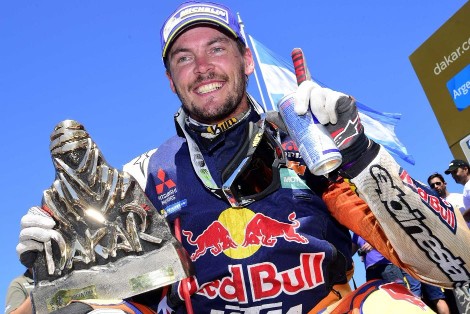 Famous Dirt Bike Riders – Toby Price Bio
Toby Price Achieves Dakar 2020 Podium Finish Against All Odds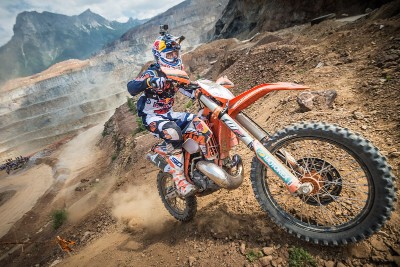 Famous Dirt Bike Events – Tatts Finke Desert Race
Please follow and like us: