It's great to get out riding with your mates, but with more and more women riding motorcycles, whether it's on the street or in the dirt, there are a lot of good reasons to ride motorcycles with your partner.
Women account for about 12% of American riders, an increase from 10.5% in 2009. In Australia, women represent about 10% of the motorcycle-riding population in ages ranging from the 20s through to 60s.
Women are not just the passenger anymore, a lot of women want to be in control of their own machine.
Here's a look at 10 good reasons to ride motorcycles with your partner.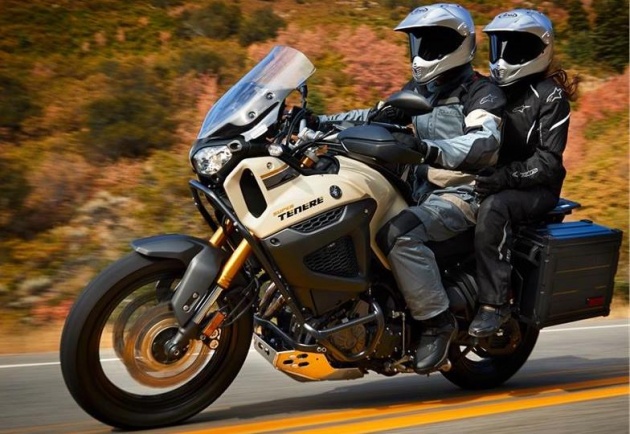 1. Sharing A Common Interest
Having an interest you share together can only be good for a relationship. Rather than leaving your partner to pursue your passion, you can enjoy it together.
No worries about having a deadline to be back by, you can relax and enjoy the ride together. Riding motorcycles together will give you loads of shared memories of good times whether it's with friends or just the two of you.
2. Quality Time Together
With the busy lives we lead these days, getting out on the bike and away from all the distractions gives you time together for some one-on-one chats.
There's always the stop at your favorite cafe for lunch and a coffee, and when you are on the road, thanks to the Bluetooth communication systems that are available today, you don't have to ride in silence anymore.
You can chat with your partner whether it's as a pillion passenger or on another bike.
3. Improved Communication
Spending some quality time together leads to improved communication. Problems in a relationship seem to be stem from a lack of communication.
It's hard to find time to argue when you're surrounded by awesome scenery, especially if it's adventure motorcycle riding that you're into.
All of life's other issues seem to go out of your mind when you're fully engaged in the thrill of riding.
There's always something to talk about, whether it's planning for your next trip, your next bike, or the new riding gear you have in mind.
4. Shared Friendships
Whether you ride with a club, or just enjoy a ride with your partner and maybe a couple of other biking buddies, you are building shared friendships that usually turn into lifelong friends.
You may only see them for riding days, or overnight trips together, but when you get together over your bikes, there is a common bond. Shared friendships are good for a relationship.
5. Riding Motorcycles Keeps You Young
I reckon I'm not alone in this, but the minute I hope on my bike, I feel about 25 again.
Riding a motorcycle, whether it's a heavy street cruiser, an adventure touring bike, a sports bike, or a dirt bike requires a good deal of physical fitness. Staying in good shape with your partner can lead to a better relationship.
Being in good shape physically, and being young at heart mentally translates into all areas of your life, including your family life. It's hard to not be young at heart when you get on your motorcycle.
6. Be Perceived As Sexier To Your Partner
An independent survey conducted by British insurance brokers Carol Nash tried to find out whether the public thinks bikers are more attractive than car drivers.
They asked 1,000 people across the UK to rate how attractive the opposite sex appeared with a selection of models photographed wearing biking attire, compared to normal driving attire.
Turns out our suspicions are correct, in 5 out of six comparison pictures, the models dressed in motorcycle attire were voted more attractive.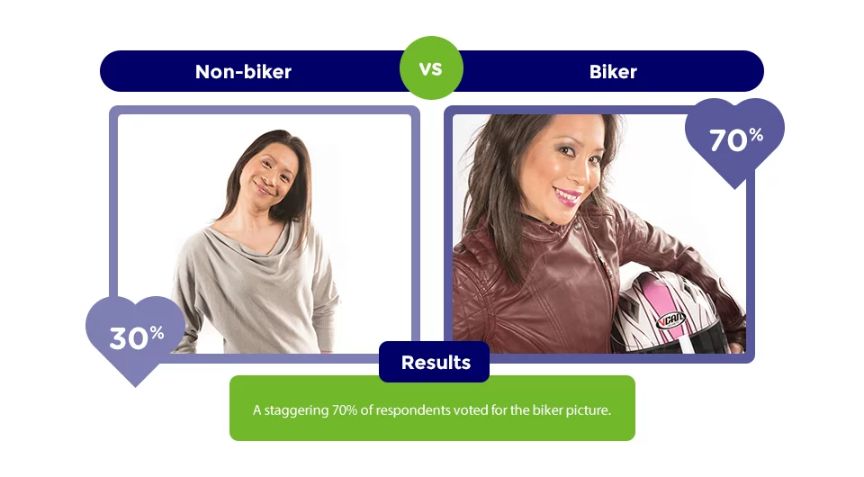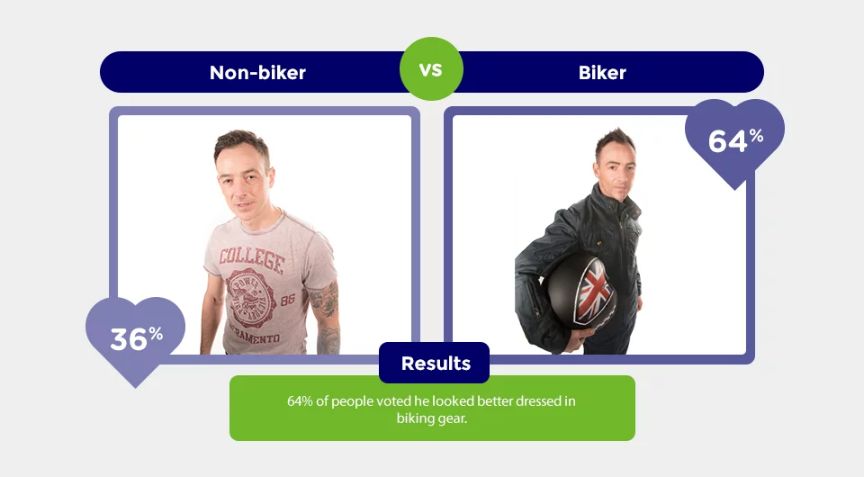 Who knows, maybe your partner may find you more attractive when you're out together in your riding gear.
7. Women Make Riding Safer
Numerous surveys conducted by motorcycling websites come up with the same conclusion. Women are safer riders and are less represented in motorcycle accident statistics than men.
They are more willing to seek rider training than men and don't have the ego that prevents a lot of men from participating in training.
Women tend to be more interested in the social and travel aspects of riding rather than the thrill of speed. The social aspect of your riding will certainly be enhanced when you ride with your partner.
8. More Bikes Suitable For Women Now
With more women riding now, motorcycle companies are seeing a market for bikes suitable for women. There are a lot more bikes to choose from now, and with advances in technology, they are easier to handle.
This has lead to women being able to get on a bike and feel confident and safe.
If the trend continues there will be even more women taking up riding in the next few years and that can only be a good thing, individually and for motorcycling in general.
9. Women Who Ride are Happier
Who doesn't want their partner to be happy?
A Harley Davidson commissioned survey conducted by American research company Kelton Global found after email interviews with 1013 adult female riders and 1016 adult female non-riders that women who ride motorcycles feel sexier, happier, and more confident than women who don't ride.
Here are some interesting points:
More than twice as many women who ride always feel happy (37% vs 16%)
Nearly four times as many always feel sexy (27% vs 7%)
Nearly twice as many always feel confident (35% vs 18%)
Almost two in three women who ride have good communication with their partner (60% vs 38%)
Half of women riders have good physical intimacy experiences (51% vs 35%)
That looks pretty conclusive to me. To read more: Harley Davidson Study: Women Who Ride Are Happier
10. Improved Intimacy
Riding motorcycles for most enthusiasts, no matter what type of riding you do, is a passion. It's all about exhilaration and enjoying life to the full.
When couples ride together, they share a mental and physical passion that leads to better physical intimacy in the bedroom.
A day's riding on a motorcycle can be a great way for you and your partner to get in the mood for some physical intimacy when you get home, especially with the close contact of being on the same bike.
Get out there and enjoy the ride!
Related Posts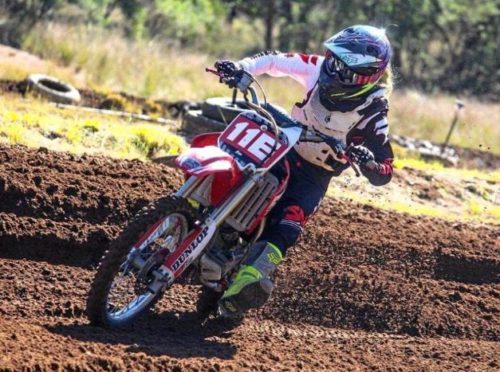 Best Dirt Bikes For Women – How To Choose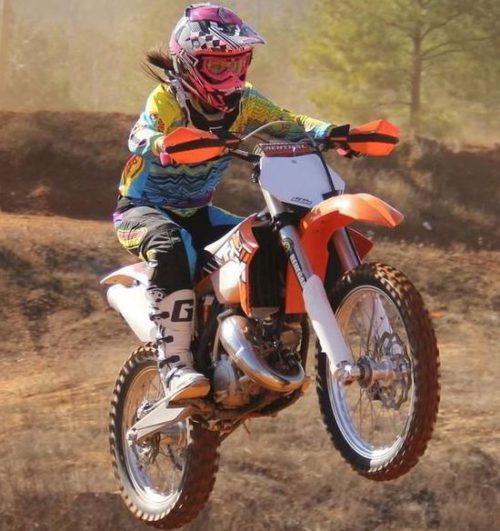 Best Women's Dirt Bike Riding Gear
12 Good Reasons To keep Riding Dirt Bikes – Even Past Fifty
Can you think of any other good reasons to ride with your partner? Maybe you have some of your own. Let us know your thoughts.
Please follow and like us: