Dirt bike riding is no longer the domain of just guys, we are seeing more and more girls and women getting into the sport, whether it's on the trails or on the track. Ideally, the best women's dirt bike riding gear has to work specifically for women and not be just redesigned men's gear with different color schemes.
It's important that each piece of gear fits each part of your body, so you may have to mix and match sizes to get the best fit.
Finding the right gear to suit your frame size and shape can be challenging for women riders. Some manufacturers tend to overlook women who ride.
As the sport of women's motocross and other forms of dirt bike riding continues to grow, we are now seeing some of the top companies put out higher-quality products for women.
It's good to see, the more women riding the better I say. It's a lucky guy who has a girlfriend or wife that shares his passion.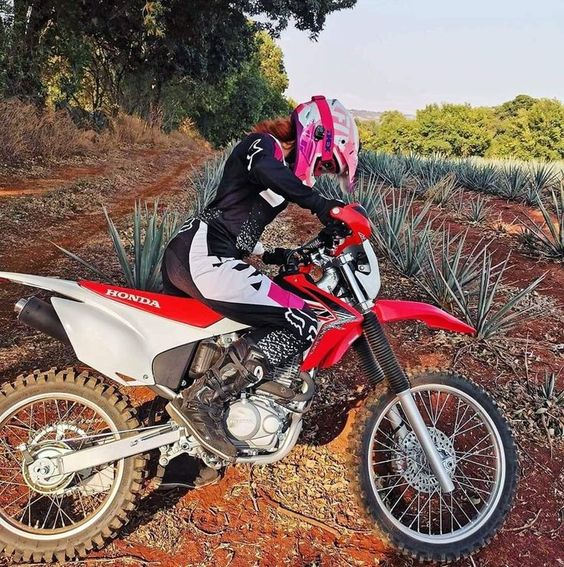 The gear should not only comfortable and flattering to the female form, but should also be able to withstand the punishment of aggressive riding.
There is a lot more than just pink available now. Although there is a lot of pink in the product images below, most of them are also available in multiple colorways.
Leading brands like Fox Racing, O'Neal, and Alpinestars produce a good range of sizes and colors designed for women.
The Alpinestars Stella range is a good example of gear designed specifically for women. It includes MX, Dual Sport, and street riding jackets, pants, boots, and gloves.
Here's a little inspiration from top professional motocross racer Tarah Gieger.
Tarah became the first female racer ever to compete in the 'Motocross des Nations' in 2007. She won the first women's Supercross event at the X Games XIV in 2008.  The rest is history.
Her amazing skill is evident in the slow-motion shots in this video.
Women's Dirt Bike Helmets
Your helmet is your most important piece of dirt bike riding gear (followed closely by your boots). While most helmets are unisex, some women-specific helmets can be found in sizes and colors that will appeal to a lot of women riders.
If you are just beginning in dirt bike riding, you may be able to save some money by buying used riding gear, but NEVER buy a used helmet.
While it may look unmarked on the outer shell, you never know whether the inner shell has been damaged or compressed in a crash, which will make it unsafe.
There are some good helmets available in the under $200 price range. A lot of the safety technology found in the higher-priced helmets is now finding its way into the entry-level helmets, which is good news for beginner riders.
For some useful tips on buying a helmet: Buying A Dirt Bike Helmet – What You Need To Know
Fox Racing V1 Race Helmet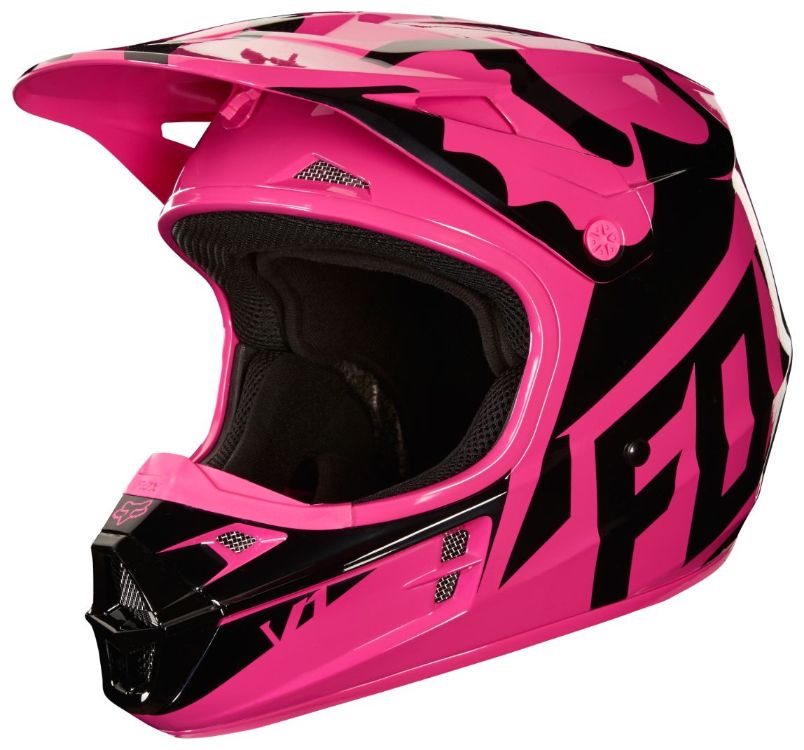 The Fox Racing V1 helmet is Fox's entry-level helmet which also includes the higher-priced and V2 and V3.
The V1 is constructed from an injection molded polycarbonate shell, which is lightweight and proven to provide reliable protection. It is the most common material used in helmets of this price range.
It is engineered for an excellent fit with 3 shell sizes and 4 EPS liner dimensions to allow you to get a precise fit to your head size and shape. It is available in sizes from XS to XXL.
The helmet has excellent airflow through 9 intake and 4 exhaust vents so it will keep you cool even on the hottest days riding.
The plush liner is removable and washable so that you can keep your helmet fresh and clean for the next time you wear it.
It is available in Pink, Green/Purple, Red, White/Black, Orange
Features:
Injection-molded polycarbonate & ABS shell construction
3 shell and 4 EPS sizes for a precise fit
9 intake and 4 exhaust vents for optimum airflow
Exceeds ECE 22.05 and DOT certifications
Matching gear set available from Fox Racing
Sizes: XS to XXL
Sometimes unavailable on Amazon. Alternative link to Fox Racing
Women's Dirt Bike Gloves
Gloves are also something that is best fitting when designed specifically for women. Here are a couple of good examples.
Fox Racing Women's Dirtpaw Prix Gloves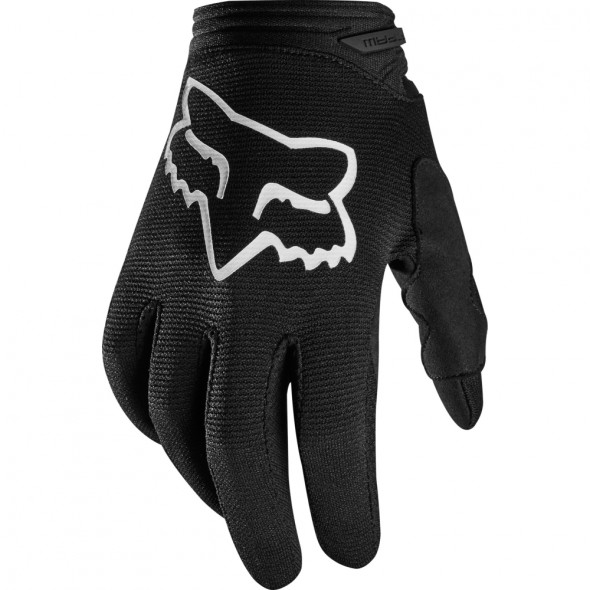 The Women's Dirtpaw Prix gloves are designed specifically for women to give you top performance without the high price tag.
They have a padded Clarino palm for comfort with a stretch mesh in the finger gussets for excellent mobility.
The wrist is secured with a hook and loop closure and the fingertips have a silicone print which helps for lever grip.
The fingertips even have touchscreen compatibility for use with your smartphone, very important these days, especially if you are using them for dual sport riding.
They are a lightweight warm weather glove ideal for the entry-level rider.
Features:
Women's specific fit with stretch mesh finger gussets for mobility
Durable main body fabrics which provide excellent wear resistance and durability
Compression-molded neoprene cuff for a secure fit
Padded, single layer conductive Clarino® palm
Fingertips are touch screen compatible
Silicone print at finger tips for lever grip
Hook and loop wrist closure for a secure fit
Available in Black & Pink
Sizes: Small to X-Large
Alpinestars Women's Stella Shore Motorcycle Glove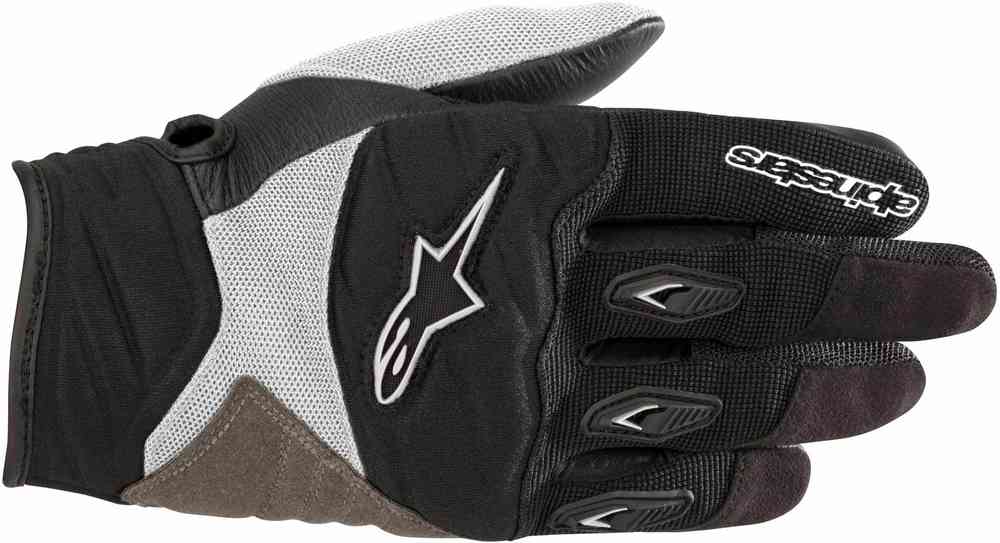 The Alpinestars Women's Stella Shore gloves are a warm-weather women's specific glove.
Alpinestars call these street gloves, but I have included them here because they would also be ideal for dual sport riding, being lightweight with lots of mesh inserts for airflow and flexibility, leather palm, and knuckle protection.
Stretch fabric on the back of the hand allows your hand to breathe in warmer weather.
Padded foam panels on the knuckles give you protection from branches and other hazards when trail riding and the synthetic suede reinforcing on the side of the palm and fingers would be welcome extra protection in the event of a fall on the road.
The all-important touch screen compatibility on the fingertip is also included.
They're a great all-rounder glove at an entry-level price, and they're Alpinestars.
Features:
Lightweight summer street glove
CE Certified
Multi-material, multi-panel main shell construction
Leather palm and fingers for comfort and performance
Synthetic suede reinforcements on side of the hand and fingers
Stretch fabric, spandex, and mesh for a personalized fit and breathability
Hook and loop wrist closure
Ergonomic stretch insert between thumb and palm for flexibility
Touchscreen compatible fingertip for use with smartphones
Padded foam 5mm knuckle zone
Available in Black/White and Black/Fuchsia (with pink Alpinestars logo)
Women's Dirt Bike Boots
There is a good range of dirt bike boots available now specifically designed to suit a female body with a narrower foot, less calf volume, and shorter overall height.
Here are 3 excellent women's boots. I personally use the O'Neal Rider men's boot so I can recommend the Rider boot for comfort and durable protection.
For some useful tips on buying boots: Dirt Bike Boots Buying Guide – What You Need To Know
O'Neal Women's New Logo Rider Boot (Black/Pink)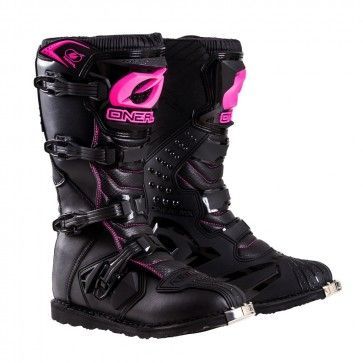 The O'Neal Rider is a quality entry-level boot from a well-known and respected company.
The main construction of the boot is microfiber reinforced with TPU in the hard-wearing areas that take the most impacts.
At the top inner (medial) side there is a layer of synthetic leather that gives some heat resistance and aids grip on the bike. The inner ankle area cops a lot of punishment from your bike's footpegs and the engine is protected with extra depth TPU, as is the lowest buckle.
3D air mesh interior lining around the ankle adds to the comfort, and there is a cushioned insole. They can feel a little stiff at first and need a bit of wearing-in time.
The stitched-on type sole has a moderate grip tread which helps when walking on slippery trails.
Accordion panels at the front and back of the boot allow the boot to flex and make walking more comfortable.
Features:
CONSTRUCTION
Microfiber with TPU reinforcing in hard-wearing areas
Metal toe guard to protect the front of the sole against delaminating
Durable Goodyear welt sole which is properly balanced so there is no unstable rocking
SAFETY FEATURES
Synthetic leather heat shield on the inner side which also helps with grip on your bike
Metal shank insert which reinforces the boot and adds support
Injection-molded TPU plates for impact protection
CUSTOMIZATION & COMFORT
Moderate grip sole which is great for the track, trail, or ATV riders
Snap-Lock fully adjustable four buckle closure system
Air mesh interior lining, generous heel support, and cushioned insole for extra comfort
Rear pull tab for extra leverage when fitting the boots
Straps and buckle replacements are available
Colors available: Black/PinkSizes available: 5 to 12
Alpinestars Women's Stella Tech 3 Boots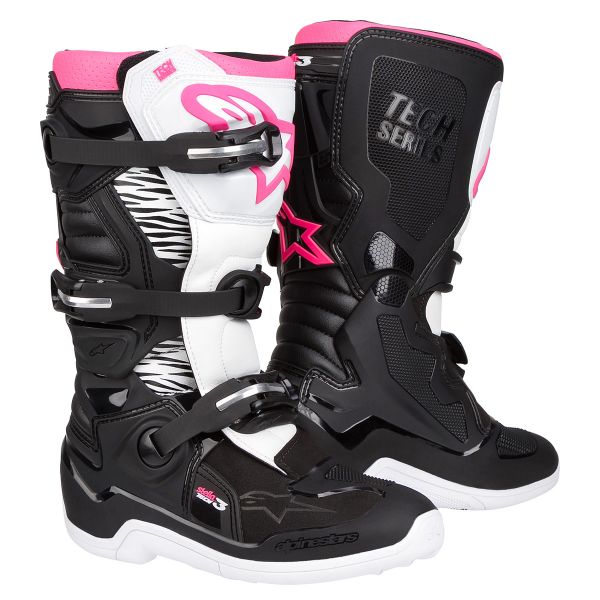 The Tech 3 is the entry-level boot from Alpinestars. The Stella Tech 3 has recently been upgraded and now incorporates a lot of the technology of the men's Tech 7 and Tech 10, which are a lot more expensive pro-level boots.
They now feature the new arrow type buckle system which is a lot easier to use, especially with gloves on. They are strategically placed in alternate directions so that they don't get caught on rocks or terrain while you're riding.
The toe box is reinforced with TPU and the reinforcing extends all the way around the foot and also protects the buckles.
The inner (medial) side of the boot also incorporates TPU panels which help you grip your bike and also act as a heat shield against the engine and exhaust.
Accordion flex zones on the front and rear Achilles areas of the boot help with flex when walking and operating the brake and gear levers. The flexion is also helped by the ankle pivot system on the medial and lateral sides of the ankle.
The microfibre gaiter around the top of the boot helps seal out excessive water and dirt entry, although the boots, like all motocross boots, are not waterproof.
The Stella Tech 3 makes an excellent entry-level boot if you are starting out riding dirt bikes, with a lot of features you normally see in much higher-priced boots.
Features:
CONSTRUCTION
Specially designed calf for an optimized women's fit
PU-reinforced microfiber upper for flexibility, abrasion resistance, water resistance, and weight-saving
Contoured shin plate is injected with high modulus TPU for high levels of impact and abrasion resistance
The medial boot side incorporates TPU panel with specially designed sculpturing for maximum grip contact with your bike and improved heat and abrasion resistance.
Instep and Achilles accordion flex zones for superior control and support.
Rubber compound sole is seamlessly integrated into the base structure for superior durability, high-performing grip patterning, and feel.
SAFETY FEATURES
CE certified to EN 13634:2010
One-piece injected dual compound foot shell with co-injected hard toe protector and integrated steel shank.
The shell is highly resistant to abrasion and impact, adding to the boot's streamlining.
CUSTOMIZATION & COMFORT
Excellent flexion is provided by a low-profile medial and lateral pivot system to offer movement and support.
An extended microfibre gaiter helps seal out excessive water and dirt entry.
Soft poly-foam padding surrounds the ankles and collar for comfort, fit, and additional shock absorption.
Internal mesh textile lining for improved air circulation and comfort.
Removable anatomic footbed for comfort and support ensures even weight distribution.
The buckle closure system incorporates polymer and fiberglass buckle arms and high-impact aluminum bridge closures for durability and weight-saving.
Ergonomic buckle system features memory and quick release/locking with a self-aligning design for precise closure.
All buckles are easily replaceable.
The sole is replaceable.
Fox Racing Women's Comp 5 Boots
The Fox Racing Women's Comp 5 boot is specifically designed to suit a female body with a narrower foot, less calf volume, and shorter overall height than the men's Comp 5.
The new-look aluminum 'Soft-Touch' pivot lock buckles have been modified with a decreased size locking pin on the buckles which makes them easier to operate.
The reinforced contoured shin plate has extra TPU protection at the top front of the boot and the medial side.
The toe box and the sole is the 'bonded' design (as opposed to the stitched-on type sole of the O'Neal Rider boots above) which gives you a more streamlined lower profile look.
They are suitable for Motocross, Supercross, Enduro, and Trail riding. The boots are comfortable right out of the box and need no 'breaking in' period.
The Comp 5 is Fox's entry-level boot in the under $200 price range and is ideal for the new dirt bike rider who is looking for a competitively priced boot that doesn't compromise on safety.
They are available in Black/Pink and Black/White.
Features:
Engineered for the entry-level rider but with a high-quality look and feel.
Bonded outsole, specifically molded for each size boot. This enhances durability and comfort. It also gives the boot a new modern look.
Easy to operate aluminum 'Soft-Touch' pivot lock buckles lock down securely and operate smoothly.
Anatomically contoured shin plate and medial plastic shield protection.
Full leather upper construction. Pliable and comfortable right out of the box.
The women's Comp 5 boot has been upgraded to the new Women's Comp boot. View at: Fox Racing
Women's Motocross Body Armor
There are 3 basic types of body armor for the upper body.
These are: Padded Under Armor, Hardshell Roost Deflectors/Chest Protectors, and Body Pressure Suits.
They are not all created equal. There is some confusion between Roost Deflectors and Chest Protectors. They are not the same.
Roost Deflectors: These are designed to protect you from flying rocks and stones kicked up by other riders, or minor brushes with branches and the like when trail riding. They are not designed to protect you from impacts in a crash. Some are CE-rated, but only as a stone shield.
Chest Protectors: These are a little more expensive than Roost Deflectors and are designed to give you impact protection in a crash. The best ones are CE-rated for impact protection.
Body Pressure Suits: These are the ultimate in body protection. They usually integrate chest, shoulder, elbow, and back protection, as well as a kidney belt, all held together by a one-piece breathable mesh chassis. The best ones are CE certified for impact and are generally more expensive than the chest protectors.
For more on Body Armor: 10 Best Body Armor For Dirt Bikes
It can be difficult for women to find the right Chest Protectors and Roost Deflectors that are women-specific.
The problem with wearing men's or unisex chest protectors is that the chest plate is fairly flat and can be uncomfortable for women to wear.
Here are a few that are designed specifically for women. Judging by women reviewers' comments, they are a great women's fit.
Fox Racing Women's R3 Roost Deflector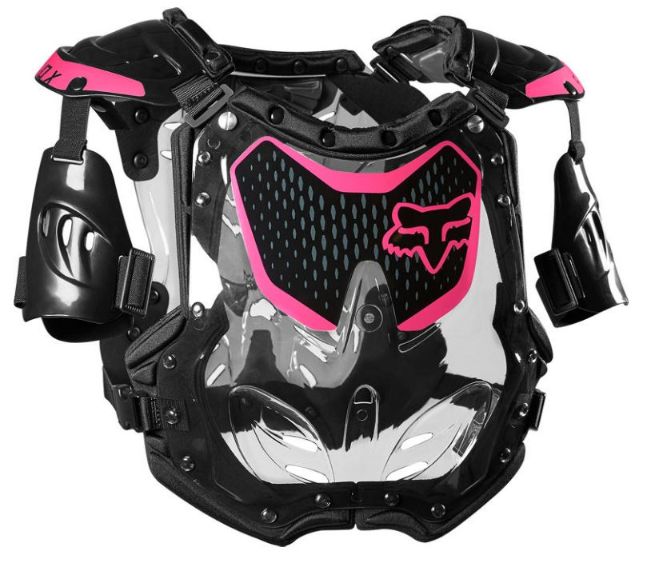 The Fox Racing R3 Women's Roost Deflector is designed specifically for women, as a body-hugging, race-form fit roost deflector.
The chest, back, and shoulder pads are a polycarbonate construction, with lower profile shoulder pads that are adjustable to allow you to personalize the fit.
The arm guards are fully adjustable and removable if you choose to not wear them.
The Fox Racing R3 is the ideal choice if you're looking for roost protection for motocross, enduro, or trail riding, without blowing the budget.
Its body-hugging race-form fit and low-profile shoulder cups allow you to wear it over or under your jersey.
It is also available in a Youth size R3 Girls Roost Deflector.
Features:
Polycarbonate chest, back, and shoulder construction
Low profile shoulder cups
Fully adjustable and removable padded arm guards
Adjustable shoulder connections for custom fit to suit your body
Women's specific anatomical fit chest plate
The chest plate is CE EN 14021 certified stone shield
Sizes: Small/Medium and Medium/Large
Colors: Black/Pink and Black/Grey
Leatt 4.5 Jacki Women's Chest Protector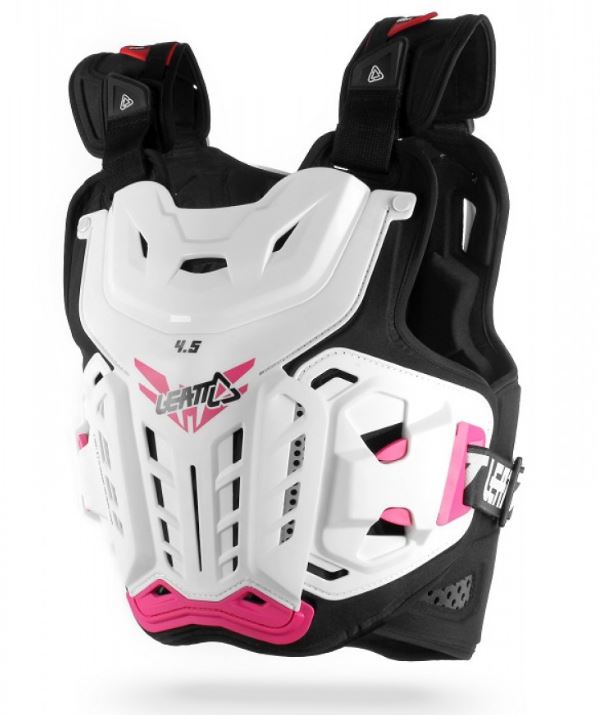 The Leatt 4.5 Jacki Women's Chest Protector is a CE-certified hard shell chest protector. It scores a total of 12 points on the Leatt protection rating system.
It is specifically designed to suit the female form and integrate with the Leatt neck brace if you choose to wear one.
It gives you full wrap-around flank protection to your sides. For comfort and ventilation, the inner lining is a perforated 3DF AirFit impact foam.
Shoulder protection pads are not included with the Leatt 4.5 Jacki.
The next level up in safety is the Leatt 5.5 Pro Chest Protector which scores a total of 15 points on Leatt's protection rating system.
Features:
CE tested and certified as impact protection:
Chest prEN1621-3 Level 2
Back EN1621-2 Level 2
Flank protection to the sides
FFM-French Federation Certified
Total Leatt protection score of 12 points
3D pre-curved fit specifically designed for the female form
HDPE (High-Density Poly Ethylene) hardshell outer protective shield
Perforated 3DF AirFit impact foam inner lining
Multi-layer multi-plate articulating design
Weight: 1080g (2.38lbs)
Lady Fit: 55-95kg (121-209lbs)
Alpinestars Women's Stella Bionic Jacket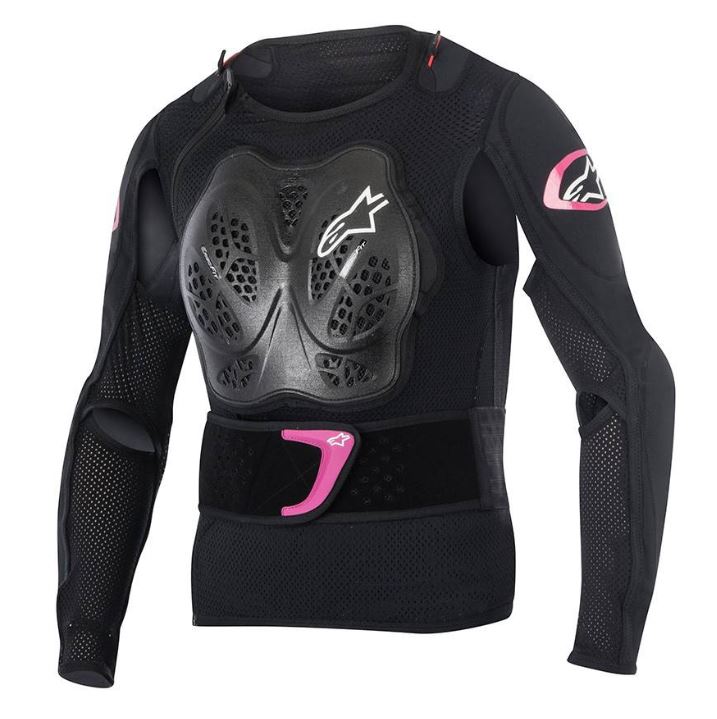 The Stella Bionic Jacket is a form-fitting body pressure suit that includes CE-certified back, chest, elbow, and shoulder protectors.
It also has a built-in kidney belt and is all brought together in a body-hugging perforated chassis. A high-quality YKK zipper on the right side allows you to slip it on easily like a jacket.
The chest shield gives you female-friendly protection without pinching or binding.
The upper part of the back protector is removable to allow it to integrate with the Alpinestars BNS neck brace if you choose to wear one. It is designed to be worn under your jersey.
Features:
Mesh Grid technology allows the product to be lighter and improves the breathability and air ventilation
Soft-touch BNS puller for easy and safe engagement with the BNS neck brace
Kidney belt system attached to the lower section of the back protector
Removable back panel accommodate fitment of Alpinestars BNS neck brace
Premium, auto-locking YKK zippers for main frontal closure and on detachable sleeves to ensure secure fitting
EN 14021 chest (stone shield)
EN 1621-1:2012 / level 1
EN 1621-2:2014 / level 2
Back protector CE certified according to the EN 1621_2: 2014 level 2.
Grid technology embedded on the back protector
Special ergonomic (for women) shaped chest protector which is CE certified against the EN 14021 (stone shield)
Shoulder and elbow PU foam soft formulation and channeling design for more flexibility. CE certified according to the EN 1621_1: 2012
Women's Motocross Riding Gear
The problem with wearing men's jerseys and pants is that they are not very flattering and they just don't fit well on most women riders. The jerseys tend to be too baggy and can be too tight in some areas.
Men's pants have a lower crotch and tend to ride up on most women, making the pants waist go up past your belly button which is not comfortable.
Women's jerseys and pants should be form-fitting while still giving you the protection needed, with the flexibility to allow you to move on your bike.
Fox Racing 2020 Women's 180 Jersey – Fyce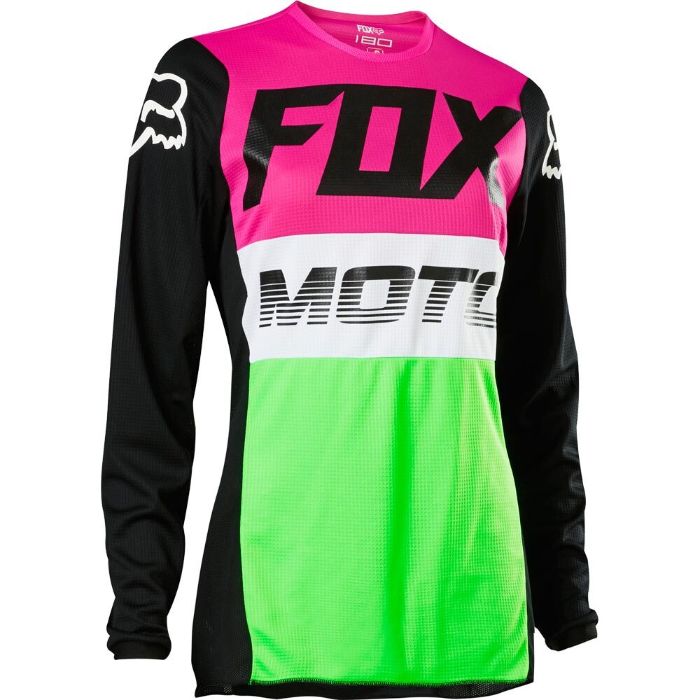 The Fox Racing 180 Jersey has been designed specifically to fit the female body and provides the ultimate combination of motocross style and comfort.
It is constructed from a moisture-wicking fabric that helps draw sweat away from your body and features mesh side paneling for airflow and breathability.
The extended dropped-down tail helps the jersey stay tucked into your riding pants while riding.
This highly stylized jersey is available in about a dozen vibrant colorways in sizes ranging from X-Small to XX-Large.
Features:
Moisture-wicking fabric provides a soft, lightweight fit while moving sweat away from the body to keep you dry
Vented mesh paneling increases breathability and airflow
Mesh collar and sleeve cuffs improve fit and comfort
Dyed or sublimated graphic panels for rich and vibrant color
Drop-tail design keeps the jersey tucked into your riding pants
100% polyester
 Sizes XS to XXL
Fox Racing 2020 Women's 180 Pants – Fyce
The women's 180 Pants are a matching combo with the 180 Jersey and have also been designed specifically for women.
They feature the 'Rider Attack Position' (RAP) construction which means that they are tailored to fit best when you are on the bike in the riding position. This means a more comfortable fit.
Combine this with the strategic stretch panels and you have greater flexibility and a more natural feel on the bike.
For durability and longevity, the main body of the pants is constructed from a tough 600D polyester fabric.
Leather knee panels provide heat and abrasion resistance to the most critical wear areas.
Features:
Rider Attack Position (RAP) construction for a better ergonomic fit when on the bike.
Heat and abrasion-resistant leather knee panels increase durability against knee braces, guards, and the bike.
Woven 'TruMotion' zonal all-way stretch panels provide unmatched mobility.
600D dyed polyester body with screen-printed graphics and logo for hardwearing and long-lasting good looks
Hip pads included.
Specifically designed for a women's form
Final Thoughts
While doing my research to find the best women's dirt bike riding gear that is actually designed specifically for women, not just re-colored men's gear, I gained an understanding of just how hard it can be for women to find the right gear.
As I'm a guy, not a woman I don't have first-hand knowledge of how it fits, so I had to rely heavily on reviews from women users when selecting the best.
All the gear in this review has had overwhelmingly positive reviews from women. I have done a lot of the groundwork, so hope this has helped save you some time in your search for the best women's gear available today.
Related Posts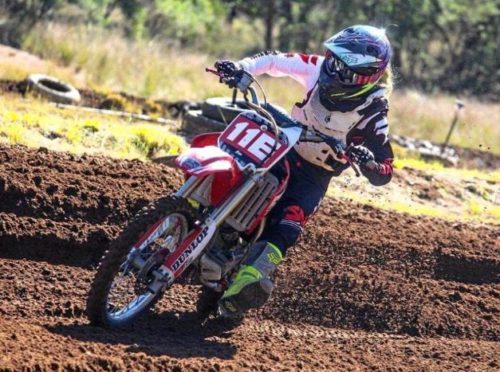 Best Dirt Bikes For Women – How To Choose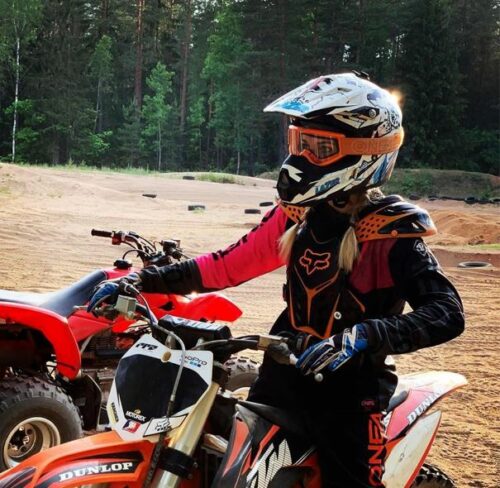 Women's Dirt Bike Helmets – How To Choose
5 Best Women's Dirt Bike Boots 2022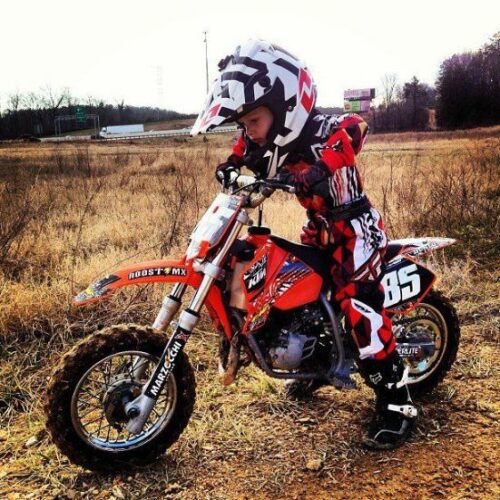 Is there any women's riding gear that you have used, or are using now that is a great fit and excellent quality, that should be added to this list? Please feel free to leave your thoughts below to help out other women riders.
Please follow and like us: