Toby Price has a list of achievements any Off-Road competitor would be proud of.
He has won the Tatts Finke Desert race six times, the Australian Off-Road Championship (AORC) and the Hattah Desert Race 5 times.
He has also won the Australian 4 Day Enduro (A4DE) twice.
Toby has represented Australia at 4 International Six Day Enduro (ISDE) events.
To top it off, he won the Dakar Rally in 2016 on his second attempt and won it again in 2019 with a broken wrist. He would certainly be one of Australia's most successful Off-Road Racers.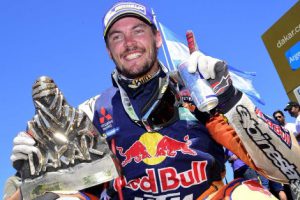 Personal Stats
Rider: Toby Joseph Price
Date of Birth: 18th August 1987
Place of Birth: Newcastle, NSW, Australia
Nationality: Australian
Lives: Singleton, New South Wales
Team: KTM Off-Road Racing Team until 2015. Now represents Red Bull Factory KTM Rally team.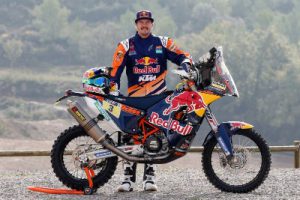 Toby began riding motorbikes at age 2 and was winning races by age 4.
His father John Price was an Australian Off Road Buggy champion in 1989. He sold the vehicle to pay for motorbikes for his boys and concentrate on Toby's racing career.
In 2003 he won both Australian Junior Championships in the 125cc class and 250cc four-stroke class. Just 12 weeks earlier he had broken both wrists.
In 2004 he turned professional riding for Kawasaki Australia. His progress was hampered by injuries and he quit the sport to work a full-time job for a construction company.
In 2008 he returned to racing and was offered a contract by Kawasaki to compete in Enduro racing. It was a turning point in his career.
In 2013 he crashed competing in the AMA Hare and Hound Championship in California and broke three vertebrae in his neck. He was lucky not to be paralyzed from the neck down.
Toby now has a steel rod screwed to the vertebrae in his neck which will remain there for life.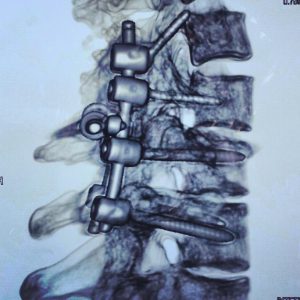 In 2015 he competed in the Dakar Rally with KTM and had a podium finish in 3rd place at his first attempt, winning stage 12. He was the first Australian to win a stage of the Rally.
Toby followed that up in 2016 with a 1st place, winning stages 2,5,6,8 and 9. He is the first competitor to win Dakar on their second attempt, and also the first non-European to win the Bikes category.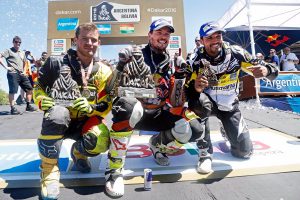 In 2017 he competed again but did not finish. He crashed heavily in stage 4 and broke his left femur. He had won stage 2.
He was unable to compete on motorbikes in the Tatts Finke Desert Race due to doctor's orders. Instead, he competed in the Buggies section but did not finish due to engine failure.
Major Championship Titles
2009 Australian Off-Road Championship (AORC)
2010 Tatts Finke Desert Race
2010 Hattah Desert Race
2010 Australian 4 Day Enduro (A4DE)
2010 Australian Off-Road Championship (AORC)
2011 Hattah Desert Race
2011 Australian 4 Day Enduro (A4DE)
2012 Tatts Finke Desert Race
2012 Hattah Desert Race
2012 Australian Off-Road Championship (AORC)
2014 Tatts Finke Desert Race
2014 Hattah Desert Race
2014 Australian Off-Road Championship (AORC)
2014 International Six Days Enduro (ISDE) E3
2014 A Day in the Dirt Motocross Grand Prix
2015 Tatts Finke Desert Race
2015 Hattah Desert Race
2015 Australian Off-Road Championship (AORC)
2016 Dakar Rally
2016 Abu Dhabi Desert Challenge
2016 Tatts Finke Desert Race
2016 Rallye OiLibya du Maroc
2019 Dakar Rally
 This year 2018, he is competing in the Dakar again, and at the time of writing this post, he is in 6th place overall after stage 5.
2018 Update: Toby has finished in 3rd place. A fantastic effort so soon after injury. Bring on Dakar 2019.
2019 Update: Toby has won his second Dakar Rally. Overcoming the pain of a broken scaphoid bone in his right wrist a few weeks earlier, he went on to take his second victory.
He was considered somewhat of an underdog going in because of the injury. "The pain and torture has been worth it" Price said.
His win marks KTM's 18th consecutive Dakar win.
2020 Update: Toby achieves a podium finish with a third place in the 2020 Dakar Rally.
Toby has now had two wins in 2016 and 2019, and three thirds from six starts. He has achieved a podium finish in every event he finished, 2017 breaking his leg and not finishing.
For more on Toby's 2020 Dakar: Toby Price Achieves Dakar 2020 Podium Finish Against All Odds
Related Posts
Dakar 2020 – Toby Price Defends Title
Motorcycle Racing Legends – Malcolm Smith Bio
Famous Dirt Bike Riders – Robbie Maddison Bio
Famous Dirt Bike Riders – Chad Reed Bio
Famous Dirt Bike Riders – Travis Pastrana Bio
Famous Dirt Bike Riders – Graham Jarvis Bio
Famous Dirt Bike Riders – Steve McQueen Bio
Is there another famous rider you'd like to see a Bio on?  Please feel free to leave me a comment below.
Please follow and like us: