We all know Steve McQueen the legendary movie star, the 'King Of Cool' from such movies as Bullit, The Great Escape, The Magnificent Seven, The Getaway, and Le Mans to name a few, but Steve McQueen is also a legendary name in the Dirt Bike world. In this Steve McQueen biography, we look at Steve McQueen the dirt bike rider.
Much has been written about the life of Steve McQueen the movie star. Far from being just a movie star who rode motorcycles to portray an image, Steve was actually a very competitive racer in his own right.
How good was he? So good he represented the USA in the 1964 ISDT (now called the ISDE, commonly known as the Olympics of motorcycling). More on that later.
While many of his contemporaries have slipped into obscurity, Steve McQueen's star continues to shine more than 40 years after his death.
We are still seeing his image used to promote products like wristwatches, jackets, sunglasses, etc. that he made famous during his life. Many of the iconic images of Steve feature motorcycles and cars.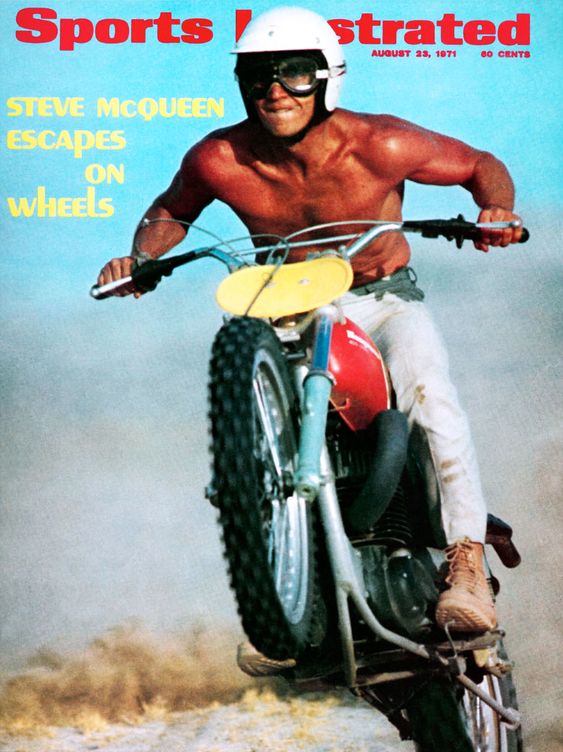 Motorcycles once owned by Steve McQueen continue to fetch high prices at auction with his 1970 Husqvarna 400 Cross recently selling for $US230,500 ($A326,610).
The bike had previously sold at a Bonhams auction in 2011 for $US144,500 ($A204,773). That's a 159% return to a collector.
The bike is ridden by a shirtless Steve McQueen as featured on the cover of the 1971 issue of Sports Illustrated.
Steve's first interest in motorcycles began in 1950 when he bought his first bike. As Steve explains "A mean old 1946 Indian Chief. I remember how proud I was of it – I right away went over to see this girl I was dating to show it to her. When she saw it, she said, 'You don't expect me to ride around with you on that?' Well, I sure enough did. The girl went but the bike stayed."
His bikes had all been street machines until he first found out about dirt riding quite by chance. "You know that cliff that leads down from Mulholland to Sepulveda? Well, I was riding along Sepulveda with Dennis Hopper when we saw these guys bopping and bumping through the weeds near there, off the road. It was Keenan Wynn and another guy on these strange machines, dirt bikes they called them. We asked Keenan if he could climb that cliff. 'Watch this,' he says. Varoom! Right up to the top. Dennis and I were standing there with our eyes out to here. The very next day I went out and bought me a 500-cc Triumph dirt bike."
Very soon he began competing in club races and enduros like Las Vegas' Mint 400, the Elsinore Grand Prix, and the Baja 1000 from Ensenada to La Paz.
He often competed under the name of Harvey Mushman alongside his good friend Malcolm Smith.
Steve's name became associated with several of his favorite motorcycle brands, Triumph, Husqvarna, and Honda to name a few.
With the release of the Honda CR250M in 1973, Steve appeared in this Honda promotional video. What better star power can you get!
Steve's movie career was taking off and after starring in some major movies he was offered a leading role in the John Sturges movie "The Great Escape" in 1963.
The movie was set in a World War II German POW stalag and the climactic scene was a motorcycle chase that featured a 65-foot jump over a barbed-wire fence on a 1962 Triumph TR6R 650cc motorcycle, a heavy bike to perform such a jump.
It was Steve who suggested the motorcycle jump over the border fence at the end of the movie. His friend Bud Ekins was hired as the stuntman.
Bud asked Triumph dealer and off-road racer Ken Heanes to build the Triumph TR6R specifically for the movie. It was fitted with much stronger front forks to withstand the jump.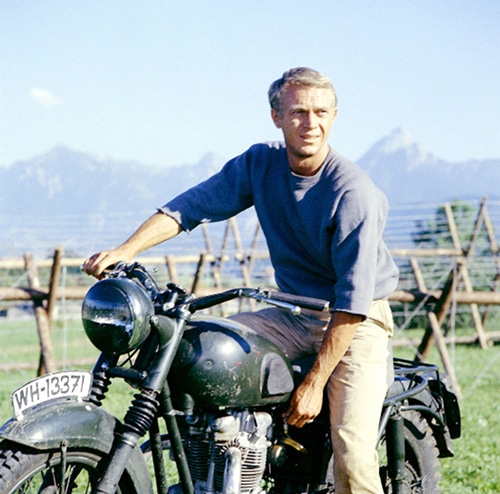 Ironically, Steve's character in the movie steals the bike from a German soldier, so it should have been a German BMW, not a British Triumph! It was also painted British Army green, not German Army green.
Director-Producer John Sturges chose to use Triumph motorcycles in the movie, even though they weren't authentic to WWII because they had more power and were more nimble than WWII bikes.
Insurance concerns prevented Steve from making the jump, so Bud, who resembled Steve from a distance performed the famous jump scene. Steve rode in almost all of the other riding scenes.
While Steve didn't perform the jump for the cameras, he did make the jump after filming was finished.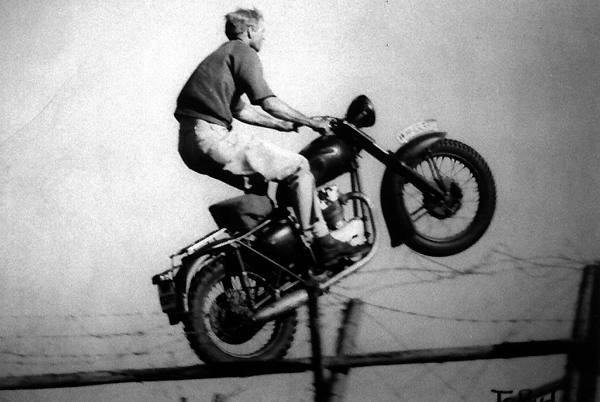 Bud Ekins competed in the 1963 ISDT in Czechoslovakia, where he clinched a gold medal. While with Steve during the making of the movie, they came up with the idea to put together a US team to participate in the 1964 event.
Steve McQueen and the ISDT
The 1964 ISDT took place in the Communist Eastern bloc during the height of the Cold War. Steve carried the flag for the US during the opening ceremony in a packed hall in Erfurt, East Germany on September 5, 1964.
McQueen substantially funded the first official Team USA to travel to Europe to compete in the ISDT.
The Vase Team was made up of Steve McQueen (Triumph TR6 750) Bud Ekins and brother Dave Ekins (both riding Triumph TR5 500), Cliff Coleman (Triumph TR6 750), and John Steen (Triumph TR5 500) as reserve rider for the Vase team.
Although most of the riders were more used to the dry desert conditions of California than the heavy muddy soil of Germany, they managed to finish within the time schedule and were leading their classification after day one.
After day two in similar conditions, they went well and the team was still leading.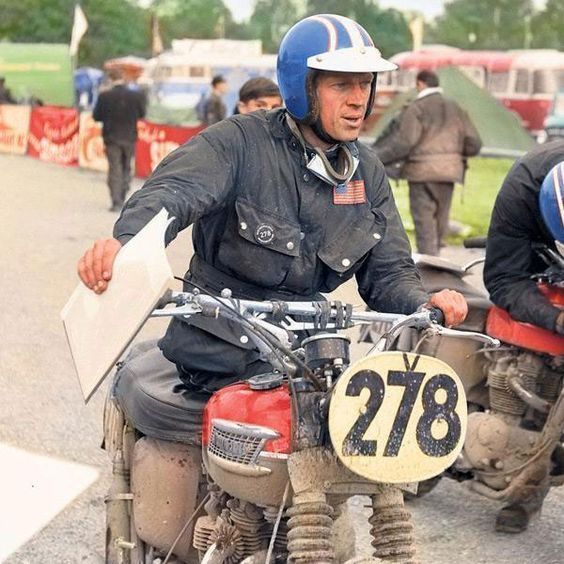 Day three was when things took a turn for the worse. Bud Ekins hit a wall and injured his leg, but still managed to finish on time.
Steve McQueen crashed and damaged his bike, but was able to quickly fix it and continue. Riding faster to make up lost time, he crashed heavily trying to avoid another rider. He was uninjured, but the bike was too damaged to continue and he was forced to retire.
The team's chances for the Vase were now out of reach, Bud's ankle was found to be broken and he didn't start the next morning. Cliff Coleman and Dave Ekins went on to win individual Gold Medals.
Despite the disappointment, it was an unforgettable experience for the first Team USA. Steve reportedly regarded his flag-carrying experience during the opening ceremony as one of the proudest moments of his life.
To read more about the ISDE: Famous Dirt Bike Events – The International Six Days Enduro
A true test of star power is how their reputation thrives after their death. The recent revitalization of images of Steve McQueen at the 1964 ISDT has partly been driven by the Barbour Jacket company who recognizes a good marketing opportunity when they see it.
Barbour has released a whole Steve McQueen range featuring multiple renditions of jackets and shirts bearing the 1964 ISDT theme.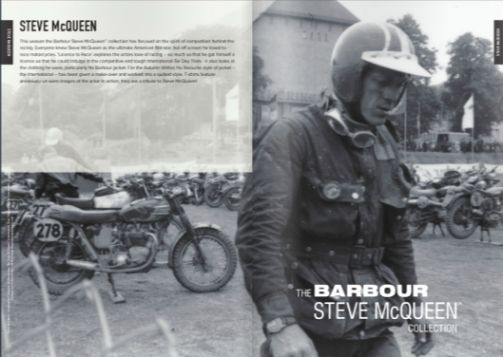 The Team USA Bell helmet featuring the classic blue color with white skunk stripes has also been re-released by Bell as a replica.
His 1970 Bell helmet recently fetched $US21,875 ($A30,989) at auction. Further testament to Steve's star power.
So what became of Steve's Triumph TR6? The original is on display in the window of Johnsons Motors Inc, Triumph dealers in California.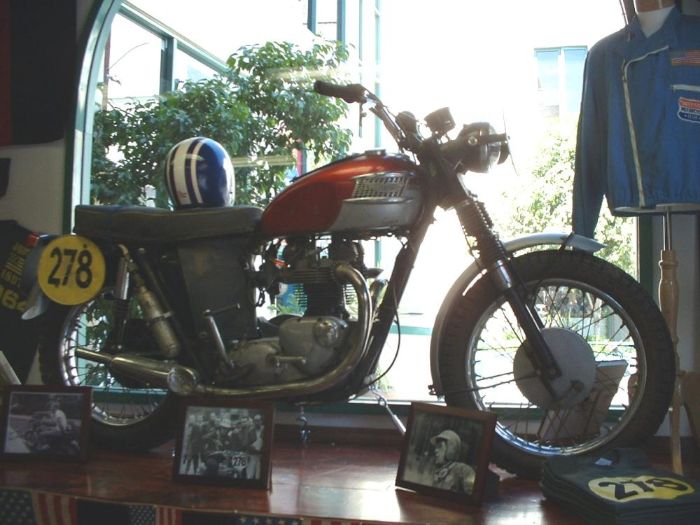 There have of course been several Triumph Trophy restorations built by enthusiasts over the years as Steve McQueen replicas.
Steve McQueen and 'On Any Sunday'
Steve is possibly most famous in the dirt bike world because of his role in the classic motorcycle movie 'On Any Sunday'.
Bruce Brown's 1971 feature-length motorcycle documentary literally transformed the sport and helped usher in the motorcycle craze.
The film transcended the genre of documentary filmmaking with such originality that over 40 years later it is still regarded as the quintessential motorcycle movie.
The movie is one of the few sports documentaries to earn a feature documentary Oscar nomination.
Bruce Brown was famous for his surfing film 'The Endless Summer'. He was an avid surfer, but his other passion was riding dirt bikes.
'On Any Sunday' was a much bigger and more ambitious project, and once Steve McQueen and his company Solar Productions were on board, doors opened up all over town. Steve provided more than $300,00 to make the movie after receiving a call from Brown.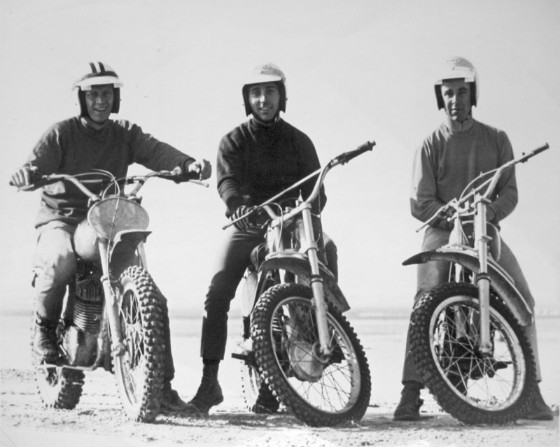 The film also follows Mert Lawwill in his campaign to win the AMA Grand National Championship and legendary desert racer Malcolm Smith.
Watching those iconic scenes of Steve, Mert, and Malcolm on the sand dunes and beach in the closing scenes take you to a happy place and is what inspired many of us into the sport.
The Husqvarna 400 Cross that Steve rode in the movie certainly helped boost Husqvarna's sales at the time.
To read more about 'On Any Sunday': Dirt Bike Movies – 5 You Must See
Steve passed away in 1980 aged just 50. He had contracted cancer associated with asbestos exposure for which there is no cure. Steve believed that it was likely the result of massive exposure while removing asbestos lagging from pipes aboard a troop ship while he was serving in the Marines.
Steve was inducted into the Off-road Motorsports Hall of Fame in 1978. In 1999 he was inducted into the AMA Motorcycle Hall of Fame, which recognizes individuals who have contributed to motorcycling in general.
There will never be another Steve McQueen. He is no longer with us but his legacy lives on.
Related Posts
Famous Dirt Bike Riders – Travis Pastrana Bio
Famous Dirt Bike Riders – Graham Jarvis Bio
Famous Dirt Bike Riders – Toby Price Bio
Famous Dirt Bike Riders – Robbie Maddison Bio
Famous Dirt Bike Riders – Chad Reed Bio
What's your favorite Steve McQueen movie? Please feel free to share your thoughts below.
Please follow and like us: