It's exciting times for Beta motorcycles. While many motorcyclists associate the Beta brand with Trials bikes, it's the enduro scene where Beta is really shining in recent years. Here's a look back at some of the highlights of Beta Dirt Bike history.
Beta is a family-owned Italian company now run by Lapo Bianchi, who is the driving force behind Beta's success in recent years.
The brand has been building motorcycles for over 70 years and has a rich background in trials as well as enduro and motocross.
Let's look back at some of the highlights of Beta Motorcycle's history to understand where they have come from and what we may expect from this exciting company in the future.
The Early Years
Beta's history dates back as far as 1904, the Florence-based company began building handmade bicycles under the company name of 'Societa Giuseppe Bianchi'. <Source>
Giuseppe Bianchi, the great grandfather of the current owner Lapo Bianchi, began the company, then his son Enzo met Arrigo Tosi while on military service, married his sister Elda and they all decided to work together.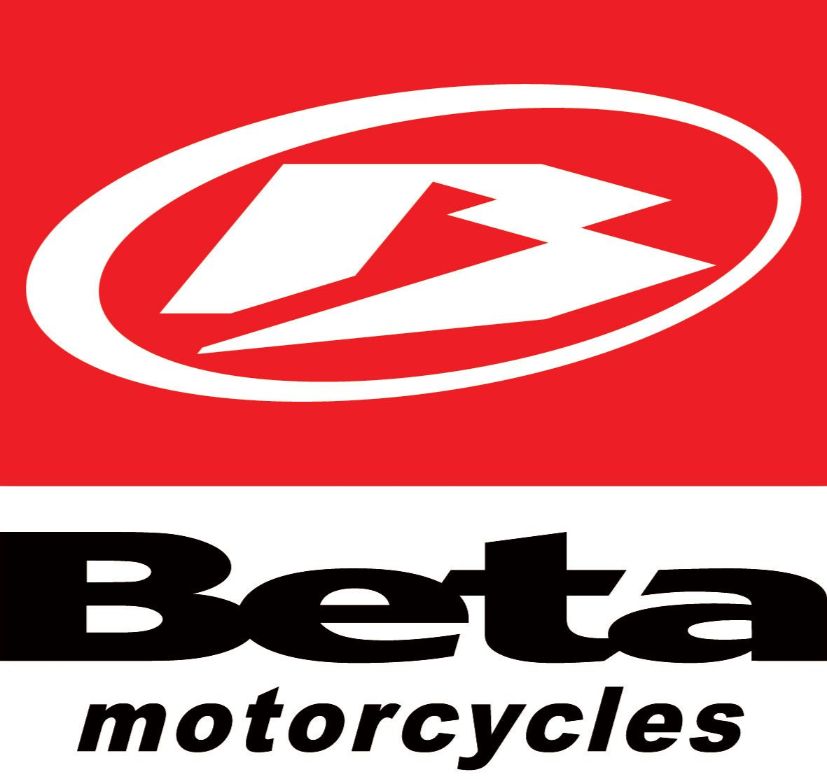 The Beta name comes from the initials of Enzo Bianchi and Arrigo Tosi. Enzo and his partner Arrigo Tosi began manufacturing motorcycles in 1948 in response to a need for an inexpensive means of motorized transport in post-war Italy.
The CERVO 48 was Betamotor's first production model. It had a transmission that incorporated a rubberized roller acting directly on the rear tire, along with a chain for starting and final drive.
Also in 1948, the company launched another model, the CIGNO which was powered by a 48cc motor that featured a double-cradle frame, telescopic forks, and shock absorbers.
In 1950 the Ital-Jap 125 was launched which featured pressed-steel girder forks and telescopic rear shocks.
That same year the MT175 was released which had a two-stroke single-cylinder engine and had a top speed of about 80 mph. The SV175 touring version was also developed around this time.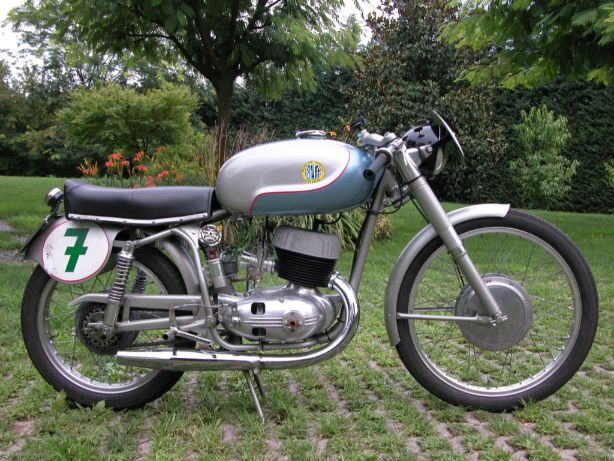 Numerous other sporty road bike models were released during that period, such as the Astro 98, Mercurio 150, Folgore 175, and the Orione 200, which were powered by single-cylinder four-stroke pushrod engines.
The 1950s saw Beta's first competition success in hill-climbing, Motogiro, and in the Milan-Taranto race using their 175c models.
During the 1960s Beta began in-house production of their own engines which were fitted to bikes across Beta's entire range.
With the rising popularity of motocross in the 1970s, Beta began to specialize more in off-road motorcycles. Competition has always been the testing ground for Beta motorcycles first with motocross racing and enduro then later in the 1980s with Trials.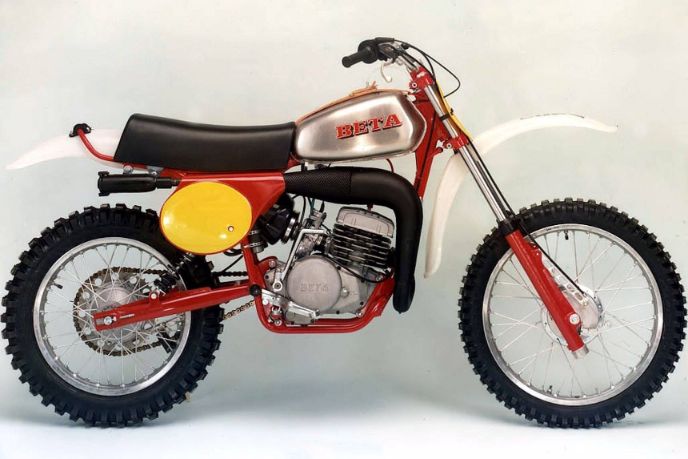 Beta's early motocross success in the late 70s and early 80s came from riders such as Jim Pomeroy, Gilbert De Roover, and Ivano Bessone.
Fifteen-time Italian Motocross champion Corrado Maddii began his racing career in 1977 on a Beta 125RC.
The 1980s brought a series of changes for Beta. Motocross was becoming increasingly dominated by Japanese manufacturers, which led Beta to begin to concentrate more on building Trials motorcycles.
Beta had immediate success in World Trials Championships. Jordi Tarrés won the first two of his seven FIM Trials World Championships with Beta in 1987 and 1989, and Dougie Lampkin won his first three world titles in 1997, 1998, and 1999 with Beta.
Since the early 1980s, Beta has won 7 Outdoor Trials World Championships, 6 Indoor Trials World Championships, 7 European Championships, and over 100 National Championships around the world.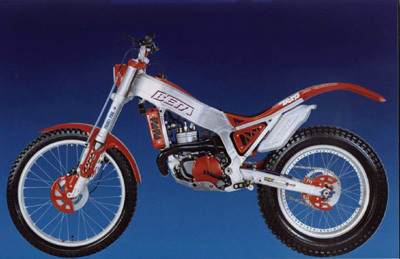 In 1990 Beta developed an aluminum chassis that doubled as a gas tank, the first of its kind. Jordi Tarrés won two more world titles with this new technology. In 1994 Beta's Trials models evolved into the new Techno series that Dougie Lampkin used to win his three consecutive world titles.
Beta And KTM Agreement
In 1994 an agreement with KTM was signed. Beta had a 50cc engine with an automatic transmission and was looking to purchase the design of a 50cc engine with six gears. KTM was interested and a working relationship began.
Beta helped develop and assemble 85cc and 105cc engines for KTM and Husqvarna. An entire assembly line at Beta was dedicated to KTM and the agreement would prove to be a great training ground for Beta.
Another agreement was signed in 2004 and KTM would supply Beta with enduro engines of various displacements, an agreement KTM has never granted to any other manufacturer. The move was an important factor in Beta getting their enduro models to the market.
Also in 2004 Beta celebrated its 100 years of business by making its return to 4-strokes, first with a new generation of enduro bikes, then two years later to its range of Trials models.
Since 2009 Beta has manufactured its own engines for 350cc and up. Beta and KTM continued working together up until 2016.
By 2010 Beta was still mostly known for their Trials bikes, but their enduro market was steadily increasing.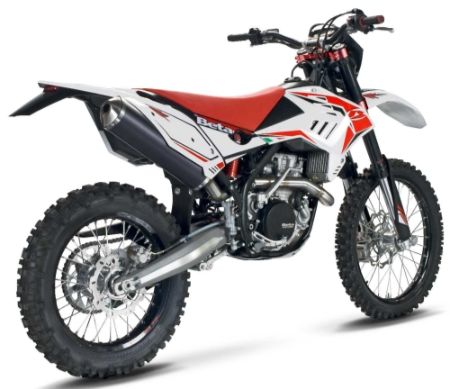 Beta developed a new RR enduro line and produced four-stroke engines from 400cc to 525cc. In 2012 they began introducing 250cc and 300cc 2-stroke engines.
2013 saw the introduction of the RR two-stroke range and it has been an outstanding bike since its first year of production.
In 2014 the new Xtrainer 300 was released. The Xtrainer was designed as a general-purpose enduro bike for non-professionals. It is powered by a 300cc two-stroke engine and features a lower seat height and utilizes more cost-effective chassis components.
The motor is the same as the 300 RR enduro machine but it has been reworked to give a wider and more flexible range. Beta might have seen this bike as an entry-level trail or enduro machine, but the XTrainer is winning fans from all off-road sectors from extreme enduro to backwoods trail riders.
In the past, Beta had offered the standard 4-stroke RR models in four different displacements alongside two street-legal RS models.
Since 2017, Beta has created a street-legal off-road category. The RR-S models combine the standard RR and RS as they are manufactured to the same specifications as the off-road versions in Europe but with USA-Spec lighting.
The idea is to make motorcycles that can be ridden in dual sport and enduro events as well as being ridden on the street.
The Beta 2020 Trials Range
The new Beta Evo 2020 range sees performance gains, increased reliability, and improved ergonomics. Extensive development by Beta engineers has resulted in the production of an engine that delivers even better performance and reliability than previous models.
The two-stroke range is available in four engine sizes: 125 SS, 250 SS, 300 SS & 300 SS. The 'SS' stands for 'Super Smooth', which is designed to offer a smoother character compared to the standard version.
The four-stroke model comes with the usual 300cc engine which combines performance and ease of use.
The 2020 range has improvements to chassis, fork, and ergonomics, while both the two and four-stroke engines have revised engine timing curves which improve engine responsiveness.
The Beta 2020 Enduro Range
Beta's 2020 RR and RR-S range includes 8 different engine sizes (four 2-stroke and four 4-stroke) and offers a bike for every different rider and riding style.
The lineup of two-strokes includes the 125 RR, 200 RR, 250 RR, and 300 RR, while the four-stroke range comprises the 350 RR-S, 390 RR-S, 430 RR-S, and 500 RR-S.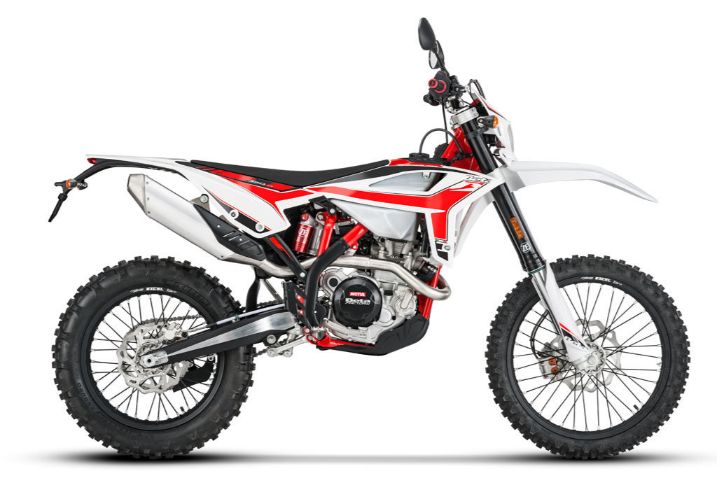 The major changes to the 2020 bikes include a redesigned frame with different geometry and rigidity characteristics, and an all-new engine design for the four strokes. The 250 RR and 300 RR two-strokes feature the addition of a counterbalancer for added smoothness.
Final Thoughts
Lapo Bianchi, great-grandson of founder Giuseppe Bianchi is the driving force behind Beta's success in recent years.
He personally tests all the new models before they go into production.
Lapo says "I'm not the best rider, but I think I have become quite good at knowing how an enduro bike should feel, how it should deliver its power and how it should handle. For me, it is not critical to have the most powerful or fastest enduro bikes, but it is essential that the power is easy to use, smooth, and provides good torque and traction. That is what Beta is all about, the feel of the bike. It has to be competitive of course, but it must also be a lot of fun to ride".
If developments in the last few years and the latest 2020 lineup are anything to go by, the upcoming years should see Beta remain at the very cutting edge of dirt bike technology. With the company philosophy being all about the feel of the bike and being fun to ride, I for one, can't wait to see what the next few years will bring.
Related Posts
Is there a memorable Beta Dirt Bike that should be featured in this post? Please feel free to share your thoughts below.
Please follow and like us: