Toby Price has finished third overall in the 2020 Dakar Rally, his fifth podium finish in six outings, but his bid to retain the Dakar Number one plate wasn't without its setbacks.
Despite road books failing, stopping to help a fallen Paulo Gonçalves, rear tire coming off, shortened and canceled stages allowing fewer chances to make up time, he still managed to achieve a podium finish.
Price has now had two wins in 2016 and 2019 (2019 with a broken wrist), and three thirds from six starts. He has achieved a podium finish in every event he finished, in 2017 breaking his leg and not finishing.
From Stage one when his road book jammed and tore, somehow he was able to win that stage despite riding without a road book and incurring a two-minute penalty.
"My road book walked out on me after 15-odd kilometers, so it was strange," said Toby before hearing of his penalty.
"I was quite lucky in one way because I managed to follow on some dust and just keep up with the guys. Once the road book is gone, then you're pretty much driving blind."
"At the moment it looks good on paper, but I think we have a bit of a penalty coming."
"It's not the greatest start, but it's still a long rally to go. We're in good shape, we feel good on the bike and we're happy."
In Stage 6 a tire problem saw Toby Price give up more than a quarter of an hour to Ricky Brabec.
He had the less than ideal task of opening the road on the sandy, 477km sixth special stage from Ha'il to Riyadh and gradually fell almost eight minutes off the pace by the penultimate waypoint.
At about the 400km mark his rear tire came off. He was lucky enough that Andrew Short from the rival Rockstar Energy Husqvarna team stopped to assist Toby by swapping rear wheels with him. Andrew managed to complete the stage without a rear tire.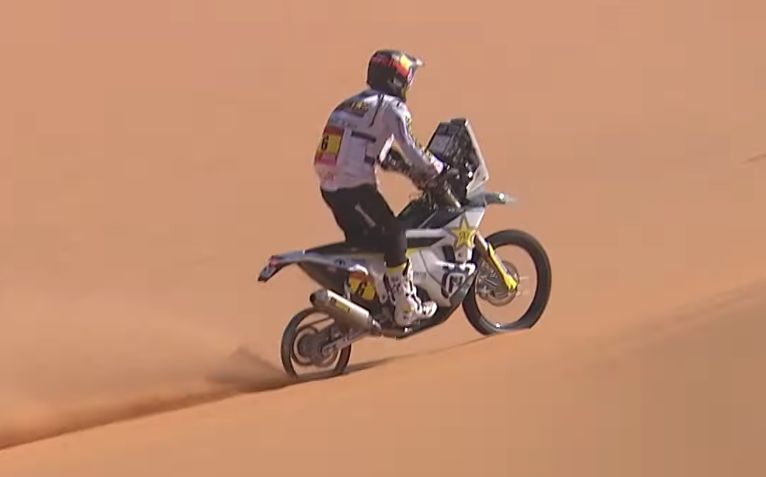 Andrew Short: "Things were going really good, the sand was a lot of fun to ride. About 50 kilometers from the end I stopped to help Toby. In situations like today you have to think quickly, I figured I was an hour down already in the overall after a tough couple of stages early on, so I helped my friend. Overall, I'm happy because I rode really well today and was able to mix it with the top guys."
Toby said "Today's stage started out really good, we were navigating really well from the front and was only losing small amounts of time on the riders who started behind me so I was quite happy with the way I was racing, but unfortunately around the 400km mark my rear tire fell off! I have no idea why this would have happened but I'm super grateful that Andrew Short pulled up and gave me his wheel which allowed me to get to the finish as quick as possible so thank you again for this mate!"
In Stage 7 Toby was the first rider to discover Paulo Gonçalves' ultimately fatal accident. He stopped to give assistance and stayed with the Portuguese rider and helped carry him to the medical helicopter.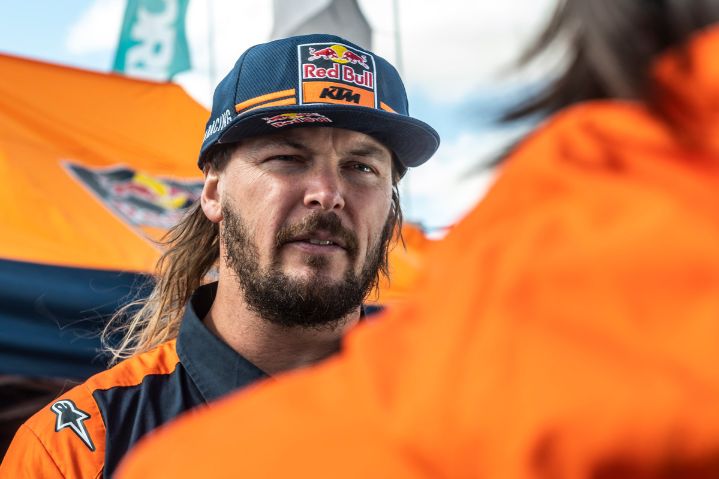 Toby later explained that he felt compelled to help in part because Paulo had stopped and helped him in the 2017 Dakar when he broke his leg.
"Paulo took off into the stage about five minutes before me and I came over a small crest and saw a rider down and it was Paulo. Worst fears kicked in cause I knew this one was serious. I called for help ASAP and helped get him on his side (plus more serious checks). Then tried calling for more help and by this stage, Stefan Svitko (also a champion) had arrived and was helping where he could. The first helicopter arrived and Luc Alphand was starting to help and as the medical helicopter arrived they were already on CPR and the doctors got to our sides and worked all they could. Helping to hold drip bags, getting bags of medical equipment and guiding other riders around a bad scene. We all worked as long as we could but there was nothing we could do. I helped assist in carrying him to the helicopter as it was the right thing to do. I was first at his side and wanted to be the last to leave. We will miss you're smile and laughter in the bivouac Paulo. My last 250km of the special stage was tough, I'm dehydrated from tears. At the moment I'm not even worried about the result, I couldn't care. Many thoughts with family and friends on this day, we don't start the rally day 8 for bike #8 in respect to family and friends and the loss of a HERO."
Having been credited with the time he lost attending to the crash, Price was in fourth position after that stage and remained on the cusp of the podium positions for the remainder of the event.
The eighth stage was canceled in Paulo's honor, leaving less opportunity for Toby to make up time. The 10th stage was also cut short to 345km for safety reasons due to strong winds.
When you take into account all of these setbacks, Toby's podium finish is a truly remarkable effort.
Five Australians started the Dakar Rally, all in the Bikes class, and all five made the finish.
Queensland privateer Rodney Faggotter (Yamaha Motor Australia) finished 13th overall, a career-best, finishing most stages in the top 20 and a sixth in stage 11.
Rodney stopped to help a crashed rider during the 10th stage and was given the time back by the officials.
"I had a solid 2 weeks and rode the most 'in control' but also at the best I have ever done." Rodney said.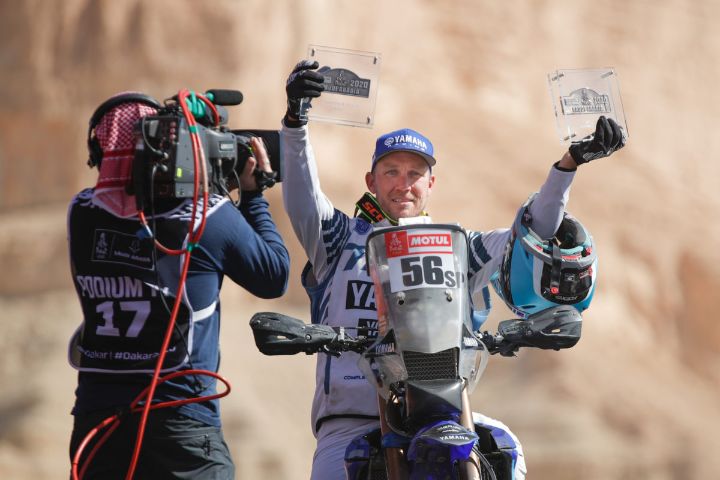 Fellow Aussies Ben Young (KTM), Matthew Tisdall (KTM) and Trevor Wilson (Husqvarna) also did well.
Ben Young finished 58th overall in his second Dakar, Trevor Wilson finished 76th on his first Dakar, and Matthew Tisdall finished 96th.
Approximately one-third of the 158 field did not finish due to crashes or mechanical failures.
Five women made it to the finish of the Dakar led by Laia Sanz in 18th place overall, her 10th consecutive Dakar finish and 10th victory in the Women's category, with Dutchwoman Mirjam Pol 41st, South Africans Kirsten Landman 55th and Taye Perry 77th, and Spaniard Sara García 86th in the final standings.
Related Posts
Dakar 2020 – Toby Price Defends Title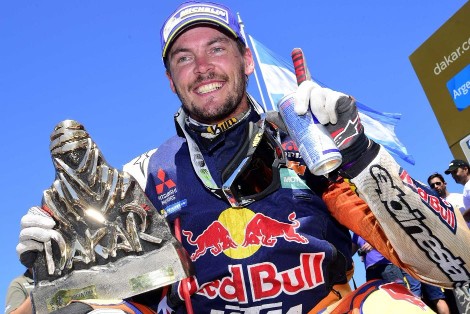 Famous Dirt Bike Riders – Toby Price Bio
Please follow and like us: