The Suzuki DR650S fits into that grey area between Dual Sport bike and Adventure bike. It's not as comfortable off-road as a lot of lighter Dual Sport or Enduro bikes due to its weight, yet it's a lot better choice on single-track trails than a lot of the larger adventure machines.
The small fuel tank is really the only thing stopping it from being called an entry-level adventure bike.
The bike can be modified in either direction to suit the road or trail simply by changing the tires and adding a larger fuel tank and maybe some wind protection.
Shorter riders will welcome the ability to lower the seat. Suzuki has an accessories kit to lower the seat by 40mm/1.6″ inches.
The DR650 is one of Suzuki's longest-running models, with a design dating back to the early nineties that is almost old enough for it to be classified as a retro bike. It remains unchanged for 2018.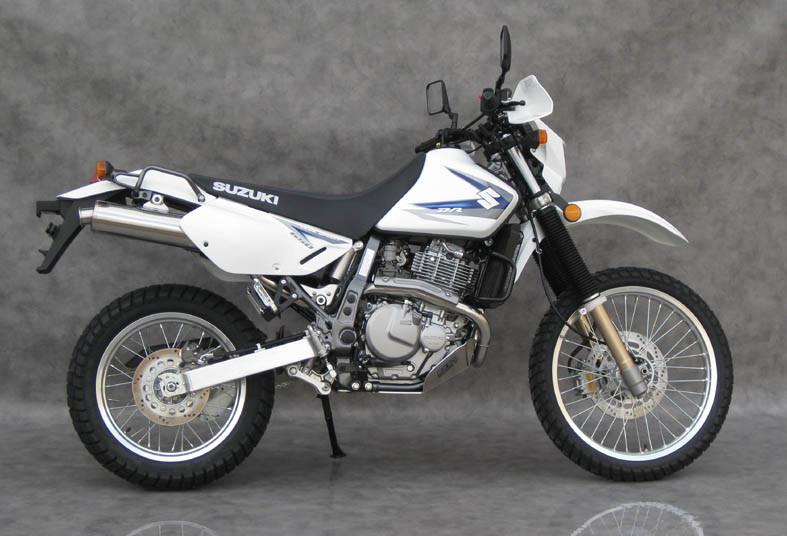 DR650 History
The first models, the Djebel/Dakar and the RS were introduced in 1990, with the first electric start model the DR650RSE released in 1991.
In 1996 the DR650SE was introduced. The engine was radically redesigned, and the bike's weight was reduced by 25kg/55 lb.
The bike's styling was updated with Suzuki's yellow off-road racing colors in 2002.
From 2010 the SE model had the factory option of lowering the seat height by about 40mm/1.6 for shorter riders.
By 2015 the DR650SE became the DR650S and had been in production for over 20 years. The basic design still remained unchanged.
In New Zealand, it is the best-selling bike over 500cc and is often in the top 5 sellers of any capacity bike. It is also a big seller in Australia and Canada, though not commonly sold in Europe due to Stringent Euro 3 emission regulations which make it hard for non-fuel-injected bikes to pass.
Specifications
ENGINE
Model: Suzuki DR650S 2015-2018
Engine Type: Single Cylinder 4-stroke, SOHC, 4-Valve
Bore x Stroke: 100 x 82mm
Displacement: 644cc
Cooling: Air-cooled
Compression Ratio: 9.5:1
Fuel Consumption: 6L/100km
Fuel Capacity: 12.9 liters/3.4 gallons
Fuel System: 40mm Mikuni BST carburetor
Starting System: Electric
Ignition: CDI
Lubrication: Wet sump
Power: 32KW @ 6400rpm (claimed)
Torque: 54Nm @ 4600rpm (claimed)
DIMENSIONS
Weight: 170.2kg (wet)
Wheel Base: 1490mm/58.7″
Seat Height: 885mm/34.8″
Ground Clearance: 264mm/10.4″
Weight: 166kg/366 pounds
Transmission: 5 speed
Final drive: DID O-ring chain
SUSPENSION
Front: 260mm/10.2 inches of travel Height-adjustable telescopic forks
Rear: 260mm/10.2 inches of travel Linkage assisted, spring preload and rebound adjustable
BRAKES
Front: 290mm Disc brake, single floating rotor 4 piston caliper
Rear: 240mm Disc brake, single rotor 2 piston caliper
TIRES
Tires Front: 90/90-21 M/C 54S, tube type
Tires Rear: 120/90-17 M/C 64S, tube type
Price:  A$8,990 plus on-roads for 2018 (varies with dealers) Warranty: 12 months unlimited mileage
Features as standard
Suzuki Composite Electrochemical Material (SCEM) coated aluminum engine cylinder for durability, weight reduction, and heat transfer
Suzuki Advanced Cooling System (SACS) for oil cooling
Digitally mapped DC-DCI ignition system for accurate ignition timing
Electric starter combined with mechanical automatic decompression system for easy starts
Light, durable stainless steel muffler
Gear-driven single counter balancer system minimizes engine vibration
Innovative cartridge front forks combine the advantage of conventional and USD forks for a smooth progressive action
Seat height can be optionally lowered by 40mm/1.6″ at a Suzuki dealer
Eligible for Learner Approved Motorcycle Scheme (LAMS) in Australia.
The air-cooled single-cylinder motor and Mikuni carburetor may put off some riders, but the simplicity of it appeals to others.

The bike has no electronics compared to a larger adventure bike. Its simplicity makes it easy to work on, but you don't get all the high-tech gadgetry normally associated with adventure bikes.
The air-cooled 644cc engine means there is no radiator, water pump, thermostat, plumbing, and fan to complicate things, and no Ride-By-Wire or Traction Control to fail you and leave you stranded in the forest.
This reduces the weight considerably. There is only an external oil cooler (SACS) on the right-hand side to reduce engine heat.
It has plenty of torque for off-road hill climbs and cruising at highway speeds for long stretches, without over-revving.
At 366 pounds (166 kg) it weighs in at the bottom of the range for adventure bikes.
The frame is a single-downtube, double-cradle tubular steel frame under the engine, which doesn't come standard with a bash plate, so this is a definite add-on for off-road use to protect your engine.
Suspension travel is 10.2 inches front and rear, which is definitely a bonus for off-road riding. The rear shock is fully adjustable for spring preload, compression, and rebound damping. Accessing the threaded spring collar to adjust your rear preload is quite difficult, so there's room for improvement there.
The unsprung weight is kept to a minimum with the use of hollow axles and lightweight brake discs, which help reduce the amount of work the shocks have to do to keep the wheels on the ground.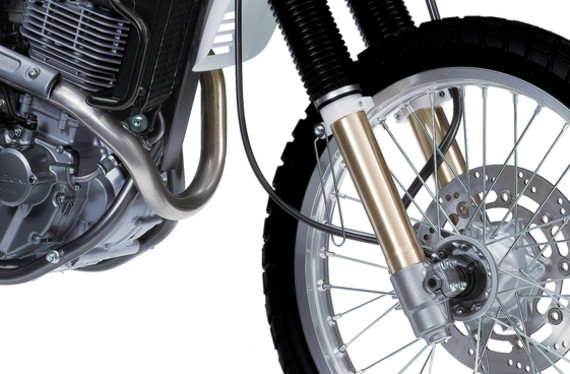 The 21″ front wheel is a must for off-road riding, and the rims are aluminum tube type, with stainless steel spokes. The standard tires work well enough on the road and moderate off-road conditions, but if you intend to do a lot more off-road than on-road, some road legal knobbies would help.
The instrument panel is minimal, which is ideal for off-road conditions, especially when you drop the bike. There is only an analog speedometer with a single trip meter and some warning lights. There is no tachometer, fuel gauge, or anything else usually associated with larger adventure bikes.
The standard mirrors are large and will break the first time you encounter a tree or fall. Some smaller, lighter aftermarket mirrors would help.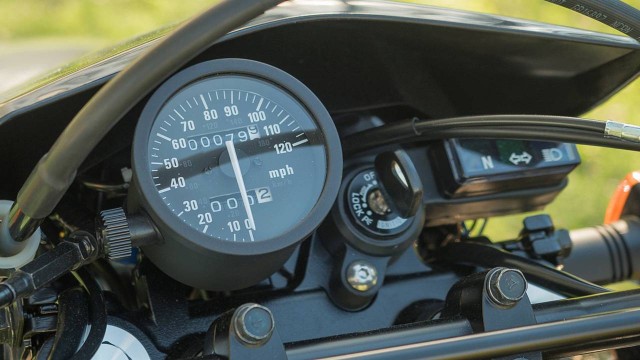 The standard DR650S is something of a blank slate. Modify it to suit your riding style, whether that's a weekend trail bike, a means of transport, or a serious adventure bike.
The only real gripes with the bike are the small fuel tank and the narrow, hard seat. Fortunately, both can be taken care of with aftermarket parts. Even if you have to add some accessories, it is still an inexpensive bike.
Some Setup Improvements
Add Handguards. Some handguards with an alloy backbone would be the first thing to add to save your fingers and the levers.
Handlebars. Replace the steel one with a lighter, stronger alloy handlebar with more rise, so that you have a more comfortable riding position standing up.
Rear End reduction. The taillight and rear guard are very bulky, so a more compact aftermarket taillight/blinkers/rego plate hanger would be essential. Save the original and refit it for resale.
Tires. Replacing the tires with some good quality knobbies would make a big difference in the dirt. Also, some heavy-duty tubes to reduce the chance of punctures.
Bashplate. A decent alloy bash plate is essential to protect the engine cases and frame from rock damage.
Mirrors. Some lighter after-market mirrors as the stock DR mirrors are quite bulky.
Larger Tank. An aftermarket mid-capacity tank would make the DR650 a great adventure bike if you are planning longer multi-day rides.
Softer Seat. As the standard seat is a bit on the hard side, aftermarket seats are a popular modification
Add a small windshield. Some wind protection is great for those long highway runs
Summary
The basic design of the Suzuki DR650S has remained unchanged for over two decades, which can be a good thing. There are definite advantages in a simple sturdy reliable design, especially in remote areas where good quality fuel is hard to come by, and you find yourself having to make trailside repairs.
The DR650 and DR-Z400 are often the bikes of choice by Motorcycle Aventure Tour operators, and for good reason.
This bulletproof bike has gained a huge following of loyal riders since its introduction over twenty years ago.
But don't take my word for it. Just ask any of the legions of riders out there who absolutely love this motorcycle.
Related Posts
Check out the smaller brother in my review 2018 Suzuki DR-Z400E Review
Love Adventure Riding? Get inspired for your next trip with Adventure Motorcycle Travel DVDs – A few to Inspire You
Have you owned a DR650? How have you used it, weekend trail riding or adventure riding? Please feel free to share your thoughts below?
Please follow and like us: