If you've ever been roosted by rocks, had your knuckles clipped by tree branches, or dropped your bike and broken a lever off you know the value of handguards. The best dirt bike handguards are designed to protect not only your hands but save your clutch or brake lever in a crash.
Of course, not all riders are looking for the same benefits out of their handguards.
If you are an enduro rider tackling some pretty tough, rocky terrain or an adventure rider who finds himself a long way from anywhere, the last thing you want is a broken clutch or brake lever. It can make life very difficult if you're not carrying a spare.
If you are a motocross rider you may only be looking for roost protection, or if you do a lot of street riding you may be looking to keep your hands warmer in the winter months. In this case you may not need the heavier duty Enduro style handguards.
I've been riding dirt bikes since back when handguards didn't exist, and now that we have these available to us, it spells the end of broken levers and injured knuckles.
In this review, I look at 6 of the best dirt bike handguards of both Enduro and Motocross styles.
Quick Summary
Best Enduro Handguards:
1. Cycra Probend CRM Handguards – Top Pick Most Innovative Design
2. Barkbusters EGO Handguards
3. Acerbis Rally Pro X-Strong Handguards – Best Value For Money Enduro Handguards
Best Motocross Handguards:
4. Cycra Stealth DX Handguards
5. Acerbis Uniko Vented Handguards – Best MX Handguard
6. PowerMadd Star Series Handguards – Best Budget MX/Universal Handguard
How To Choose The Right Handguards
There are a few things to be aware of when choosing handguards.
Dirt Bike handguards are basically divided into two types, the open MX type usually used by motocross riders, and wrap-around handguards used by enduro & trail riders. It depends on the level of protection you're looking for.
Motocross (Open) Handguards
If you race motocross, you know all about roost. Motocross Handguards are designed to deflect roost and protect your hands from rocks and mud, but will not protect your levers.
They fix to the handlebars at only one point. If you drop the bike, they will probably break.
They are lighter and sleeker than wrap-around handguards, and may even offer a bit of warmth for your hands on cold days if you use them for trail riding.
It's not only motocross riders who use this type, but some trail/enduro bikes also come fitted with open handguards.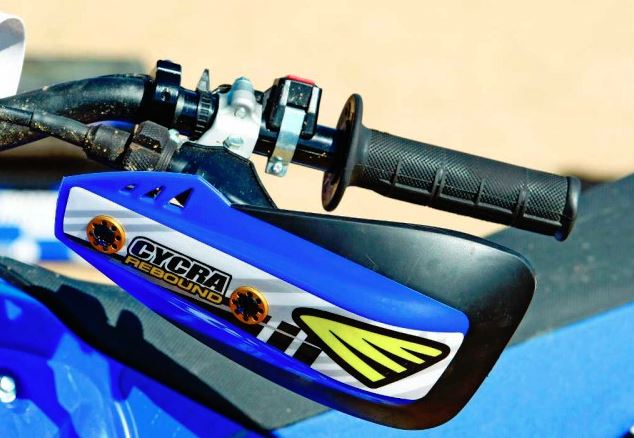 Advantages of MX Handguards:
Open-end design allows easy hand movement
Lighter weight
Less bar clutter with single-point fixing
Less expensive than wrap-around guards
Easier to install
Disadvantages of MX Handguards:
Will not protect your hands from large impacts from trees or rocks
Will not prevent breakage of levers
Will probably break in a crash
Enduro/Trail Riding (Wrap-Around) Handguards
Wrap-around handguards are designed to not only protect your hands but save your levers if you crash. The full wrap-around brace behind the plastic shield fixes to your handlebars in two places, the end of the handlebar and to the bar again closer to the handlebar clamps.
Typically in enduro and trail situations, you want protection from branches (and even trees) and the last thing you want is to have to ride home without a clutch lever. I know this from personal experience before handguards were even available.
The name 'Barkbusters' has become synonymous with this type of handguard (the Australian company that first developed the concept for dirt bikes back in 1984) but they now have a lot of competition from the likes of Acerbis, Cycra, and Tusk to name a few.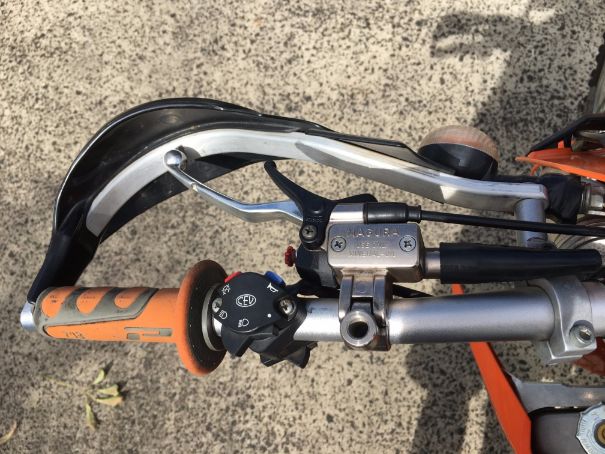 Advantages of Wrap-Around Handguards :
A much higher level of durability
Will survive most crashes
Protects your hands in a crash
Will save your levers in a crash
Disadvantages of Wrap-Around Handguards:
May limit hand movement on the bars
Heavier than MX handguards
More difficult to mount and requires cutting of the grips
Higher cost than MX handguards
Top 3 things to consider:
1. What type of riding do you do?  Whether you ride motocross, enduro, or trail, there's no law that says you can't use MX-type handguards if you're trail riding or Enduro-type handguards if you ride motocross. It just comes down to the level of protection you are looking for.
2. What diameter handlebars do you have? Stock handlebars are a standard 7/8″ (22mm) diameter. You have to be careful in your selection if you have aftermarket tapered bars, or oversize (fat bars) which are usually 1 1/8″ (28mm) diameter. It's important to order the right size for your bars.
3. The color you want. Most come in a wide range of colors to coordinate with your bike's colors.
Best Enduro Handguards
1. Cycra Probend CRM Handguards  (7/8″ handlebar)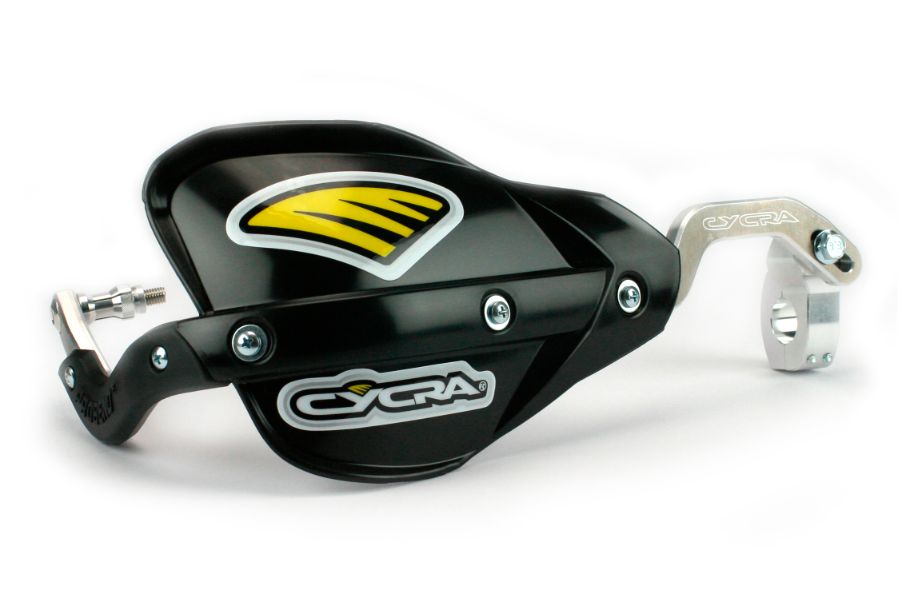 The Cyrca Probend has been a rider's favorite for a few years. Cycra has been mainly known for its plastic bodywork, but its Probend handguards are one of the best on the market.
The Probend CRM has a couple of unique features not found on other handguards.
The aluminum brace has a dip-down bend at the fixing to the handlebar end. The reason for this is that it allows easier hand access or removal.
It's also a safety feature that reduces the chance of having your hand snag on the handguard in the event of a crash. There is also a replaceable plastic abrasion bar that fits over the aluminum brace at the end fixing to protect the aluminum brace.
The other unique feature is the central handlebar fixing. It fixes to the bar right next to your handlebar clamps and provides maximum reach and clearance of other gear fixed to your bars.
The Center Reach Mount (CRM) system avoids the problem of fixing the clamp on the bend or angled part of the bar, which is different for every bike.
The replaceable plastic hand shields are quite large, but if you prefer something a little smaller, there are lower-profile hand shields available that easily fix to the same screw holes.
One thing to be aware of is that the shield fixing screws are self-tapping, which means there is no thread in the holes in the aluminum brace. Not a big deal, screws just take a little more effort to screw in.
They come with all necessary hardware and installation is a lot easier than some other models.
Also, be aware they are not a universal handlebar size, so it is necessary to order either the 7/8″ or 1-1/8″ oversize bar model.
Features:
Trademark Probend shape
Patent Pending design
Center Reach Mounts (CRM) provides maximum reach and clearance to fit a wide range of bars
Available for 7/8″ and 1-1/8″ handlebars
Pros:
The dropped design keeps hands from catching on bar
Replaceable plastic guards
Made in the USA
Large color selection
Cons:

2. Barkbusters EGO Handguards (7/8″ handlebar)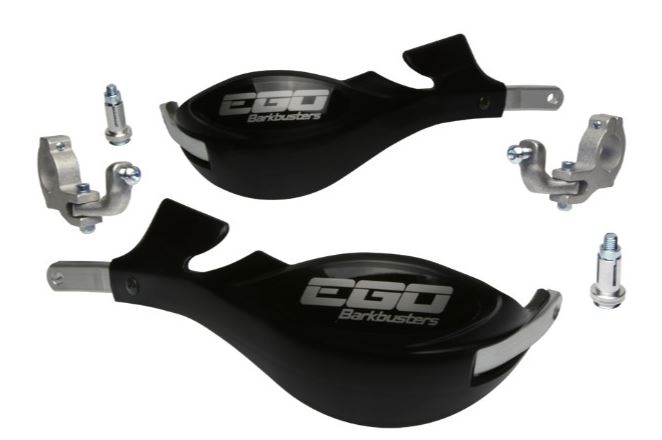 Barkbusters have been manufacturing handguards since 1984, so they have over three decades of experience in producing the finest handguards available today.
The Barkbusters EGO is one of the toughest handguards on the market today.
The aluminum backbone is heat-treated for maximum strength, and the plastic guards are replaceable, as is every piece in the kit.
I have been using EGO handguards on my KTM for 10 years now. They have withstood every impact with the ground, rocks or trees, and show no signs of deterioration other than a few scratches on the plastic guards.
The EGO handguards are available for 7/8″ and tapered bars, and also EGO Mini handguards for Youth bikes 80cc to 150cc with 7/8″ bars.
For a Full Review on the Barbusters EGO: Barkbusters EGO Handguard Review
Features:
Heat-treated aluminum backbone for maximum strength
Replaceable high impact-resistant plastic guards
A compact curved profile that is ideal for tight bush riding.
Pros:
Toughened aluminum backbone
Easy to install
Replaceable plastic guards
Cons:

3. Acerbis Rally Pro X-Strong Handguards
The Acerbis Rally Pro X-Strong Handguards are a very popular handguard and come with fittings to allow you to fit them to both 7/8″ or 1-1/8″ bars.
A unique feature of these is that the anodized aluminum backbone is encased in the plastic guards for extra strength.
This, of course, means that the plastic guard section is not replaceable if you scratch it.
The indexed steel bar-end fitting is a great feature to prevent the guards from rotating if you crash. This is often a problem with handguards and some may require retightening occasionally.
They are designed to allow plenty of room for cables and brake lines.
Pricing is mid-range between cheap handguards and high-end professional level.
Features:
Includes X-strong universal mounting kit for both 7/8″ and 1-1/8″ handlebars
High-impact nylon composite handguards are injection molded around a hard-anodized aluminum inner support backbone
Includes an indexed steel bar-end insert that mounts solidly and prevents the guard from rotating in a crash
Available in Black, Orange, Red, Blue & White
Pros:
Durable backbone
Easy to install
Reasonably priced
Cons:
Plastic guards not replaceable

Best Motocross Handguards
4. Cycra Stealth DX Handguards
The Cycra Stealth DX Handguards are a lightweight MX type handguard that comes with aluminum mounting brackets.
They were designed with input from the Monster Energy Yamaha Factory Racing Team.
The Stealth DX handguards are constructed of durable injection-molded plastic with an in-molded rubber edge to provide better roost and brush protection.
The brackets are constructed of aircraft-grade 6061T-6 aluminum which provides a solid mounting to both standard and oversize bars.
The set comes with a rotating bolt plate, which means the brackets can be mounted above or below the levers.
They're a mid-range priced MX style handguard which makes them a good choice if you don't want to go cheap, but also don't want to blow your budget.
Features:
Lightweight MX style allows for maximum freedom of adjustment and space for levers
Brackets are aircraft grade quality 6061T-6 aluminum
Mounts completely independently of your lever perches to give you the flexibility to mount them anywhere on the bars
Rotating bolt plate allows brackets to be mounted above or below the levers
Fits 7/8″ handlebars or oversize bars that taper to 7/8″ at the ends
Pros:
Easy to install
Lightweight
Fit almost any full-size bike, mini or quad
Large color selection
Cons:

5. Acerbis Uniko Vented Handguards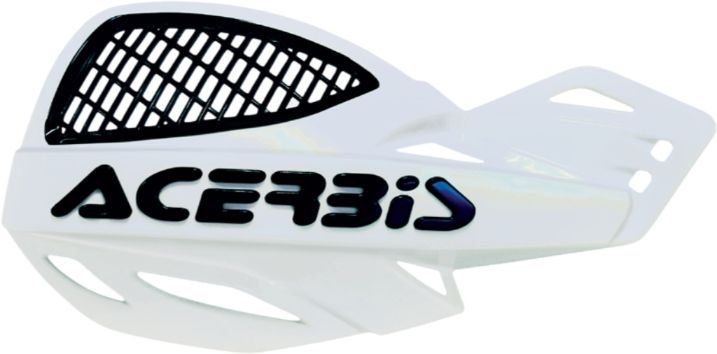 Acerbis is a company who are constantly improving their products. They were established in Italy in 1973. The Acerbis Vented Uniko has been developed in response to feedback from their professional riders.
Acerbis realized there was a demand for a vented version of their popular Uniko handguard.
The large venting panel is strategically placed to best direct airflow past the levers.
The universal mounting system has also been improved which allows the guards to be positioned independently of the angle of the levers.
Features:
Well-ventilated for riding in hot areas
Lightweight Polypropylene construction for the best performance and durability
The included universal mount kit allows the guards to be positioned independently of the angle of the levers
The universal mounting brackets are suitable for all MX bikes
Nylon mount kit included –  Aluminum Race mounting kit also available
Pros:
Easy to install
Good ventilation
Lightweight
Low priced
Large color selection
Cons:
Mounts are nylon not aluminum
Roost protection only

The Uniko handguards are also available in a
non-vented version
, so you can choose what suits you for hot weather or cold weather riding.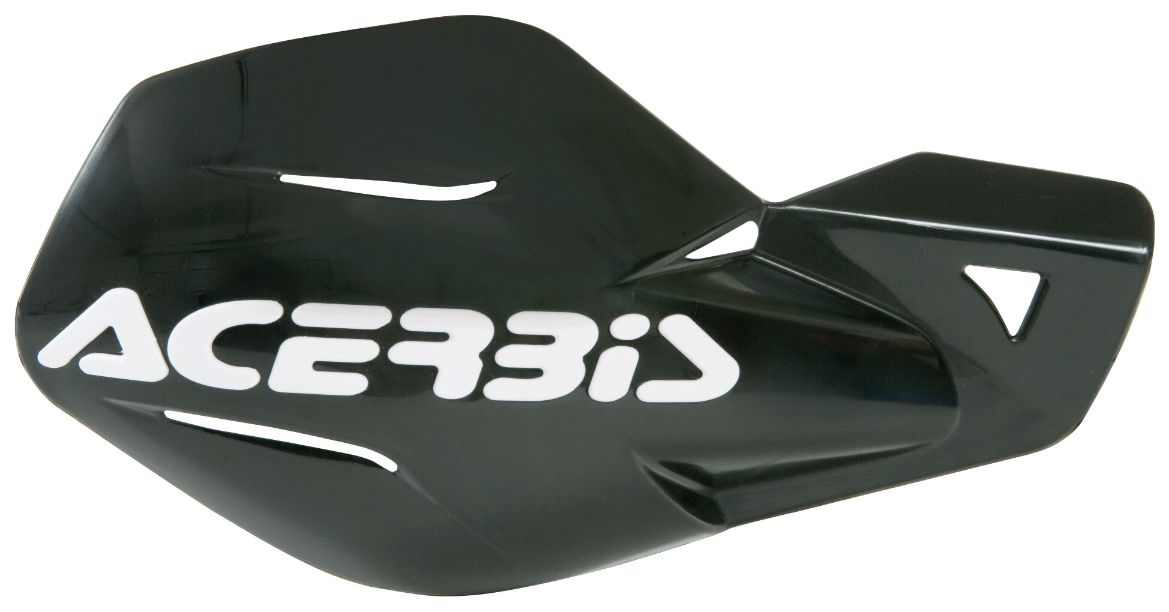 6. PowerMadd Star Series Handguards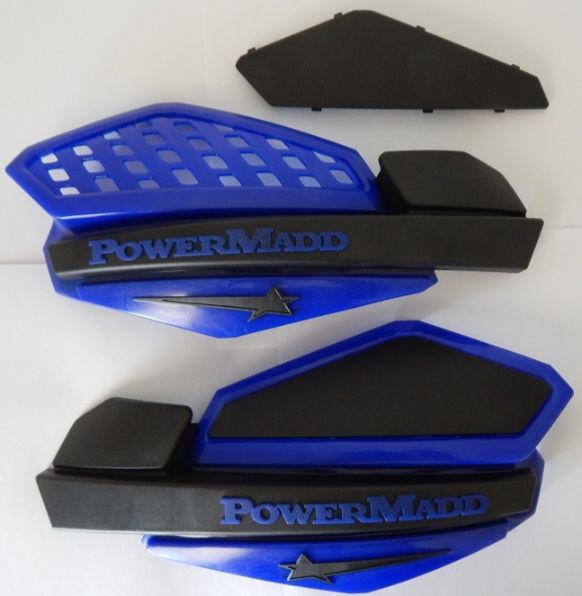 The PowerMadd Star Series Handguards are another vented handguard like the Acerbis Uniko at No. 5, but with the added option to be able to snap the cover back in for cooler weather riding.
These are a multi-purpose universal handguard and can be used on ATVs and snowmobiles as well. Because of this wide range of uses the mounting kit is sold separately.
They are fully adjustable kits that consist of aluminum brackets, hardened steel straps, and stainless steel hardware.
As they are available for Motorcycle, ATV and snowmobiles it is important to select the right Handguard Mount Kit.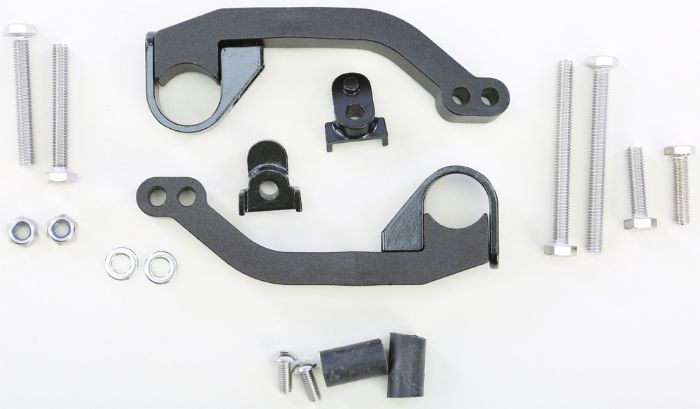 The mounting kit has a slight bend in the mounting brackets which flares the end of the handguard away from the handlebar, which provides more room for brake and clutch levers
Features:
Removable vent covers allow airflow but still block branches and debris
Snap the vent covers back in for riding in cooler weather
Offers plenty of room for clutch and brake levers
1 year 'no questions asked' warranty
Pros:
Removable vent covers
Multi-purpose use
Large color selection
Cons:
Mounting kit sold separately

Conclusion
Top Pick Most Innovative Design:  Cycra Probend CRM Handguards
These handguards get my vote for their innovative mounting design at both ends of the brace. The drop-down end fixing reduces the chance of hands catching on the brace, and the Center Reach Mount (CRM) system which fixes near the handlebar clamps. They've been a popular rider's favorite for years.
Best Value For Money Enduro Handguards: Acerbis Rally Pro X-Strong Handguards
Acerbis has been around a long time and the Rally Pro handguards are a quality wrap-around handguard that gives you all the strength you need at an affordable price.
Best MX Handguard: Acerbis Uniko Vented Handguards
The Acerbis Uniko handguards have long been a rider favorite and now the vented model gives riders looking for ventilation a new favorite.
Related Posts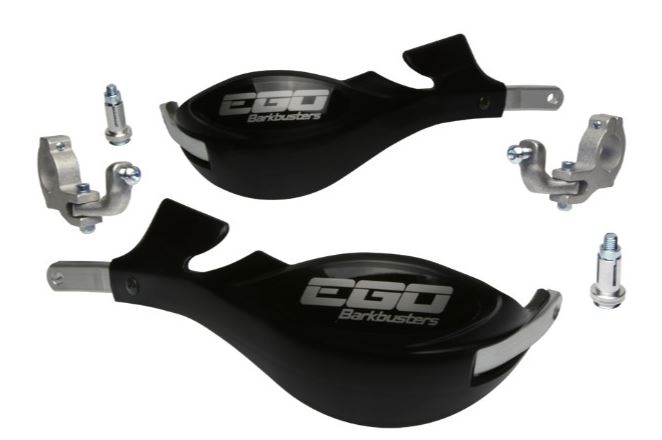 Barkbusters EGO Handguard Review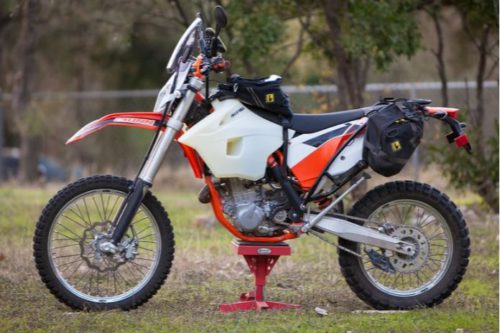 10 Best Dirt Bike Upgrades For Dual Sport Riding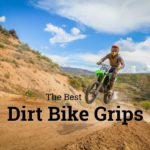 Which type of handguards do you prefer, the open or wrap-around type? Have you used any of the handguards reviewed here?  Let us know your thoughts below.
Please follow and like us: