Barkbusters is an Australian company that has been manufacturing motorcycle handguards since 1984.
The name has become synonymous with Dirt Bike handguards and has almost become the generic term. There are other manufacturers on the market, but I have personally used Barkbusters for over a decade and they have saved me from breaking levers and skinning knuckles more times than I can remember.
They would be one of the toughest and most durable handguards on the market.
Specifications
Product: Barkbusters EGO Handguards
Weight: 2.2 pounds/1kg
Colors Available: To match most Dirt Bikes.
Overview:
When choosing a handguard for your bike there are three main things to consider:
Does it have a full brace backbone?
Does it have a two-point mounting system?
Is the plastic guard replaceable?
The EGO handguard is a full brace backbone handguard, which means there is a very solid heat-treated aluminum backbone behind the high impact replaceable plastic guards.
These are suitable for Dual Sport, Enduro, and Adventure bikes because they prevent breaking the clutch or brake lever off in a remote location. Riding back to civilization without a clutch is no fun.
The MX package generally come without the backbone because the emphasis is on keeping dirt and mud off the hands of the rider while racing, and not so much emphasis on protecting the bike. Because the motocross rider on a track is never very far from mechanical assistance, the backbone is often not a top requirement with riders.
The EGO has a two-point mounting system, one at the end of the bars, and one around the handlebar. This is the most secure and stable fixing possible.
It is important to select the kit that is designed specifically for your bike's handlebars. Most are tapered these days, so the inner fixing must be suited for a tapered bar.
The instructions are clear and they can be installed in 1 to 2 hours tops.
The EGO comes with a replaceable plastic guard, which is a great feature because it is going to get damaged or scratched if you fall being plastic, but there is no need to replace the whole assembly. This will save you some money in the long run.
As the end fixing fits into the handlebar end, it is necessary to cut off the end of the grips when installing them.
You can see above my own Barkbusters are showing the signs of many scrapes and falls, and are still solid as a rock.
The attention to detail is excellent on all the Barkbusters models. One thing to be aware of is the proximity of the levers with the inside of the backbone.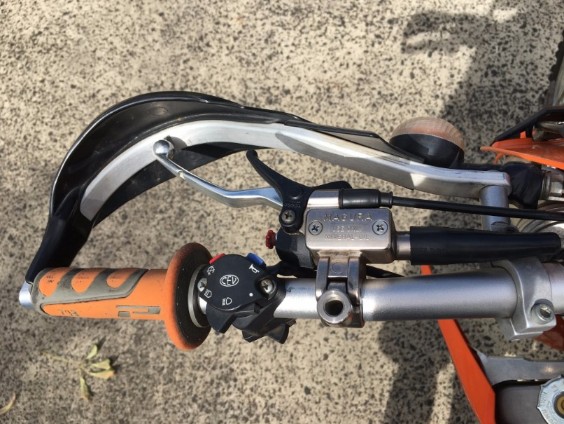 Some dirt bikes have quite long levers, and you may have to adjust the lever position or slide the whole lever mounting slightly further down the bars.
The kit includes:
Replaceable high impact resistant EGO Plastic guards
Heat-treated aluminum backbone brace
Two-point mounting system with tapered handlebar inner mount
Mounting hardware for 7/8″ handlebars
Colors:
They come in colors to match most bikes:
Black, White, Orange (KTM), Red (Honda), Yellow (Suzuki), Green (Kawasaki), Blue (Yamaha)

Installation
The EGO Barkbusters can be installed in 1 to 2 hours. This video explains in detail the steps to take.
 Summary:
The development of the Dirt Bike Handguard means the end of broken levers and skinned knuckles.
There were many times back in the day that I had to ride home without a clutch or front brake. It's a bit tricky pulling up at traffic lights with no clutch.
I have now been using Barkbusters on my bikes for well over a decade, and every time I drop the bike I'm thankful for them.
Barkbusters pay for themselves every time they save you from having to replace levers and grips. They have become an essential piece of equipment for the dirt bike rider.
Related Posts: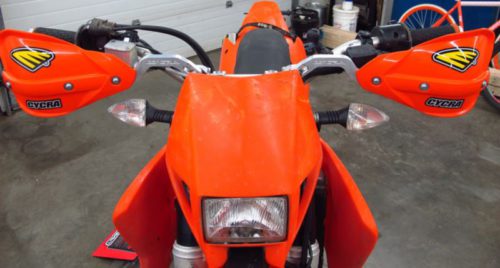 Best Dirt Bike Handguards – For MX & Enduro Riders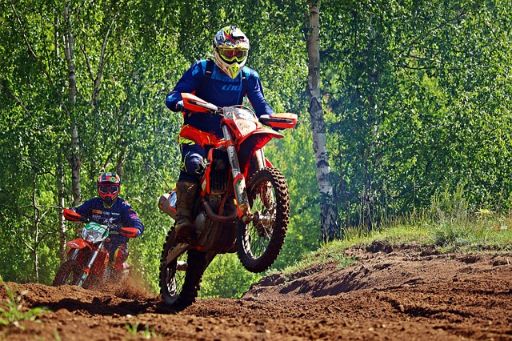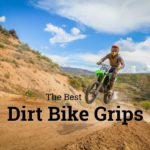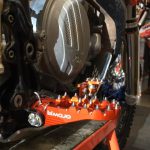 Looking to add some bling accessories to your bike? MOJO precision billet machined anodized aluminum parts.
If you have any questions or if there is anything I can help you with, please feel free to leave a message in the comments section below.
Please follow and like us: