You've selected the appropriate dirt bike for your child, and now you need to select the best kids Dirt Bike gear so that they can enjoy themselves, have the best protection, and minimize the risk of injury.
It can be a costly exercise. As a father of two teenagers, a 15-year-old and a 17-year-old, sometimes they don't get much wear out of clothes and shoes before they've outgrown them.
The same is true with kids' dirt bike riding gear. You need to consider how many years of use they will be getting out of it also.
Hopefully, this guide will help you make an informed decision and make the selection easier. If budget is an issue, you can always get the essentials first, then later add other gear that is nice to have, but not critical.
As time goes on and they gain more experience you can add or upgrade their riding gear.
As your child gains experience, expect them to have numerous falls and hit the dirt occasionally, it's all part of riding dirt bikes. Even the best riders fall sometimes.
Choosing the right riding gear reduces the chance of injury. Here is a selection of the best available today.
All of the gear selected below is from well-known brands and of the same quality and standards that you would expect when buying adult gear for yourself.
How To Choose the Best Kids Dirt Bike Gear
Top 3 Things to Consider:
1. Sizing and Fit:
This is critical when buying gear for a growing child. Some of the gear can be purchased slightly oversize to give them room to grow into it, but NEVER buy an oversized helmet. It must fit snugly to do its job in protecting your child's head. If it is loose and moving around it cannot protect the way it should.
Boots can be slightly oversized because they don't do a lot of walking around in them.
Items like body armor and goggles are adjustable to allow some growth.
2. Quality:
When buying for a child you don't always have to go with the best, there are good quality products available in the entry-level and mid-range. Helmets and boots are the most critical pieces of gear to be looking closely at the construction and safety features.
3. Budget:
We all have a budget to consider, but there are savings to be made by accumulating gear as you go.
Get the essentials like a helmet and boots first. If your child is not racing motocross, other gear like jerseys and pants can wait until you come across a good deal.
If you don't mind using used or hand-me-down gear from an older sibling that is fine. I've bought used pants, jersey, and boots in my younger riding days. Sometimes you can find good gear that has hardly been used.
Just don't ever buy a used helmet!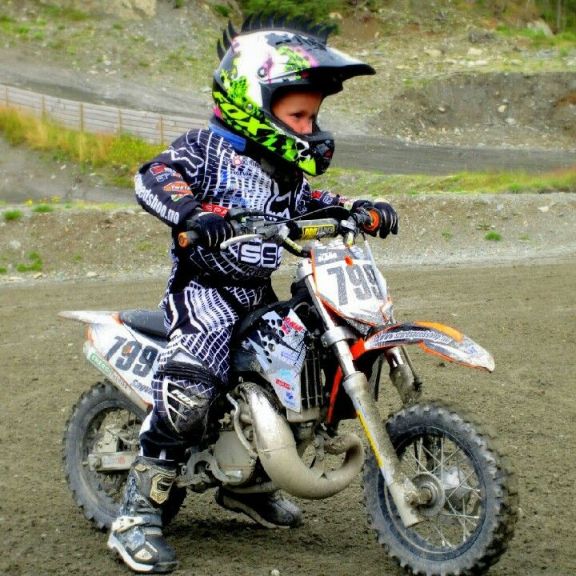 Kids Dirt Bike Helmets
The helmet is the most important piece of safety equipment for any rider. Your child must wear a helmet, even if it is on the trails at a slow speed.
When looking to purchase a helmet for your child it is important to stick to known brands and avoid unknown non-motocross-specific brands that may be super cheap.
How much should you spend on a helmet? As much as you can afford. There are other items of gear you can save some money on, but the helmet is the last place to look at saving.
Never buy a used helmet. It is impossible to know whether it has had an impact and damaged the shell, even if it looks unmarked.
Buying a helmet online is very difficult for a child. The sizing and fit are critical, so it is best to go to your local dealership and try the actual helmet on to ensure you select the right size.
When trying the helmet on, it should sit squarely on your child's head with the top of the helmet's eye port just above your eyebrows. It should fit snuggly at first, then loosen slightly as it wears in. Your fingers should not be able to fit easily between your child's head and the helmet.
Head SHAPE is just as important as head size. A perfectly sized helmet may fit comfortably on one rider, but be uncomfortable on another. A lot of manufacturers offer the following shapes when manufacturing their helmets:
Long Oval – This shape resembles a more oblong head that is longer front-to-back and narrower side-to-side.
Intermediate Oval – This shape resembles a round head that is shorter front-to-back and wider side-to-side than the Long Oval. This is the most common offered by manufacturers.
Round Oval – This shape resembles an oblong head that is longer side-to-side rather than front-to-back like the Long Oval.
To get the maximum protection from your child's helmet it must be correctly sized and fitted. Take your child's measurements and factor in their head shape when selecting.
Different helmet manufacturers have their own sizing charts. Always refer to the manufacturer-specific sizing chart when selecting the size. I have included them below.
For more on selecting a dirt bike helmet: Kids Dirt Bike Helmets – Your Complete Buying Guide
If you choose to buy online, here are some of the best available today.
Fox Racing Youth V1 Prizm Camo Helmet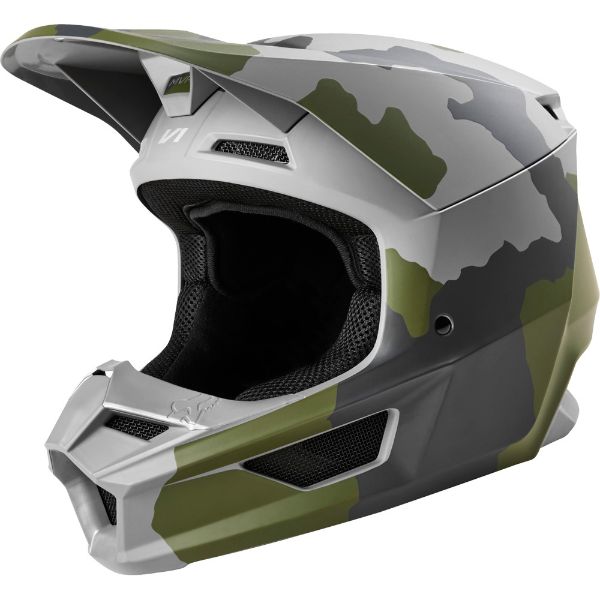 Fox Racing is a well-known and proven brand in motocross and dirt bikes and is very popular with young riders. Many world champions use Fox Racing gear.
The Kids V1 helmet gives you an incredible level of performance for the price. It is one of the most popular and competitive helmets in the market, especially in the youth range.
Performance features include the exclusive Magnetic Visor Release System (MVRS) which helps to manage rotational forces.
This pro-level, patent-pending feature removes the three visor screws and replaces them with magnets to allow the visor to release from the helmet in the event of a crash, while also securely staying in place when needed.
The V1 offers excellent airflow for comfort and moisture management in warm riding conditions. The Kids V1 comes complete with a removable and washable liner and cheek pads to keep their helmet feeling fresh.
It is available in a wide selection of colors and graphics to match nearly any gear set available.
Features:
Magnetic Visor Release System™ (MVRS) releases in the event of a crash
Lightweight Injection molded polycarbonate & ABS shell construction disperses energy in the event of a crash
1 shell and 1 EPS size
Removable and washable comfort liner and cheek pads
9 intake and 4 exhaust vents for optimum airflow
Exceeds ECE 22.05 and/or DOT certifications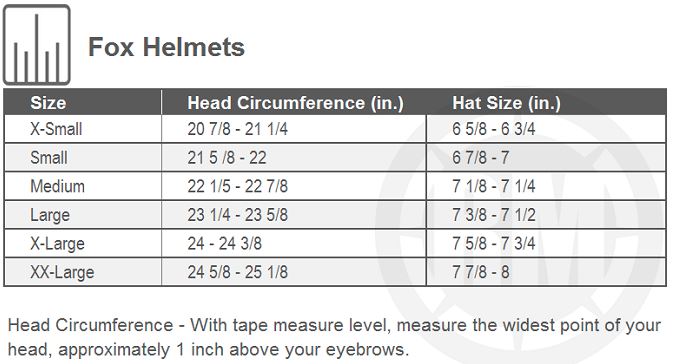 Fly Racing Kinetic Straight Edge Youth Helmet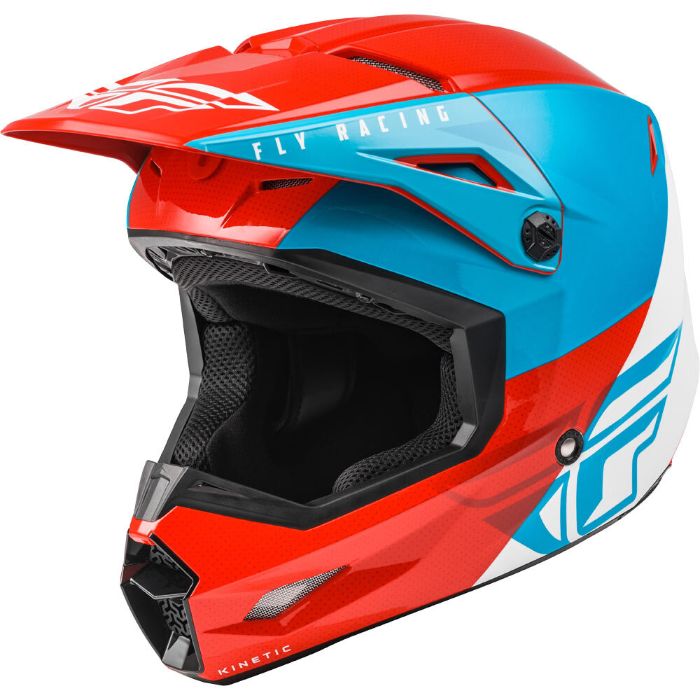 Fly Racing is another well-known brand in the dirt bike world, and like Fox Racing has the cool factor that kids love.
The Fly Racing Kinetic is a mid-level helmet that has been built with the perfect blend of style and comfort in mind, offering affordable safety for both youth and adult riders.
It is a very well-ventilated helmet, featuring Fly's TFV 'True Functional Ventilation', a multi-port ventilation system for maximum airflow.
When the rider is in motion, the air is forced through multiple air intake vents. This constant flow of fresh air is then passed through vent channels that are located throughout the EPS and exits out multiple rear exhaust vents.
A new slimmed-down design for minimized mass is good for youth riders, especially the littlies, avoiding as much as possible that 'bobble-head' look that is common with kids' helmets.
The Kinetic comes complete with a removable and washable liner and cheek pads to keep their helmet feeling fresh.
It is available in a good range of colorways, so your child can pick a helmet to match their riding gear.
Features:
Safety Standard: DOT/ECE approved
Durable and lightweight polymer shell construction
Dual-density EPS (Expanded Polystyrene) liner
Custom molded rubber trim with integrated nose guard
Removable and washable comfort liner and cheek pads which absorb sweat while providing ventilation
TFV (True Functional Ventilation) multi-port ventilation system for maximum airflow
High-flow mouthpiece is replaceable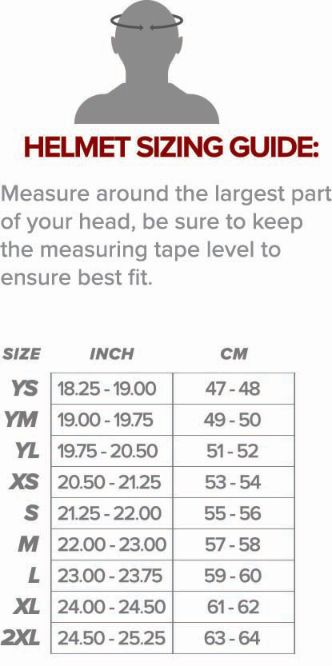 Kids Dirt Bike Boots
Dirt bike boots follow a close second after the helmet when it comes to safety gear, but would come first when it comes to the body part that cops the most amount of impacts.
Whether it's from crashes or just general off-road riding, the feet, ankles, and calves cop a beating.
For a young child who hasn't ridden before, the boots will take a bit of time to get used to because of their stiffness and general restrictive nature.
For more on selecting dirt bike boots: Kids Dirt Bike Boots Buying Guide 
Alpinestars Youth Tech 7S Boots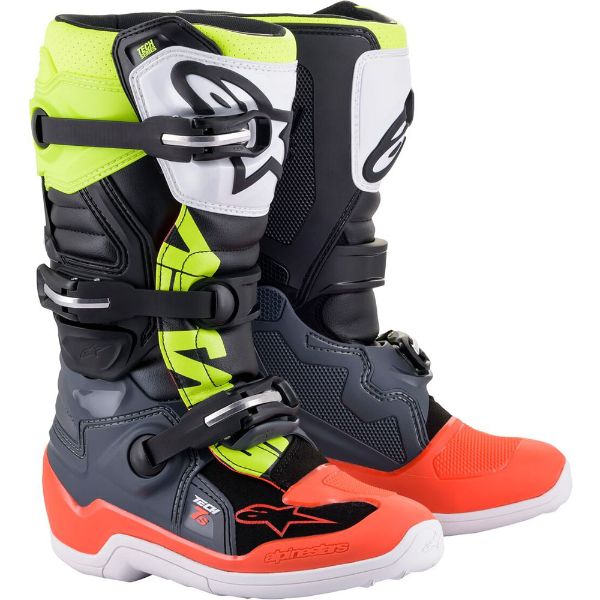 The Youth Tech 7S would be one of the most advanced youth boots available. The men's Tech 7 is used by top professional riders worldwide so you're giving your child the best possible protection with the Tech 7S.
This boot has been specifically designed for younger and smaller framed riders.
The boot features excellent flexion which is provided by a lateral pivot system. This gives a better feel of your foot brake and gear shift levers while also offering excellent support.
The Tech 7S is at the upper end of the Youth boots price range, but you know you're buying the best.
They are well suited for motocross racing or trail riding, whatever your use, they can handle the toughest terrain.
Features:
Excellent flexion is provided by a low profile medial and lateral pivot system to offer movement and support
Instep and Achilles accordion flex zones constructed for superior control and support
The compound sole is seamlessly integrated into the base structure for superior durability, high-performing rubber grip patterning, and feel. The sole is replaceable
Removable anatomic footbed for comfort and support ensures even weight distribution
Textile mesh with open cell foam for improved air circulation and comfort
The buckle closure system incorporates polymer and fiberglass buckle arms and high-impact aluminum bridge closures for durability and weight saving
Buckle system features memory and a quick release/locking system with a self-aligning design for easy, precise closure. All buckles are easily replaceable
O'Neal Youth Rider Boots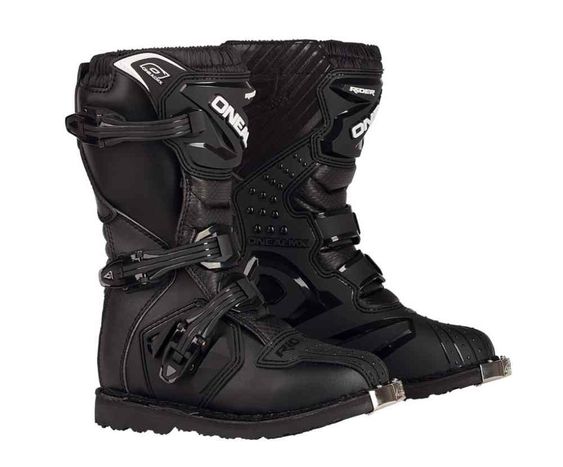 The O'Neal Youth Rider boot is an entry-level boot with a budget price that is perfect for a young rider just getting into dirt bike riding.
It's suitable for motocross racing, trail, or ATV riding and includes the same features as the adult rider boot.
The adult Rider boot is my personal choice of boot which I have been using for about one year now, so I have no hesitation in recommending it.
You can read the full user review in the post: O'Neal Rider Boots Review – A Great Entry Level
Features:
Injection-molded plastic plates for impact protection
Metal shank insert which reinforces the shape of the boot and adds support
Easy to operate, Snap-Lock adjustable three buckle closure system
Stitched welt sole construction is properly balanced with no unstable rocking
The front metal toe guard prevents the sole from delaminating.
Moderate grip sole for MX, Enduro, Trail, or ATV
Extra comfort with an air mesh interior, generous heel support, and cushioned insole
Inside leg synthetic leather heat shield
Replaceable straps and buckles which are easy to operate
Rear pull tab for ease of fitting
Safety standards: EN 13634:2017
Alpinestars Kids Tech 3S Motocross Boot
Here's a boot for the littlies. It is specifically designed for entry-level PeeWee riders. The new 2021 Tech 3S incorporates many of the features found in the Youth and Adult Tech 7 boots.
The two-buckle system is used on the kids' boots, making it easy for them to fit.
It is reasonably priced and being Alpinestars you know you're giving your child the best protection possible.
Features:
Constructed using coated leather upper and suede
Designed specifically for junior riders
3-stage instep flex zone for maximum comfort, control, and support
Exclusive rubber outsole design with unique side-wrapping design
External suede panel located on calf area of the boot to provide grip against the bike
Removable anatomic footbed
External PU shin guard for a high level of impact and abrasion resistance
Protection:
Internal toe and heel protection PU reinforcement molded into the inner structure for enhanced protection
Internal ankle protection molded into the internal construction of the boot
External PU molded toe protector providing the ultimate in grip and safety
Kids Dirt Bike Goggles
Goggles are important obviously to protect your child's eyes from things like roost from another rider, dust, or tree branches if trail riding.
Goggles for kids are designed to fit the appropriate youth-sized helmet. They come with a lot of the same features as their adult version so look for anti-fog lenses, good ventilation and airflow, and compatibility with tear-offs if racing motocross.
For more on selecting Dirt Bike Goggles: Dirt Bike Goggles – Your Complete Buying Guide
100% Strata Mini Youth Goggles
The Strata Mini is designed to fit the youngest riders while still retaining the exceptional features of the adult goggles, and at a budget price.
Ideal for ages 6 or younger, the Strata Mini gives the kids excellent protection and style. 100% is a very popular brand with the younger riders, from PeeWee to Youth and also adult riders.
The lens is an extremely durable polycarbonate that gives a large peripheral vision and is treated with an anti-fog coating.
The frame is constructed from a flexible urethane which is finished with a matte finish on the interior for anti-glare, and a gloss finish on the exterior for a striking look.
The face foam is a single thick layer of form-fitting, moisture-managing foam to draw the sweat away from your face.
Your child will love these.
Features:
Design & Fitment: Curvature is suited for comfort and specifically developed for a young kids face
Foam: Ultra-thick & comfortable face foam soaks up sweat
Frame: Constructed from a flexible yet durable urethane featuring a matte & gloss finish
Anti-Fog Lens: Scratch resistant polycarbonate lens for unimpaired vision
Strap: 35mm silicon coated strap holds your goggles in place
Scott Sports Agent Mini Youth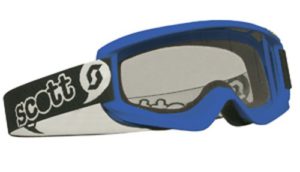 If your child is just starting out riding, then a basic pair of goggles is ideal for them, especially if you are on a tight budget. You can easily upgrade later when they grow out of these and if they decide to stay with the sport.
Scott has long been one of the leading goggle brands, so you know the quality is there. The Scott Agent goggles still have features found in adult goggles like an Anti-fog lens, silicone-lined strap, and Hypoallergenic face foam.
These goggles are suited for kids up to about 6 years old.
Features:
Hypoallergenic Super-Soft Face Foam provides a precise fit to your child's face. The single density foam has special moisture management properties
Anti-Fog Coating (AFC) lens treatment
Silicone lined strap
Suitable for 3 to 6-year-olds
suit for other uses like skiing, BMX, ATV

Kids Dirt Bike Gloves
Dirt Bike gloves are good to have for when your child inevitably hits the dirt hands first. They will also provide some padding to reduce the handlebar vibrations, and allow them to ride a little longer.
They don't last very long when riding dirt bikes, so luckily they aren't an expensive item and can be purchased for around 20 to 30 dollars.
Fox Racing Youth Dirtpaw Gloves
The Fox Dirtpaw is a high-performance glove without a high price tag and is ideal for youth riders.
The freshly-renovated Dirtpaw Glove has armored knuckles, padded palm, and superior comfort which makes it the top choice for the entry-level rider.
The hoop and loop closure gives a secure fit, and built-in stretch gives you maximum flexibility.
For years the Dirtpaw has been one of the most popular motocross gloves on the market. The Dirtpaws match up with the Fox 180 racewear range.
Features:
Compression-molded neoprene cuff with hook and loop closure for a secure fit
Padded single layer conductive Clarino® palm which is touch screen compatible
Durable Nylon top of hand material with direct inject TPR knuckle coverage
Stretch mesh finger gussets increase airflow and dexterity
Silicone print at fingertipsfor lever grip
Kids Jerseys and Pants
Youth and Kid's dirt bike jerseys and pants include all the same features found in adult sizes.
Moisture-wicking fabrics, vented mesh paneling, reinforcement in critical hard-wearing areas, and colorful graphics are all available in kids' jerseys and pants.
Fox Racing Youth 180 Prix Pants
The Fox Kids 180 Pant uses their Rider Attack Position (RAP) construction for greater comfort while in the riding position.
This articulated fit, combined with strategically placed stretch panels, provides flexibility and a more natural movement on the bike.
For dependability and longevity, the pants use a robust 600D polyester construction on the main body.
Heat and abrasion-resistant leather panels to the inner side of the knees on both legs give further reinforcement in the most critical wear areas.
Features:
Rider Attack Position™ (RAP) construction for an improved ergonomic fit on the bike
Heat and abrasion-resistant leather knee panels increase durability against knee braces, guards, and heat from the bike
Woven TruMotion® zonal all-way stretch panels which provide excellent mobility
600D dyed or sublimated poly body with premium logo treatments for a durable, long-lasting aesthetic
Hip pads included
Fox Racing Kids' 180 Motocross Jersey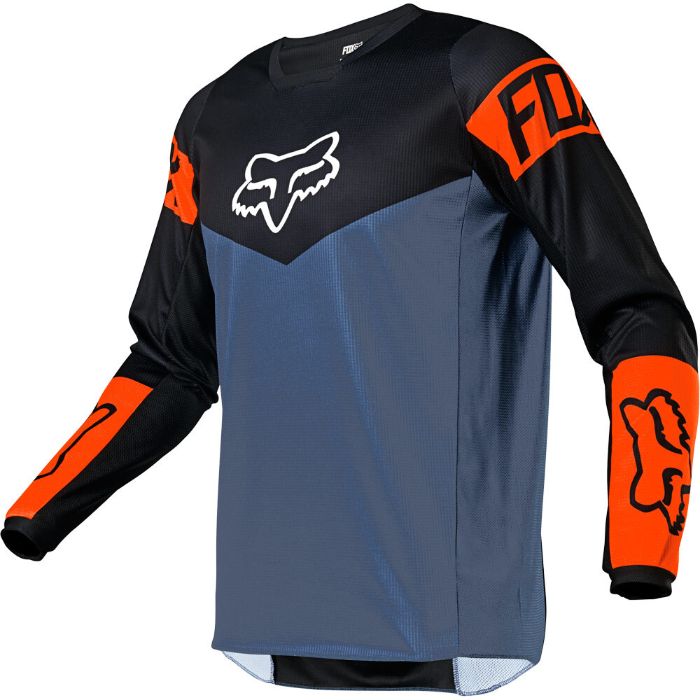 The Fox 180 Jerseys give you the best of motocross style, comfort, and performance.
They're a No. 1 bestseller and the range features some amazingly colorful graphics and uses moisture-wicking fabric on the main body to keep your child dry and comfortable.
Side panels are ventilated to increase airflow through the jersey, aiding in moisture management and helping to keep your child cool on warm riding days.
Lightweight arm cuffs give a precise fit without feeling restrictive, and a drop tail design keeps the jersey tucked.
Features:
Moisture-wicking fabric gives a soft, lightweight fit while moving sweat away from the body to keep you dry
Vented mesh paneling increases breathability and airflow
Mesh collar and sleeve cuffs improve fit and comfort
Dyed or Sublimated graphic panels for rich and vibrant color
Drop-tail design keeps jersey tucked in pants
Cross merchandising options available in most styles
100% Polyester
Kids Dirt Bike Body Armor
One thing to be aware of when looking for body armor is that a Roost Deflector and a Chest protector are not the same things.
Roost deflectors are designed to protect you from rocks and dirt kicked up by other riders, and from getting cuts or bruises from branches if you're trail riding. They are not designed to protect you from impacts in a crash.
Chest Protectors are usually a little bit more expensive and the best ones have a CE certification for impact. To achieve a CE certification, it has been put through independent tests to meet very specific standards.
It is your choice as to whether you think your child needs a chest protector, or you think a roost deflector will be sufficient if they may only be trail riding.
For more information on selecting Dirt Bike Body Armor, check out:  10 Best Body Armor For Dirt Bikes
Fox Racing Youth CE Raptor Proframe Chest Protector
The Youth Raptor Proframe is based on the proven adult size Fox Proframe and is designed to give young riders complete coverage.
It features a new full wrap-around body coverage using injection-molded plastic side plates, and there is an extended lower back coverage.
The internal lining is a double layer of Bio-foam and it has a lot of the features of the adult size Proframe. It is fully vented to help keep your child cool while racing.
It is designed for kids aged from 6 to 14 years old weighing 60 to 95 pounds.
Smaller riders use an extra female clip to fasten the closure system in the center of the chest plate. Larger riders use the standard integrated closure system.
The adjustable shoulder straps are specifically designed to work with neck braces if you prefer your child to wear one.
Features:
Full wrap-around body coverage via injection molded plastic side panels
Adjustable shoulder straps that allow full neck brace compatibility
Youth-specific sizing provides unmatched coverage and comfort
Integrated buckles provide quick adjustment and removal
Low profile design which fits great over or under a jersey
Removable back panel for a chest-only configuration
Double layer Bio-foam lining for comfort
Sizing: One size which is fully adjustable for kids ages 6-14 years (60-95lbs/27-43kg)
CE EN 14021 Certified stone shield
CE 1621-2 Level 1 Certified full back protection
Neck Brace compatible
Colors: Black/White

Fox Racing R3 Youth Roost Deflector
This Fox Racing R3 roost deflector is designed to fit kids aged 6 to 14 years.
It offers excellent coverage and has a recently updated chassis style. The Youth R3 deflector delivers ample roost coverage for young riders.
It features a low-profile race-form fit so that it can easily be worn under a jersey your child chooses. It has an integrated buckle system and a stylish new design that your kid will love.
It is certified as CE EN 14021 for stone shield certification. Note that because it is a roost deflector the certification is as a stone shield and not for impact protection as with a chest protector.
It is available in one size, but going from reviews it is best suited if your child is less than 60-70 lb.
Features:
Youth specific fit (6-14 years)
Adjustable shoulder and waist straps that allow for a customized fit
Elastic slide-buckle waist closure keeps the guard tight to the body
Low-profile shoulder cups
Designed to fit a wide variety of neck braces
CE EN 14021 certified stone shield

Final Thoughts
Selecting the right kids' dirt bike gear to suit your child's needs, keeping in mind the type of riding they do, their size and weight, and your budget can be daunting.
The good news is that many of the features you find in adult gear is also available in kids' protective gear.
The gear selected above is all reasonably priced and of good quality from known and respected brands. There is no super-cheap gear included. I would be happy putting my own kids in any of this gear, and personally use the adult sizes of it.
Hopefully, the information in this post can save you some time, with the groundwork and research having been done for you based on my 30 plus years of riding dirt bikes and buying gear.
Related Posts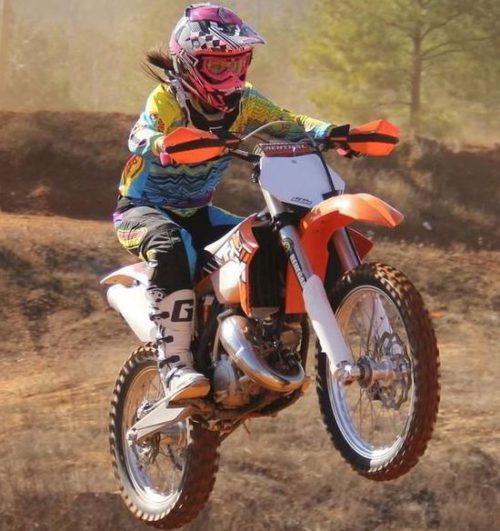 Best Women's Dirt Bike Riding Gear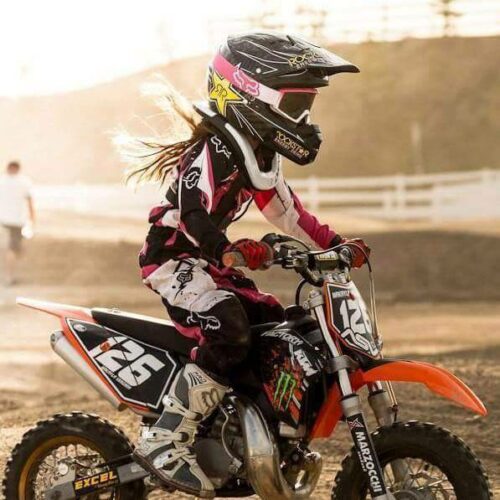 Kids Dirt Bike Helmets – Your Complete Buying Guide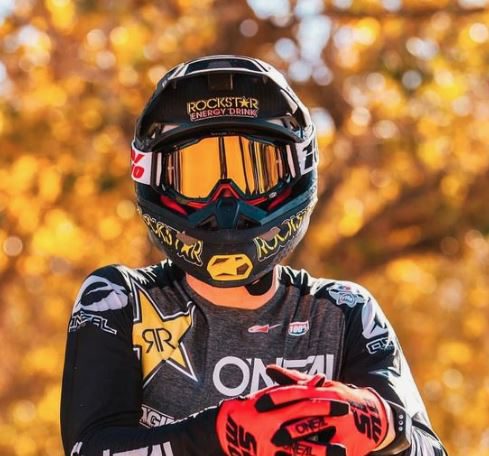 Dirt Bike Goggles – Your Complete Buying Guide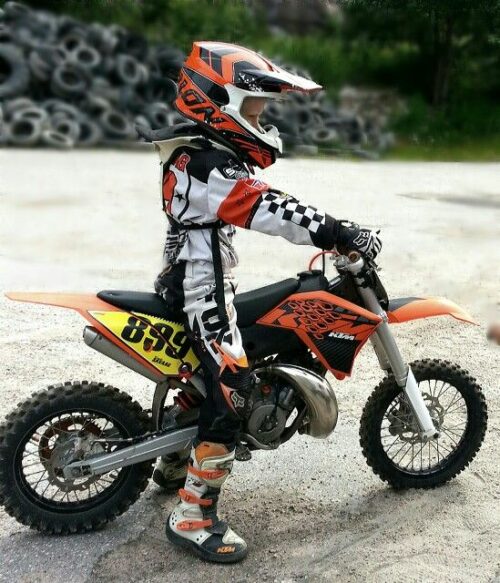 Kids Dirt Bike Boots Buying Guide
Do you have a kid who is into Dirt Bike riding? Is there any gear that you can recommend that should be on this list?
Please follow and like us: