I've owned several pairs of O'Neil boots over the last couple of decades. The last pair of O'Neal Element boots gave me about 8 years of trail riding use. Here is my O'Neal Rider Boots Review from my personal experience after purchasing and using the boots.
The O'Neal Rider boots are an entry-level MX style boot with the quality construction of a higher-priced boot but at an affordable price.
Even though they are categorized as a motocross boot, I use this boot for Dual Sport trail riding, so what better opportunity to write my O'Neal Rider boot review.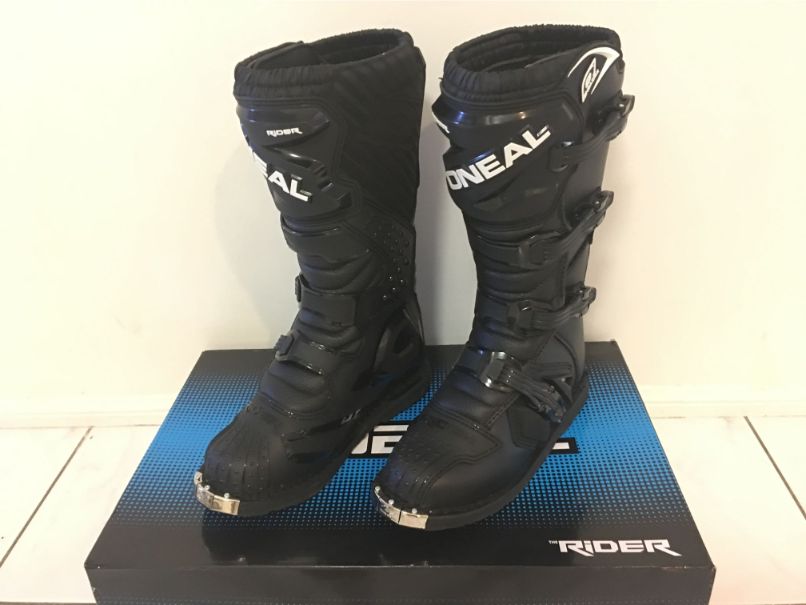 As of 2019, they are available with the new O'Neal logo on the front of the boots (below) or the traditional more understated logo as I purchased above. They are very similar to the popular O'Neal Element boot, but a little bit cheaper.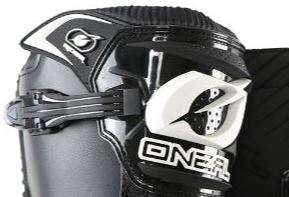 Features
CONSTRUCTION
Microfiber with TPU reinforcing
Metal toe guard to protect the sole against delaminating
Durable Goodyear welt sole which is properly balanced with no unstable rocking
SAFETY FEATURES
Synthetic leather heat shield to prevent heat damage from your bike
Metal shank insert reinforces the shape of the boot and adds support
Injection-molded plastic plates to protect against impacts
CUSTOMIZATION & COMFORT
Moderate grip sole which is great for the track, trail, or ATV riders
Easy to operate Snap-Lock adjustable four buckle closure system
Air mesh interior, generous heel support, and cushioned insole for extra comfort
Rear pull tab for extra leverage
Replacement straps and buckles are available
Colors available: Black
Sizes available: 7 to 15
The main construction of the boot is microfiber with lots of reinforced TPU for added protection.
The boots feel very plush to put on from new, thanks to the 3D air mesh interior lining and the cushioned insole. Like most off-road boots, they feel a little stiff at first and need a bit of wearing-in time. For me, they wore in nicely after one 3 hour trail ride.
At the shin and above the heel there are accordion panels to allow flex and make walking in these boots more comfortable.
The reinforced toe has a shifter guard to protect the top of the toe, and there is a metal guard that wraps around the front of the sole to protect it from impacts and delamination. The plate is screwed in place to ensure it doesn't work its way loose.
Around the inner side of the boot, there is a hard TPU panel for added protection, and some extra depth TPU over the inner ankle, which is a great feature as this area of the boots gets a lot of punishment from your bike's footpegs and engine.
This is the area where my last set of boots copped the most damage, so it's good to see a bit more protection here.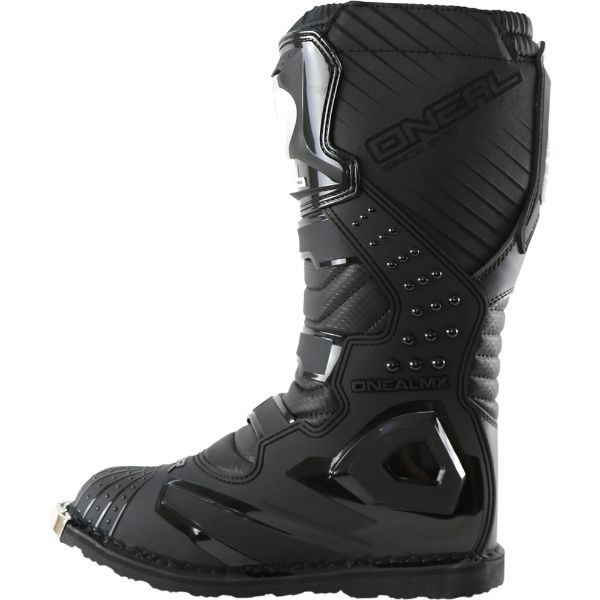 At the top inner side of the boot is a layer of synthetic suede leather which is heat resistant and also gives you a better grip on your bike. This is an important feature to have in any off-road boot.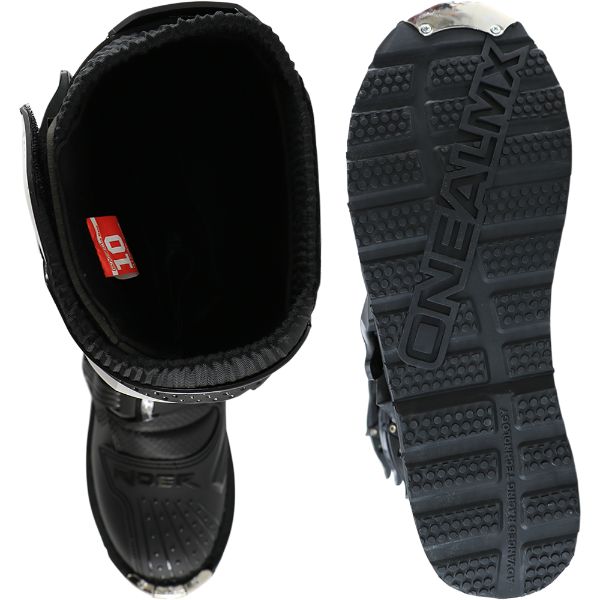 The sole of the boot gives a good level of grip which is ideal for dual sport riders who need a bit of traction on the muddy slippery trails for the times when you have to get off the bike to negotiate a tricky spot, and just walking in them.
The sole is the traditional stitched-on type, as opposed to the bonded sole design which a lot of boots are going to these days.
It's a personal preference, but I chose these boots for that reason, as having used both types over the years, my opinion is that the stitched-on type sole is harder wearing.
The toe box on this boot is fairly wide which is good news for riders like me with wider feet.
The buckle closure system is 4 buckles fully adjustable. The pin-style buckles have a good solid snap close to them, and while they're not metal buckles, they feel very strong and are replaceable in the unlikely event you break one.
While the metal buckles are great on the more expensive boots, my other O'Neal boots have all had a very tough plastic buckle, and I've yet to break one. As they're easily and cheaply replaced, it's not really an issue.
The bottom buckle at the outer side of the boot also has some extra depth TPU deflectors on either side of the buckle for added protection, as this is the buckle that is in the most vulnerable position to be damaged.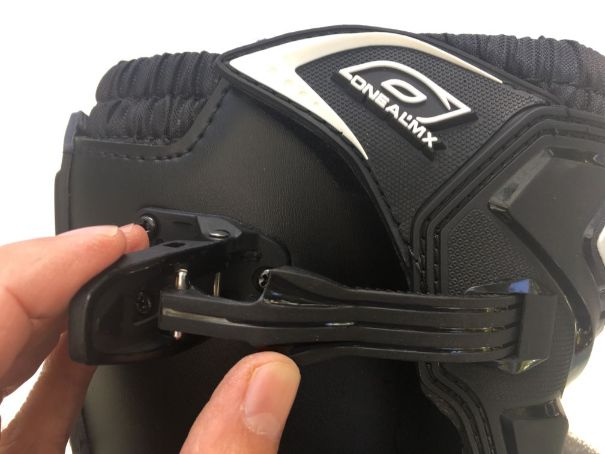 At the top of the boot, there is a single velcro closure and internally a water-resistant gaitor comes up to just above the third buckle. This is especially handy to keep debris out and stop water from rushing in if you are doing a water crossing.
While the boots are not waterproof, just water-resistant, it is a nice feature to have.
The calf opening at the top has a lot of adjustment, so will accommodate riders with larger calves.
The interior lining is a 3D air mesh to help with airflow and keep you cooler, and around the top is a tougher internal lining to help prevent wear from knee braces and knee guards.
The steel shank in the boots adds a bit of rigidity to help keep the boot shape. These boots are a little stiff right out of the box and will take a little time to wear in.
The fit is pretty close to 'True to size'. They were for me, and by all reports that seems to be the case for others.
For about $10 less, there is a Shorty version of the boot which only has two buckles and cuts off at about the height of the third buckle, but for off-road riding, I'd recommend the protection of the full boot.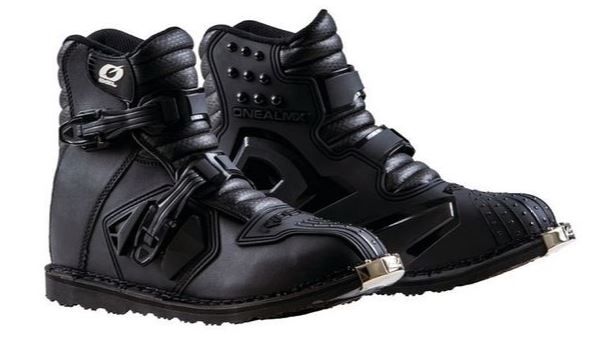 There is also a Women's boot and a Youth version, which has a 3 buckle system, so the kids are looked after also.
Pros:
Excellent value for money
Sturdy construction with a steel shank reinforcement
Cons:
Quite stiff at first – need a break-in period

Summary
The O'Neal brand has been producing gear for the dirt bike world for decades and is a name you can trust. The O'Neal Rider boots have been a favorite with MX and Dual Sport riders for a few years and are one of their biggest sellers.
With literally hundreds of positive reviews, it is easy to see why these boots are so popular.
Although priced in the entry-level range at just over $100, I find myself using them and I've been riding for decades. They share a lot of the features common in the higher-priced boots, but without the price tag.
What's not to love about these boots?
Related Posts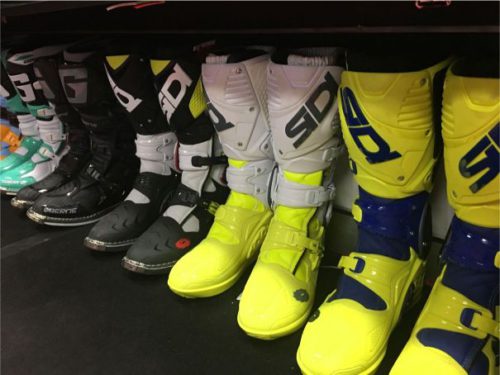 Dirt Bike Boots Buying Guide – What You Need To Know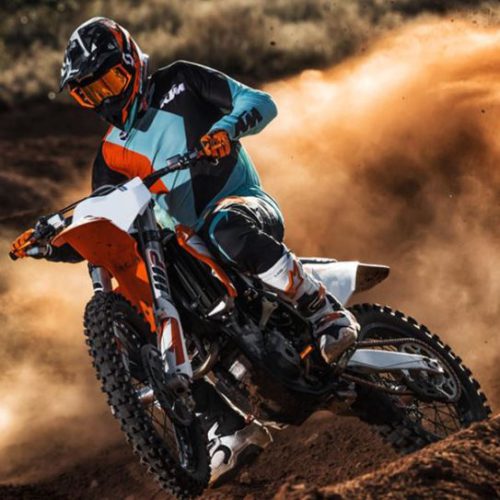 5 Best Dirt Bike Boots Under $200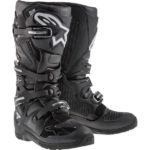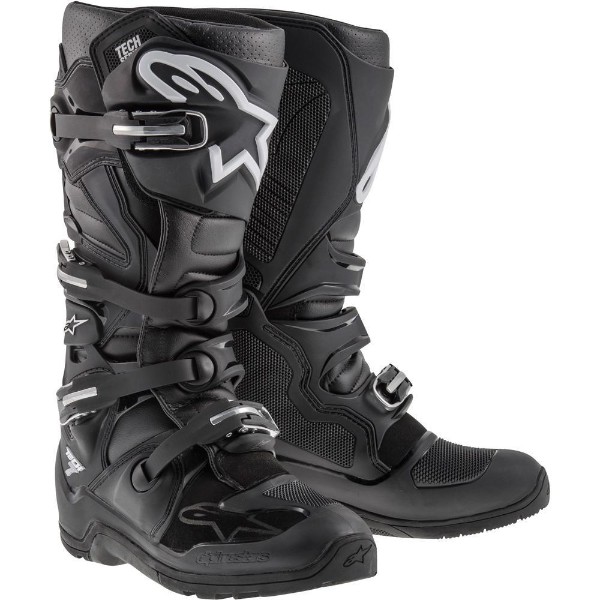 Alpinestars Tech 7 Boot Review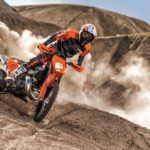 10 Best Boots For Enduro And Dual Sport Riding
Have you used the O'Neal Rider boots? What are your thoughts on them?
Please follow and like us: