The Alpinestars Tech 7 boots have been the choice of Dual Sport, MX, and Enduro riders since their introduction. They were designed with the enduro and off-road rider in mind.
The Tech 7 is the second from the top of their boot range, after the Tech 10.
Top 4 things to consider when choosing a boot for dirt bike riding:
Protection to the foot, ankle, and lower leg
A good metal buckle system that is easy to use even when caked in mud
Tough instep and sole that grips your footpegs
Provide enough flex brake/gear lever control and to be able to walk in them easily
A good gaitor seal around the top of the boot to stop a lot of dirt and water from getting in is also something to look for.
Read below to see how the new Tech 7 boot has dealt with these requirements.
Specifications
Product: Alpinestars Tech 7
Weight: 10 pounds/4.5 kg
Sizes: 8,9,10,11,12,13
CE Certified
What's New for the Tech 7?
The New Molded Foot Shell
The boot used to have a stitched sole but now features a single plastic molding foot shell, giving it a more streamlined lower profile. It is also now 15% lighter.
The toe box area is now built with a dual-injection process that gives a lot better impact protection and more flexibility than the older style boot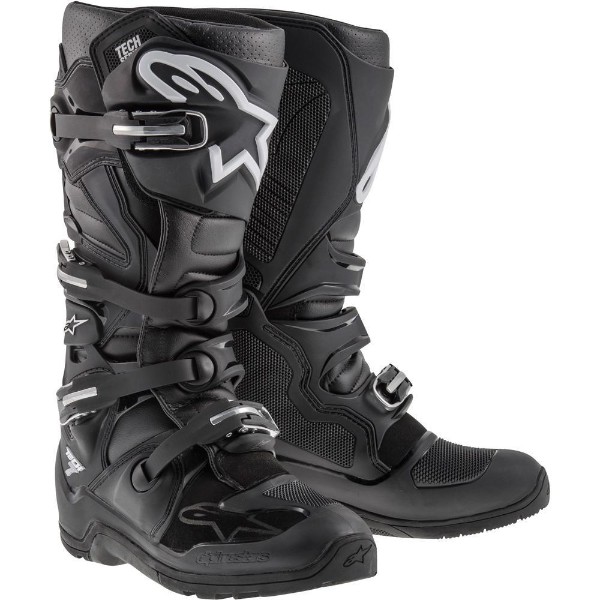 The New Buckle System
The boot now has a completely redesigned buckle system with aluminum arrowhead buckles that slide through a huge aluminum loop.
They are easy to operate even when caked with mud and are self-aligning, and have a memory setting to ensure a consistent fit.
The older buckles were quite stiff to operate, but the new ones are now a much lighter action.
The lowest buckle closest to the toe clasps on top of the foot, preventing it from catching on branches and trail obstructions as you ride by.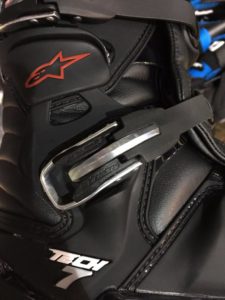 The New Sole
The sole has a dual compound construction with the softer rubber at the instep (footpeg) area. This gives you a great grip on your footpegs.
The instep and sole are able to be replaced and come in three versions, MX, Supermoto, and Enduro for an additional $20.
The Enduro version only differs from the MX by the sole, which is better suited to walking on muddy trails. Internally there is a new dual-compound removable footbed.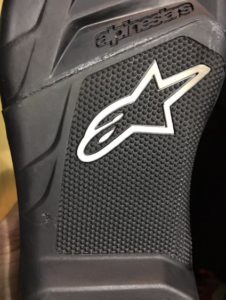 The Biomechanical Pivot System
The new Tech 7 features a 'Biomechanical Pivot' hinge system which allows the boot more flex at the ankle. This helps with the feel of the gear shifting and braking, and also makes the boots more comfortable to walk in.
The new pivot system also reduces the stress on the stitching that fixes the ankle plate to the main boot, which has been a failure point in the older Tech 7 boot.
The back of the boot now features a new TPU blade system that guards against frontal hyperflexion of the ankle joint if you get into trouble. This could save you from breaking your ankle.
The medial side of the boot is now constructed from a one-piece TPU panel with a honeycomb pattern to help with gripping the bike. There is also a redesigned heat shield.
The top of the boot is now soft, a new ergonomic feature. It is not a waterproof boot, but there is a gator to stop a lot of the water and dirt from getting in.
The boot has a wide entry aperture for ease of fitting, with a Velcro upper closure TPR flap to allow a broad range of calf adjustment.
Features:
CONSTRUCTION
The upper is constructed from an innovative microfiber material that is flexible and abrasion-resistant. The upper material is reinforced with TPU for improved water resistance and durability
Specifically designed compound sole for durability, grip, and structural rigidity. The sole and instep are replaceable
TPU shin plate and medial protection are constructed from one single part for greater structural integrity and stability. The anatomically profiled shin plate features a dual closure system with an internal microfiber flap attached with velcro for a precise fit closure
TPU medial side panel incorporates a honeycomb rubber insert and is designed for excellent grip against the bike providing heat protection
SAFETY FEATURES
New TPU ankle protection system incorporates a biomechanical link between the middle and lower sections of the boot to help prevent injury
An innovative one-piece dual compound foot shell with co-injected hard toe protector and integrated steel shank. The shell is highly resistant to abrasion and impacts and adds to the boot's overall durability and streamlining
Contoured calf protector plate is injected with a high modulus polymer for impact resistance and incorporates a blade flex system for control of movement, added protection for your Achilles tendon, and to help prevent hyperflexion
The Tech 7 is CE Certified
CUSTOMIZATION & COMFORT
Redesigned instep and Achilles accordion flex zones for improved comfort and support
Extended microfiber gaiter helps prevent excessive water and dirt entry
Internal 3D lining includes an anti-slide microfiber suede on the heel to help keep your foot in position
Soft foam reinforcement on ankles and collar for long-lasting comfort and shock absorption
New dual compound, removable anatomic footbed which includes EVA and Lycra top for comfort and support and ensures even weight distribution and a reinforced heel
Wide entry aperture for easy fitting and allows for a wide range of calf sizes and fitting a knee protector if you use one
An innovative buckle closure system that includes high-impact aluminum bridge closures, with memory settings and a quick release locking system with a self-aligning design for precise closure. All buckles are replaceable
Pros:
Excellent ankle mobility with the hinged pivot system
Light, quick action buckle system
Comfortable to walk in
Superb ankle protection
Cons:
Thick armor to upper boot may be hard to fit under some pants if adventure riding
No waterproof option

Summary:
The Alpinestars Tech 7 boots are an ideal choice for the trail, motocross, and enduro riders. Adventure motorcycle riders may also like them for the extra protection they give while offroad riding.
It's good to see the technology of the $600 boot finding its way down to the $200 to $400 boot.
If you're looking for one boot to do everything, this boot may just be it. It has so many great features it's hard not to want to own a pair.
Tip: When purchasing on the internet see if you can try on the EXACT pair of boots first to get the right fit for you. Most things these days can be found cheaper online so finding the item at a local dealership and trying it on for size first can save you the frustration of ordering the wrong size online.
The same applies to helmets and gloves, these are something you want to get the sizing right with also.
Related Posts: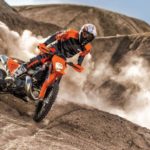 10 Best Boots For Enduro & Dual Sport Riding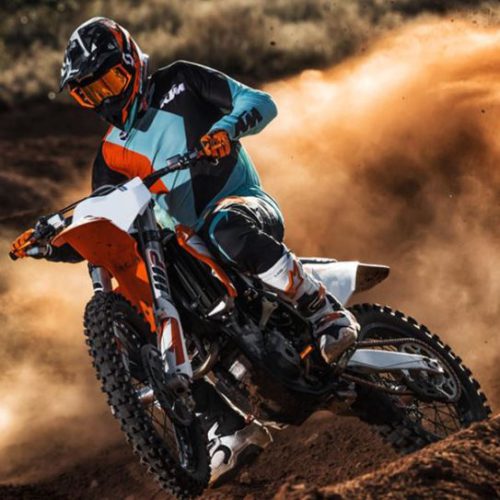 5 Best Dirt Bike Boots Under $200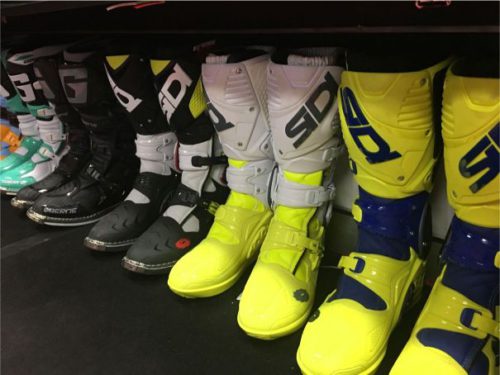 Dirt Bike Boots Buying Guide – What You Need To Know
O'Neal Rider Boots Review – A Great Entry Level
Have you used the Tech 7 boots? Please feel free to share your thoughts in the comments section below.
Please follow and like us: