A cool pair of goggles has almost become a fashion accessory to motocross and dirt bike riders, although the main purpose of your goggles is obviously to protect your eyes from dust, dirt, mud, and flying rocks. This Dirt Bike goggles buying guide will help you in selecting a pair of goggles that suits your riding style.
When I first started riding back in the late '70s, there was a pretty limited choice. They were all pretty basic, with no more features than the cheapest goggles of today.
In recent years there have been some major advances in goggle technology like tougher lenses, larger eye ports, frame outriggers, multi-density face foam, the list goes on, so it can be quite daunting finding the right one for you.
Goggles can cost between $30 and $400 so it's important to weigh up what your needs are and what your budget is.
With so much competition between brands, you can get a good pair of goggles with loads of features at a price that doesn't blow your budget. This means that you can carry a few pairs in your gear bag to suit different conditions.
How To Choose The Right Goggles For You
The type of riding you do and the riding conditions you most often ride in are two basic factors to consider before choosing dirt bike goggles.
If you race motocross, then goggles designed for racing with tear-off or roll-off lens capability is a must.
For trail and Dual Sport riders, other features like good ventilation and anti-fog features are important, because you're spending lots of time at slower speeds in technical terrain.
Do you ride in extreme cold, wet or humid conditions? Again, goggles with good ventilation and an anti-fog lens are vital requirements.
Do you ride in dusty or sandy conditions? If you ride in these conditions often, a pair of goggles with a denser foam to filter out sand and fine particles is recommended. A good example is the Oakley L-Frame MX Sand goggles.
Vision, comfort/fit, and ventilation are three critical factors in selecting goggles.
1. Vision
Look for goggles with the best peripheral and straight-ahead vision. You should be able to see only the smallest amount of frame around the edges of your peripheral vision.
Check the vision side to side and look up and down. Does the top of the goggle obscure your view?
100% goggles have addressed this with a raised top section of the frame, allowing you to be concentrating on the ground just ahead of you, and still be able to glance up ahead.
The lens should be optically correct without any distortion due to the curve of the lens.
2. Comfort and Fit
Every goggle will fit slightly differently depending on the brand and the shape of your face. The foam should be touching evenly against your face all the way around the frame.
Check for pressure points that will cause irritation and possibly headaches after time, these will show up as red marks on your skin.
If you're able to try them on with your motorcycle helmet just to be sure they fit within the helmet eye port it's good to check.
If you are finding it hard to find one that doesn't create pressure points you may have to look at one that has frame outriggers that help the goggles sit better over the helmet.
3. Ventilation
Ventilation is a key factor in keeping your goggles from fogging up. All goggles have vents top and bottom to allow air to flow easily through the goggle.
Scott goggles have even developed a 'Revolutionary Air Management (RAM) system in their Scott Split OTG goggles.
Ventilation in OTG goggles is even more important because you also have to prevent the prescription lense from fogging.
The general rule is: look for goggles with as much ventilation as possible.
Not All Dirt Bike Goggles are Created Equal
There is a wide range of features available today. Technology has come a long way in recent years. Here are the features to look for.
The Frame:
Goggle frames are generally made from a flexible urethane which helps it conform to your face. It should seal evenly around the entire frame with only the smallest amount of frame visible in your peripheral vision.
Light weight and durability are key features in a goggle frame.
Extended Frame Outriggers:
Many of the best goggles are designed with frame outriggers which offer the best peripheral vision and are a key component of a decent goggle.
The outrigger strap fixing increases helmet compatibility and overall comfort and alignment of the goggles. A goggle with outriggers will have a greater chance of working with a wider variety of helmets.
The 100% Racecraft is a good example.

Nose Guards:
Nose guards come with a large range of goggles available in all price ranges. They are a very useful feature, especially if you ride in rocky conditions, or get roosted by your mates, or other competitors often.
They are easily clipped on or off, depending on your preference that day.
The Lens:
Today's goggles feature an overwhelming number of options in tint, injection-molded materials, and impact resistance.
The most common material would be Lexan, used in goggles of all price ranges.
Injection-molded lenses are already curved before they go into the goggles, so give better optical clarity because it doesn't distort your vision when you look through it.
Oakley is the only manufacturer that uses a 'Plutonite' material in their injection molded 'Prizm' lenses which gives superior impact protection against rocks and roost.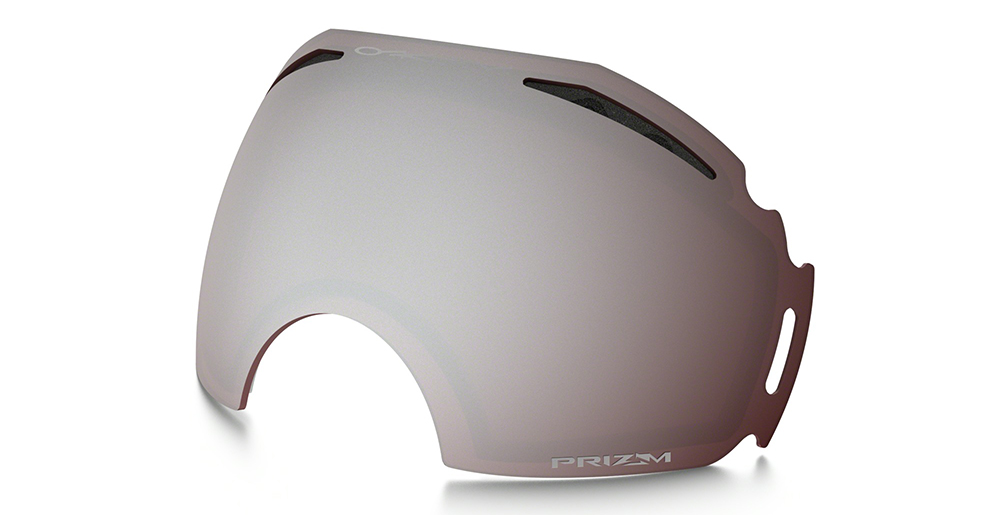 Make sure that any goggles you buy meet the relevant safety certification standards:
ANSI Z87.1 for high-velocity impact in the US, EN 1938 for MX goggle requirements in the European Union.
Scratch-resistant and shatterproof lenses are a must.
UV Protection:
Not all goggles lenses have UV protection, but it is definitely something to look for.
In higher-end goggles, lenses with 100% UVA, UVB, UVC, and 'blue light' protection are available.
The Scott 'TrueView' Single Works lens is one of the best UV-protected lenses out there.
Oakley's new 'Prizm' lens takes technology to a new level. 'Prizm' is a revolutionary development that dramatically enhances detail and provides ultra-precise color tuning for specific environments.
Lens Lock Technology:
A lot of high-end goggles now feature the ability to quickly switch the lens in a matter of seconds. This is especially useful to motocross riders who need to be able to switch a lens between races.
Oakley uses their Switch Lock and Ridgelock systems to ensure riders can switch quickly.
Scott Prospect Goggles feature a similar lens lock system. Fox Air Defence Goggles offer an 8-pin lens retention system.
Anti-Fog Lenses:
Most goggle lenses available today are treated with an anti-fog solution to help reduce the chance of your goggles fogging up. These seem to work with varying degrees of success going by buyer reviews on the goggle.
If you are still experiencing problems with fogging there are a number of products available as a spray that will eliminate fogging.
The cheap and reliable solution is to smear a few drops of dishwashing liquid on the inside of the lens and then buff it off with a soft cloth.
Goggle Lens Colors:
Clear Lens: Good at night and lowlight conditions
Grey/Smoke Lens: Bright sunny days with excessive glare
Yellow Lens: Dust, Fog, Overcast, Haze, Dusk, Dawn. Yellow increases depth perception
Blue Lens: Muddy conditions. Blue provides improved contrast in muddy conditions
Mirrored/Iridium Lens: Bright Sun. Reduction in glare in strong light conditions. They also look cool!
Amber/Orange Lens: Overcast days. Brightens while reducing glare, enhances detail
Brown Lens: Sunny days. Improved contrast, glare reduction
Tear-Offs vs Roll-Offs:
If you are racing, a tear-off or roll-off system is a must-have.
What's The Difference?
Both mechanisms allow you to fit several layers of clear film across your goggles which you can tear or roll off when mud or dirt has blocked your vision.
The Tear-Off film uses an extended tab you should be easily grabbed, even with gloves on while riding and "tear-off." This method is the most common however it is very easy to accidentally pull off the entire stack of tear-offs at once.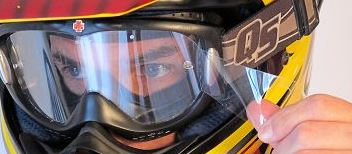 A lot of tracks and riding parks are now banning tear-offs for environmental reasons, so they may soon be a thing of the past.
The Roll-Off system eliminates the problem of tearing off the entire stack of clear film and uses a pull chord to roll off the old layer of film and replace it with a new layer.
The roll-off system also retains the old film rather than leaving it to blow around the track or trail, so is more environmentally friendly.
Once the dirty layer of film is removed, your vision is clear again. You can do this several times throughout a race.
Face Foam:
One of the main reasons goggles need replacing is the deterioration of the foam.
Higher-end goggles will almost always have 3 or 4 layers of differing density molded face foam.
This is a very important feature for comfort and moisture management. Drawing sweat away from your face so it can evaporate in the outer layers and reduce the chances of sweat dripping down into your eyes is an important function.
Multi-layer foam goggles will have the firmer foam at the outer layer attached to the frame, and the softer layer closer to your face for comfort.
Goggles that have moisture-wicking face foam against your skin is vital since sweating is inevitable. It also aids in anti-fogging by decreasing the amount of moisture in the goggle cavity.
The Strap:
The strap has come a long way in recent years. Far from just holding your goggles on, they have increased in width to between 40 to 45mm, and almost all feature silicone beads that run around the inner side to reduce the slippage on your helmet.
The last thing you want is for the strap to slip down, or worse, over the top of your helmet and off.
Typically, high-end goggles will have a wider strap than the cheaper goggles.
The strap has also become a large part of the fashion statement, with a huge range of colorful graphics and logos to give you that pro look.
OTG Goggle:
OTG (Over The Glasses) goggles are designed to comfortably fit over prescription glasses.
They have indents in the frame at the temples to accommodate the glasses arms, and generally have a larger field of vision than standard goggles.
Ventilation is of vital importance to prevent fogging of both the goggle lens and the prescription lens.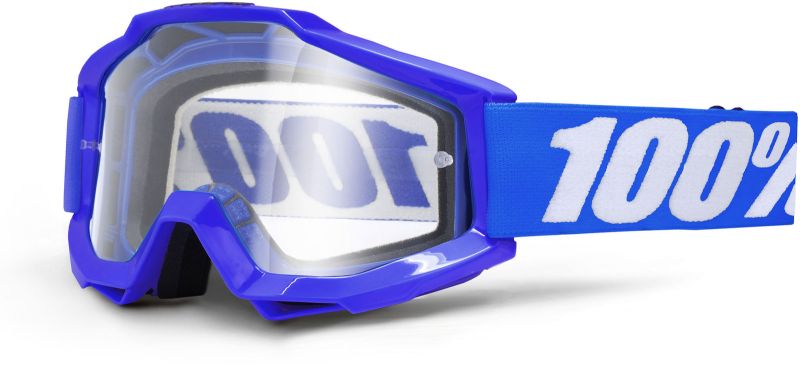 For a review on 3 of the best: Best OTG Goggles 2020
Kids Goggles:
Adult goggles will only fit in adult helmets, so if your child is wearing a youth-size helmet, you will need youth-sized goggles to fit inside the helmet eye-port.
Similarly, youth-sized goggles will not fit over an adult-sized helmet, the strap will be too short. Also, the foam will not sit evenly over your face, which you need to seal out dust and dirt.
Many of the features of adult goggles are available in youth-sized goggles. They are also relatively cheap, so you won't break the bank, which is good since they will probably be growing out of them before they are worn out.
Top Brands
Oakley Goggles
Oakley has been the most dominant brand for years, and a leader in motocross goggle technology. They have the largest range and some of the biggest names in the game are using Oakleys.
With riders like Ken Roczen, Chad Reed, Ryan Dungy, and Eli Tomac on board you can see why they are so popular.
100% Goggles
A relatively new brand taking the motocross world by storm. Their simplistic design allows riders to easily replace lenses and accessories as their 3 main models, the Strata, Accuri, and Racecraft use the same lens shape.
They are an exceptionally cool-looking goggle with great graphics and recruit some of the biggest names in MX.
Scott Goggles
Scott is well known for producing a high-quality, functional goggle with lots of adjustment and a good fit for a wide range of face shapes and sizes.
Their history goes back about 45 years! I have used Scott goggles back in the early '80s. They were pretty dominant back then.
With the introduction of the Scott Prospect goggles, they have become a serious contender to brands like Oakley and 100%.
Scott was the first brand to produce an OTG goggle to be used over prescription lenses
Spy Goggles
Spy Goggles are another relative newcomer to the MX scene and are developed with the help of non-other than Jeremy McGrath. They have a quick-release injection-molded lense in their higher-end goggle and have a wide range of colors and graphics. They also have a range of Ski googles.
Other popular brands worth checking out are Smith, Fox, Thor, EKS, and Dragon Goggles.
Goggle Care
To prolong the life of your goggles, it's best to wash them regularly, especially after a hot sweaty, or muddy ride.
Sweat deteriorates goggle foam if you leave them unwashed, causing it to go brittle and fall apart.
In the same way that helmet lining used to deteriorate before helmets were available with removable and washable linings, goggles linings will also deteriorate with sweat.
The easiest way to wash them is in a sink of warm water with a very mild washing-up soap. Never use harsh chemicals.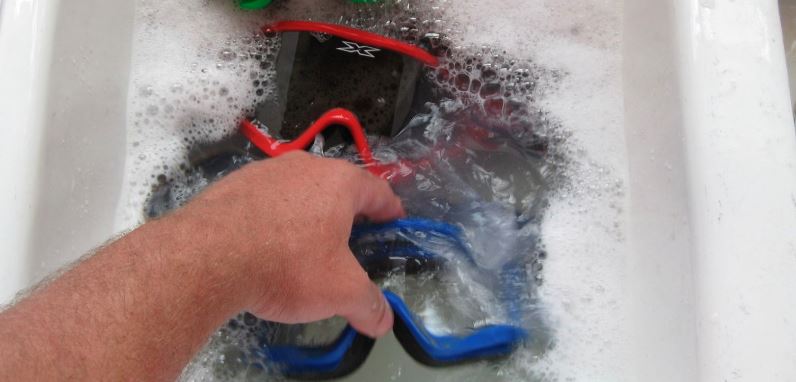 Be sure to rinse them thoroughly, I've had the soap residue cause skin irritations in the past.
Personally, I never put them in the washing machine, the washing detergents are too harsh, and the agitating motion of the wash cycle can damage them.
Once they are completely dry, store them in the microfibre bag that came with them when you purchased them.
If you have multiple pairs of goggles, storing them in a goggle case protects them from getting crushed.
When traveling with goggles, a safe place to store them is inside your helmet.
If you use a dirt bike gear bag, there is usually a separate pocket or compartment in which to store them safely.
Only change your goggle lens when you have clean hands. Nothing will scratch a lens faster than trying to change a lens with dirt and grit on your fingers.
Final Thoughts
When you find the goggles that work best for you, it's a good idea to buy several pairs if your budget allows it.
Keep one with a clear lens (low light), one with a mirrored/Iridium lens (Bright Sun), and one with an amber lens (Overcast days).
This way you will not have to spend time changing your lens at the track or on the trail and can just swap goggles as necessary to suit the riding conditions.
A well-prepared rider will carry a range of goggle accessories to suit every situation. If you stick to one brand/model, you will save yourself some money by not having to double up on spares.
You will have to only keep one set of extra lenses and accessories to suit those particular goggles.
If you look after your goggles, you can get years of use from them, depending on how often you ride.
Related Posts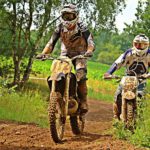 8 Best Dirt Bike Goggles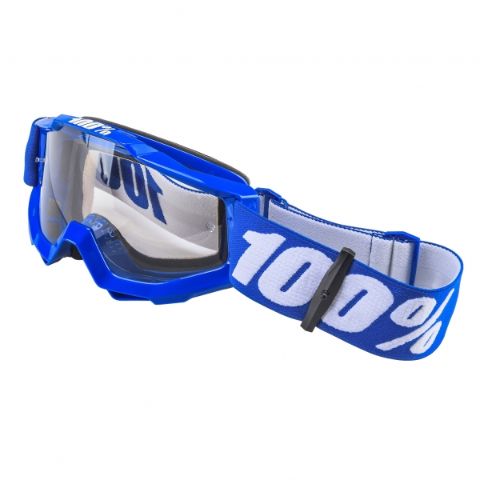 Best OTG Motorcycle Goggles (Over The Glasses)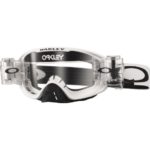 Oakley 02 MX Goggles Review
Is there a goggle you can highly recommend? Let us know what your favorite goggles are, and what is working for you.
Please follow and like us: