Oakley MX goggles are a well know brand in the dirt bike world. They are suitable for everyone from MX and enduro racers to weekend trail riders. I have had numerous pairs over the last 20 years.
I bought my current pair of Oakley 02 MX Men's goggles about a year ago and they are as good as anything I've had, and reasonably priced.
The O2 is an update on the 'O' frame range. The new frame is thinner giving you a better peripheral vision without increasing the overall size of the frame.
Top Four Things To Consider When Buying Goggles
Good peripheral vision. You should barely see the frame around the edges when you look through them.
Scratch Resistant Anti-fog lens. This is essential, especially in wet weather or slow-speed tight trails.
Good ventilation to the top and bottom of the goggles. This allows a good cross-flow of air to also help with preventing fogging.
Multi-layer face foam for a comfortable fit.
Specifications:
Product: Oakley 02 MX Men's Goggles
Weight: 8 ounces
Colors available: 22 color/design/lens combinations available
Warranty: 2 years on manufacturer's defects
The new Oakley 02 frame has been redesigned to increase your peripheral vision. Because it's important to fit snugly inside your helmet's viewport, Oakley has reduced the thickness of the frame, so the overall size hasn't increased. The Oakley 02 should fit in almost any helmet viewport.
A nose guard is always a good feature. Personally, I like them to have a removable nose guard. When your mates roost you in rocky terrain you'll be glad of it. I've never removed mine.
If you're going to be racing, then goggles that have the facility for a tear-off system is a must.
Tear-offs are a clear strip of film that is placed over your goggle lens, and when covered in mud, can be pulled off to expose a clean lens again. They're mainly used for racing, but it's essential that they be easy to grab with gloves on.
A silicone bead along the inside face of the strap is also a nice bonus to keep the goggle strap from slipping off your helmet.
Double or triple-layer face foam is a must to help keep the sweat out of your eyes. The Oakley 02 has triple layer foam of different densities. The finer foam sits against your face to help draw the sweat away from your eyes, and the coarser foam provides more flexibility for fitting to suit your face shape.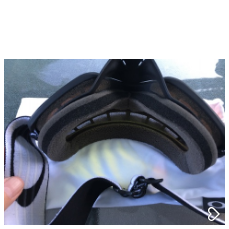 Anti-fogging treatment on the lens is also important, especially for dirt bike riders. You do a lot more sweating off-road than your road riding buddies, just add some rain or cold conditions, and you're fogging up. The Oakley comes with a Lexan scratch-resistant and impact-resistant lens.
This is where the need for good cross ventilation is important to allow airflow through the goggles. The Oakley has a thin layer of foam over the top and bottom vents to keep out dust and dirt, while still allowing the air to circulate.
Features:
Triple-layer face foam helps draw the sweat away from your face
Compatible with prescription eyewear. There are notches on each side of the frame at your temples to allow the arms of your glasses to pass through and not compromise the seal on your face
45mm wide elastic strap with triple silicone beading that prevents the goggle strap from sliding up or down your helmet
Compact frame size to suit a wide range of helmets
Scratch and impact-resistant Lexan lens with anti-fog treatment.
Removable noseguard.
Tear-offs are available to suit the goggles. Important if you are racing.
Pros:
Good quality for a reasonable price
Suitable to be used with prescription lenses
Anti-fog lens
Comes with a noseguard
Cons:
The strap is at maximum adjustment length with a large size helmet (may not be a problem with other helmets)

I always buy a few extra lenses at the same time to avoid not being able to get the correct lens later on down the track when there are new models out.
There's a huge choice of lens colors to suit the Oakley 02: Clear, Iridium, Dark Grey, Black Ice Iridium, Mirror to name a few.
Summary
On value for money, the Oakley 02 MX goggles are hard to beat. Sure you can pay a lot more for goggles but in the $40 to $80 price range the Oakley 02 ticks all the boxes for style, comfort, and practicality.
All the essentials are there, excellent vision, anti-fogging, ventilation, multi-density foam, plus a few added bonuses of the nose-guard, non-slip strap, and prescription lens capability.
Whether your use is for dirt bikes – Dual Sport or Motocross, cafe racers, quads, or snowmobiles, the Oakley 02 fits the bill.
Besides, they sure look cool.
 Related Posts
Dirt Bike Goggles – Your Complete Buying Guide
Best OTG Motorcycle Goggles 2020 (Over The Glasses)
Best Dual Sport & Adventure Gloves
Have you used any of the Oakley range of goggles? What are your thoughts on them? Please feel free to share your opinion on them below.
Please follow and like us: