Considering getting into dirt bike riding? Here's my beginner's guide to dirt bikes to help you make the right decisions along the way.
Maybe you've been riding road bikes for a number of years and are looking for something new. Maybe you've never ridden an adult size motorbike and remember those days as a kid riding that Honda 50 around the back garden.
Trail riding can give you that freedom of riding where the only thing limiting what you can do on your bike is your own skill, not a set of road rules and restrictions enforced on you by police in the name of road safety. You can open the throttle or pull a wheelie without fear of losing your license.
So you're at that place where you want to go off-road riding on the weekends, here are some things you need to know.
Don't Rush Out and Buy a Bike First
The first instinct is to rush out and buy a 450cc enduro weapon like a Yamaha WR450F or KTM 450EXC.
It's easy to be tempted into buying a bike that is way more than you need as a newbie. Consider the fact that a lot of very good experienced riders and racers ride a 250cc machine.
These days a 250cc bike has a lot more power than 20 years ago. With the high performance 4 strokes around now, it is very rare that you will encounter terrain that a 250cc can't handle.
Sure, in situations like desert racing a bigger bike is an advantage, but as a new rider, you will certainly not be doing that. The advantage of a lighter weight bike will be far more valuable to you.
Bikes are very tall these days, and if you are a little 'vertically challenged' you will be glad of a light bike every time you have to pick it up.
The Yamaha TTR250 is a good example of the perfect bike to start on. No water cooling to worry about, lightweight and certainly looks the part.
Join A Club
Find your local trail riding club and go along to an event and meet some likeminded people. There will be no shortage of advice and you'll get to see what sort of bikes they're riding.
They may know someone who is selling a bike that is suitable for you. Most guys and girls start off with a second-hand bike. It's not all about the bike.
You will also find out where you can ride off road legally, and where you can't. You will also meet some riding buddies as it's not a good idea to go trail riding on your own for obvious safety reasons. The fun is with the group.
Get the Best Boots and Helmet You Can Afford
Of all the gear you need, these are the two items of safety gear that are the most critical. The helmet for obvious reasons – what price do you put on your head? The choice these days is fantastic.
They all come with a removable inner liner which can be washed and refitted. There are a lot of factors to consider when choosing a helmet.
For some tips on selecting the right helmet: Buying A Dirt Bike Helmet – What You Need To Know
The boots rate next because generally in any fall from a dirt bike, the feet are what cop the most impact. Whether it's getting your boot jammed under your bike after you've dropped it, or hitting trail obstacles like exposed roots and rocks, you will be glad you invested in some good boots.
For some tips on selecting the right boots: Dirt Bike Boots Buying Guide – What You Need To Know
If you buy a good quality helmet and boots first, it's cheaper than having to buy them again later after the first ones weren't up to the job.
Invest In Some Good Riding Gear
Falling off can be very painful, so good riding pants, body armor, back protector, elbow and knee pads (which may be integral with your jacket and pants) all help so that a fall does not end your day's riding.
These posts may also be useful to you:
10 Best Knee Braces and Knee guards For Dirt bikes 2019 – Which To Choose?
10 Best Body Armor For Dirt Bikes 2019
Other essential equipment on your list should be a good Hydration Pack and Tool Kit Bumbag. Staying hydrated while riding is a must, and the advantage of a hydration pack is that you don't have to stop your riding to keep hydrated.
Get Transporting Your Bike Sorted
If you plan on buying a street-legal bike Dual Sport bike, and you will be riding the bike to your trail riding spot, you have no transporting options to worry about.
If you are going to transport your bike to where you are riding, then you will have to decide on which method best suits you.
Whether it's on the back of a ute or truck, in a van, on a trailer, or a Hitch Carrier, there are advantages and disadvantages to each.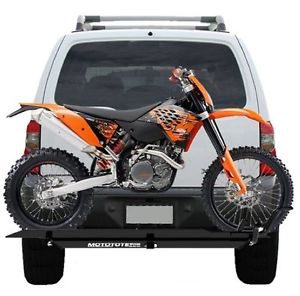 For more on Transporting Your Bike, check out my post: Dirt Bike Setup Tips
If you plan on using a trailer, or the tray of a truck, one piece of equipment you simply can't do without is a good loading ramp. You have the choice of aluminum or steel, and most fold in half for easy storage. There are a few factors to consider, which I go into more detail in my post below.
For a review of the best loading ramps available today: 6 Best Dirt Bike Loading Ramps
If you don't want the hassles of a trailer, like registration costs and parking/backing issues, a motorcycle Hitch Carrier is an easy option. The most important factor to consider when selecting a hitch carrier is the 'Tongue Weight Capacity' of your vehicle. This is the maximum weight your vehicle's hitch can safely carry as a downward force. More on this in my post below.
For a review of the best Hitch Carriers: 6 Best Motorcycle Hitch Carrier Review
Learn The Basic Regular Maintenance
One of the best things you can do is to become familiar with your bike's service manual.  At the very minimum, these things should be done regularly to avoid spending money on unnecessary repairs:
Engine Oil Changes: It's a very simple task on a dirt bike. As the saying goes, 'Oil is Cheap, Engines aren't'
Air Filter Cleaning: Very important if you've been in dusty or sandy conditions. For more on this: How To Clean A Dirt Bike Air Filter
Chain and Sprockets: Keep it well lubed and check the adjustment before every ride. For more on this: How To Clean A Dirt Bike Chain
Check tire pressure: Usually 15 psi or less, depending on conditions.
Check Fork Seals: This is something that doing a visual check before every ride may save you from expensive seal replacement. For more on this check out my post How to Clean Leaky Fork Seals
Battery charging: If you leave your bike standing for more than a few weeks, it's a good idea to remove the battery and put it on a trickle charger overnight. Batteries don't hold a charge well when left unused for long periods.
If you're not mechanically minded, and just do these things listed at a minimum, and then drop your bike in for a good service once a year, you'll have it covered.
A very useful thing to learn is how to change a tire. This is something that you can pick up in time as you become more confident. You never know when you will need it.
As you become more experienced and confident doing maintenance on your bike, these tips in my post 50 Handy Tips will be useful to you.
Be Honest About Your Off-Road Ability
No matter how experienced you may be on road, it doesn't help you much when you have to deal with very steep inclines, rocks, sand, ruts, water crossings etc.
Don't be afraid to let someone else help you get through a tricky trail. We've all been there, and you will get better.
If you are riding with a club there will be a trail leader and sweep rider following on behind, so if you come unstuck, help will soon be there.
It's Not A Race
Trail riding is all about having fun with your mates. The friends you ride with will most likely become longterm riding buddies. It's not about how fast you go, it's about enjoying the bike, the places you can get to on the 'road less traveled' that even 4WDs can't get to.
So there's are a few basics tips for the beginner dirt bike rider to get you started. Get out there and have some fun!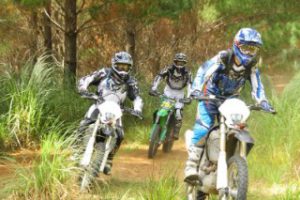 Related Post:
Best Dirt Bikes For Women – How To Choose
Dirt Bike Safety Tips – How To Avoid The Dangers
How To Buy A Used Dirt Bike – What To Look Out For
How To Wash Your Dirt Bike Properly
Dirt Bike Riding Tips and Techniques
If there is anything else you'd like to know, don't hesitate to ask your questions below. I'm always happy to talk dirt bikes.
Please follow and like us: