Dirt Bike Tool Kits are part of the essential arsenal for any serious off-road rider.
In this post, I'll be going over putting your tool kit together, keeping weight to a minimum.
Whether you're doing a one-day trail ride, an enduro, a multi-day trail ride, or an adventure ride, making sure your bike is prepared, and that you are carrying enough tools to deal with the typical mechanical failures and incidents is crucial.
When you are miles from anywhere, being unprepared can fast turn a fun ride into a nightmare.
Knowing what tools and spares to carry and being prepared for any situation is something that is learned with experience. Sometimes just a puncture can ruin a great ride.
There are lots of lightweight dirt bike tools on the market which are sufficient for most trail-side repairs, but adventure bikes are more complex and require more extensive kits.
Refer to my earlier post  'Adventure Motorcycle Riding Checklist' for a more comprehensive list for multi-day rides.
Basic Dirt Bike Tool Kits
When you make up a toolkit, make it for YOUR bike. Every different model of bike has its own special parts.
Your toolkit can then be reduced or added to depending on the length and location of your trip to keep the weight to a minimum.
If you don't have much in the way of tools already, an easy solution is to start with a complete pre-packed toolkit from well-known and respected brands such as CruzTOOLS or Pit Posse.
They come with a basic range of quality tools in a tool pouch that makes an excellent starting point to then customize to suit your needs.
Here are a couple of Tool Kits that are ideal to get you started:
The CruzTOOLS DMX1
Specifications:
Product: CruzTOOLS DMX1
Weight: 2.4kg/5.2 pounds
Materials: 5040 Denier nylon
Dimensions: Height 4″/10cm Width 11″/28cm Depth 4″/10cm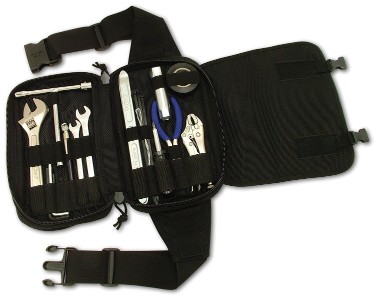 The Kit includes:
PackWrench 3-way wrench and combination wrenches
Forged tire levers and tire gauge
Spark Plug spanner
Vice Grips and needle nose pliers
Hex Keys 4, 5, 6mm
screwdrivers
Flashlight
Wire, zip ties, electrical tape, small WD40
The pouch is constructed from 5040 Denier Nylon and includes a mesh cash and document pocket, and key clip.
Once you have your Tool Kit Bum Bag sorted, when you work on your bike at home do all your maintenance with the kit you'll be carrying with you.
You will soon see what's missing, and what tools you need to add. You can then buy them individually without spending a lot of money.
The Pit Posse Motorcycle ATV Tool Kit
Pit Posse is a well-known brand producing a whole range of motorcycle gear like tools, loading ramps, lift stands, tie-downs, shelves, and cabinets for your garage, etc.
The Pit Posse Motorcycle ATV Tool Kit is a tool roll suitable for carrying in your backpack or luggage system as there is no waist strap.
It has all the basics you need to get you out of trouble.
Specifications
Product: Pit Posse Motorcycle ATV Tool Kit PP2879
Weight: 3.55 pounds
Dimensions: 10.7″x5″x2.7″
Lifetime Warranty
Note: The Pit Posse Motorcycle ATV Toll Kit is currently unavailable on Amazon. Alternative link to Pit Posse
The Kit includes:
8,10,12,13,14mm wrenches
Adjustable wrench
6-in-1 screwdriver
9pc. metric hex set
2-in-1 Spark plug socket
Locking pliers
LED flashlight
Zip ties
Air pressure gauge
Assorted metric nuts and bolts
Convenient storage pouch
The pouch has a zippered pocket that you can use to carry any additional small items.
It has a velcro cinch strap to hold everything in place once rolled up.
Dirt Bike Bum Bags
If you already have your tools, and just need the Bum Bag there is a wide range to choose from.
A well-known and popular brand is Ogio.
The Ogio MX 450 Tool Pack
The Ogio MX450 Tool Pack is a rugged and durable bag that is suited to Dirtbikes, ATV, or any outdoor activity where you need to be prepared.
Specifications:
Product: Ogio MX 450 Tool Pack
Weight: 0.6kg/1.4 pounds
Capacity: 7.3 Liters/450 cu.in.
Materials: 840 dobby nylon/420D dobby nylon/non-slip PVC
Dimensions: Height 4″/10cm, Width 6″/15cm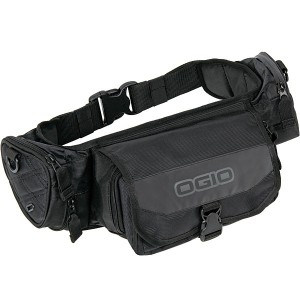 Features:
Front flip-down organizer. Great for quick access to items most often used.
Right side necessity pocket with water-resistant zipper
Left side water bottle holster. A good idea if you want to use your pack for hiking.
Spare inner tube compartment
Padded, ventilated back panel
Adjustable padded waist belt
It has numerous separate pockets within the tool compartment, plus two side pockets which are ideal for storing things like car keys, wallet or mobile phone.
With your toolkit, at a minimum, you need to be able to:
Remove the wheels to repair a puncture
Remove the spark plug
Remove the gas tank – to get access to the spark plug
Adjust your chain tension
Fasten any nuts and bolts that work loose.
Tire Puncture Repairs
Many of the toolkits that come with new bikes are sadly lacking.
Some of them don't even have enough tools to remove a wheel for a puncture repair.
It's essential that you have the tools you need to remove the front and rear wheels. Getting the tire off for a trailside repair can be challenging, so it's a good idea to have at least one large tire lever to do the heavy work, backed up by two smaller levers.
At the very minimum, you can carry just the front 21′ spare tube, which can be used in the back wheel if you have to.
It's still a good idea to also carry a puncture repair kit with a fresh tube of glue. Keep an eye on these, they dry up and become useless very quickly once you've used them once.
If your bike has no center stand, getting the wheel off the ground so that it can be removed when you're in rough terrain can be a problem.
The Motorcycle Lift Stand makes it easier to keep the bike raised to get the front or rear wheel out. It works with your bike's side stand to effectively give you a center stand.
It's especially useful for heavy adventure bikes. Try lifting a 1200cc BMW GS onto a tree stump to get the wheel out!
Combination Tool
A good quality combo tool from a leading brand like Leatherman or Gerber is a great extra to carry.
One of the main features will be the needle nose pliers, but they also include a serrated knife, can opener, bottle opener, file, wire cutters and strippers, Phillips and flat head screwdriver, saw, scissors, and more. Most come with a rugged pouch to protect them from damage from other tools in your kit.
The Leatherman Multitool is one of the most popular brands and is American-made with a 25-year guarantee. They're fairly expensive, but with combo tools, a good one will last a lifetime.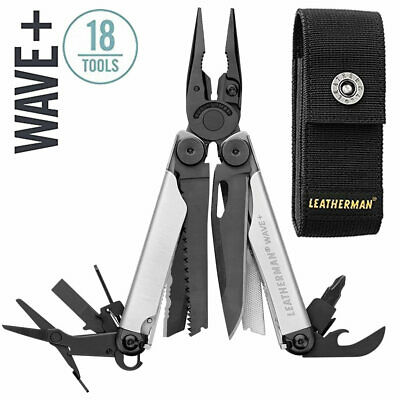 Spare Parts
If you have space, carrying a few replacement parts that are likely to break or fail is a good idea.
Spare gear lever
Spare clutch lever (can be avoided if you use handguards)
Radiator hose and clamps
Spark Plug
Chain connecting link
Spare nuts and bolts
The Packing List
Plug spanner and spare spark plug: A must if you ride a two-stroke bike.
Spare chain joining links: Carry a couple, plus a short length of chain 4 or 5 links can be useful.
Chain breaking tool: The compact type is best as it takes less space in your kit.
Siphoning hose: Or spare fuel hose is handing if one bike runs out of fuel on the trails.
Rubber gloves: Handy for doing dirty work like chain repairs or oil filters. Using rubber gloves means you are not sliding dirty hands into your riding gloves.
Tow Strap: Never go bush without one.
Duct & electrical tape: You can hold almost anything together with duct tape.
Jumper Leads: Most times you can bump start your bike, but not in the deep sand.
Hose clamps and rubber bands: Tough rubber bands can be made by cutting sections of old inner tubes.
Spare screws, bolts, washers, wire
Cable Ties: Small and large. If you get a flat tire and have no spare tube, 4 or 5 large cable ties around the tire and rim will get you back to the car.
Spare 21″ inner tube: Inner tubes be carried in a fender bag on the front mudguard if you don't have room in your backpack or Bumbag
Puncture repair kit: A bicycle tire repair kit is sufficient. Always check the glue as it dries out after being opened once.
C02 cartridges and Adaptor: Carry a few of these.
Small pump: Double-acting pumps are best as they pump with every stroke.
Small & large tire levers: Tyres can be changed with the small tire levers, but if you have room a couple of larger ones make the job easier.
Axle Nut Wrench: For YOUR bike
Tire pressure gauge: I usually run at about 12-16 psi. The rougher the terrain, the higher the pressure. It reduces the chance of puncture but does make the ride a little rougher.
Allen keys: I pack just the ones my bike needs.
Shifting spanner: A small crescent spanner is sufficient.
Sockets and rachet spanner: 6,8,10,12 mm will fit most bolts on your bike.
Spanners: 8,10,12,15 & 17mm seem to be most common. Also, a spoke spanner.
Vice grips: Great little vice for trailside work.
Multi-tool: There's a wide range available. The ones with fine nose pliers and scissors are great.
Wet Wipes: For the cleanup
Random bits and pieces – If you have room
Chain Lube: The off-road non-flick type is the best.
Clean air filter: Pre-oiled in a zip-top bag.
First Aid Kit: Anti-inflammatories are a good idea.
Head Torch: For when you need both hands free to do a trailside repair and light is fading.
WD40: A multitude of uses.
Final Thoughts
Sure, this seems like a lot of stuff to carry, but the info in this post will give you an idea of what it takes to get you out of trouble and out of the bush.
This will give you a good start to creating the best dirt bike toolkit for your own bike.
Just add or remove tools from it depending on the length of ride, and how far from civilization you'll be heading to keep the weight to a minimum.
Related Posts: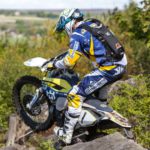 10 Best Hydration Packs For Dirt Bikes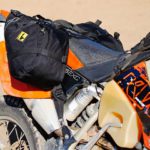 Soft Motorcycle Pannier Review
Can you recommend a good toolkit you've been using that you would highly recommend? Feel free to share your thoughts with readers below.
Please follow and like us: