Dual Sport vs Adventure bike
New riders looking to purchase a bike can find it a little confusing deciding which type of bike to go for. Both types of bikes are designed to be ridden on the road or off-road. The main difference is where each is more comfortable. So what are the pros and cons of Dual Sport vs Adventure Bike?
The Short Answer
Adventure bikes are only comfortable on the milder off-road trails because of their heavier weight but are well suited to long road rides. Adventure motorcycle touring is becoming increasingly popular.
Dual Sport bikes, on the other hand, have an evolution that comes from dirt riding, are lighter, only barely street legal, and offer very little comfort on long road trips.
Dual Sport Bikes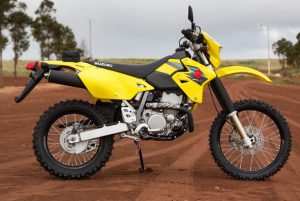 The Suzuki DR-Z400 is one of the most durable Dual Sport bikes available. The bulletproof design has not changed much over the years. It is very comfortable on both the road and the trail.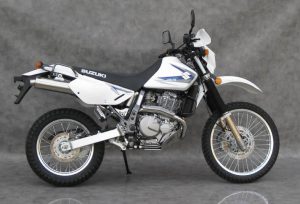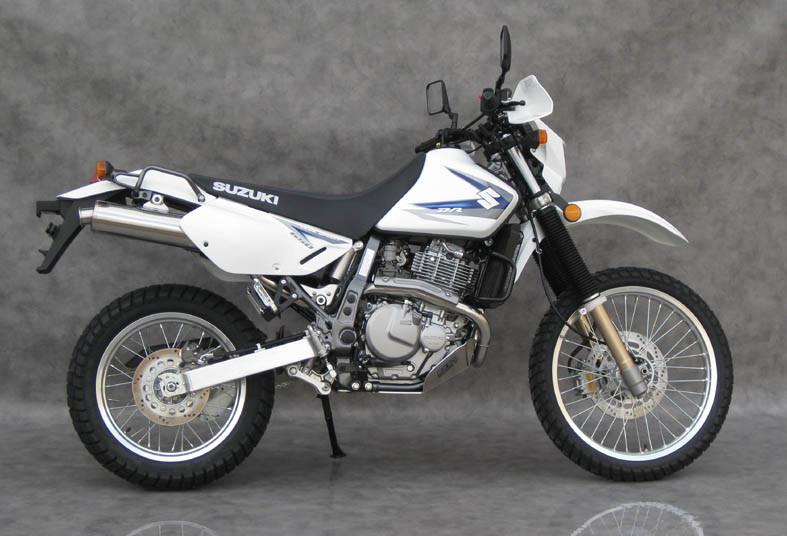 The Suzuki DR650 is an in-between sort of bike. It is at the heavy end of Dual Sport bikes, and the light end of Adventure Bikes.
It can still handle fairly technical trails but can be kitted out with a luggage system, windscreen, and larger tank to make an excellent lightweight Adventure Bike.
Characteristics
Single-cylinder engine
Smaller engine displacement 250cc-650cc
Higher ground clearance
Lower geared for slower speeds on trails
Smaller gas tank
Knobbly tires for off-road grip
21-inch front wheel
motocross-style seat
handguards for lever protection
Handlebar position better suited for stand up off-road riding position
Pros:
Lighter weight means easier to pick up after a fall.
Street legal so can be ridden to and from trails.
No windscreen and minimal body parts mean less damage after a fall.
Built to withstand impacts from rocks, trees, etc.
A narrower, lighter design allows for more maneuverability on tight trails.
Cons:
The smaller engine displacement means they are not very well suited for long periods on the road at top speed.
The motocross-style seat is hard and not very comfortable for long road stretches.
Knobbly tires are not well suited for the road, offer little grip in the wet, and wear down very fast on road.
The lack of a windscreen does not offer protection from the wind at highway speeds
Adventure Bikes
The BMW F650GS is a good example of a single-cylinder Adventure Bike at the lighter end of the range. Suitable for a first Adventure Bike. Good on the road, but light enough to handle some more technical trails.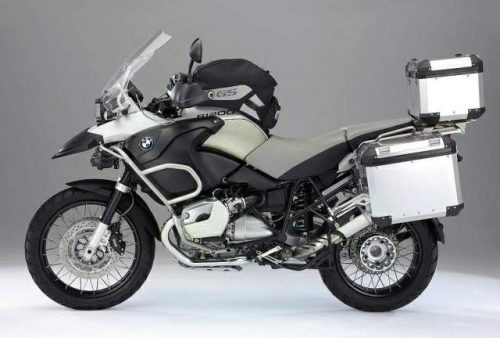 The BMW R1200GS is a twin-cylinder Adventure Bike more suited to the road and smooth forestry-type trails. It is certainly one of the best Adventure Bikes available, more suited to experienced riders.
The luggage system allows you to carry the gear required for adventure motorcycle camping.
Characteristics
Single or twin-cylinder engine
Larger engine displacement 650cc to 1200cc
Windscreen
Lower ground clearance and seat height
Higher geared for highway speeds
Larger gas tank for longer range
Tires designed for pavement and mild off-road
Larger more padded seat for comfort on long road rides
Luggage system for carrying camping gear
Pros:
The larger twin-cylinder engines are better suited to long stretches at higher speeds.
A higher gear ratio allows you to cruise at highway speeds.
The luggage system allows you to carry more gear so that you can camp overnight and cover greater distances.
More street-suited tires give you better braking and highway safety.
Cons:
The biggest disadvantage is the weight, making them harder to handle off-road, and more difficult to pick up after a fall.
More susceptible to damage in a crash because of the extra body features, and therefore more expensive to fix.
The added complexity makes them more difficult for the rider to fix in remote areas.
The rider's body position is more limited because of the windscreen, larger seat, and luggage racks.
The Final Decision
Ultimately it depends on you.
The two factors to consider are:
Intended Use: The type of riding you will do. More on-road or off-road? What type of trails will you ride? How long will your rides be?
Your body type: Are you able to lift the heavier adventure bike? Are you able to repair a more complex bike?
To make things even more interesting, we have the Enduro bike.
Enduro Bikes
The Enduro bike and the Dual Sport bike are in the same bloodline. The Enduro bike is basically a motocross bike with minimal lights and requirements to make it road registerable.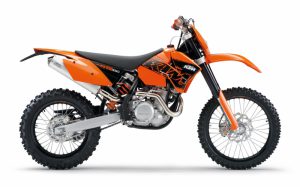 The Enduro bike is designed for competition and is totally at home with the most technical terrain you can find. It is not very comfortable on the road, even though they can be bought road registered.
The Supermoto
The Supermoto bike is a street conversion from either a Dual Sport or Enduro bike. The biggest difference being the wheels and tires.
They are smaller in diameter, usually 17″ and the tires are thicker and only suited for the road. The brakes are also beefed up with larger discs to street bike performance.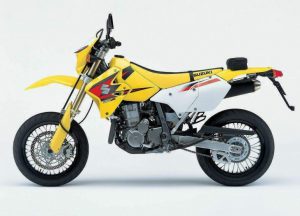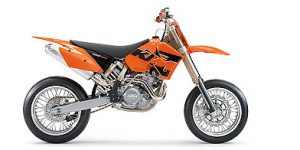 The Enduro bike conversion is generally used for competition on road racing tracks. Because of its dirt heritage, the technique is to slide the bike around the turns speedway style.
Supermoto or Supermotard racing is the child of motocross and road racing.
Related Posts
Dirt Bike Types – How To Choose The Right One For You
Two-Stroke or Four-Stroke Dirt Bike – Which Is Best For You?
If you have any questions about the decision to go Dual Sport or Adventure bike, please leave a message in the comments section below.
Please follow and like us: