Any off-road rider or racer would be familiar with the popular Orange machines dominating the dirt bike scene. Let's look back at some of the highlights of KTM's dirt bike history.
KTM is one of the 5 leading motorcycle manufacturers in the world and is constantly on the cutting edge of technology. All through KTM dirt bike history, racing has always been the testing ground for technology advances in production bikes.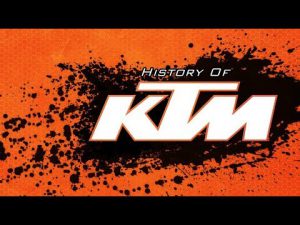 The Early Years
The Austrian company had humble beginnings as a repair shop in Mattighofen, opened by Hans Trunkenpolz in 1934. His shop was known as Kraftfahrzeug Trunkenpolz Mattighofen, but the name was unregistered. In 1937 they became the official supplier of DKW motorcycles.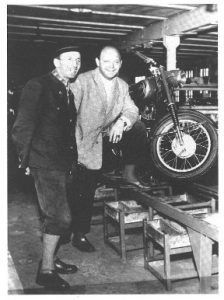 The company survived during the second world war doing diesel repairs for the military. Hans was called up for military service and his wife Elizabeth managed the business till 1943.
After the war, only a few people could afford a car, so Trunkenpolz started producing his own motorcycles and the first prototype was the R100 built in 1951.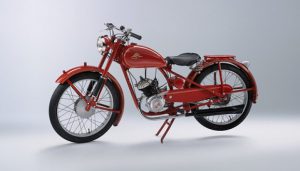 Most of the components were produced in-house, except for the engine, which was a 98cc Rotax made by Fichtel & Sachs.
In 1953 serial production started with just three bikes per day, with twenty employees.
Businessman and racing enthusiast Ernst Kronreif became a sizable shareholder in 1953 and the company was renamed and registered as Kronreif & Trunkenpolz Mattighofen. KTM after the two owners' names and the town where it began.
A KTM bike won its first national championship, the Austrian 125cc in 1954.
In 1956 KTM made its first appearance at the International Six Days Trials (ISDT as it was known then) ridden by Egon Dornauer and won a gold medal.
Racing has always been a testing ground for technology at KTM.
The bikes were first brought to America by importer John Penton in 1968 under the Penton name.
The Seventies To Nineties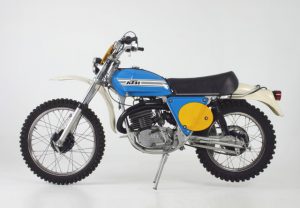 The GS125 was the first KTM to be imported into America. Their success in US motocross led to the opening of KTM America Inc. established in Lorain in 1978.
By 1971 the workforce totaled 400 and KTM was building 42 different models.
KTM has always been a leader in innovation, with the best parts available fitted standard to machines.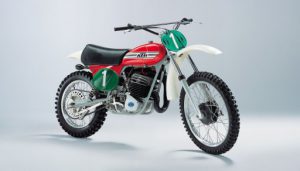 KTM began production of its 250cc MX and enduro bikes in 1973.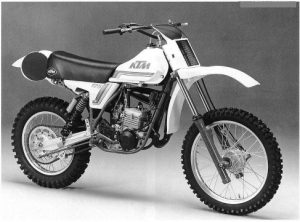 In 1981 KTM produced its first liquid-cooled two-stroke 125cc MX bike.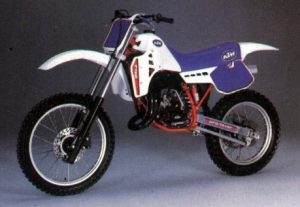 They followed this up with a liquid-cooled four-stroke in 1982 and became the first manufacturer to produce an MX bike with front and rear disc brakes in 1986.
The hydraulic clutch was also a KTM feature, with its light action helping to reduce arm pump during racing.
With the current domination of four strokes in motocross and supercross, KTM is one of the only manufacturers to continue producing two-stroke dirt bikes, and leading the way in making them more environmentally friendly and cleaner burning.
The nineties saw the introduction of the linkless PDS rear suspension on two-stroke models.
In 1995 KTM bought out Swedish manufacturer Husaberg and in 2013 also bought Husqvarna (then owned by BMW) which is why you'll see similarities in the three brands. Husaberg is no longer in existence, with the technology being absorbed into Husqvarna.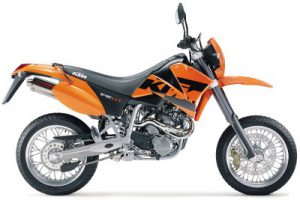 In 1996 the motocross bikes were first produced in the now-signature Orange color, and the following year saw the introduction of the LC4 Supermoto and adventure motorcycles.
In 1998 KTM wins second to twelfth positions in the 20th Dakar Rally
Competition Success In The 2000s
In 2000 KTM wins six World Championship titles!
125cc Motocross – Grant Langston, 500cc Motocross – Joel Smets, 125ccEnduro – Juha Salminen, 250cc Enduro – Matteo Rubin, 400cc Enduro – Mario Rinaldi, 500ccEnduro – Kari Tiainen. In Dakar, KTM wins 10 of the 13 stages.
In 2001 KTM records it's first Dakar win. KTM riders fill the first five places. Juha Salminen wins his first World Enduro Championship title.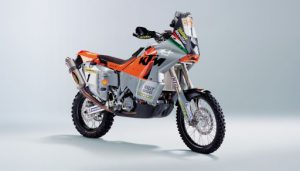 In 2002 Fabrizio Meoni wins the Dakar on the new 950 Rally twin. KTM riders win every stage of the Dakar Rally. Juha Salminen wins his second World Enduro Championship title.
In 2003 KTM riders again win every stage of the Dakar Rally. Juha Salminen wins his third World Enduro Championship title.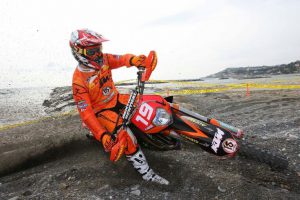 In 2005 KTM wins 16 World Championship Titles taking the total to 120 to date. KTM wins all six Enduro world titles.
In 2006 Marc Coma wins the Dakar and KTM riders take the top eight spots and win all but one stage of the Dakar.
In 2007 Indian motorcycle manufacturer Bajaj Auto bought a 14.5% share in KTM and by 2013 held a 47.97% share in the company.
In 2009 KTM wins 4 World Championship titles in Motocross and Enduro. Marc Coma wins Dakar again.
In 2010 KTM wins all motocross World Championship titles, never achieved before by any manufacturer.
In 2011 Marc Coma wins Dakar for his third time on KTM 450 Rally, marking KTMs 10th consecutive win.
In 2012 Cyril Despres wins Dakar, his fourth win, and KTMs 11th consecutive win.
In 2013 Cyril Despres again wins Dakar, his fifth win, and KTMs 12th consecutive win. KTM riders take the top five places.
In 2014 Marc Coma wins again taking his fourth victory, and marking KTMs 13th consecutive win. KTM riders occupy seven of the top 12 places.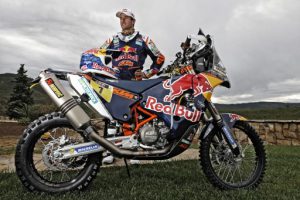 In 2015, Marc Coma wins his fifth Dakar, and Australian Toby Price finishes in third place on his first attempt.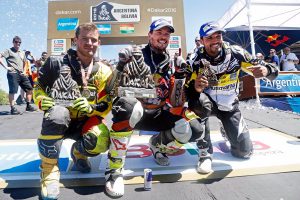 In 2016 Toby Price wins his first Dakar for the Red Bull KTM racing team. Toby Price Bio
 To date, KTM has won more than
270 world championship
titles in Moto 3, Motocross, Enduro, and many more.
KTM is now the largest European manufacturer of motorcycles with annual revenue of more than 1.1 Billion Euros. KTM has a dirt bike history and racing record to be proud of.
Related Posts
For More on the Dakar Rally: Famous Dirt Bike Events
For more Dirt Bike History: Defining Moments Of The Last Forty Years
For handy tips to set up your bike: Dirt Bike Setup Tips
Have you ever owned a KTM? What's your favorite bike? Please feel free to leave your thoughts in the comments below.
Please follow and like us: