There are dozens of upgrades you can do to your bike to improve its performance in all areas. The best dirt bike upgrades do not necessarily mean spending lots of money.
Some upgrades are adjustments to the setup which may cost next to nothing. Others are a small price to pay to protect areas of your bike that will be costly to fix, like engine cases, suspension linkages, or disc brakes.
Here are 10 of what I would consider a high priority on the upgrade list for Dual Sport/Enduro riding. Of course, it all depends on the individual rider and the type of riding you do.
First Upgrade Your Dirt Bike Skills
Before spending money on upgrading your dirt bike, the best thing you can do is to upgrade your own skills. All the bike mods in the world make no difference if your skills aren't up to the level of what your bike is capable of.
I've been riding dirt bikes since the days of twin shocks and no long-travel suspension, cable-operated brakes, and air cooling. If you wanted a good handling bike back then you had to build one.
Dirt Bikes now are so good that there are not many people who can ride them to their full potential off-road.
Be honest with yourself about your off-road skills. Get some lessons if you can. Watch some videos of guys like hard-enduro king Graham Jarvis and be inspired.
1. Fit some Handguards:
Handguards are a must if you ride a lot of single trails and do a lot of maneuvering through tight technical areas surrounded by trees and obstacles.
Or if you ride in rocky areas where your knuckles cop a lot of roost from the guy in front of you and dropping your bike will almost certainly mean a broken lever.
A good set of wrap-around handguards are a fairly cheap way to avoid all those bruised knuckles or broken levers, plus it will save you money on new levers.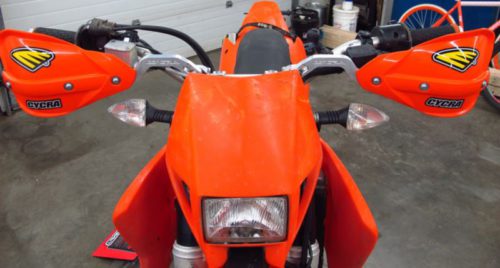 For more on handguards refer to my post: 6 best Dirt Bike Handguards – For MX & Enduro Riders
2. Protect Your Engine With A Skid Plate
Another important part of your bike to protect is the underside. Knocking a hole in your side covers or engine case is a very costly repair. If you ride a lot of terrain with rocks, tree stumps, or logs it's essential to use a skid plate.
There's a wide selection available, made from aluminum, plastic, or carbon fiber. Personally, I use an aluminum skid plate because I've seen plastic ones knocked right off the bike with a decent impact.
You generally have to buy one that is designed for your particular bike. For dual-sport and enduro riders, it's important to look for one that has enough width to protect the side covers of the engine as well as the underside and has good front-to-back coverage.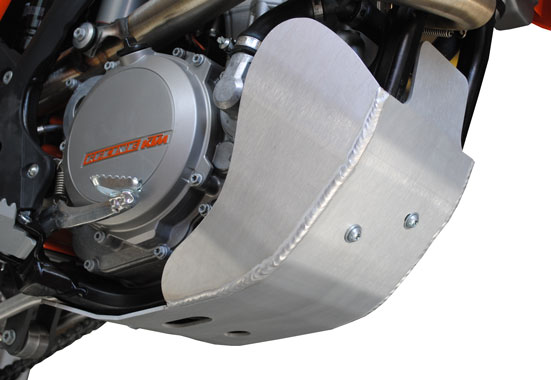 Keep bike maintenance in mind also, it's good if it has cutouts or holes placed so that you can change the oil without having to remove the skid plate. It should also be easy to remove for cleaning the bike when especially muddy.
3. Larger fuel tank
Most tanks that come standard on a bike tend to be on the small side. If you intend to go on longer rides or use your bike for adventure motorcycle touring or camping, then a larger tank is usually a requirement.
Most oversized tanks from well-known brands like Acerbis or Safari will be designed to fit with your existing plastic shrouds or replace your tank shrouds entirely.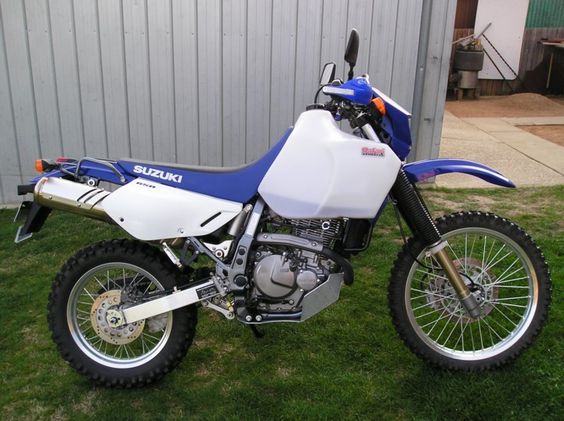 A good example is the Suzuki DR650S, which comes standard with a small 3.4 gallon (12.9L) tank. The bike makes a great lightweight adventure bike so fitting an oversized tank is priority number one if you plan to use it for adventure riding.
4. Sprockets/Chain and Gearing
Changing your bike's gearing is a simple easy way to make a big change in the way your bike performs to the way you ride.
A bigger rear sprocket and/or smaller front sprocket: Gearing your bike down helps your engine deliver more torque to the rear wheel and more acceleration through the lower gears. If most of your riding is on tight single trails, and you don't need a lot of top-end speed, or you don't spend much time at highway speeds, this is the way to go.
A smaller rear sprocket and/or bigger front sprocket: Gearing your bike up gives you more top-end speed. Great if you ride a lot of wide-open trails, or do a fair bit of road riding at top speed.
Simply replacing worn sprockets and chain, and riding with the correct chain tension goes a long way towards maximizing your bike's performance.
Trail and off-road riders prefer steel sprockets and o-ring chains for the longevity of parts. Motocross riders tend to go for aluminum sprockets for lightweight, and non-o-ring chains for less drag and therefore more power.
To learn more about chain maintenance, check out my post: How To Clean A Dirt Bike Chain
5. Fine-tune your Suspension Setup
One of the most common and effective upgrades you can do is to your dirt bike's suspension.
Replacing suspension components can be expensive, so before spending any money on new parts, first, learn how to get the most out of what you have.
By finetuning the adjustment to suit your weight, riding style, and the terrain you ride you will be making a big difference to the bike's handling, and your riding enjoyment.
Just having your suspension set to the correct sag, and your clickers set to the correct compression and rebound damping will make a noticeable difference.
Learning how to make these adjustments yourself, then immediately riding the same section of terrain after the adjustments will give you a good idea of where it needs to be.
To learn more about setting up your own suspension: How To Adjust Your Dirt Bike Suspension – A Do It Yourself Guide
6. A Fresh Set of Tires
Tires play an important part in your bike's performance also. Replacing worn-out tires with the right type of tires for the riding you do makes a huge difference.
You first need to consider where you spend most of your time riding, on or off-road, and what type of terrain you ride.
Dirt bike tires are divided into soft, intermediate, and hard terrain. Basically, hard rubber compounds suit soft terrain surfaces, and soft rubber compounds suit harder terrain surfaces.
At the extreme end of the hard terrain tires is the trials tire. They are the polar opposite of the knobby tire. The less aggressive tread pattern and softer compound tend to be less destructive on the trails you ride.
Hybrid tires fill the gap between knobbies and trials tires and are a good choice for dual sport riders who spend a fair bit of time on the road.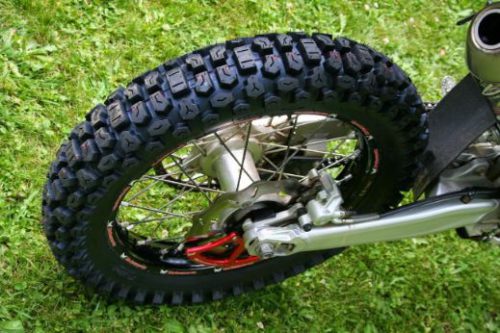 Learn more about street-legal dual-sport tires here: 6 Best Dirt Bike Tires For Dual Sport Riding
The correct tire pressure is important to prolonging tire life:  Dirt Bike Tire Pressure: What You Need To Know
7. Disc Guards
Protecting your brake rotors is pretty important especially if you ride in a lot of rocky terrain. Front and rear guards are available, but the rear tends to cop a lot more abuse when rock or log hopping.
It's a cheap addition when you compare the cost of replacing a bent disc, not to mention the loss of the rest of your riding day.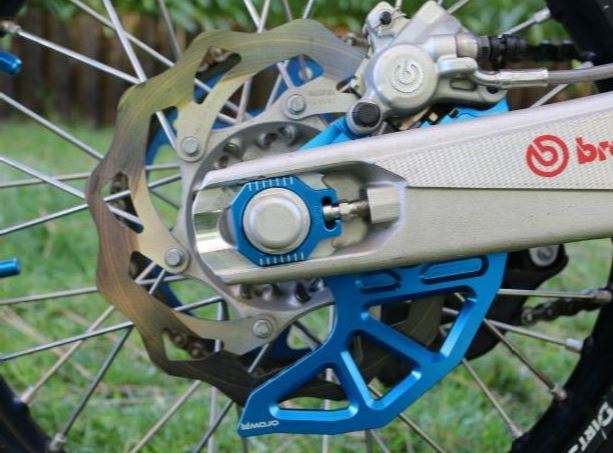 They're also a great way to add some Bling to your bike.
8. Header Pipe guard (For Two-strokes)
Two-stroke header pipes are just asking to be hit given their conspicuous, vulnerable placement and fragile construction.
If you do a lot of woods riding or ride in rocky terrain it's only a matter of time before it's dented. The header pipe is critical to the performance of a two-stroke engine, so protecting it is also preserving the engine performance of your bike.
They are another money-saving device because they're about half the cost of a new header pipe, so they will save you money in the long run.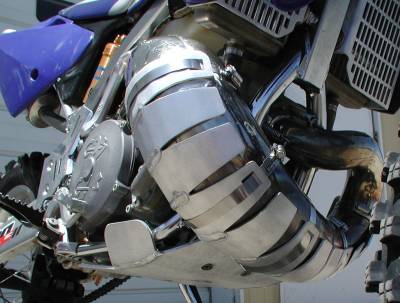 They're available in many different styles and construction, from aluminum and steel to carbon fiber. It's important to purchase the specific guard designed for your bike model.
9. Linkage guard
A linkage guard works like a skid guard but protects your linkage from damage. The linkage guard is about as important as your skid guard, rear disc guard, and handguards, and is another money saver in the long run.
If you damage your linkage when you're scooting your bike over a rock or big log, it will end your riding day in an instant.
Again there's a huge range of designs and styles and they must be selected specifically for your bike model. Some models even have a replaceable slick UHMW slide face, and some have multiple mounting positions allowing the guard to double as a lowering link.
10. Fit A Spark Arrestor
One of the most important upgrades you will need to make if you plan to ride in the forest is to fit a spark arrestor.
In the US federal laws require that if you are riding in federally managed or USDA Forest Service land, your bike must be fitted with a Forest Service-approved spark arrestor.
You'll need to check your local laws, but many states adhere to the same laws for state-regulated, OHV-approved land as well.
Spark arrestors are designed from non-flammable materials and generally incorporate screens or turbines that catch flammable particles before they are expelled. They can be either incorporated into an existing silencer or built as an insert into an existing silencer.
If you ride on trails that are also shared by hikers, equestrians, mountain bikers, etc. you should consider upgrading to a spark-arrested silencer that also reduces your bike's decibel level.
This will help you to do your part to keep the trails open to dirt bikes.
Others Upgrades Worth Mentioning:
There are so many other upgrades that can be made:
Raising your handlebar height or adjusting the mounting position
Changing your seat height to suit your height
Fit a steering damper
Fit a small windscreen
Changing your exhaust system for more performance
Adding LED headlights to improve your night riding vision
Add some soft pannier saddlebags
The list goes on but I've given you 10 of what I consider the most important to protect your bike's vulnerable areas (and saving you money on unnecessary replacement parts) and making the most of your bike's performance.
Related Posts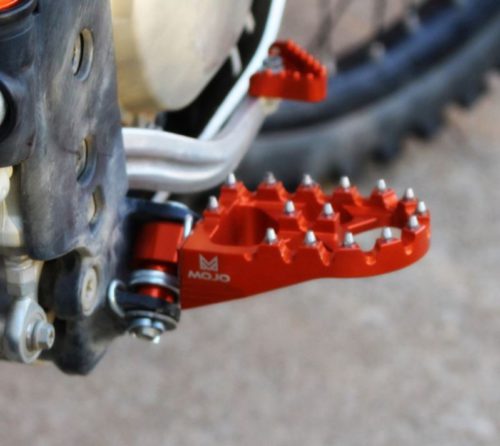 5 Best Dirt Bike Foot Pegs – Aftermarket Upgrades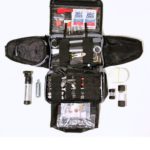 Dirt Bike Tool Kits – Bum Bag Essentials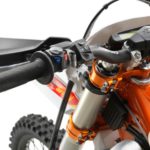 How To Install Dirt Bike Grips
Bling Your Bike – MOJO Product Review
Is there an upgrade you think should be included here? What has worked for you? Please feel free to share your thoughts below.
Please follow and like us: