Aftermarket foot pegs are a popular upgrade for dirt bike riders. The difference between the standard OEM foot pegs and aftermarket footpegs is huge. The best dirt bike foot pegs in the aftermarket range offer a much wider platform and superior grip, which adds to the rider's control and comfort. They are also considerably stronger, lighter, and offer more choices in design features.
When you need to replace your foot pegs, you have three choices, either replace the stock OEM pegs, go for a cheaper alternative, or upgrade to a superior aftermarket peg that also adds some bling to your bike.
There is not a lot of the rider in contact with a dirt bike when you think about it, other than hands, seat, feet, and knees to grip the bike. This means that the contact through the foot pegs plays a huge part in the control of the bike, and rider comfort.
Quick Summary
Here's a quick summary of 5 of the best Dirt Bike Foot Pegs being reviewed here:
1. Pivot Pegz – Top Pick
2. Raptor Titanium Foot Pegs – Best Of The Best
3. IMS Pro Series Foot Pegs – Best under $100
4. MOJO Foot Pegs
5. Flo Motorsports Foot Pegs
Dirt Bike Foot Peg FAQ's
Are Dirt Bike Foot Pegs Universal?
Unfortunately no, footpegs are brand/model specific. You may find a few that can be fitted onto a different model, but this is just pure chance.
It is important when you purchase aftermarket footpegs to ensure you are ordering for your specific bike.
Can You Adjust The Mounting Height?
Raising or lowering the position of footpegs to suit different rider preferences is possible with some brands. Manufacturers have come up with their own different ways to adjust the height.
Fastway footpegs offer height, traction, and camber (tilt) adjustment. They use a patented collar system that allows you to mount in the stock or lowered position.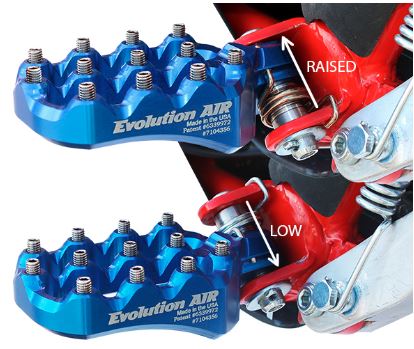 Pro Taper footpegs utilize a replaceable platform of varying different thicknesses to adjust the height.
Some motorcycles like the Kawasaki KX250F/450F provide two different height adjustment positions in the mounting brackets.
How Do I Fit/Replace Dirt Bike Foot Pegs?
Replacing your footpegs is a simple job that can be done in a few minutes.
It is simply a matter of removing the cotter pin and washer, then tapping out the pivot pin. It is a good idea to clean the parts to be reused at this point.
Never use grease or lubricant on the pin as it will attract dirt and cause wear. It's best to just polish the pin with steel wool or wire brush if they're covered in gunk.
To install the new peg place the spring over the new peg and slide it into the bracket, compressing the spring slightly. Next, slide the pin through the mounting bracket and refit the washer and cotter pin.
This video from MOJO gives explains the process very well.
How To Choose Aftermarket Dirt Bike Foot Pegs
With so many features available today in aftermarket dirt bike footpegs, choosing can be difficult. Here are some things to keep in mind.
Top 5 Things To Consider:
1. Construction Material:
There are three main materials used in the construction of dirt bike footpegs: Steel, Aluminum, or Titanium, either cast, machined, or fabricated.
There are pros and cons of each:
Aluminum alloy pegs are lighter, but not quite as durable as steel, especially when coming into contact with the ground or rocks. Most are billet machined with an anodized finish for that cool factory look. They generally use screw-in cleat-type stainless steel teeth which can be replaced.
Stainless Steel either cast or fabricated is the next level up. They are extremely durable and corrosion-resistant, but not as light as aluminum.
Titanium is the ultimate in strength and lightweight, it's the perfect material for footpegs, the only drawback is the price.
2. Overall Size:
One of the main advantages of aftermarket footpegs is the increase in size over the standard OEM pegs. Most are around 2.25″/57mm wide by 3.5″/89mm long. The general rule is: wider is better.
The bigger platform in contact with the boots helps distribute the rider's weight over a larger area and provides increased control and feel of the bike.
3. Grip:
The other main advantage of aftermarket footpegs is an improved grip. The grip is determined by the shape and number of teeth and their sharpness.
There's a tradeoff here in that the sharper the teeth, the better the grip on the soles of your boots, but the more damage and wear to the boots.
This is not a problem for professional riders who are supplied with new gear regularly but for the rest of us, it's a compromise between grip and boot life.
4. Teeth Or Cleats:
Aluminum alloy footpegs like the MOJO, Flo Motorsports, or the Fastway Evo utilize stainless steel cleat-type teeth. The advantage is that they are replaceable, but the drawback is that Locktite is a must, and when mud gets into the threads they can be difficult to replace.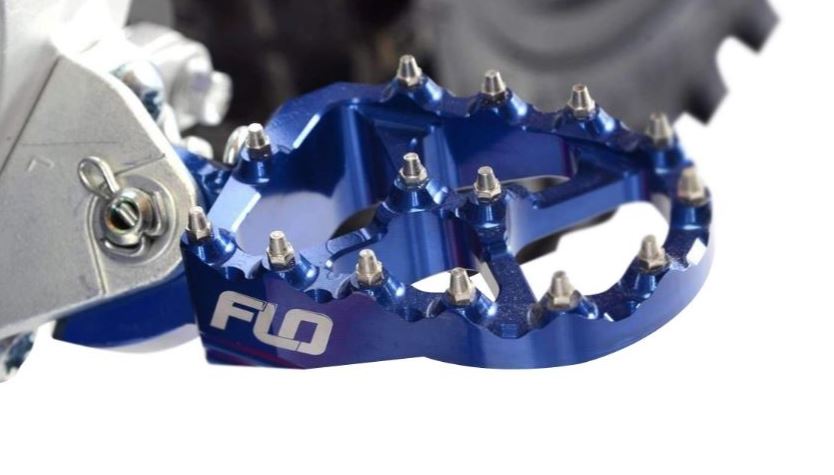 Traditional teeth that are part of the pegs casting (like the IMS Pro) or cut from a steel plate then welded on (like the Raptor) are typically used on steel pegs.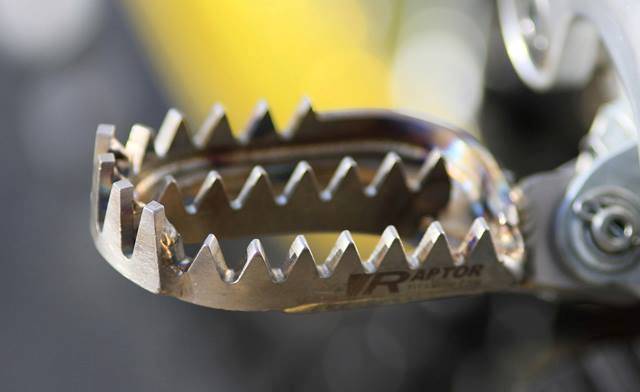 Tall teeth with a sufficiently deep trough that won't pack with mud are the go here.
5. Anti-Clog Design:
Mud clogging the pegs and preventing the teeth from doing their job to provide grip can be a problem. Complicated crossbeams within the footpegs tend to trap mud and can lead to clogging.
Stainless steel or Titanium pegs are generally a thinner construction and more open design, allowing mud to self-clean. Aluminum pegs are generally a more chunky construction with more crossbeams, so they are more prone to clogging.
Let's look at what I consider, in my opinion, to be 5 of the best dirt bike footpegs available today as aftermarket upgrades.
1. Pivot Pegz
These footpegs are a unique pivoting design, and definitely worth considering if you're looking for after-market pegs.
The big advantage of the pivoting design is that as your ankle is flexing forward and backward as you move around on the bike, the peg is rotating to ensure that the full footpeg width is in contact with the sole of your boot.
This helps with increased grip and improves your comfort and control of the bike.
They do feel a bit strange at first and take a bit of getting used to, then you don't even notice after a while. A lot of riders swear by them and say they'll never go back to regular pegs. Some can't get used to them, it's a personal preference.
They're made from heat-treated stainless steel, so are built to last, and come with a lifetime warranty. They are a huge 60mm/2.36″ wide, the widest on the market, which helps spread the load across your boots.
The teeth are a traditional design and are a multi-directional cut, which helps maximize the grip in all directions. They are a very open design with a large cutout area, which helps in preventing the mud from clogging them up and reducing grip.
Pivot Pegz are an ideal solution if you are a rider who suffers from ankle pain after a day in the saddle. They are highly polished stainless steel, so great for adding some bling to your bike.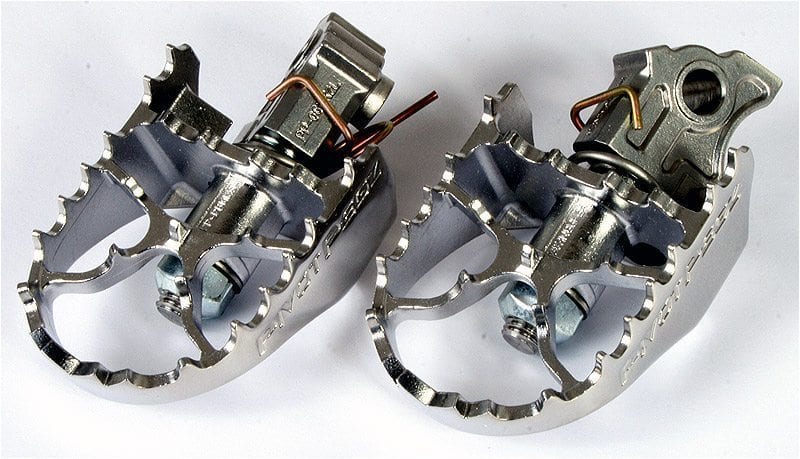 Features:
Unique pivoting design for maximum contact area with the boot sole
Wide (60mm/2.36″) design for added grip
Multi-directional grip pattern teeth
Stainless Steel construction
Lifetime Warranty

2. Raptor Titanium Foot Pegs
Raptor Titanium Footpegs are manufactured in the UK and have been developed and tested over the past 10 years. They are widely regarded as the best-performing and most technically advanced footpeg on the market.
Raptor Titanium supplies to many of the top professionals and factory racing teams who use the pegs in FIM World Motocross championships and FIM AMA Supercross & Motocross championships.
Only a limited number are manufactured every year due to the hand fabrication manufacturing process.
Titanium is not new to the motocross scene having been used as far back as the 70s. It is extremely light and strong, the perfect material for footpegs, with the only drawback being the cost.
The Raptors are 57mm wide with large 'carnivorous' teeth to provide maximum grip to your boots, but they're not so sharp as to destroy the soles of your boots.
A central peg brace with 3mm wide teeth creates more gripping surface while still giving the pegs a large open area that helps avoid mud clogging and aids self-cleaning. It is slightly raised or 'arched' to help you to pivot your foot to brake and shift.
The Wow factor of these pegs is in the hand-made construction quality. The teeth are laser-cut and precisely welded all the way around the inner curvature. Underside, the larger welds that connect the pivot to the teeth give them that 'factory' look.
A nice touch is the laser etching of the Raptor logo and the motorcycle brand that the footpegs are intended for.
The finish is raw metal without any color coatings like paint or anodizing which will begin to show scratches and wear almost immediately.
They are available in various forms: Motocross, Enduro, Supermoto, and Trials. The Enduro model is without the middle bar and is favored by the likes of Jonny Walker and Graham Jarvis.
The Raptors are one of the more expensive footpegs on the market, but you pay for quality equipment whichever sport you take part in, and the Raptors are a top-end product.
Features:
Hand fabricated using aerospace-grade titanium to be super strong
Ultra light-weight at 340g per set
Wide (57mm/2.25″) platform with 24 tooth design for maximum grip
3 rows of teeth offer a greater surface area and reduced boot wear
Anti-clog design that resists mud clogging and buildup
Expertly handcrafted welds
Stainless steel springs included
Sold as a pair

3. IMS Pro Series Foot Pegs
IMS was formed in 1976 by dirt track racer CF Wheat with the goal of using a racer's knowledge to develop high-performance aftermarket off-road parts and accessories.
IMS grew tremendously from 1995 when joined by off-road racer Scott Wright and the company is also an industry leader in fuel tank technology.
IMS Pro Series footpegs are made from cast stainless steel with a gray powder coat and polished finish.
The tooth design is patented and features taller teeth to the outside edge and shorter teeth towards the inside, which provides better grip and control.
IMS footpegs are designed to allow you to reuse your OEM springs and pivot pins without any modifications. The open design with the single mid bar helps prevent mud clogging and aids in self-cleaning.
They offer excellent value for money for that 'factory' look with their no-maintenance polished and powder-coated finish which is rust and corrosion-proof.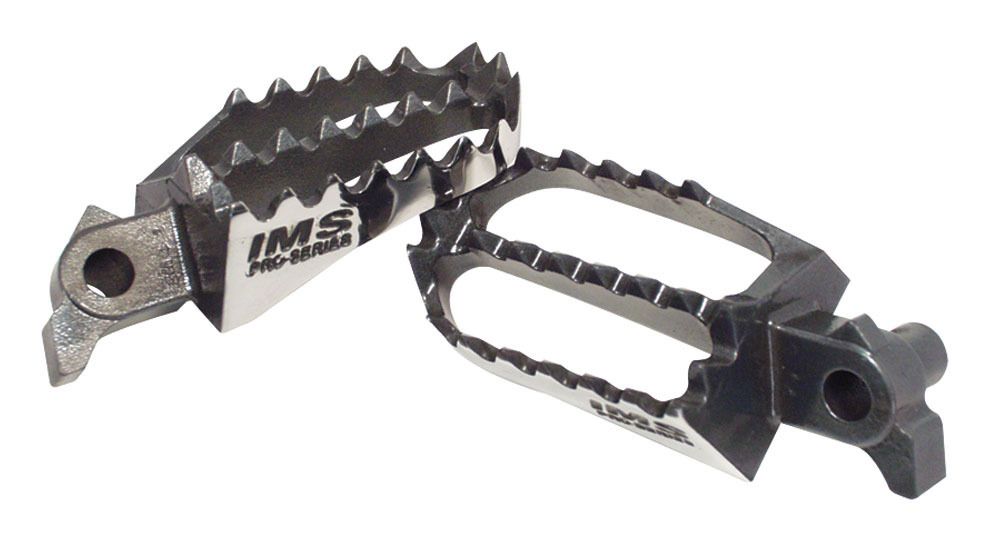 Features:
Constructed from 17-4 grade cast stainless steel powder-coated and polished
Patented Tall tooth design for excellent grip and bike control
Platform measures 50mm/2″ wide x 76mm/3″ long
Anti-clog design that resists mud clogging and buildup
Utilizes stock mounting hardware and springs
Sold as a pair

4. MOJO Foot Pegs
MOJO Motosport is a company renowned for producing a wide range of high-quality Billet machined anodized aluminum parts to bling your bike and give it that factory look.
The footpegs are billet machined from a solid block of 7075-T6 aluminum to give strength and durability.
The teeth are replaceable stainless steel and are designed to give you an excellent grip without destroying the soles of your boots. Also included are 5 extra teeth for when replacement is needed.
The body of the peg between the teeth has self-cleaning mud grooves machined into it to aid self-cleaning.
They are an anodized aluminum finish available in colors to suit your bike:
Orange – KTM, Light Blue – Husqvarna, Dark Blue – Yamaha, Red – Honda, Green – Kawasaki, Yellow – Suzuki
The spring is even stainless steel, so you never have to worry about it breaking, and all MOJO products come with a lifetime warranty.
For more on the MOJO range of products refer to my post: Bling Your Bike – MOJO Product Review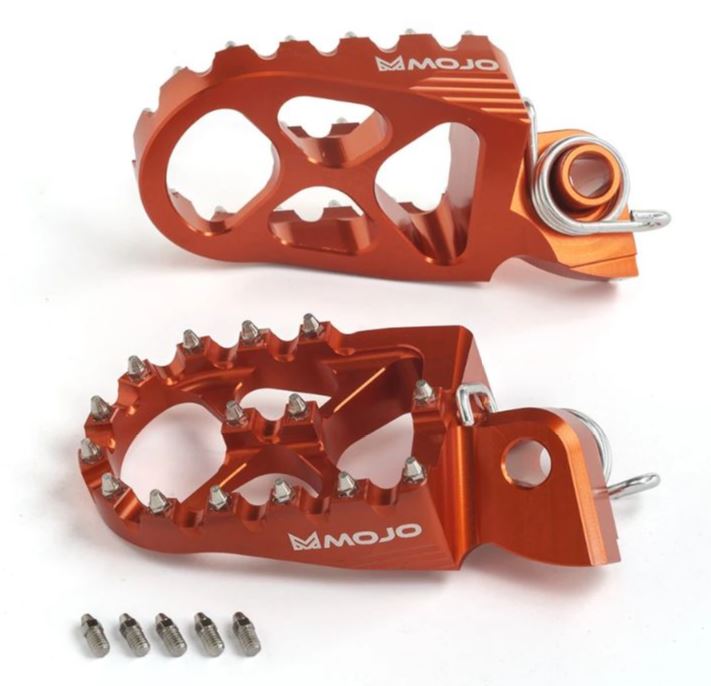 Features:
Precision CNC Billet Machined aluminum for a perfect fit
57mm/2.25″ wide platform x 86mm/3.38″ long
Ergonomically designed to reduce fatigue and increase grip
Anodized finish in colors to suit your bike
Self-cleaning mud grooves to prevent clogging
Includes 5 extra stainless steel teeth
Stainless Steel springs included
Lifetime warranty

5. Flo Motorsports Foot Pegs
Flo Motorsports work directly with professional AMA Supercross and Motocross riders to produce some of the best equipment available.
The footpegs are used by some of the top factory Supercross teams including CTR Motorsports (Yamaha) and Rockwell Race Team (Yamaha).
They are manufactured from a top-quality German grade Forged 7075 T6 Alloy, which Flo Motorsports claim to have a yield strength (73 KSI) comparable to that of 6AI-4V Grade Titanium!
7075 Alloy is 2-3 times more expensive than 6061 Alloy which is why it is not commonly used. This makes them one of the most durable aluminum footpegs on the market.
The removable and replaceable stainless steel teeth have a small flat top to reduce wear on your boot soles but still provide an excellent grip. They are easily removed with a 5mm wrench.
Mud clogging is not a problem with the help of self-cleaning mud grooves machined into the body between the teeth.
They are available in a wide range of colors to compliment your bike: Black, Blue, Green, Orange, Red, Silver, and the super cool new Jet Fuel.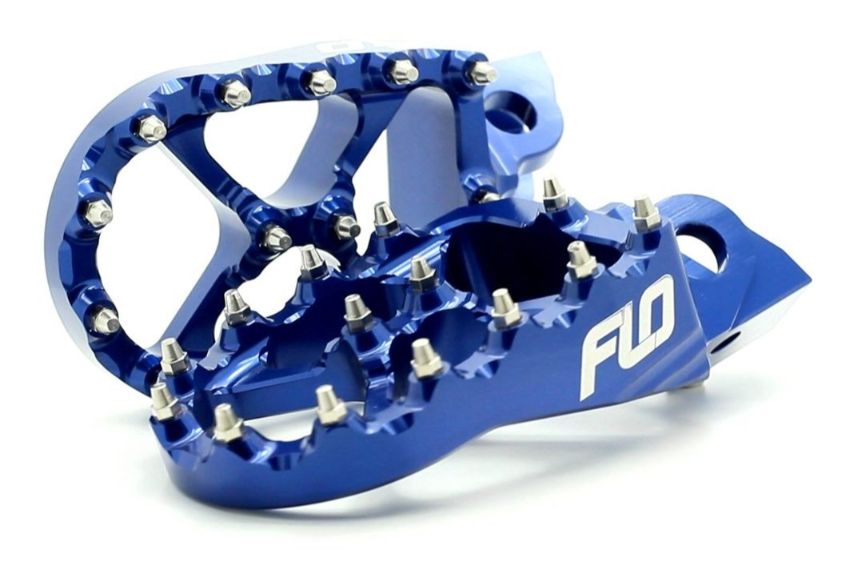 Features:
Constructed from lightweight 7075 T-6 aluminum alloy
57mm/2.25″ wide platform x 86mm/3.38″ long
Rounded edges to prevent snagging on gear and for safety
Self-cleaning mud grooves to prevent clogging
Stainless steel cone-shaped cleats with flat tops
Loctited cleats are replaceable with a 5mm wrench
Sold as a pair

Final Thoughts
With such a wide and varied selection available, who can say one particular brand and model is the best, it all comes down to personal preference and how much of your hard-earned cash you have to spend.
Here are what I consider to be 3 of the top choices available in different price ranges.
Top Pick: Pivot Pegz 
Pivoting pegs are not for everyone, but those that use them claim they'll never go back to regular pegs. It's a personal choice, but these are top-of-the-line quality and come with a lifetime warranty.
Best Of The Best: Raptor Titanium Foot Pegs
Widely regarded as the best money can buy, and used by professionals that simply need the best there is to stay at the top of their game.
Best under $100: IMS Pro Series Foot Pegs
Designed and developed by a racer for racers and all for under $100
Related Posts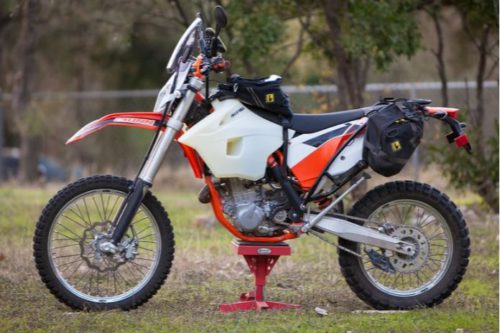 10 Best Dirt Bike Upgrades For Dual Sport Riding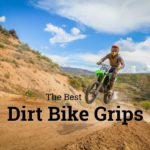 10 Best Dirt Bike Grips – Comfort and Feel Is Vital
Have you used any of the foot pegs above? Is there a foot peg that you can highly recommend?
Please follow and like us: