Robbie Maddison is an Australian stunt rider, known as today's Evel Knievel, who is famous for numerous record-breaking stunts including World's longest motorcycle jump, World's highest motorcycle jump, backflip jumping the open Tower Bridge in London, Corinth Canal jump in Greece, jumping down a ski ramp in Utah Olympic Park, riding a motorcycle on water, just to name a few.
Personal Stats
Rider: Robert William Maddison
Height: 5'11"
Date of Birth: 14th July 1981
Place of Birth: Caringbah, NSW, Australia
Nationality: Australian
Wife: Amy Sanders
Nicknames: 'Maddo'
Books: The Story of Robbie Maddison (Children's Book)
Movies: Skyfall 2012 (stuntman for Daniel Craig), xXx: Return of Xander Cage 2017 (stuntman for Vin Diesel), Crusty Demons: Night Of World Records (2013), On Any Sunday: The Next Chapter (2014)
Robbie grew up in Kiama Downs, in New South Wales, Australia.
He started his career competing in national motocross and supercross events, but developed a passion for freestyle motocross (FMX) and entered his first FMX event in Bachus Marsh, Victoria, and ended up winning both the amateur and pro event.
In 2004 he won Gold at the X Games at Australia's Wonderland completing 13 backflips.
In 2005 he broke two world records:
The 125cc distance world record – 221 feet
The 250cc distance world record – 246 feet with a trick (Spiderman seat grab)
He has since gone on to be regarded as one of the best FMX riders of all time.
Some of Robbie's Most Famous Stunts
World's Longest Motorcycle Jump
Robbie holds the world record for the longest motorcycle jump.
 On March 29, 2008, in Melbourne Australia during a Crusty Demons 'Night Of World Records' show, he jumped 316 feet (96.32m) on his first attempt.
On his second attempt, he jumped 342 feet (104.24m) but landed hard on his back wheel. Not happy with that, he tried again and jumped 351 feet (106.98m) for a perfect landing.
Utah Olympic Park Ski Ramp Jump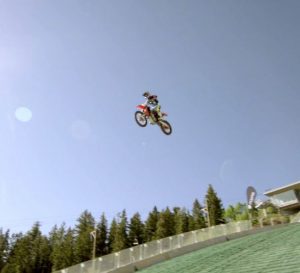 Robbie teamed up with Skullcandy and Red Bull Media House's On Any Sunday to record a video called 'Drop In'.
He rode his bike down the Bobsled run before heading to the K120 Nordic Ski jump. He launched his bike off the jump at 71 mph, dropping 185 feet (about 18 stories, a world record) and landing, for a total length of 374 feet (114.07m)
Robbie is featured in the Movie 'On Any Sunday, The Next Chapter' which you can see more of in my post Dirt Bike Movies – 5 You Must See
World's Highest Motorcycle Jump – Arc de Triomphe Las Vegas
On January 1, 2009, live on ESPN, Robbie jumped his Yamaha YZ250 96 feet up onto the top of the Arc de Triomphe replica in front of Paris Las Vegas.
He then dropped 80 feet back down to land safely on a ramp at ground level.
He didn't walk away from it completely unharmed. He tore the flesh between his thumb and forefinger on landing from the freefall, requiring 10 stitches.
"A little memento to take away from the trip, a little souvenir."
Corinth Canal Jump
On April 7, 2010, he jumped his bike more than 80m (278 feet) over the Corinth Canal in Greece. He needed a takeoff speed of 120 km/h to achieve it.
Tower Bridge Backflip Jump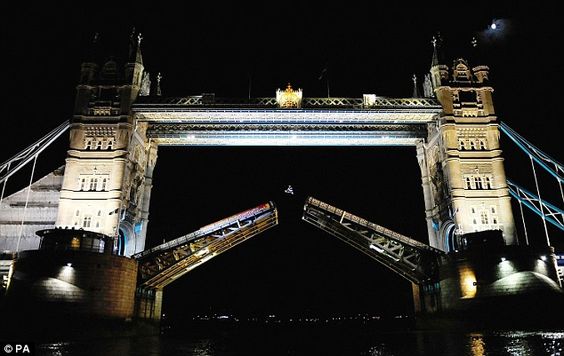 On July 2009 Robbie jumped the Tower Bridge in London whilst the bridge was raised, throwing in a backflip for good measure. With a potential fall of 200 feet to the water below, it was a jump not to be scoffed at.
To see videos of the Tower Bridge and Corinth Canal jumps, and some other awesome clips click Here
Riding a Dirt Bike On Water
In 2015 Robbie traded dirt for water when he took his specially fitted out bike to the waves in Tahiti to film 'Robbie Maddison's Pipe Dream.'
The stunt was three years in the making. There are plans underway for a Pipe Dream 2, which he plans to film as soon as there's a monster swell off the coast of Mexico.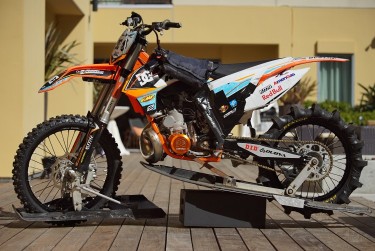 Robbie Maddison's water bike. The bike has been fitted with water skis to each wheel and a hill-climbing tire on the rear wheel. "It works exactly like the wheel of a paddle steamer," says Robbie.
I can't wait to see what Robbie Maddison will come up with next. Be sure to keep a lookout for updates to this post.
Related posts:
Famous Dirt Bike Riders – Toby Price Bio
Famous Dirt Bike Riders – Chad Reed Bio
Famous Dirt Bike Riders – Travis Pastrana Bio
Famous Dirt Bike Riders – Graham Jarvis Bio
Famous Dirt Bike Riders – Steve McQueen Bio
Is there another famous rider you'd like to see a Bio on? Please feel free to leave me a comment below.
Please follow and like us: