There is now a growing swing towards lightweight adventure bikes. Manufacturers are now adding smaller capacity bikes to their Adventure Touring category.
Whether you're a new rider starting out or an experienced rider downsizing, there are now some great bikes available at the smaller end of the range.
Ever since Charley Boorman and Ewan McGregor rode from London to New York in 2004 in the TV series 'Long Way Round' the popularity of Adventure Motorcycle touring has skyrocketed.
They had the backing of follow-up vehicles, a support crew, a cameraman on a third bike, and a sizeable budget for the TV show.
Long Way Round is featured in my post Dirt Bike Movies – 5 You Must See
Even though Charley was the more experienced rider of the two, they both struggled with the weight of the bikes and gear they were carrying, especially when the roads disappeared and the terrain got treacherous in places like Mongolia.
Ewan and Charley's first choice of bike was KTM, however, when KTM refused to supply them with bikes, BMW agreed to the deal.  Their first choice of bike was the 650cc singles, but BMW insisted on the heavier 1200cc GS models. Ewan stated later that given the weight of the big GS's that they would not have been able to make the trip without the assistance of the backup crew.
Without a doubt, they added to the sales of the BMW 1200GS models, and similar bikes from other manufacturers of large adventure bikes like Honda, KTM, and Yamaha.
Adventure Bike Popularity Increases
Adventure Motorcycle touring is now one of the fastest-growing categories in the motorcycle industry.
Riders these days are looking for a bike with comfortable on-road touring ability, off-road capability, and performance all wrapped up in the one bike.
Adventure riding is for riders who don't want to transport their bike on the back of a vehicle.
They want to walk into the garage, get on their bike and ride long distances on the highway in comfort, go into the forest and ride some forestry roads, some gentle trails, camp out for a night or two, and ride home again.
Thinking of Downsizing?
Many riders who have bought large capacity bikes have found they have to downsize because they can't manage the weight of the bike off-road.
Remember you have to be able to pick the bike up after the inevitable fall on the trails. This is something you almost never have to do with on-road riding.
If you crash a large bike on the road at speed, you have more to worry about than picking the bike up, like serious injury, ambulances, and hospital.
The Growing Trend to Lightweight Adventure Bikes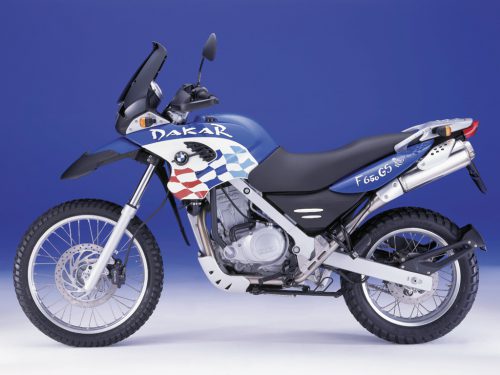 Do you really need a large-capacity adventure bike because you are planning a long adventure ride?
In recent years there has been an increase in the numbers of lightweight adventure bikes available.
There are now bikes available from 300cc right up to 1200cc.
When choosing a bike you need to be brutally honest with yourself about your riding skills off-road.
The general rule is: The less experience you have off-road, the lighter the bike you should look for.
Where will the majority of my riding be?
Ask yourself what percentage of your time will be spent on-road, and what percentage off-road.
Don't allow yourself to be pressured by your friends into buying a 1200cc bike because they have one.
If you're coming from a road riding background, you may be tempted to stick with a large capacity adventure bike for the on-road comfort,  but there are some smaller capacity adventure bikes that have windshield protection and a comfortable seat for long highway sections.
If you come from an off-road background, you will be more comfortable with the lighter-weight bikes, but looking for something with a better on-road capability than your Dual Sport or Enduro bike.
The swing to smaller capacity bikes will open up a whole new world for the less experienced off-road riders, women riders, and shorter riders who find the taller heavier bikes unmanageable.
So what is available in the Smaller Adventure Bike Market?
Let's look at a couple of new additions to the 'Baby' adventure market.
The Kawasaki Versys-X300
In 2017 Kawasaki came out with the Versys-X300. At 300cc it is Kawasaki's smallest capacity model in its adventure-touring category.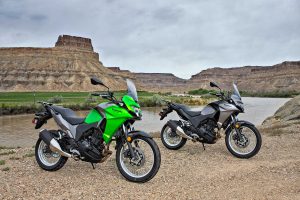 It is learner approved and still more road than trail, but at 170kg (374 pounds) is light enough to handle moderate dirt and gravel forestry roads.
The bike has a large tall windshield which adds comfort to long road rides and gives it that adventure bike look.
It has a fairly comfortable seat but it is reported to become uncomfortable after 2-3 hours riding, so an aftermarket seat is an easy fix.
It comes standard with the luggage rack for securing your top box and panniers. There is a wide range of accessories available from Kawasaki.
The ABS braking cannot be turned off for off-road use, but you can opt for the non-ABS version and save yourself $300.
While not designed specifically for off-road use, the 19″ front wheel and moderately long-travel suspension (5.1″ front and 5.8″ rear) gives it greater capability on unpaved roads.
Riders looking for more suspension travel may not be happy with this, but the advantage is that it gives the bike a low seat height of 32″.
The Versys-X300 is a great entry-level bike that will give new riders an exciting ride on pavement as well as forestry and dirt roads.
The BMW G310GS
BMW has now launched the BMW G310GS. It is the smallest addition to the popular GS range.
The bike has a low (32.8″) seat height and 168kg (370 pounds) weight, making it ideal for new riders.
The larger 19″ front wheel helps soak up the bumps off-road, and longer travel suspension (7.1″ compared to 5.5″ on its roadster brother, the G310R).
It comes standard with a small windshield and a luggage rack that can accommodate the factory BMW top box. The ABS can be turned off for off-road use.
If you're new to motorcycling you will have little to complain about with this bike. It is more suited to the new rider than the experienced rider downsizing from a larger bike, who will find the street performance limited.
On-road, it is fun and easy to ride, and will make a good commuter.
Off-road, if used as it's designers intended, it is fine for light off-road riding.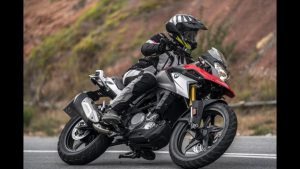 If you're looking for a cheap, fun way to join BMW's growing GS family, here's your chance.
So whether you're downsizing, or getting into motorcycles for the first time, these two bikes may be worth a closer look.
It all comes down to where the majority of your riding will be, and if riding off-road, the type of terrain you'll be riding.
Austria To Egypt – On Lightweight Enduro Bikes?
Two KTM 500 EXCs were the bike of choice in the Motology Films MOTONOMAD trilogy. Adam Riemann and his mate Mark Portbury chose to use competition enduro bikes rather than heavier purpose made adventure bikes to complete a 7000km trip from the KTM factory in Austria to Egypt.
 The trip was so successful, they made two more:
MOTONOMAD II – from Kazakhstan through to Russia
MOTONOMAD III – 7000 km through Chile, Bolivia, and Argentina, following an old route of the 2014 Dakar Rally.
For more on their adventures, check out: Adventure Motorcycle Travel DVDs – A Few To Inspire You
Related Posts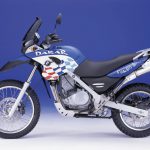 Dual Sport vs Adventure Bike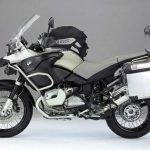 Adventure Motorcycle Riding Checklist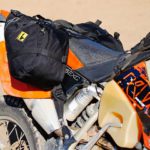 Soft Motorcycle Pannier Review
Best Soft Panniers For Lightweight Adventure Bikes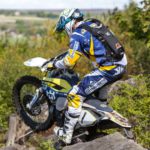 10 Best Hydration Packs For Dirt Bikes
Do you own a lightweight adventure bike?  Have you downsized, or is it your first bike? Please feel free to comment below and tell us about it.
Please follow and like us: