The Dirt Bike hydration pack is a development that has changed things for off-road riders.  In this Hydration Pack Comparison, we look at 3 of the best in the small, medium, and large range.
When I first started riding, if I wanted a drink I had to stop, get the water out of the backpack or bumbag, have a drink, store it again, and get back to riding.
It was a bit of a hassle, but back then we didn't know any different.
CamelBak changed all that with the first hydration pack, and the concept was so successful that now there are so many to choose from that picking the right one takes some research.
The hydration pack is one of the most significant innovations in the off-road area in the last 20 years. I can't imagine riding without one now. Even riding long distances on the road, it's still great just to be able to grab the tube and take a drink on the move.
It's not only dirt bikers who use hydration packs now, but mountain bikers, bicyclists, hikers, runners, climbers, military, and adventurers all make good use of them.
When you're deciding on which type to buy, you need to think about how long your ride is, and what else you need to carry with you.
Quick Summary
Smaller packs are usually 2-liter bladder capacity which is great for short one-day trips where light weight is the main consideration. They are good for carrying a wallet, car keys, phone, and snacks and that's about it. They are popular with hikers and cyclists.
The CamelBak Rogue is perfect for this.
If you are planning a multi-day ride and need to carry a few extras like spare goggles, tools, first aid kit, clothes, rain gear, etc then you'll need to look at larger packs, which can carry up to about 3 liters of water.
The CamelBak M.U.L.E. is the ideal choice for this.
For the added flexibility of attaching accessories like Body Armor and a Tool Pack, the Zac Speed Recon S-3 is in a class of its own. If you like to ride fast, you will welcome the added protection of body armor.
Some Popular Examples of Small, Medium, and Large packs:
The good small lightweight option is the CamelBak Rogue hydration pack.
Specifications
Product: Camelbak Rogue
Bag Capacity: 2.5 Liters/150 cu.in.
Bladder Capacity: 2.5 Liters
Dimensions: Length: 40cm/15.7″ Width: 22.5cm/8.9″ Depth: 16cm/6.3″

This has a 2.5-liter bladder suitable for mountain bikers, hikers and the lightweight option for dirt bikers
It has 2 exterior pockets, plus the main bladder compartment, and a breathable mesh back panel.
The bottom compartment has a reflective strap that can be used to hook things onto. Behind it is an open-air compartment with 2 compression straps, which is a great place for storing things like a light waterproof top.
The top pocket is about the same size as the bottom one and is big enough for things like keys, snacks, phone, and wallet.
The main bladder pocket has a drain hole which will allow water to drain in the event of a leak. This is a great feature if you don't want all your gear getting wet if the bladder leaks, which they often do.
The bite valve has an on/off switch which is good to prevent dripping while riding.
The bladder has a large quarter-turn opening which is easy to access. The large opening is important for ease of cleaning and drying the bladder.
For more on the Camelbak Rogue, check out: 10 Best Hydration Packs For Dirt Bikes
Need a bit more storage?
The next size up would be a 3-liter capacity which allows you a bit more storage space in addition to the larger bladder. Good for the longer one-day ride.
A good medium size example is the CamelBak M.U.L.E. hydration pack.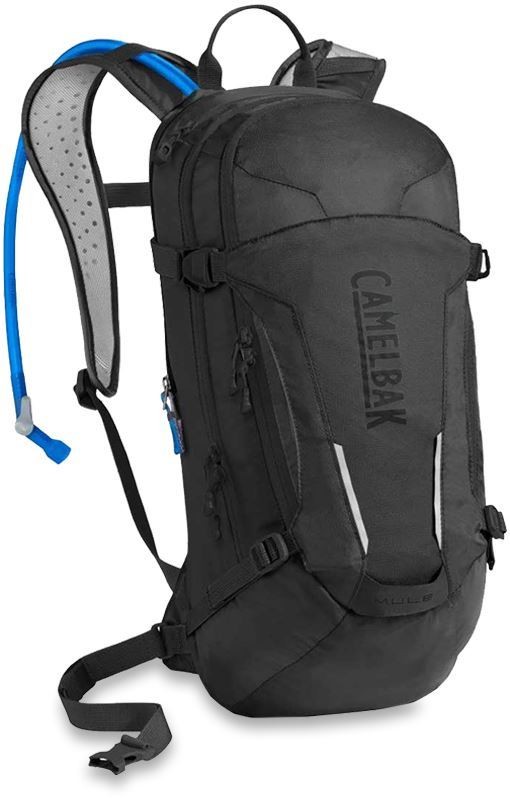 Specifications
Product: CamelBak M.U.L.E.
Bag Capacity: 9.0 Liters
Bladder Capacity: 3 Liters
Dimensions: Length: 45.5cm/17.9″ Width: 22.5cm/8.9″ Depth 22cm/8.7″
Colors: Numerous

The CamelBak M.U.L.E. is one of Camelbak's biggest selling, longest-running packs because it has 'everything you need and nothing you don't'.
The M.U.L.E was first launched in 1996, designed for mountain bikers, which means it's also great for dirt bike riders.
Camelbak tells us that feedback from mountain bikers is that it hits the sweet spot of size vs storage: it's lightweight but big enough to carry three liters of water, a day's worth of snacks, and whatever gear you need to carry.
The M.U.L.E. is narrow in design, which keeps it light and maneuverable. That means it won't get in the way even when it's fully loaded. An important feature no matter what you are using it for.
Recent improvements are the air channels to keep your back cool, universal helmet hooks, and extra compartments specifically for keys, tools, and electronics.
The latest Camelbak versions feature the new Crux reservoir, which makes it easier to load and refill, and delivers 20% more water with every sip.
There's also a magnetic tube trap that snaps the tube into place, which allows you to drink without having to take your eyes off the trail. A great feature for dirt bikes and mountain bikes, given the speeds you can reach.
For more on the CamelBak M.U.L.E. check out: 10 Best Hydration Packs For Dirt Bikes
Now we're getting serious!
At the medium to the large end of the scale would be the backpack for the multi-day adventure rider, who finds himself a long way from home.
A good example is the Zac Speed Recon S-3 hydration pack.
Specifications
Product: Zac Speed Recon S-3
Bag Capacity: 13.5 Liters
Bladder Capacity: 3 Liters
Dimensions: Length: 45cm/17.7″ Width: 35cm/13.7″
Color: Black/Red

It gives you a 3-liter bladder combined with a 13.5-liter storage capacity in the bag. It also comes with a removable internal back protector.
This pack also has a really cool molded EVA raised air mesh back panel which lets airflow get down between the pack and your back.
The optional addition of the Matrix Tool Pack storage bag connects to the waist belt which is a great way to get some extra capacity. There are five storage pockets including the two elasticized tool storage side pockets.
The pack is equipped with the CONFIGR8 system which allows you to customize your pack with additional CONFIGR8 elements for added flexibility.
It has an insulated hydration hose so it's really beefy, and the bite valve has a dust cap. The hose can be run on either side.
I always prefer running it over the right shoulder so that you can use your left hand to grab it. This leaves your right hand on the throttle and brake.
The zips are rubberized and water-resistant, an important feature in wet weather riding.
It also has a bladder with a zip-type top opening which is the full width of the bladder, making cleaning and drying easy.
Combining your hydration pack with your chest protector
Zac Speed solved the often awkward problem of wearing a hydration pack over your body armor when it released the 'Exotec' Chest Protector.
It is ergonomically attached to the Recon S-3 backpack using the CONFIGR8 system.
The chest protector can be fitted and removed easily using their 'LadderLock' system which gives 9 adjustment positions.
The CONFIGR8 system is explained in this video.
This is 'next level' stuff. I wish this was around when I first began riding dirt bikes. The extra versatility of being able to attach other accessories is a huge bonus.
This is just perfect if you like the extra protection of body armor. I always ride with body armor, because the one time I don't wear it, will be the time I need it.
If you're like me and you mostly ride one-day trips, but occasionally do some weekend moto-camping rides, then you will find you really need both the small and the larger size packs.
Keeping it clean
It's very important to keep the bladder clean to prevent bacteria buildup.
Immediately after you get home, remove the bladder, rinse it out with clean water and allow it to completely dry internally before storing it.
Tip: Use the tube to keep the bladder open to allow air to circulate when drying. Just fold the tube in half and push the loop into the opening and right down to the bottom of the bladder.
If you use anything other than pure water in the bladder, especially drinks with sugar, the bacteria will grow at an alarming rate.
Sterilization tablets are the way to go if you need to disinfect the bladder. They are available from your local chemist for sterilizing baby bottles.
Camelbak also has cleaning tablets available, and brush cleaning kits which include 3 brushes and a hanging frame for drying.
Summary
Hydration packs have just become a part of life for the outdoor adventurer. I can't imagine riding without one.
It all comes down to the duration of your ride.
Ideally, the CamelBak Rogue is perfect for your one-day ride, enough to carry your basic essentials, and enough water that the weight is not an issue.
For the multi-day rides, the CamelBak M.U.L.E. is a good size, the extra gear required for camping can be carried in your soft panniers. Click the link below for my Soft pannier review.
If you like the added flexibility of attaching accessories like Body Armor and a Tool Pack, the Zac Speed Recon S-3 is in a class of its own.
Related Posts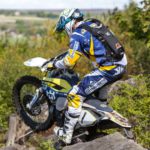 For a review of 10 of the best available today: 10 Best Hydration Packs For Dirt Bikes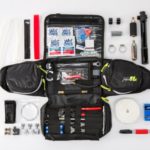 What items to pack to get yourself out of trouble: Dirt Bike Tool Kits – Bum Bag Essentials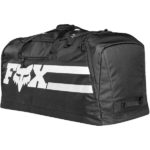 An essential piece of equipment is your gear bag: 10 Best Gear Bags For Dirt Bikes 2018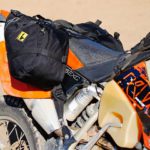 Need some extra storage for your bike:  Soft Motorcycle Pannier Review   
If you have a hydration pack that you have been using and can highly recommend, please feel free to share your thoughts with readers below.
Please follow and like us: