With Dirt Bikes being so tall nowadays, a lower dirt bike seat height can make riding much more enjoyable for the shorter riders among us.
Longer travel suspension is to blame. Back when I started riding a dirt bike typically had about 3 or 4 inches of suspension travel, now we are riding with 12 inches plus.
This means seat heights have increased and touching your feet on the ground is now a problem for a lot of riders.
Here are 7 options for how to lower a dirt bike seat height. All have an effect on your bike's handling to varying degrees.
Typically dirt bikes get taller as the engine displacement increases, so if you don't yet have a bike and are looking for a low height dirt bike to buy, you will be looking at bikes in the 250cc and less engine category.
Lowering your bike may even be avoided by honing your riding skills.
Riding Technique:
One of the first things to work on before spending money on lowering your bike is to develop your riding technique.
There are several techniques you can practice that will improve your skill and balance. You may find you can avoid having to lower your bike.
Remember, some of the world's best motocross riders (Ricky Carmichael, James Stewart) are about 5'6″, which hasn't hindered their riding ability.
Practice some trials riding techniques so that touching the ground becomes less of a necessity:
Balancing at a standstill. Static balancing can be done with or without the engine running.
Riding very slowly. Practice figure 8s with the steering fully locked in each turn without putting a foot down
Practice standing on the bike more. You have more control and less need to put a foot down.
Choose where to stop your bike. Park next to a log or rock so that it is easier to touch the ground when you get off or slip your butt to one side and stand on one leg.
Learn how to dismount quickly when you recognize that you are about to come off. Then you can pick and choose where to get off.
This video courtesy of Megs Braap gives some great tips for the shorter riders:
Bike Setup – Cheap Do-It-Yourself Options:
1. Seat Modifications
Shaving the seat foam is a common way of lowering the seat height. Simply remove the seat cover and shave the seat foam to the desired thickness. You will usually be able to trim up to about an inch off the middle of the seat.
Be sure to also to trim a large enough radius on the edges of the seat foam.
Drawbacks: The disadvantage of this approach is that you are left with a harder seat with more of a curve in the middle which will be less comfortable to sit on.
Some manufacturers produce a lower profile seat as a replacement to the stock seat. There are also aftermarket seats available for some bikes, so it is worth doing a google search for your bike.
Another option is to simply replace the seat foam with a softer foam or gel insert. Then your seat still looks the same, but you just sink further into the seat.
2. Rear Sag/Shock Preload
A quick easy way to lower the rear of your bike is to adjust the rear shock spring pre-load.
By backing off the lock nuts you can lower your bike by up to 2 inches, but be aware that this is messing with the suspension settings and will affect the handling of your bike.
Similarly increasing the sag setting will also lower the bike, but also affect the handling. If you haven't already set the sag on your bike, it's best to do that first, (refer to my post: How To Adjust Your Dirt Bike Suspension) then use that as your benchmark and increase it from there.
Drawbacks: If your bike has been set to the optimal settings for your weight and the terrain conditions you mostly ride in, changing these to lower the ride height will have a negative effect on handling.
3. Moving The Fork Legs Up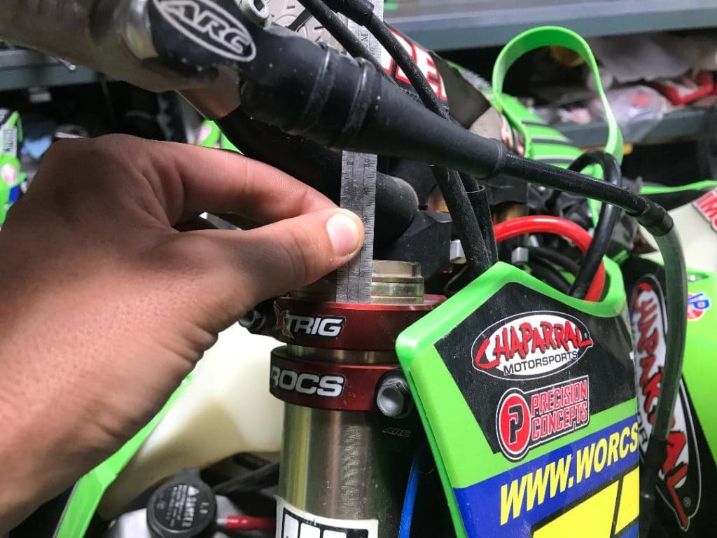 If you lower the rear suspension, you must also lower the front by moving the fork legs up in the triple clamps to compensate for the lower rear end.
Do this in small adjustments at a time (1″ is a lot) as this is altering the geometry and handling of your bike. Make sure you move both sides by the same amount and use a ruler to be precise.
It's a good idea to make a note of the settings you started with so that you can go back to them if you want to in the future.
Drawbacks: Lowering the forks in the triple clamps steepens the rake angle of the forks, which affects the bike's handling.
Basically lowering the front end (without also lowering the rear) will make the bike turn quicker and reduce high-speed stability.
More Expensive Options:
4. Fit A Lowering Link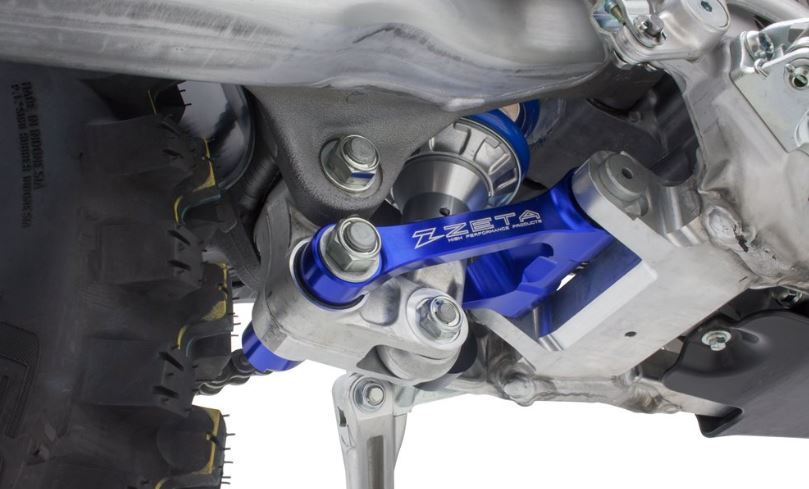 Fitting a lowering link is a common way to lower the seat height of a dirt bike. There is a bit more cost involved, but in my opinion, it is preferable to increasing the sag and backing off the shock spring preload. It will have less of a negative effect on the rear suspension performance.
The lowering link simply bolts into your linkage system and will lower the rear end between 1/2″ and 1 1/2″ depending on the bike.
A Lowering kit must be purchased for your specific bike. If you are trail riding at slower speeds you may not notice much of a difference. If you are racing motocross and pushing it hard at higher speeds, the difference in handling will be more noticeable.
Drawbacks: With less distance between the wheel and the fender, but the same shock travel, the rear tire may bottom out on the underside of the fender.
5. Modifying the Subframe
This is a drastic measure and should be way down on the list of options. There are a lot of factors to be aware of with this method of lowering your seat height.
Drawbacks: Cutting and welding the subframe increases the chances of the frame cracking at the new welds. It is essential to get a professional to do the welding, and if the frame is aluminum the weld quality is even more crucial.
You also have increased the likelihood of rusting and corrosion if the frame has not been repainted to a high standard.
Lowering the subframe too much will also cause the rear tire to bottom out on the underside of the fender at full shock compression. It is critical to be aware of exactly how much you can lower it before you begin cutting.
6. Smaller Rear Wheel/Tire
Most motocross bikes come with a 19″ rear wheel, while Dual Sport and Enduro bikes generally use an 18″ rear wheel.
If your bike has a 19″ rear wheel simply reducing the rear wheel diameter by 1″ will give you a 1/2″ reduction in seat height right away.
You can take that a little further by going to a lower profile tire. If you used a 110/100-19″ tire on your 19″ rim, going to a 100/90-18″ tire on the 18″ rim will give you about another centimeter, almost 1/2″ further reduction in seat height.
7. Have A Suspension Specialist Lower it For You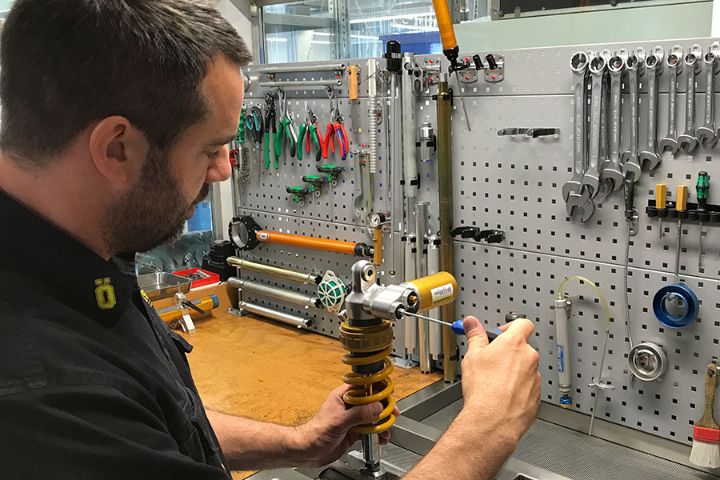 If you are new to dirt bike riding or are not sure about what you are doing, then messing with the geometry of the bike can have serious repercussions on the bike's handling.
In this case, it's best left to the trained suspension technicians who understand how it all works and will know the best way to go about lowering your bike.
They know how to minimize the negative effects it will have on your bike's handling.
It will cost you a bit more but will give you the best outcome possible for your particular bike.
Downsides Of These Mods:
Lowering the ride height of the bike lowers the ground clearance and so your kickstand will now be too tall. There will be modifications to be made to shorten it.
Less seat foam equals less comfort. If you are looking at this option, be cautious of how much foam is removed.
Lower ground clearance. This may or may not be a problem depending on the type of terrain you tackle. If you do a lot of log or rock hopping, the lower ground clearance will be noticeable.
Altered handling of the bike. The lower ride height, reduced suspension travel, different fork rake angle all have an effect on the bike's handling.
Bike Choice: Buy A Bike With A Low Seat Height
If you don't already own a dirt bike, then choosing a bike with a low seat height is the easy option.
Here is a rough guide to the seat height you should look for in relation to the rider height. It is only a rough guide as everybody is different, some people may be longer in the legs, and some may be taller in the upper body.
The best way to test if a bike has the right seat height for you is obviously to sit on the bike. You should be able to touch the ground with both feet using the balls of your feet at least, you don't want to be tip-toeing.
You don't need to be able to plant both feet flat-footed. If you can the bike is too low for you.
Look for a bike with an electric start. It makes riding so much easier if you are short and ride in rough terrain where you are likely to stall. Electric, as well as a kick start, is even better.
Some Popular Low Seat Height Dirt Bikes:
Beta X Trainer:
Seat Height: 35.8″ (909mm) 300cc Two-Stroke, Liquid-cooled, Electric start (21″ front, 18″ rear wheels)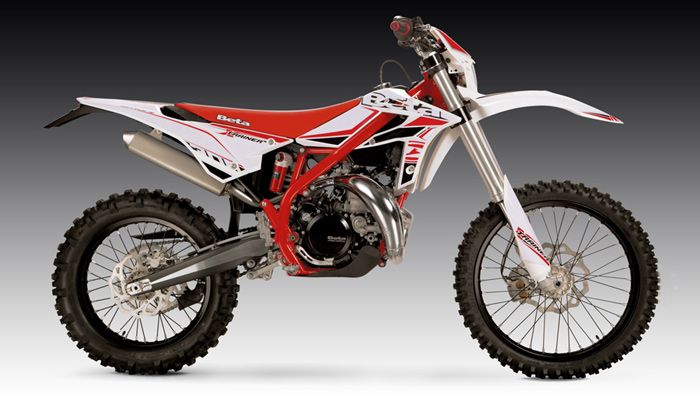 Suzuki DR-Z250:
Seat Height: 35″ (890mm) Four-Stroke, Air-cooled, Electric & Kick start (21″ front, 18″ rear wheels)
Suzuki DR-Z125L:
Seat Height: 30.5″ (775mm) Four-Stroke, Air-cooled, Kick start (19″ front, 16″ rear wheels)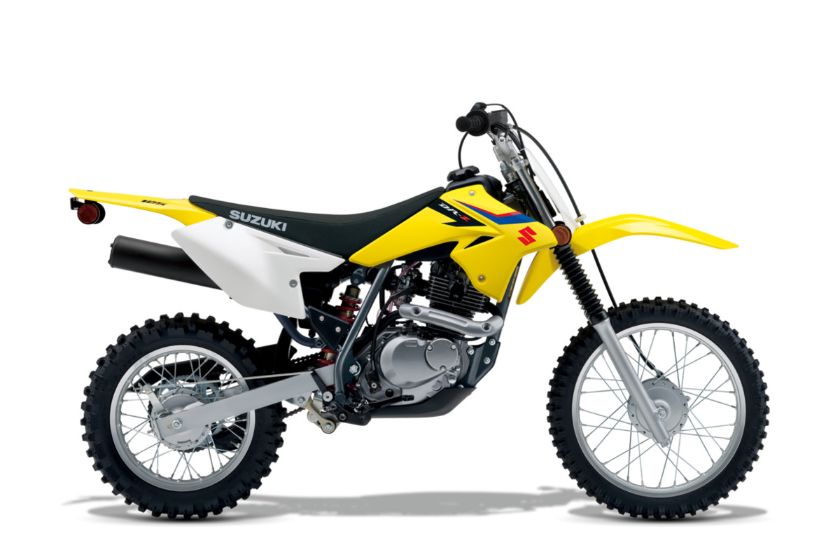 Yamaha TT-R230:
Seat Height: 34.3″ (870mm) Four-Stroke, Air-cooled, Electric start (21″ front, 18″ rear wheels)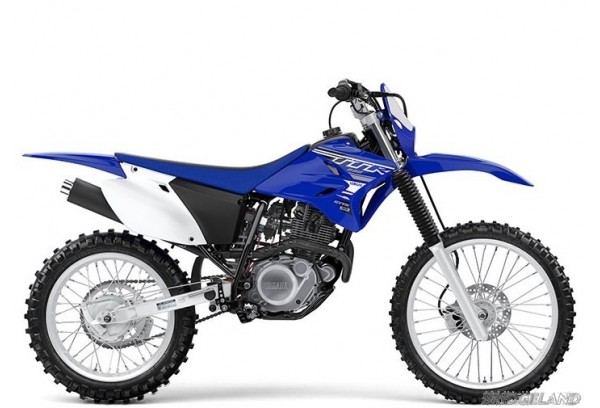 Yamaha TT-R125LE:
Seat Height: 31.7″ (805mm) Four-Stroke, Air-cooled, Electric & Kick start (19″ front, 16″ rear wheels)
Honda CRF230F:
Seat Height: 34.6″ (878mm) Four-Stroke, Air-cooled, Electric start (21″ front, 18″ rear wheels)
Honda CRF150F:
Seat Height: 32.6″ (828mm) Four-Stroke, Air-cooled, Electric start (19″ front, 16″ rear wheels)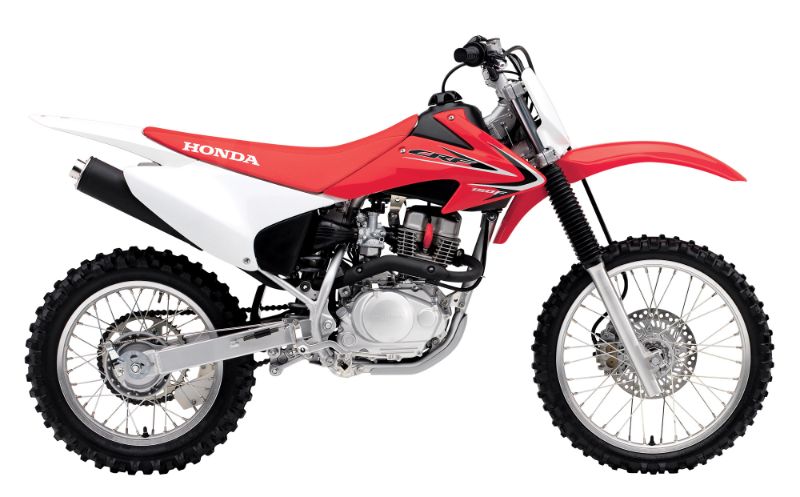 Kawasaki KX140G:
Seat Height: 33.9″ (861mm) Four-Stroke, Air-cooled, Electric start (21″ front, 18″ rear wheels)
Kawasaki KX140L:
Seat Height: 31.5″ (800mm) Four-Stroke, Air-cooled, Electric start (19″ front, 16″ rear wheels)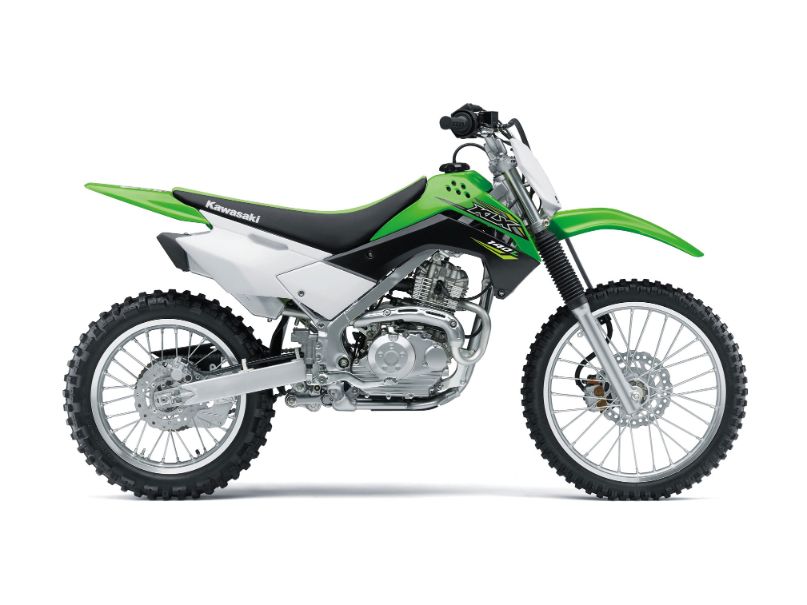 Final Thoughts
There are plenty of options available to you in order to get a lower dirt bike seat height, depending on how much you would like to lower your bike, and how much you want to spend – if anything.
Riding Technique: You have the choice of working on your riding technique, which may mean you don't even need to change anything on your bike.
Bike Setup: If you choose to go this way, there are several options open to you to lower the seat height, which will change the handling of your bike to varying degrees.
My personal choice, and going by what I have read on forums, is that fitting a lowering link, and lowering the fork legs in the clamps will do the job with minimal handling affects.
If you are willing to spend some money, using a suspension technician will give you the best outcome.
Bike Choice: If you don't already own a bike, or a looking to simply buy a lower seat height dirt bike, then you can bypass all of this and look for a suitable bike.
I have listed some popular choices from different brands, any one of these would be a good choice depending on your own personal preference and height.
Happy Riding!
Related Posts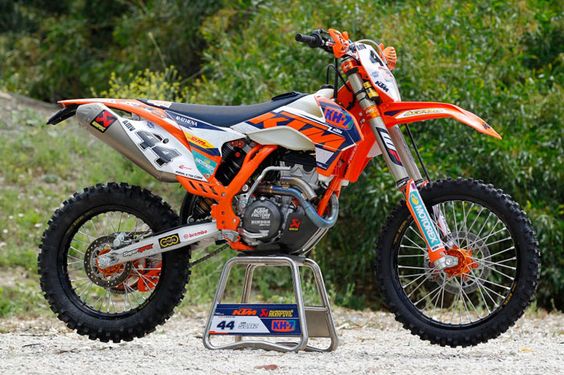 How To Adjust Your Dirt Bike Suspension – A Do It Yourself Guide
Dirt Bike Types – How To Choose The Right One For You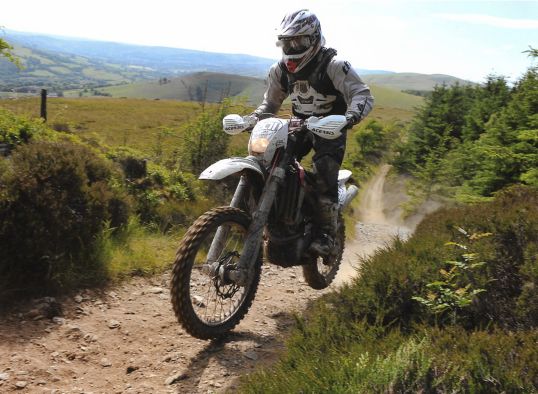 Dirt Bike Riding Tips & Techniques
Have you lowered the seat height on your bike? What method did you choose and how did it work for you? Please feel free to leave your thoughts below.
Please follow and like us: