Honda's legendary Africa Twin has a heritage dating back to it's Paris-Dakar Rally domination in the late 1980s. With legions of passionate riders worldwide, this bike is truly a standout machine.
The 2018 Honda CRF1000L2 Africa Twin Adventure Sports was released almost simultaneously alongside the updated base-model 2018 CRF1000L Africa Twin.
The Africa Twin Adventure Sports is by no means a replacement for the already dirt-capable Africa Twin, but it is being marketed by Honda as a bike that encourages you to "go farther".
Honda Africa Twin History
There have been three versions of the popular Africa Twin.
The first version was produced for two years, from 1988 to 1989 as the 650cc (40cu in) XRV650 V-twin.
Then from 1990 to 2003, it's capacity was increased to 750cc (46cu in) as the XRV750T V-twin. The XRV750 Africa Twin was based on the Honda NXR750, which won the Paris-Dakar Rally four times (1986 to 1989) in the late 1980s.
It was built in homage to the big desert racers of that era of the Paris-Dakar Rally (now known as the Dakar Rally, bikes are now limited to 450cc).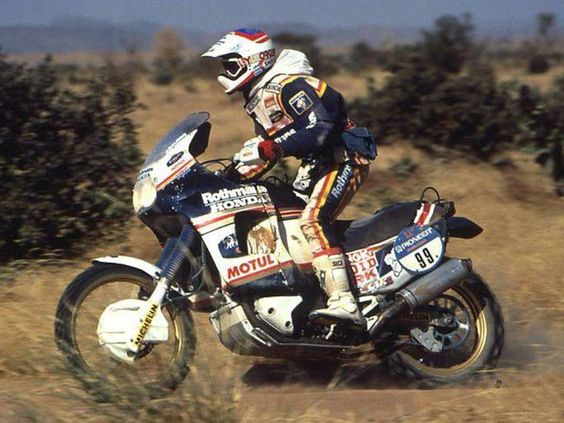 In 2003 the Africa Twin ceased production. Good secondhand examples are very much in demand these days by Africa Twin enthusiasts.
From 2016 to present the CRF1000L revived the Africa Twin name. It was designed by Honda in response to the heavier adventure touring motorcycles like the BMW R1200GS and KTM 1190R.
The first prototype of the CRF1000 was revealed at the 2014 EICMA International Motorcycle Show in Milan, Italy.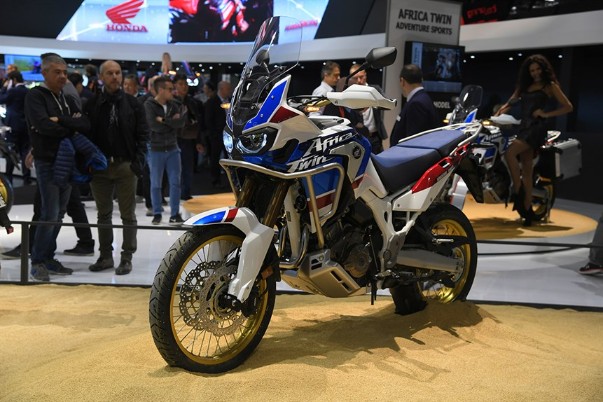 After the event, Honda began releasing a series of videos entitled "True Adventure" which documented the history of the Dakar Rally winning Africa Twins in the late 1980s in anticipation of the new Africa Twin release.
Overview
When the CRF1000L Africa Twin was released in 2016 it was a homage to the competition successes of the XRV650 and XRV750.
It is the "True Adventure" mantra that drives the Africa Twin platform. Now that spirit expands with the introduction of the CRF100L2 Africa Twin Adventure Sports.
The new Adventure Sports version features increased suspension travel, added ground clearance, enhanced creature comforts and a larger fuel tank for extended range.
Both the base model and the Adventure Sports model feature a wide range of updates to the engine, electronics, and rider interface while continuing to keep the power to weight ratio competitive.
Prices for Australia
For 2018, Africa Twin standard model CRF1000L costs $17,499.
The Adventure Sports model CRF1000L2 is $19,499.
The Adventure Sports DCT model is $19,999. All models now come standard with ABS which increases the price on each model by about $500.
Specifications
Model: 2018 CRF1000L2 Africa Twin Adventure Sports
ENGINE
Type: Four-stroke 22.5 deg. parallel twin-cylinder
Valve Train: SOHC; four valves per cylinder
Capacity: 998cc
Claimed Horsepower: 94@7500rpm
Claimed Torque: 73lb.-ft.@6000rpm
Bore x Stroke: 92 x 75mm
Compression Ratio: 10.0:1
Induction: PGM-FI electronic fuel injection (Throttle By Wire)
Ignition: Full-transistorized
Starter: Electric
Transmission: 6 Speed
Clutch: Multiplate wet
Front Multiplate wet
Final Drive: Chain
SUSPENSION
Front: 45mm USD fork; 251mm/9.9 in travel
Rear: Pro-Link system w/ single shock; 239mm/9.4 in. travel
BRAKES
Front: 2 x 310mm discs dual-piston calipers; ABS
Rear: Single 256mm disc single one-piston calipers; ABS
TIRES
Front: 90/90-21
Rear: 150/70R-17
MEASUREMENTS
Wheel Base: 1580mm/62.2 in.
Seat Height: 35.4/36.2 in.
Ground Clearance: 269mm/10.6 in (unloaded)
Fuel Capacity: 6.4 gal
Claimed weight: 242kg/533 lb.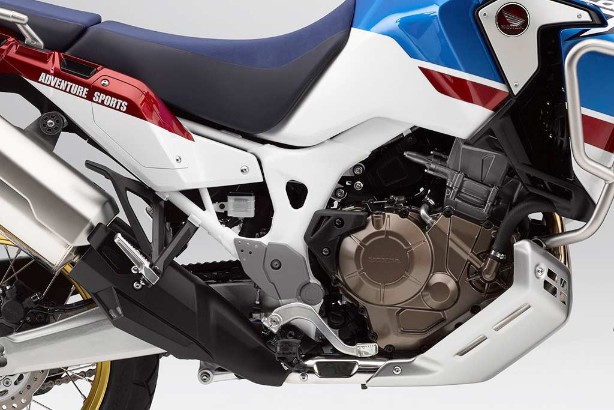 The balance between power and weight is the Africa Twin's secret, a key component to the bike's user-friendly nature. The 2018 model is a modern-day all-rounder, popular with casual tourers and off-road adventurers alike. It offers a usable engine performance in a chassis that works well on-road as well as off-road.
The standard model CRF1000L receives a host of upgrades to both the manual and Dual Clutch Transmission version (DCT) that enhance the owning and riding experience.
The CRF100L2 Adventure Sports version extends the long-range off-road territory with a larger fuel tank, more creature comforts for longer touring, and added ground clearance due to the increased suspension travel.
Both models benefit from added electronic functionality and improved engine performance.
Upgrades for the Standard Model CRF1000L
New Instrument Panel
Throttle By Wire
Three riding modes (Tour, Urban, Gravel)
Seven levels of HSTC (Traction Control)
Intake and exhaust changes for stronger mid-range response
Lighter balance shafts by 10.6 ounces
The lithium-ion battery is 5.1 lbs  lighter than the previous  lead-acid battery
Wider footpegs with steel brackets
Redesigned passenger pegs
Redesigned LED turn signals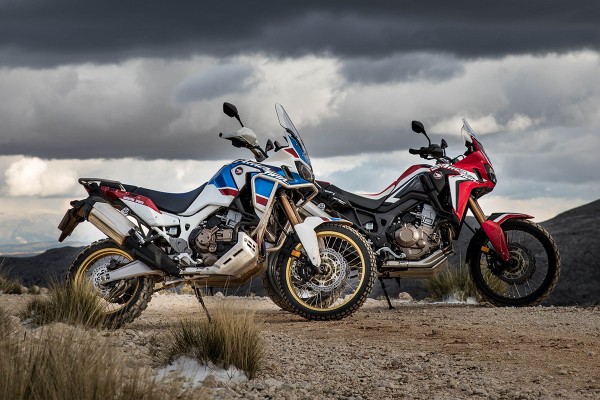 What does the Adventure Sports have over the Standard Model?
The Adventure Sports has all of the upgrades of the standard model, plus the following:
Fuel capacity is increased to 6.37 gallons, an extra 1.4 gallons. Honda claims an extra 500km (312 miles) range
Fork travel is increased to 252mm/9.9 inches, an extra 0.9 in.
Shock travel is increased to 239mm/9.4 inches, an extra 0.8 in.
Ground clearance has been raised to 270mm/10.6 inches, an extra 0.8 in.
Seat height is increased to 900mm/35.4 inches, an extra 1.2 inches. It has also been redesigned to a flat profile
The handlebar height has been increased an extra 33mm/1.3 in.
The new windscreen is 80mm/3.1 inches taller
There is a larger sump guard fitted
The luggage rack has been redesigned
Comes standard with heated handgrips and 12-volt accessory socket
Rear storage pocket
30th-anniversary paint scheme
The Adventure Sports features the same tricolor paint scheme as the Africa Twin that won the Paris-Dakar rally four times in the late 80s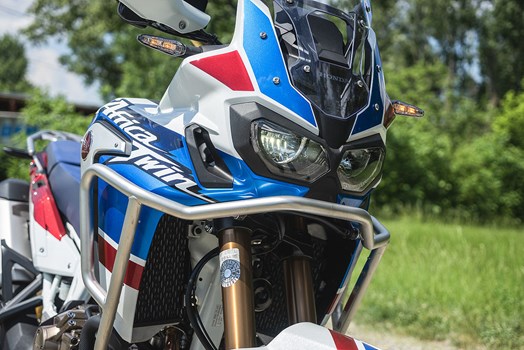 The Africa Twin Adventure Sports' styling is less minimalistic than the standard model. Dual headlights are shared by both models, but the Adventure Sports has a larger fairing matched with a taller (by 80mm, 3.1 in.) windscreen for greater wind protection.
The Adventure Sports also comes with heated handgrips and 12v accessory socket. It also has a larger sump guard and comes fitted with front light bars.
Aluminum side cases are available, as is an aluminum top box with mounting specific to the Adventure Sports. The 6.37-gallon fuel tank is 1.4 gallons larger, extending the range of the bike.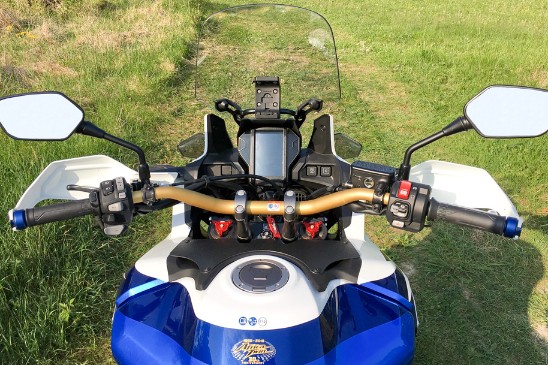 The instruments are also positioned at a shallower angle to allow the rider to see them more easily in a standing position suited more for off-road riding.
Engine Management Electronics
The 2018 Adventure Sports engine upgrade sees it receive Throttle By Wire (TBW) that allows three individual riding modes and an expanded Honda Selectable Torque Control (HSTC) system.
TOUR mode: employs the lowest Power (1), medium Engine Braking (2), and high HSTC (6)
URBAN mode: employs mid-level Power (2), medium Engine Braking (2), and high HSTC (6)
GRAVEL mode: employs maximum Power (3), medium Engine Braking (1), and high HSTC (6)
A Fourth mode – USER: allows the rider to set and save their preferred combination of Power, Engine Braking and HSTC levels.
The 2017 Africa Twin had three levels of HSTC, plus OFF, the 2018 system features seven levels.
Level 1 for aggressive off-road riding, through to level 7, for maximum security on wet tarmac. You can still turn the HSTC completely off.
There are also three levels of Power and Engine Braking available.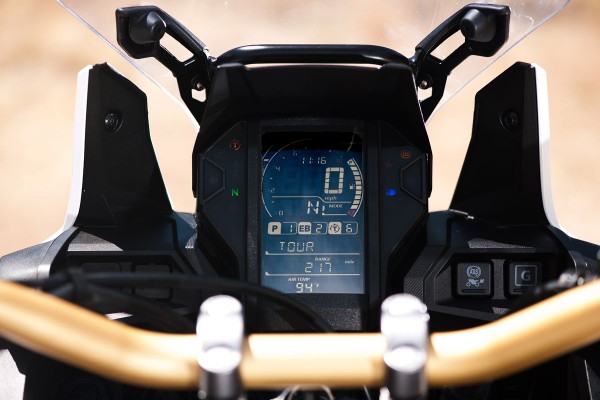 The DCT (Dual Clutch Transmission) Option
Three modes of gear change are available. Manual mode, which allows the rider to operate gearshifts through triggers on the left handlebar, and two automatic modes.
It allows super-fast, seamless gear changes in Manual Transmission (MT) or Automatic D mode.
D Mode: Automatic Drive mode is ideal for city riding and gives the best balance of fuel economy and comfortable cruising.
S Mode: Sport mode gives three different sportier platforms to choose from. Revs higher and downshifts sooner.
G Button: Positioned on the right side of the instrument panel, enhances off-road rear wheel traction. Modifies the control of the clutch system to give a more direct drive.
An incline detector adapts shift pattern depending on the road gradient.
The extra benefits of DCT are durability (gears cannot be damaged by missing a shift), the impossibility of stalling, easier urban riding, and reduced rider fatigue.
Accessories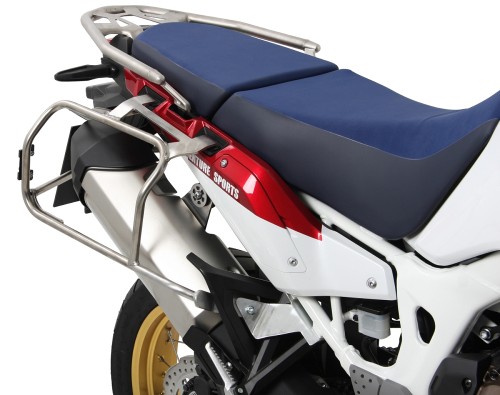 There is a huge range of genuine Honda accessories available for the CRF1000L2 Africa Twin Adventure Sports
Touring Bags
Aluminum Luggage set
Rubber passenger footpegs
DCT foot shifter
Fog Lamps
Wheel stripes
Alarm system
Center stand
Sump guard
Lower and higher seats
Final Thoughts
For the rider wanting to do some long-distance riding, and loves the gnarlier side of off-road exploring, the Adventure Sports is the obvious choice.
The taller seat height and longer travel suspension mean that for someone that is not close to 6 feet tall or over, it may feel a bit intimidating. The standard model, still very capable in the dirt, may be a more suitable option.
The only things missing on the Adventure Sport are the cruise control, and lack of a center stand, which seems like a frustrating cost-cutting or weight-saving measure.
Not having cruise control, especially when the bike is equipped with Ride By Wire throttle will be something that a lot of long-distance riders will miss, especially given the long-range travel possible with the increased fuel tank size. Maybe it will be included in the 2019 model.
But whether you're a casual tourer, or someone that likes to find some seriously out of the way places off-road, the Africa Twin Adventure Sport may be as close as you can come to being the one bike that does it all.
With all that Dakar history bred into it, it's easy to see why the bike has achieved legendary status.
Related Posts
For more on the Dakar Rally, check out: Famous Dirt Bike Events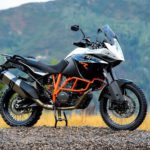 KTM 1190R Adventure – Review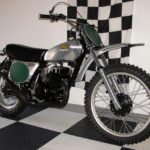 Honda Dirt Bike History
8 Best Soft Panniers For Lightweight Adventure Bikes 
2020 Yamaha WR250F Review
If you are one of the thousands of Africa Twin riders out there, please feel free to share your thoughts on the bike. What are your experiences with the Africa Twin?
Please follow and like us: