The Giant Loop MoJavi Saddlebag is aimed at riders with a dual sport or enduro bike that are looking for minimal storage that is beefy enough to handle some aggressive riding.
Lightweight Dual Sport bikes let you explore challenging off-road areas at a faster pace than a larger adventure bike. You can get to areas that a bigger bike is struggling to reach.
Giant Loop are well known for manufacturing rugged outdoor motorcycle luggage systems that can handle the toughest conditions.
The small capacity luggage system is ideal for carrying just the essentials for a day trip, or a weekend journey riding motel to motel.
The small size forces you to be efficient in your packing, and the design carries gear low and tight so that there is minimal effect on the bike's handling.
Top 4 things to consider when choosing a saddlebag for your Dual Sport bike.
Slim profile with compression straps that let you secure your items inside the bags
Waterproofing capability
Durable construction to handle off-road conditions
A design that doesn't hinder your movement on the bike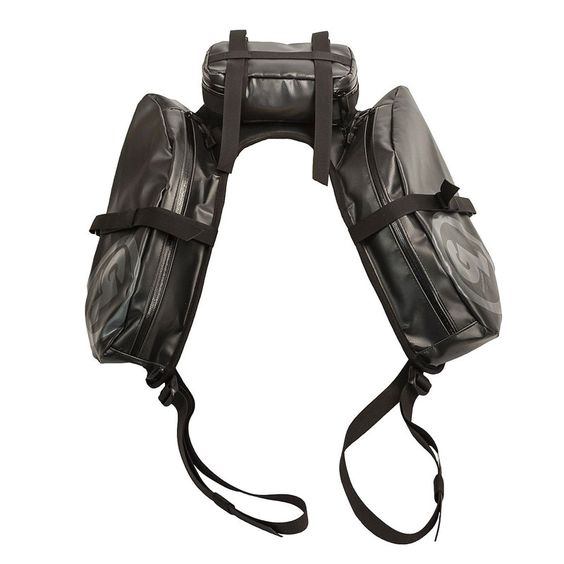 Specifications
Product: Giant Loop MoJavi
Weight: 3.0 pounds/1.4kg (including heat shield)
Capacity: 12 Liters per pair
Waterproof: water-resistant
Construction: Vinyl Coated Polyester
Colors: Black, White, Gray, Yellow, Orange
Warranty: Limited Lifetime
Also Included: Hot Springs Heat Shield (value $30)

Features
Slim profile so it packs in close to your bike. Especially important for tight trails
'Military Spec' materials and construction so you know it's tough for off-road use
Water-resistant YKK zippers
Optional center pouch for additional 1.5 liters. Great place for your tools for quick access
Nylike webbing compression straps with aluminum cam buckles
Flexible rear mounting system
Made in the USA
What You Get
Construction is 22-ounce 'Bombshell' vinyl-coated polyester, a water-resistant bag with a very beefy feel. The water-resistant YKK zippers have a water-resistant overlap flap.
The opening on these is very narrow, so if your bike is an enduro bike or a small Dual Sport bike with a regular dirt bike seat these will work nicely for you.
These are more suited to the off-road rider, so if you're more of an on-road rider, there are other options out there better suited for you.
Storage is 12 liters, 6 liters per bag, with one main compartment for each. The bags are ultra-slim and only protrude 4″ (10cm) on each side.
There is one main compression strap over each bag to secure your load. If you're riding off-road the last thing you want is for your gear to be moving around inside your bag.
Giant Loop has included a Hot Springs heat shield with your bag. In most cases, these bags will be sitting alongside the exhaust pipe, and you don't want to have to worry about melting your bags.
Make sure you install the heat shield before you install the bags.
Installation
Fitting these will take you about 15 to 30 minutes depending on the type of bike you have.
Giant Loop keeps it simple with minimal straps so that mounting is intuitive.
There is a velcro strap across the back which sits over the fender, and metal hooks that clip onto the fender. This also fixes the optional top bag.
To the front, there are straps that simply loop around the frame of the bike, and back to the buckles, with an elasticated band to tie up the excess strap so it doesn't flap around in the breeze.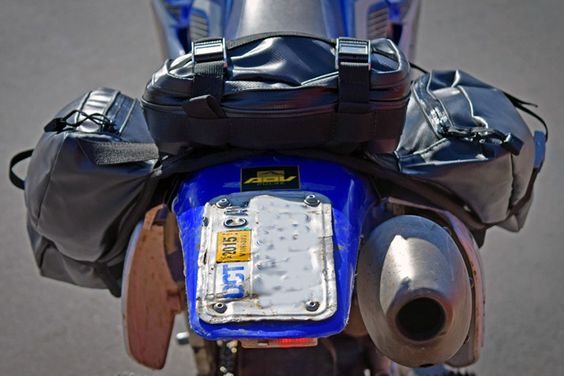 Giant Loop 'Quick Mounts' can also be used as a strap attachment point to help avoid contact with the hot exhaust.
A common problem with rackless soft luggage systems is that they scuff your bike's side panels. Small particles of dust and dirt get under the saddlebags and leave abrasion marks on the panels.
One way to prevent this is to apply a clear vinyl protective film to your side panels before installing your saddlebags.
Pros
Simple quick installation
Slim compact profile
Removable top bag
Designed to keep heavier gear down low
Cons
Not completely waterproof unless you use the Dry Pods
A bit pricey (but you get what you pay for)
Cam buckles are not as convenient as clip closures (but a lot tougher)
Giant Loop recommends you treat the seams with a Seam Sealer to improve the water protection
New for 2018: MoJavi Saddlebag Dry Pods, which add 100% waterproof performance to your saddlebags.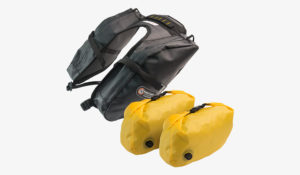 They fit inside your saddlebags and come with RF-welded seams and air purge valves. They are available for $49.
Final Thoughts
The Giant Loop MoJavi is a nice compact setup for Dual Sport and Enduro riders to take a bit of luggage on your off-road treks.
If you want to get aggressive with your riding and tackle the gnarliest terrain, the MoJavi is designed to handle whatever you can throw at it.
Any rider who has spent a long day off-road with a heavy backpack knows how much it can fatigue you.
The Giant Loop MoJavi lets the bike take the weight without significantly affecting its handling and is compact enough to get you through the tight spots.
If you like to go fast, go far, and pack light the Giant Loop MoJavi is the ideal luggage solution.
Related Posts
 7 Best Soft Panniers For Lightweight Adventure Bikes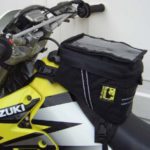 Wolfman Enduro Tank Bag Review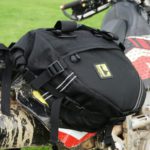 Wolfman Enduro Dry Saddlebag Review
For an overview of various options for soft motorcycle panniers: Soft Motorcycle Pannier Review 
For a full review on the Giant Loop Coyote Saddlebag:  Giant Loop Coyote Saddlebag Review
See how the Giant Loop Coyote saddlebags were used by Adam Riemann when he and his mate traveled from Austria to Egypt on two KTM 500EXCs in the MOTONOMAD movies in my post: Adventure Motorcycle Travel DVDs
Do you use a soft motorcycle saddlebag for your Dual Sport adventures? What has worked for you? Please feel free to share your thoughts with other readers below.
Please follow and like us: