Are you losing your passion for your dirt bike? Thinking it's time for a new dirt bike? Not so fast. Before you spend your hard-earned cash, here are some tips on how to make your dirt bike feel new again.
Show your dirt bike some love, it may not cost you as much as you think to make your dirt bike feel new again.
Here are some things you can do to restore your dirt bike back to its former glory, and help you fall back in love with your dirt bike.
Ways To Make Your Dirt Bike Feel New
1. New Rubber
Nothing shows wear and tear on your bike as obviously as worn-out knobbly tires. The poor performance and bad looks can turn you off your bike.
Replacing your tires with the right rubber compound and dirt/street percentage to suit your riding type will make an instant improvement in your riding enjoyment.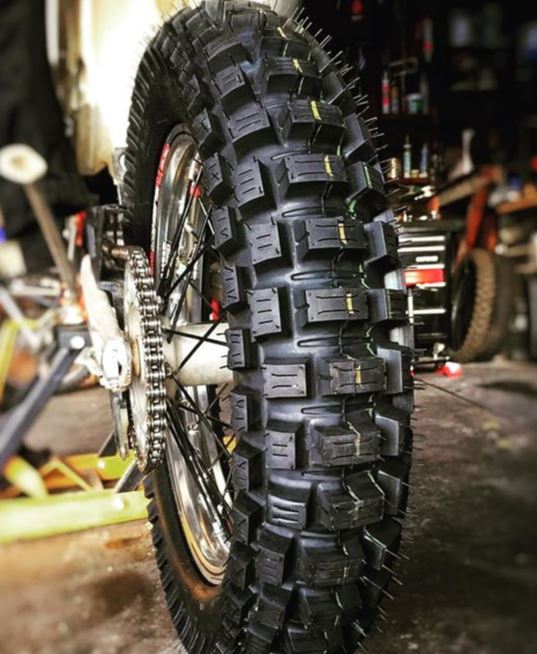 Percentage On/Off-Road:
A lot of technology goes into dirt bike tires these days. When choosing the right tire for you, first ask yourself:
What percentage of my riding is on-road/off-road?
What type of terrain do I ride mostly when off-road?
If you only ride on the road to get to the next trail, you may go for a 10% street/90% dirt tire.
If you do a lot of adventure riding, you may go with a 50%dirt/50% street tire.
Tire Compound:
Your second major decision is the tire compound. To pick the right compound you need to think about the terrain you mostly ride in. Tires are generally available as soft, intermediate, or hard terrain tires.
Put simply: Hard rubber compounds suit soft terrain surfaces, while softer rubber compounds suit harder terrain surfaces.
Ironically, a dirt bike tire made for soft terrain is manufactured from a harder compound. The difference in the tread pattern is that the knobs are taller and wider spaced to help the tire 'scoop' the soft terrain to achieve traction.
The hard terrain tire is well suited to the trail rider who spends a fair amount of time on the pavement and when off-road encounters a lot of hard-packed trails and rocky terrain.
The tread pattern is closer together with larger, shorter knobs and the compound is softer to get more grip on the hard slick surfaces.
If you don't always know what type of terrain you'll be encountering, then intermediate tires are the way to go.
For a full review on how to choose the right dirt bike tire for your type of riding: 6 Best Tires For Dual Sport Riding
2. New Plastics, Graphics & Bling
Although changing the plastics and graphics of your bike won't affect the performance of your bike, changing its look goes a long way towards making you fall back in love with your dirt bike.
You know what they say: "A change is as good as a rest". If you don't like the look of your bike, you won't want to ride it.
Giving your bike some new plastics, graphics and some billet machined anodized aluminum parts is an easy way to do it.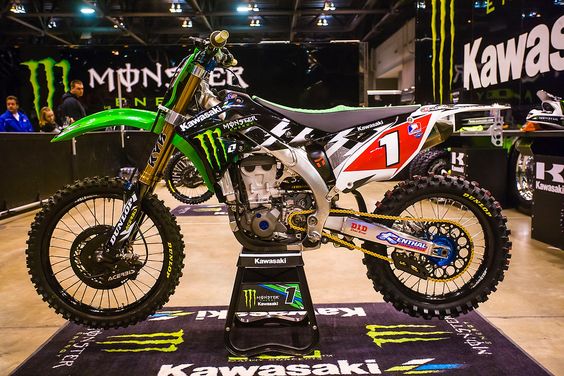 Plastics:
Full plastics kits are available for most manufacturers' colors. In some cases, there are restyle kits available that will give your bike the look of a newer model.
It's the same bike underneath, but with a facelift. You can even go away from the standard manufacturer's colors and go with a completely different color, or even all black.
Graphics:
What better way to personalize your bike than with custom graphics? A little bit of wear and tear on graphics isn't a bad thing, it makes your bike look like you use it.
But if your old graphics are faded or peeling off, and you really need a change, freshen up the look of your bike with some new designs.
There are plenty of graphics kits available with various themes. Even factory team replicas so you can look like your favorite rider. You can even design your own on-off theme that features your sponsors or favorite colors.
Bling:
Billet machined anodized aluminum components are a great way to add some bling to your bike. Nothing looks more trick on a bike than freshly machined parts to give it that 'Factory Bike' appearance.
Tie in the colors of the components of your bike. Popular parts are footpegs, brake & clutch levers, rear disc guards, wheel accessories such as sprockets, rear axle blocks.
Other small items like steering stem nuts, front & rear brake reservoir covers, oil fill plugs, and rim lock nuts are popular.
Anodised Aluminum Colours are available to suit your bike: Orange – KTM, Light Blue – Husqvarna, Dark Blue – Yamaha, Red – Honda, Green – Kawasaki, Yellow – Suzuki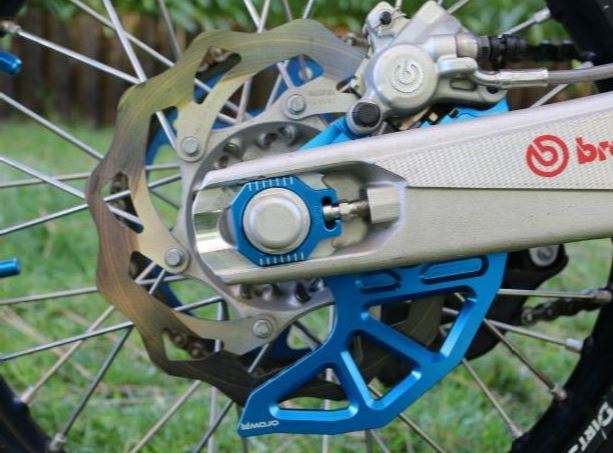 For a full review on adding bling to your bike: Bling Your Bike – Mojo Product Review
3. Fine Tune Your Riding Position
The way you position yourself on your bike, both in the standing and seated position goes a long way towards affecting how you enjoy your ride, and the control you have over your bike.
Improving the feel and position of the three points of contact you have with your bike: your butt on the seat, your hands on the grips, and your feet on the foot pegs.
This is sometimes referred to as the 'rider triangle'. Fine-tuning these three points can make you feel like you are riding a new bike.
Your Seat: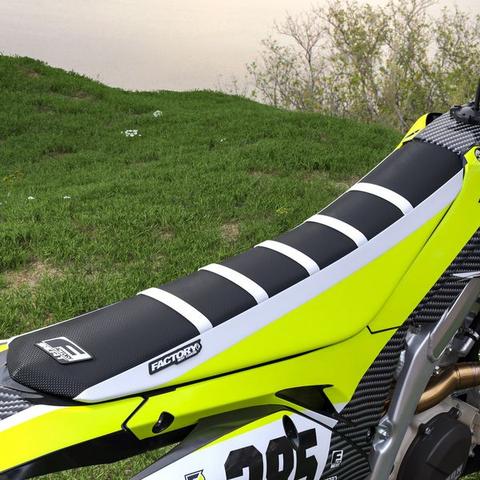 It can affect your comfort and cornering capabilities. Even fitting a new grippier seat cover can make a huge difference to your comfort, and the look of your bike.
Replacing the seat foam with something that is higher, lower, flatter or more curved will also make a world of difference.
While on the subject of seat height, there are many ways to lower your dirt bike seat height: How To Lower A Dirt Bike Seat Height
Take this a step further by adjusting the sag of your suspension. Setting the correct sag affects your ride height and the softness of the suspension.
Refer below: Dial-in your suspension
Your Handlebars and Grips:
If you suffer arm pump and fatigue it is likely to be the result of the handlebars or the grips – or a combination of both.
Handlebars: Basically, there are two factors to consider: the size and the bend.
Size: You have two choices of size (diameter) 7/8″ and oversized 1 1/8″ at the center which tapers to 7/8″ at the ends to enable you to fit standard grips and controls.
7/8″ bars generally give you more flex and are lighter in weight, and usually cheaper, but aren't as strong.
1 1/8″ bars are stronger, a little heavier, flex less, and are usually a bit more expensive.
Bend: The bend you choose is a little more personal. You have to consider the width, height, and pull back.
Don't pick a bend just because it is used by your favorite rider. It may suit him or her, but will probably not make any difference to your riding comfort or performance.
It may not even be necessary to change your bars, with a lot of bikes now giving you the option of several different mounting positions of the bars, adjustable forward and backward and up and down.
Grips: Your hands are your body's first connection with your bike, through your grips. Your grips should give you protection from vibration, prevent arm pump, and give you a good feel and control of your bike.
Fitting a new set of grips is a cheap and easy way to improve your riding experience.
For some tips on fitting new grips: How To Install Dirt Bike Grips
For more on choosing the right grip compound and pattern for you: 10 Best Dirt Bike Grips: Comfort and Feel is Vital
Your Foot Pegs: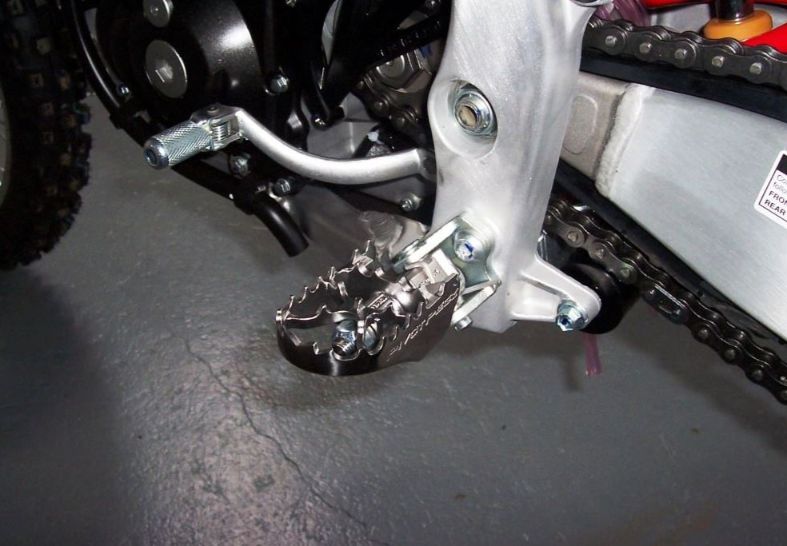 If your current footpegs are bent and worn, or maybe they're the original OEM pegs and just too small to get any grip, a set of aftermarket pegs are the way to go.
Aftermarket footpegs give you a bigger footbed and therefore a better grip on your bike. It's also a great way to add some bling to your bike.
For a review on the best of these: 5 Best Dirt Bike Foot Pegs – Aftermarket Upgrades
4. Dial-in Your Suspension
There's no point spending thousands of dollars on engine modifications if your suspension is not set up properly.
Tuning your suspension to your weight and riding style is something you can do yourself. Take a bit of time to experiment with the compression and rebound clickers to fine-tune it.
Make a note of your current settings so that you can always go back to them.
Make small adjustments at a time, then ride the same section of terrain to determine the difference in handling the adjustment has made.
It isn't necessary to understand what each suspension adjustment does, as long as you pick one adjuster at a time and make small changes. What you want to know is: did the change make your bike handle better or worse?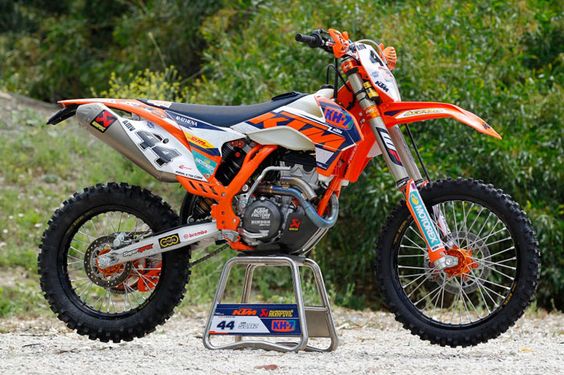 Start in your workshop by correctly setting the rear suspension sag.
How to do this is explained here: How To Adjust Your Dirt Bike Suspension – A Do It Yourself Guide
5. Adjust or Replace Your Chain & Sprockets
It might not be necessary to replace your chain and sprockets if they're not showing much sign of wear. A good clean, lube, and tension adjustment will go well towards giving your bike a new look and feel.
Chains and sprockets are fairly expensive items to replace, so it's worth looking after them.
If you need to replace them, it's important to always replace them together to get the maximum life out of them.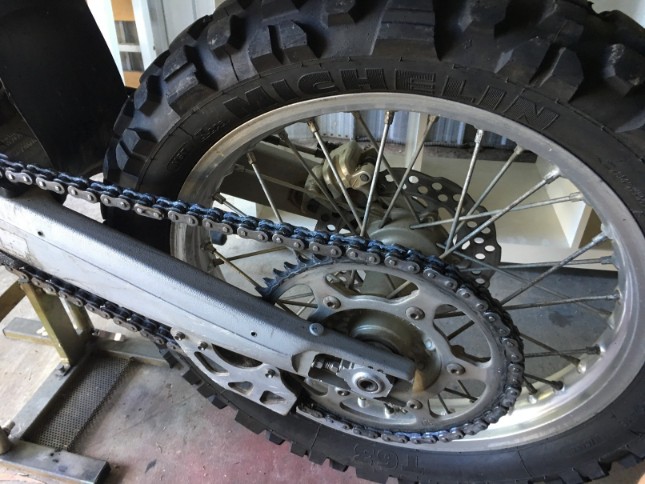 The Chain:
Most chains these days are either an o-ring or x-ring chain. The chains have small seals between the plates to keep the grease in and the dirt out.
The difference being the o-ring chain has an o-shaped seal and the x-ring chain has an x-shaped seal. Where the o-ring seal gets flattened and deformed, the x-ring seal flexes and creates less friction and wear. It will generally have a longer life than an o-ring chain.
Whatever chain you use, it's important to keep on top of the maintenance to get the most out of them.
Sprockets:
Replacing sprockets is also an opportunity to alter the gearing of your bike, and add some bling with a color-coordinated one to match other colored components on your bike.
Changing the front sprocket by one tooth is equivalent to changing the rear by about 3 or 4 teeth. You will probably not have to go up or down on the front by more than one tooth. The stock gearing on most bikes is usually fairly good for the general use of most riders.
To gear your bike down: If most of your riding tends to be on tight, technical tracks or trails in the lower gears, you may want to consider gearing the bike down. This will give you more acceleration, but a lower top speed.
Try either reducing teeth from the front sprocket, or adding teeth to the rear sprocket.
To gear your bike up: If you do a lot of high-speed desert racing and use the higher gears mostly, you may want to gear the bike up. This will give you a higher top speed, but at the cost of slower acceleration.
Try either adding teeth to the front sprocket or removing teeth from the rear sprocket.
Keep in mind that a new gearing ratio will require a new chain length and possibly a new chain.
For more on cleaning and maintaining your chain: How To Clean A Dirt Bike Chain
6. Bleed Your Brakes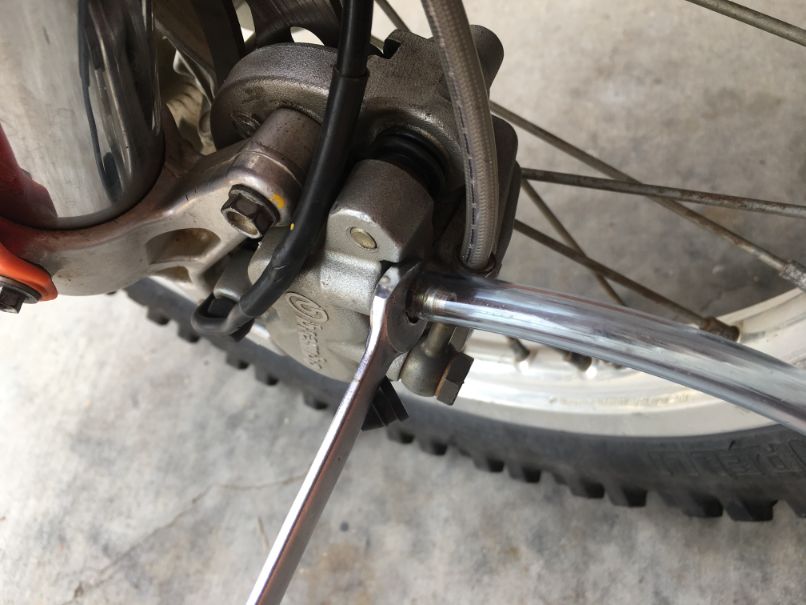 To go fast you need good stopping power. Most riders neglect the hydraulic fluid in their brakes, they simply replace brake pads when needed and check the level of the brake fluid reservoirs.
There's more to it than that. Brake fluid will absorb moisture over time, which is a major reason why brake fluid deteriorates. Air bubbles also make their way into the brake lines, reducing your stopping power.
If your brakes are starting to feel spongy, or the oil appears a darker color in the reservoir, it's time to bleed your brakes.
This is something that is normally fairly easy to do yourself. If following the normal procedure doesn't restore your brake feel, there may be worn parts or seals that need replacing. If this is the case you may need the help of a professional at your local dealership.
For steps on bleeding your brakes: How To Bleed Dirt Bike Brakes (Step By Step Guide)
7. Wash & Detail your Bike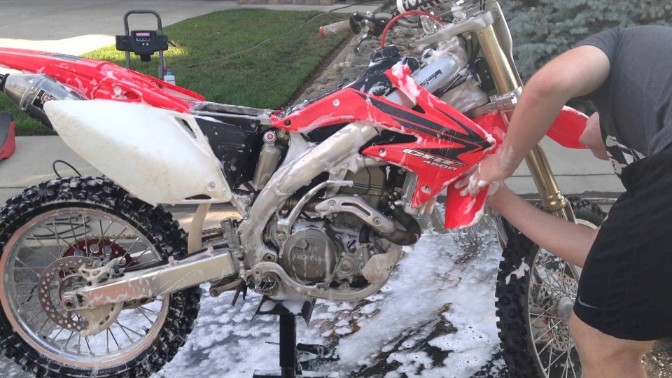 When was the last time you gave your bike an extra good clean and full-on detail?
By this, I mean removing the tank and shrouds, skid plate, chain, and cleaning all the gunk from around the front sprocket, under the swingarm, motor, and around the linkages and chain sliders.
It's like a complete physical checkup for your bike, not just your regular wash after a ride.
For tips on washing your bike: How To Wash Your Dirt Bike Properly
This gives you an opportunity to check if everything is in good working order. Check the frame and subframe for cracks, are there any leaks in suspension or engine seals? Are your fork seals leaking? They may just need cleaning.
Check your wiring, connectors, battery, and terminals. If your bike has been sitting for a while and the battery has completely discharged, it may be time for a replacement.
This post will help: How To Replace Your Dirt Bike Battery
Once your bike is completely clean, it is time to grease and lube everything. Do a complete lubrication service. Grease is cheap. Lubricating vital parts may save you from having to replace them later, saving you some money.
Once you have finished, your bike will be looking good and ready for your next ride.
Final Thoughts
If your budget doesn't allow you to just go out and buy a new bike, try some or all of these suggestions to freshen up your ride, and start feeling good about your bike again.
There is not a lot of cost in most of these. If your bike looks better and feels better to ride, you'll start feeling better and riding better in no time.
You could save yourself a lot of money and fall back in love with your dirt bike.
Related Posts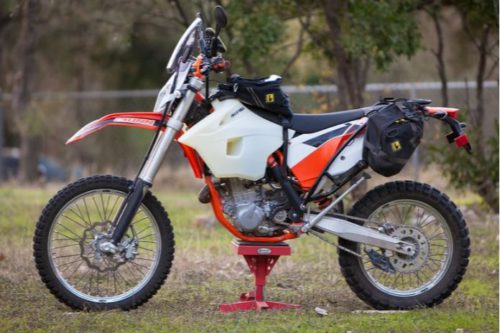 10 Best Dirt Bike Upgrades For Dual Sport Riding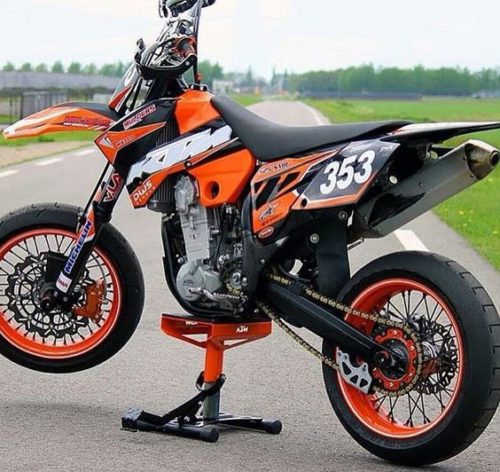 How To Covert Your Dirt Bike To Supermoto
Have you ever restored your dirt bike back to the look and feel of a new bike? Do you have any tips to add to this list?
Please follow and like us: