The Erzberg Rodeo 2018 is underway. The Red Bull Hare Scramble is one of the most punishing Hard Enduro events in the world.
It holds a special place in the hearts of fans and competitors alike, sometimes referred to as the 'Woodstock Of Enduro'. It is held in an Iron Ore open pit mine in Styria, Austria. Each year it awakens to the roar of over 1500 dirt bike engines.
The four-day event starts on Thursday 31 May 2018 with registration, preliminary events like the Mitas Rocket Ride and Blaklader Iron Road Prologue heats to find 500 qualifiers for the main event, the Red Bull Hare Scramble on Sunday, June 3
The
Mitas Rocket Ride
is a Hillclimb event that never fails to produce some carnage.
Some Fast Facts
The rider with the most wins is Poland's Taddy Blazusiak with 5 consecutive wins between 2007 and 2011.
The manufacturer with most wins KTM with 18 wins
Surfaces: Gravel, Mud, Rocks, Boulders
Nearly 2000 riders sign up every year
500 qualify for the main event on Sunday
10 rows of 50 riders each start at one-minute intervals for the main race
There is a 4-hour time limit to finish Red Bull Hare Scramble
In its 23 year history, there have only been 12 riders to have won 'King of the Iron Giant'
There is no prize money!
800 staff members and officials oversee the event
257 media reps from 24 countries will cover the event
26 cameras are positioned around the course, with 2 helicopters in the air
Riders To Watch
Graham Jarvis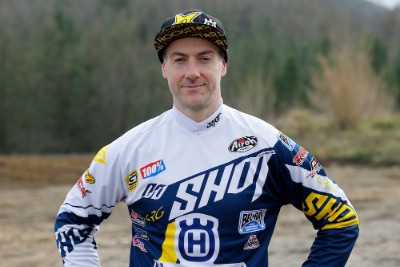 Three-time winner Graham Jarvis is the 'Silent Assassin'. He frequently comes from behind to win.
The UK-born factory Husqvarna rider is a world-class rider, and the undisputed 'God Of Hard Enduro'.
Read more on Graham Jarvis here:  Graham Jarvis Bio
Taddy Blazusiak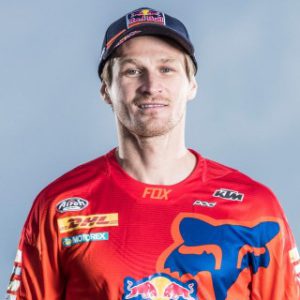 Poland's Taddy Blazusiak is the only rider to have ever won Erzberg 5 times consecutively. He still has some unfinished business with the mountain.
He retired in 2016 and is making a comeback this year again riding for the KTM factory team after signing a one-year contract.
Jonny Walker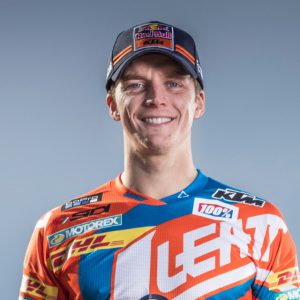 UK's Jonny Walker is the youngest rider to have ever won the event in 2012, and again in 2014 and 2015. He is a Red Bull KTM factory rider
He was plagued by injury last year so this year he is determined to win.
Cody Webb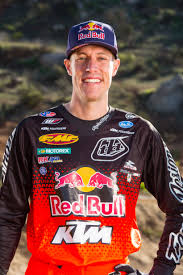 US born Cody Webb was a podium finisher in the last two years finishing second in 2016 and third in 2017.
Like most of the top Hard Enduro riders, he comes from a Trials background.
Lyndon Poskitt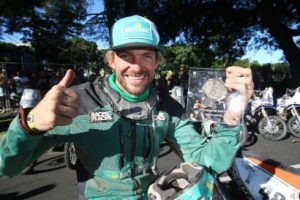 UK born Lyndon Poskitt will be the first rider to compete in the Erzberg Rodeo on an electric bike, the Alta.
Lydon enters enduro events all over the world, like the Baja 1000, Dakar Rally, and Dubai International Baja Rally, and documents all the action on his website www.racestoplaces.com
He has a huge social media and YouTube following.
He entered his first Dakar Rally in 2013 finishing 46th overall, even managing a top 10 place in one of the stages.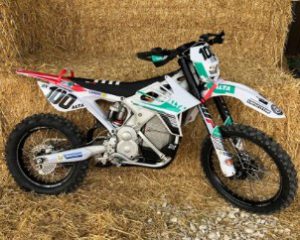 Lyndon had his two Alta electric bikes stolen out of his van on the M11, along with most of his gear en route to Erzberg. Alta Motors has provided replacement bikes, but he has been put at a huge disadvantage.
This is something no competitor should have to go through. Here's hoping Police can recover the bikes.
 The Results are in.  Graham Jarvis Wins!
Graham Jarvis took his fourth Red Bull Hare Scramble victory. In typical style, he came from behind after a bad start to take the lead in the final stages.
Jonny Walker chased him into the second spot. Five-time winner Taddy Blazusiak was leading in the early stages of the race but lost time having to stop to replace a header pipe.
Manuel Lettenbichler from Germany led for most of the race but ended up in third place.
Cody Webb took a spill in his Prologue and broke his foot, a finger, and damaged his knee. He still got back on and finished the Prologue, but didn't compete in the main event.
Lindon Poskitt withdrew from Sunday's Hare Scramble to allow his Alta teammate Ty Tremaine to compete, who managed a top 20 position on the electric bike.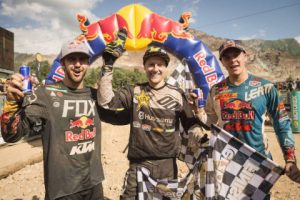 Erzberg Top 10
Graham Jarvis
Jonny Walker
Manuel Lettenbichler
Wade Young
Billy Bolt
Travis Teasdale
Paul Bolton
Taddy Blazusiak
Pol Tarres
Mario Roman
Related Posts
Update: The 2019 Erzberg Rodeo has just finished: Erzberg Rodeo 2019 – Graham Jarvis Makes It Five
For more on the Erzberg Rodeo, Dakar Rally and Baja 1000 go to my post Famous Dirt Bike Events
The movie Tougher Than Iron: The Enduro At Erzberg features the Erzberg Rodeo of 2008. Check it out in my post Dirt Bike Movies – 5 You Must See
You may also be interested in Dirt Bike Setup Tips
Have you ever been to Erzberg to experience all the excitement? It must surely be on any dirt bike rider's Bucket List – if only to watch the carnage!
Please follow and like us: