With such a wide and varied selection of dirt bikes available today, it can be a daunting task to look at the different dirt bike types and choose a dirt bike that is right for you.
Everyone has a different budget and different ideas about what type of riding they want to do.
I've used my experience of four decades of dirt bike riding to put together this post to help you make an informed decision.
There are some questions you need to ask yourself to narrow the search for what's best for you. But first here's a brief overview of the main types available today.
6 Main Dirt Bike Types:
Motocross Bikes
Motorcross bikes are designed entirely for racing on a closed circuit in competition. Tracks can be either on natural terrain courses (MX), or man-made circuits in stadiums called Supercross (SX).
Obvious differences visually are the long-travel suspension travel, which is usually around the 12-inch region, lightweight frame and bodywork, and the knobby tires for maximizing grip in the dirt.
As they are not designed for the road, they have no lights, speedometer, kickstand, mirrors, and usually no electric start. The weight is kept to a minimum, and they are geared lower than street bikes for maximum acceleration. They are always single-cylinder engines, either two-stroke or four-stroke.
The seat is much firmer, flatter, and grippier than other types of dirt bikes to allow the rider to move around on the bike, but the majority of time racing is spent in the standing position, so comfort is not a top priority.
Recent advances in suspension and braking technology have allowed motocross riders to make massive jumps, especially popular with spectators in stadium-type Supercross events.
Good examples of these are the Honda CRF series, Yamaha YZ-F series, Kawasaki KX series, KTM SX-F series, and Suzuki RM-Z series.
Enduro Bikes
An Enduro bike sits in the middle ground between a motocross bike and a Dual Sport or trail bike. Enduro events are endurance tests, hence the name Enduro, usually from a few hours to several days in duration.
They are usually street legal, but only just. They have very small compact lights, indicators, mirrors, a quieter exhaust, and street-legal tires.
They may come with street-legal knobby tires but are more suited to harder terrain for occasional road use. They are built for competition, but that doesn't mean they don't also make great trail bikes. Not as comfortable on the road as trail bikes, but Ok for short distances.
Enduro events are usually held on natural terrain courses which may include everything from dirt, mud, sand, rock, tight forestry trails, steep hill climb sections, and even some road sections.
Enduros are now divided into several offshoot versions including 'Extreme' or 'Hard' enduro events like the Erzberg Rodeo or Red Bull Romaniacs, which include extreme rock garden sections and hill climbs, and shorter Arena events on man-made courses which include obstacles like log piles and large tires to cross.
Desert racing events like the Tatts Finke Desert Race, or Baja 1000 are usually competed in using Enduro bikes.
Good examples of the Enduro bike are the KTM500EXC, Yamaha WR250F, Honda CRF450L, or Kawasaki KLX450R
Dual Sport Bikes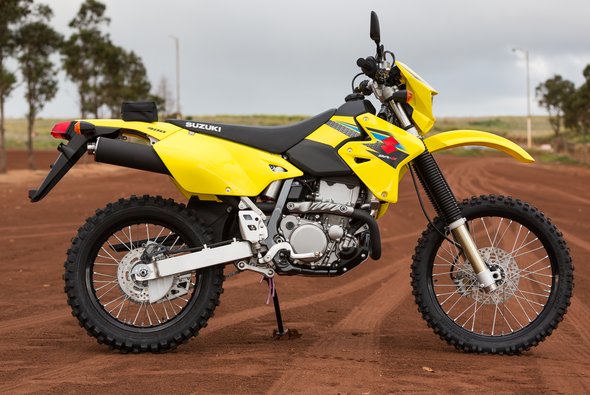 Dual Sport bikes are a popular choice. They have to be able to perform well on and off-road.
Wikipedia gives an accurate definition:  'A dual-sport motorcycle is a type of street-legal motorcycle that is designed for both on and off-road use'
Dual Sport bikes are more road-oriented than the enduro bike and are not built for competition, although modified versions have been used in competition.
They are designed to be more comfortable on the road for longer distances. Usually fairly lightweight with single-cylinder engines up to about 650cc, either two-stroke or four-stroke.
By definition, the larger Adventure bikes can be also classed as Dual Sport bikes because they are street legal and designed for on and off-road, but I have separated them here due to their generally larger size.
They usually come with dual-sport tires, which can be anything from 50/50 to 10/90 street/dirt. They can make an excellent bike for a beginner.
Lighting and instrumentation are usually larger, and the exhaust is generally a lot quieter than the motocross and Enduro machines.
Good examples of  Dual Sport bikes are the Kawasaki KLR series, and the Suzuki DRZ series, the DRZ250, and  Suzuki DRZ400.
This video courtesy of eveRide ADV captures the essence of the Dual Sport perfectly.
Adventure Bikes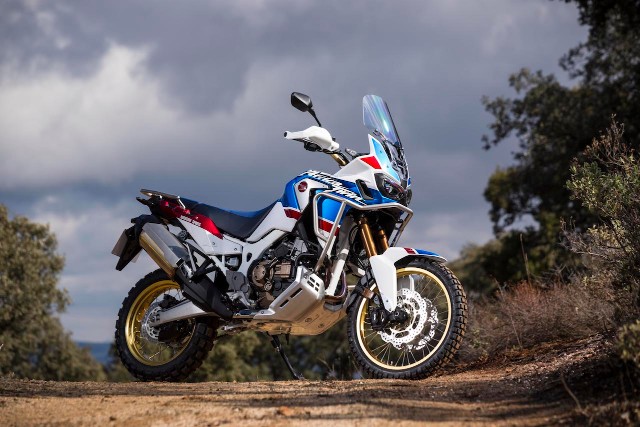 Adventure bikes can be single or twin cylinders and range from about 650cc through to 1200cc, all four-stroke engines.
They have reasonably long travel soft suspension, wide comfortable seats, a windshield, and large fuel tanks to handle long distances.
They are designed to be comfortable on the road for long distances at highway speeds, but also tackle off-road riding to various degrees of difficulty depending on the weight of the bike.
Adventure bikes are now the fastest-growing sector of the motorcycle community, with adventure motorcycle camping now becoming increasingly popular.
They are designed to carry either hard or soft luggage systems for multi-day rides.
Your choice of adventure bike is largely dependent on the amount of time you spend on-road versus off-road. Obviously, the larger adventure bikes like the BMW R1200GS take a lot more handling in tricky off-road situations but are well suited to the road sections of your trip.
There is an upsurge in recent years towards lightweight adventure bikes, which can be as small as 250cc and are a great option if you are downsizing from a larger bike, or just starting out in adventure riding.
A good example of a lightweight adventure bike is the Suzuki DR650S. It is at the larger end of dual-sport bikes, and at the lighter end of adventure bikes, but with a few minor modifications like adding a larger fuel tank and small windshield, they make an excellent entry-level adventure bike.
Some of the larger adventure bikes are very capable off-road, like the Honda Africa Twin, or the KTM1190R or 1090R.
Supermoto Bikes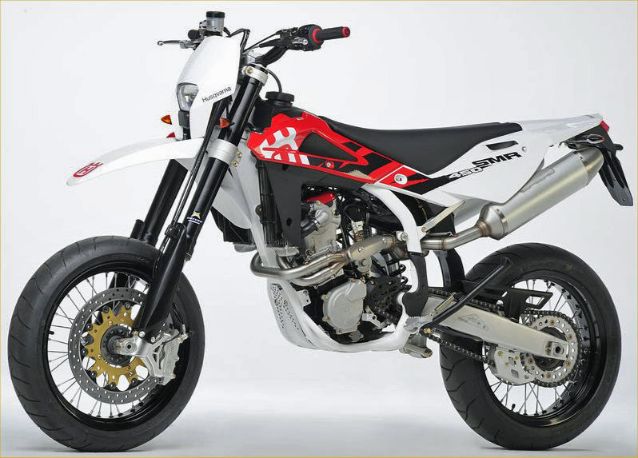 A Supermoto (or Supermotard) is a dirt bike converted to street use. They are usually a Motocross or Enduro bikes fitted with smaller diameter wheels (usually 17″) with street tires and improved braking more like a road bike, and other changes like suspension settings.
They were first built to compete in special Supermotard races, which include hard-packed dirt sections, asphalt sections, and even small motocross-style jumps or they can be just used as a road-legal street bike. A Supermoto bike can be either two-stroke or four-stroke, usually from 250cc to 500cc.
Definitely not a good choice for a beginner rider, but worth considering if you like the look and handling of a dirt bike, but want to ride only on the road.
Considering converting your Dirt Bike to Supermoto: How To Convert Your Dirt Bike to Supermoto
Trials Bikes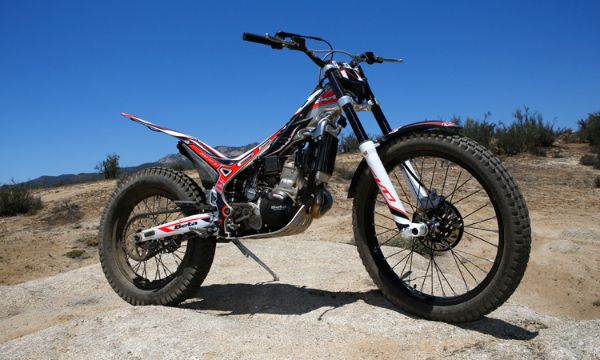 Not the sort of bike for a beginner, unless you specifically want to compete in Observed Trails as a sport. They are very specialized in design, they have no seat, because you're never sitting down, and are very lightweight and very low geared. They can be either two-stroke or four-stroke, and use very low-pressure trials tires that give excellent grip on hard rocky surfaces.
The sport of Observed Trials requires riders to get through (or clean) a section with as few points as possible. Points are added for putting a foot down (dabbing), dismounting, going out of the course and rolling backwards.
We've all seen riders do amazing things on these bikes, like scale seemingly impossible vertical rock faces, or hop from one rock to the next.
All the best hard-enduro riders (like Graham Jarvis, Taddy Blazusiak, and Cody Webb) come from a trials background. It's the ultimate training ground to improve your bike handling skills at low speed, but best left until you are a bit more experienced.
Choosing A Dirt Bike – Factors to Consider
It can be a daunting task to decide on the right type of bike for you. How much do you want to spend, what size bike should you get, what brand, and what style of riding do you want to get into?
Three of the most common mistakes people make are:
Purchasing a high-maintenance bike when they have little mechanical knowledge
Purchasing a bike that is more than they can handle as a beginner
Purchasing a bike that will be outgrown too quickly
The first thing you need to do is ask yourself some questions:
1. What is your budget?
Are you looking to buy a new bike or a used one? You can make some big savings by buying a used bike, but there are some things you need to be aware of.
I go into more detail in my post: How To Buy A Used Dirt Bike – What To Look Out For
There are many advantages in buying from a dealer including getting a warranty, after-sales service, finance and insurance, and sometimes a 'Cooling-Off period' if you're in Australia.
If buying from a dealer, will you be paying cash or financing? If you are using finance for the purchase, it may be necessary to buy new or near new.
It's easy to spend more than you intended if you're financing. Remember, you still have more gear to buy.
It's important to factor in all the additional costs associated with your dirt bike. Things like riding gear, a bike trailer or hitch carrier, tie-downs, and tools all add up.
A lot of gear can be accumulated over time.
When considering your budget, think about how much time you will be spending on your bike. If you only ride once a month or less, it may not be worth spending $10,000 on a bike.
If you ride with your family and are lucky enough to get your wife and kids involved on a regular basis, spending a bit more can be money well spent.
2. What type of terrain will you ride most?
The first factor here to consider is whether you want to ride on the road also or use the bike entirely for off-road use.
If you are riding on the road, what percentage would you estimate in on-road/off-road? If the vast majority is offroad and you only ride on the road to get to the next dirt trail, an Enduro-style bike may be more suitable, with only minimal lighting and instrumentation to make it street legal.
If the percentage is closer to 50/50 road/dirt or more road than dirt, you will be better off on a Dual Sport or Trail bike. The road sections will be a whole lot more comfortable, and you can still have lots of fun on the trails.
You can even use the bike for weekly commuting and hit the trails on the weekend.
If you're looking to get into adventure touring or multi-day motorcycle camping trips, you're getting into the Adventure Bike area. The whole issue of the size bike you can handle off-road is your next question. See below.
3. What Size Bike?
While it's important to not go too large and powerful at the beginning, it is also important to not buy something you will grow out of and be looking for something else in six months.
Motocross, Enduro, and Dual Sport bikes range from 125cc up to about 650cc. (Adult sizes)
A 250cc two-stroke bike has about the same power as a 450cc four-stroke, due to the fact that a two-stroke fires twice as often as a four-stroke.
I've briefly described the two-stroke/four-stroke differences below at No. 5, but the arm-wrenching powerband of a two-stroke may not be as suitable to learn on as the four-stroke.
Another factor to consider is your own height, weight, and strength. Select a bike that fits your frame.
If you're a fairly light build anything bigger than a 250cc may be too much to handle. If you're on the heavier side you may need to look at a larger bike more suited to your body weight, even as a first bike. Even 250cc dirt bikes are full-size bikes and in a lot of cases are the same physical size as their 450cc bigger brothers.
The bike's seat height is also a big consideration, and even though you can lower the seat height with linkage adjustments, this small amount may not be enough. Long travel suspension has meant that dirt bikes have kept getting taller, so choosing a model with a lower seat height to start with will make life easier off-road.
If you can't touch at least the toes of both feet on the ground at the same time, then the bike is too tall for you, and you will struggle in off-road situations.
Generally, Dual Sport bikes will have a lower seat height than their motocross/enduro cousins.
Adventure bikes generally range from 650cc up to about 1200cc twin-cylinder bikes, although there is a growing swing towards using bikes as small as 250-500cc.  Your choice here is largely dependent on the terrain you ride.
If you like to spend most of your time off-road and negotiate some pretty rough terrain, the smaller end of the scale is more suited.
If you want the cover lots of miles on road in comfort and your off-road riding is mainly nothing rougher than forestry roads and smooth open trails, the larger end of the scale will be more suitable for you.
4. How much mechanical knowledge do you have?
This is definitely something to keep in mind when selecting a bike.
If you're not very mechanically minded and prefer to drop the bike into a workshop for a service, you are better looking at a new or near-new bike that is less likely to give you problems other than the usual periodic maintenance.
If you are confident in doing the basics, like oil changes and valve clearance adjustments (on a four-stroke), chain adjustment, air filter cleaning, tire changes, etc, you can save yourself a lot of money.
Dirt Bikes are a lot more complex these days, with water cooling systems, hydraulic disc brakes, fuel injection, and fully adjustable long-travel suspension.
If you consider the electronics available in an adventure bike, like traction control, ABS, and electronic throttle control, then unless you're a qualified motorcycle mechanic yourself, you're best to leave it to the professionals.
When I started riding, dirt bikes were all air-cooled, had carburetors (remember those), cable-operated drum brakes, and almost no adjustment in the suspension, all 3″ of it. Technology has come a long way, all adding to the degree of knowledge you need to maintain your bike.
5. Two-Stroke Or Four-Stroke?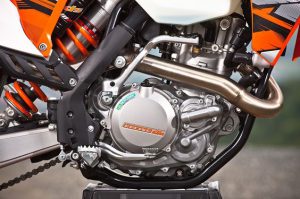 This is an age-old question, and everyone has an opinion. It is an important question when choosing a bike, there are pros and cons to each.
If you're new to dirt biking, The short answer is:
The four-stroke has a more forgiving and predictable powerband, is easier and less tiring to ride, but they are heavier, requires more maintenance like oil changes and valve clearance adjustments, and is more expensive to rebuild.
The two-stroke has the more snappy power band, is lighter, more agile, and cheaper to buy and rebuild, but is noisier, more polluting, and requires a bit more skill with your throttle control and gear changes to keep in the narrower powerband.
When deciding on a two-stroke or four-stroke bike, you need to consider:
Your off-road riding experience and ability to handle the heavier bike weight
Your budget when it comes to maintenance and engine rebuilds. Are you able to do a lot of the maintenance yourself?
The type of terrain you ride typically. Tight slow-speed technical, or wide-open sandy trails. Do you also ride on the road?
I have written an entire post on this subject: Two-Stroke or Four-Stroke – Which is Best For You?
This post will help you make that decision, but it is generally accepted that the more forgiving and predictable power of the four-stroke makes it easier to learn on.
6. What is your skill level?
You need to put your ego aside for this one. You may be experienced in riding on the road, but that is a whole different ball game to riding off-road.
Buying the latest model 450cc Enduro weapon is a waste of money if the bike is way above your skill level. A 250cc bike these days has the power to get you through any terrain you'll encounter.
You'll be grateful for the lighter weight every time you drop the bike, which is inevitable and will happen – often.
All of the top manufacturers have great 250cc dirt bikes that you can have a lot of fun on. The point here is, to be honest with yourself about your skill level and not get in over your head.
When you look at the top enduro riders like Graham Jarvis who rides a 300cc two-stroke Husqvarna, you'll realize just what is possible on the smaller capacity bikes.
For some confirmation of this, check out this video showing his awesome skills.
7. Which Make of Bike?
Whether you buy one of the Japanese 'Big Four' brands: Honda, Suzuki, Yamaha, or Kawasaki, or one of the European brands like KTM, Husqvarna, Beta, Sherco, or TM you will find an excellent bike within their range.
They have been building bikes since the early part of the 1900s and have invested millions of dollars into research and development. They know what they're doing.
The brand links above will give you some interesting dirt bike history of the manufacturer.
If you're riding with the family, you will probably be inclined to lean toward the brand of your other family members. Brand loyalty is a big factor.
Buying a cheap unknown brand is risky. They are cheap for a reason. You may also have trouble getting parts or service.
If you stick with one of the major well-known manufacturers you can't go wrong.
8. What dealers are local to you?
Having a dealer close by is a big advantage, especially if you live in a regional area. Building a relationship with the technical and sales staff at your local dealership has its advantages when it comes to after-sales support and technical advice.
This is something I've always done, even if I didn't buy the bike from them, they are always friendly and helpful.
They will also give discounts to regular customers, and you know that the services will be right because they have an intimate knowledge of their brands.
Getting a test ride on the bike is also a must. You may have your heart set on a particular model, then ride it and find you don't like it at all. The only way to know is to ride it.
Ride a few different bikes to get an idea of the feel and weight. You won't be able to test ride the bike off-road, but at least a ride around the block at your local dealership will give you some idea of whether or not the bike is right for you.
The guidelines above will help you narrow down your search for the bike that's right for you, and the type of riding you will be doing.
Related Posts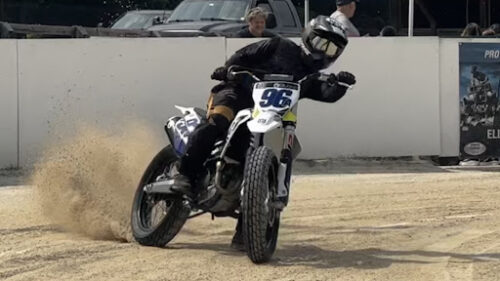 10 Best Dirt Bikes To Convert For Flat Track Racing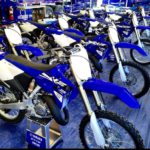 How To Buy A Used Dirt Bike – What To Look Out For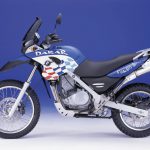 What Are The Differences Between Dual Sport and Adventure Bikes?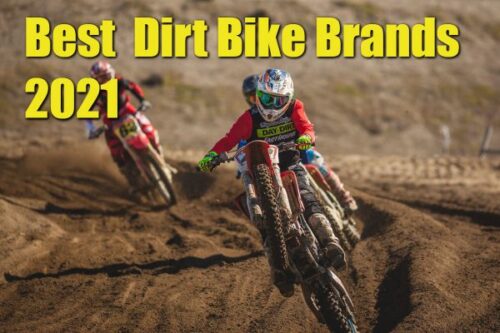 Best Dirt Bike Brands 2021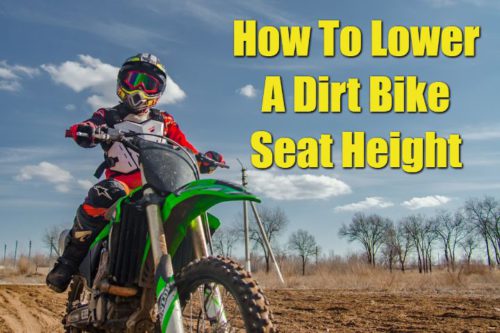 How To Lower A Dirt Bike Seat height
Which of the 6 types of Dirt Bike is your preference? If you've been riding a while, what was your first bike?
Please follow and like us: