Almost 20 years have passed since the first Suzuki DR-Z400 landed in Australia, and nearly 20,000 of these indestructible machines have been sold by Suzuki dealers around the country. Year after year it continues to be one of the top choices for trail riders.
Sure it's not the most competitive bike around compared to the latest fuel-injected 450cc enduro weapons available today. It's a trail bike, make no mistake about that, but when it comes to bang for your buck, the good Doctor takes a lot of beating.
At A$7990 plus on-roads, the DR-Z represents real value for money when it comes to a hassle-free trail bike that you can ride to work during the week, and hit the trails on the weekend.
Specifications
ENGINE
Model: 2018 Suzuki DRZ400E
Engine Type: Single Cylinder 4-stroke, DOHC, 4-Valve
Displacement: 398cc
Bore & Stroke: 90 x 62mm
Cooling: Liquid
Compression Ratio: 12.2:1
Fuel Capacity: 10L/2.64 gallons
Fuel System: Keihin FCR39 Carburettor
Starting System: Electric
Transmission: 5-speed constant mesh
DIMENSIONS
Wheel Base: 1475mm/58″
Seat Height: 935mm/36.8″
Ground Clearance: 325mm/12.8″
Weight: 138kg/304 pounds
SUSPENSION
Front: 49mm Showa Telescopic Fork, fully adjustable
Rear: Showa Coil Spring, Oil damped shock, fully adjustable
Warranty: 12 months unlimited kilometers
BRAKES
Front: Nissin Twin-piston caliper 250mm disc
Rear: Nissin Single-piston caliper 220mm disc
Warranty: 12 months unlimited kilometers
Features for the 2018 model
The latest model features a black tank and anodized rims, and a new set of graphics, but is basically the same bike it has been since it's inception in 2000.
But don't think that the DR-Z is just a low budget clunker.
It could be described as today's reincarnation of that other legendary indestructible bike, Honda's XR400. The XR topped the sales charts for years due to its reliability and solid performance, but sadly it's run has ended.
The DR-Z would be picking up a lot of the sales today from the type of riders who bought the XR400. The DR-Z boasts 20% more power than the XR, along with better suspension and water cooling.
With its easy servicing and reliability, it is little wonder that the DR-Z is the bike of choice by Cape York trail bike tour operator Roy Kunda of Cape York Motorcycle Adventures.
Roy has been running trips to the tip of Cape York since 1991 using the DR-Z as the hire bikes.
The relative lack of maintenance that the DR-Z requires is a huge bonus. The engine oil capacity is nearly 2 liters, more than twice that of many serious enduro bikes, so it doesn't require oil changes as often.
Many of the race-bred higher performance engines need an oil change after almost every long ride.
Unifying Suzuki RM-Z and DR-Z branding, both series have now adopted the yellow with blue accent stying, inspired by the factory MXGP machines.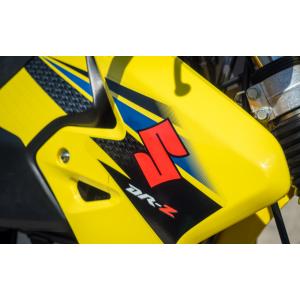 The easy-to-read multi-function digital speedometer also features odometer, dual trip meters with addition and subtraction functions, clock and stopwatch with subtraction capability. The speedometer still runs a real cable down the fork leg.
The DR-Z comes with a stock steel handlebar which is not tapered, and quite low. It doesn't come with handguards either, which leaves you feeling a bit vulnerable when you hit the bush.
The 10-liter fuel tank gives the bike a good range, about 200km (125 miles) on easy-going trails, and about 160km (100 miles) in tighter lower gear trails.
The toolbag fixed to the rear fender is a nice touch, and comes with a small range of tools. It by no means replaces a fully kitted out bumbag toolkit, so if you have one of those, the bike's toolbag will be a handy place to keep things like tubes and tire levers.
The clutch is cable operated, so isn't feather light like the hydraulic unit, but that's the tradeoff for not having to keep an eye on hydraulic fluid levels.
The five-speed gearbox is strong, but a sixth gear would certainly be welcome on long road sections. If you use the bike as a commuter, a sprocket swap would be a good option to consider.
The electric start doesn't have the kickstarter backup, something that is being phased out with lots of manufacturers these days.
The new battery technology makes this possible, although being a bit old-school myself, the thought of trying to push start a big-bore thumper on a sandy trail doesn't bear thinking about.
The DR-Z motors are well-known for being solid and reliable as long as you keep on top of the oil and air filter changes. The power delivery is torquey, and with the low gearing, it will easily tackle the biggest hill climbs.
It's not the 'rip your arms out of their sockets' sort of power like some hardcore enduro bikes, but when needed, the power is there in abundance.
It's only when you start tackling obstacles that the bike's weight starts working against you, it's not a light enduro bike after all. But on fire-trails and open twin tracks the DR-Z works really well.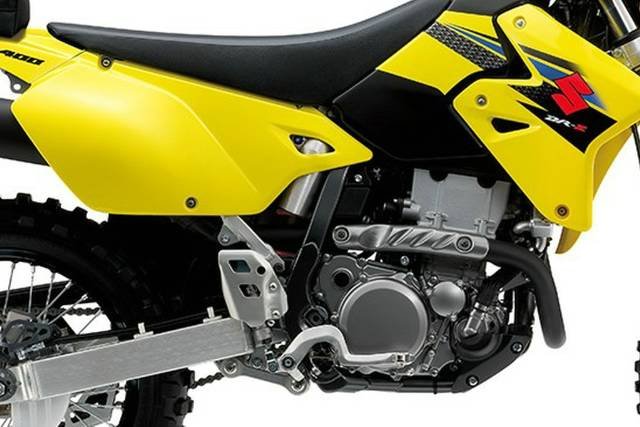 The suspension is a bit on the soft side, but there is plenty of adjustment so that you can dial it in to suit your riding style. The forks provide a generous 288mm of travel, although conventional work fine.
It would be nice if the trail versions DR-Z came with the same USD forks from the RM models that come on the SuperMoto SM series of the DR-Z.
The brakes work well enough, and consist of a 250mm front disc and 220mm rear. They are starting to show their age now compared to some of the wave discs on other bikes.
Because the bike has been around so long, there is a stack of after-market goodies available, like large-capacity tanks, performance exhausts, bash plates, suspension upgrades etc to make the bike more suited to your particular type of riding.
Some Setup Improvements
Add Handguards. Some Barkbusters with an alloy backbone would be the first thing to add to save your fingers and the levers.
Handlebars. Replace that cheapy steel one with a lighter, stronger alloy handlebar with more rise, so that you have a more comfortable riding position standing up.
Rear End reduction. The taillight and rear guard are very bulky, so a more compact aftermarket taillight/blinkers/rego plate hanger would be essential. Save the original and refit it for resale.
Tires. The standard street legal tires are very hard, so replacing them with some quality knobbies would make a big difference in the dirt. Also, some heavy duty tubes to reduce the chance of punctures.
Bashplate. A decent alloy bashplate is essential to protect the engine cases and frame from rock damage.
Mirrors. Some lighter after-market mirrors as the stock DRZ mirrors are quite heavy.
Larger Tank. An aftermarket mid-capacity tank would make the DR-Z a great adventure bike if you are planning longer multi-day rides.
DR History
The DR400s have been in my family since the 1980's when the first DR400 was launched, at a time when big-bore four strokes were first starting to make their appearance.
That model was ahead of its time then and still looks cool by today's standards.
Is the Tarmack More Your Thing?
Alongside the E model, Suzuki also offers the road version, the SM (Super Motard). The DR-Z400SM is a model specifically designed for tight twisty tarmac roads.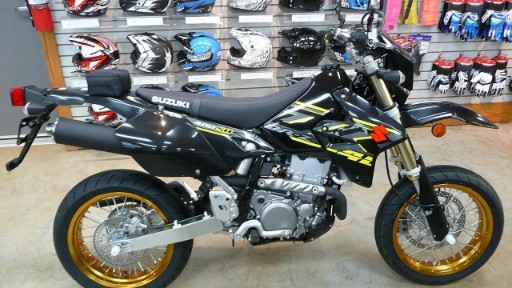 The SM has 17-inch front and rear wheels with gold rims and soft rubber, 49mm Showa USD forks and a 310mm diameter floating front disc.
It's priced at $9990, about $1250 more than the E model.
Summary
For a bulletproof trail bike that ticks all the boxes, including value for money, the DR-Z400E is a winner. Off-road riders have known that for almost two decades now and have voted with their wallets. Suzuki knows that old saying: if it ain't broke, don't fix it.
Related Posts
Barkbusters EGO Handguard Review
Dirt Bike Toolkits – Bum bag Essentials
Have you owned a DR-Z? What are your thoughts on the new DR-ZE? Feel free to share your thoughts with readers below.
Please follow and like us: