The KTM 1190R would be without a doubt the twin-cylinder adventure bike with the greatest off-road ability. It is aimed at those riders who take the word 'adventure' even more literally.
When the 1190R came to the market in 2013 it was a big step for KTM. On paper, it was the model designed to take the BMW GS's crown.
Looking at the spec sheet for the 1190R the bike sits at the bigger end of the adventure bike spectrum, tipping the scales at 217kg plus fuel, with 220mm of suspension travel and 890mm seat height. It's nearly as heavy as the BMW 1200GS, and with 148hp it makes for a lot of motorcycle.
Since it's launch the bike hasn't changed a great deal. The unbelievably good 1290 Super Adventure and the tamer 1050 Adventure were launched to cover bases in the adventure bike market, which are well suited to the tarmac.
Everything about the 1190R points toward the dirt. It is clear KTM is trying to build the ultimate big bike for dirt riding adventure seekers.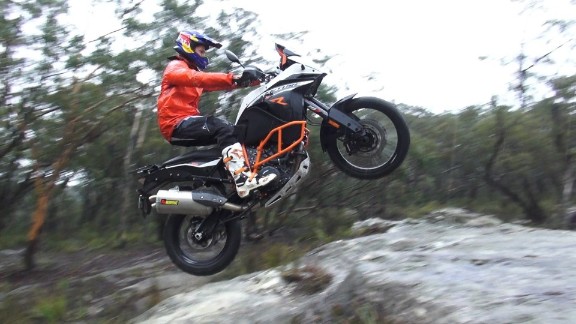 Specifications
Model: 2016 KTM 1190R Adventure
Engine Type: Four-stroke 75 deg. V-twin cylinder, DOHC, 4 valves per cylinder
Capacity: 1195cc/72.9 cu-in
Bore x Stroke: 105 x 69mm
Cooling System: Liquid cooling
Compression Ratio: 12.5:1
Lubrication: Forced oil lubrication with 3 rotor pumps
Max Power: 147.5 hp/107.7 kw @9500 rpm
Max Torque: 92.2 lb-ft/124.8 Nm @7500 rpm
Transmission: 6 Speed
Front Suspension: 48mm WP USD forks
Front Wheel Travel: 220mm/8.6 in
Rear Suspension: WP-PDS rear shock, Hydraulic spring preload
Rear Wheel Travel: 220mm/8.6 in
Front Brakes: 2 x 320mm discs 4 piston calipers
Rear Brakes: single 267mm disc 2 piston calipers
Starting System: Electric
Wheel Base: 1580mm/62.2 in
Seat Height: 890mm/35 in
Ground Clearance: 250mm/9.8 in (unloaded)
Dry Weight: 217kgs
Fuel Capacity: 23 litres/6.08 gal
Here's a little confirmation of the 1190R's off-road capability, being ridden like an EXC by Red Bull enduro rider Chris Birch.
 Features as standard
MSC (Motorcycle Stability Control) by Bosch featuring lean-sensitive cornering ABS
MTC (Motorcycle Traction Control)
Multi-function cockpit
Adjustable ergonomics
Adjustable windshield height
Ultra-stable off-road spoked wheels
Immobiliser
21″ and 18″ wheel diameters for improved off-road ability
Longer travel suspension for improved off-road ability
Wider aluminum tapered handlebar with 'ball-burnished finish
Steel crash bars
Centre stand
Single-piece full-length seat for off-road use
Luggage rack and case brackets
Handguards
TPMS (Tyre Pressure Monitoring System)
FRAME
The tubular space frame is made from chrome-molybdenum stainless steel. It's extremely stable and weighs only 9.8kg. The consistent lightweight construction contributes to the low overall weight of 217 kg, and 235 kg fully tanked.
The tubes are laser-cut for perfect clearances, and robot-welded to the highest standards.
SUSPENSION
Front: 48mm USD fork fully adjustable with 220mm (8.6 in) travel
Rear: Shock absorber from WP suspension with 220mm travel
BRAKES
More than adequate braking is ensured due to the finest quality Brembo components. 320mm front discs with four-piston calipers, and at the rear 267mm disc with two-piston calipers. It is all controlled by the MSC with Bosch 9ME C-ABS.
TIRES
The 1190R comes with 21″ and 18″ wheels which are well suited to offroad riding. Continental Trail Attack II tires are fitted as standard in 90/90 ZR (260) 21 front, and 150/70 ZR (260) 18 to the rear.
TUBELESS SPOKED WHEELS
The wire-spoked wheels for tubeless tires feature airtight rim beds which are patented by KTM. The rims combine the easy fitting benefits of a tubeless tire with the robustness and stability of a wire-spoked wheel.
STEERING DAMPER
With so much power available, the front wheel can feel very light and can lead to a kickback on rough roads. The 1190R prevents this with a WP steering damper.
C-ABS (COMBINED ABS) AND OFFROAD MODE
One component of the comprehensive Bosch MSC assistance package is the lean-sensitive cornering ABS. It is the safest and most efficient deceleration system on the market.
When the front brake is actuated, the rear brake is always applied in parallel to optimize the ride stability when braking. It can be switched off, and also placed in Offroad Mode.
Offroad Mode allows the rider to block the rear wheel when required, a must for off-road riding when executing deliberate slides. The ABS remains active on the front wheel even in Offroad Mode.
MTC (MOTORCYCLE TRACTION CONTROL)
As part of the MSC package, MTC also regulates subject to the lean of the bike. For different levels of rear-wheel slip, the MTC system provides four different modes, selected in connection with the engine modes using the multifunctional switch on the left handlebar grip.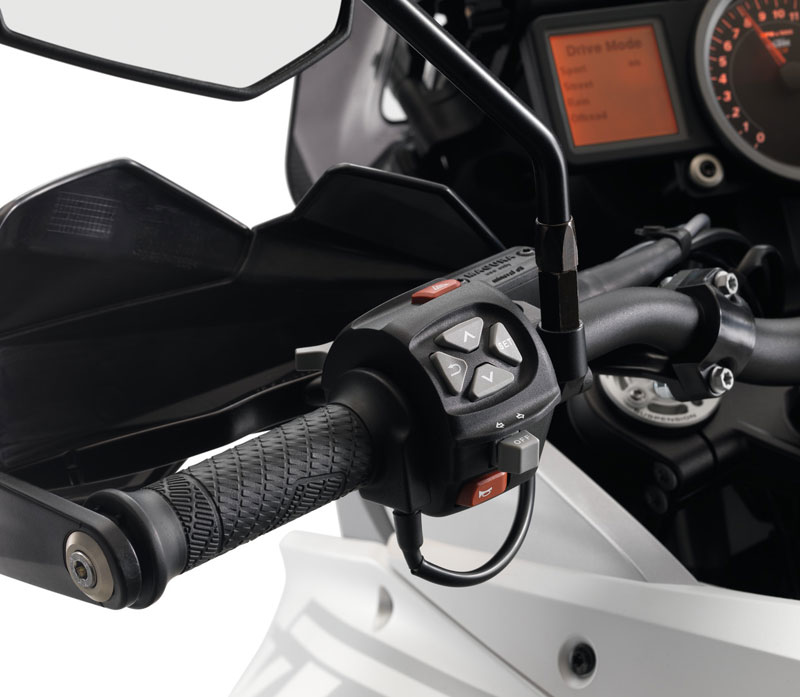 Depending on the MTC mode, the EMS (Engine Management System) also adjusts to a suitable power level.
Four different MTC modes are activated by changing the engine modes:
Sport: Allows a respectable amount of slippage/drift
Street: Smooth control with full engine power
Rain: Minimum slippage in the wet with engine power reduced to 100 hp max.
Off: No electronic assistance for those that want maximum power at all times.
Sport mode has the most aggressive power delivery and the least TC intervention.
Street mode provides a bit more of a safety net. In Rain mode, rear wheel slip is virtually eliminated.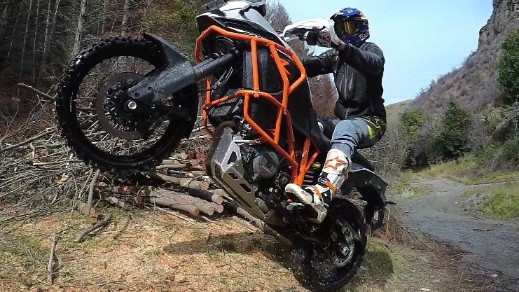 TPMS (TYRE PRESSURE MONITORING SYSTEM)
Monitors tire pressure which shows in the display with a warning in the event of pressure loss.
RIDE-BY-WIRE
The Ride-By-Wire system ensures perfect application of the power. It electronically translates the rider's throttle commands into the throttle valve positions to suit the riding conditions.
TWIN IGNITION
The twin ignition system controls two different sized spark plugs in each cylinder head independently of each other to optimize the combustion sequence at all times. This leads to better-controlled power, lower fuel consumption and fewer emissions.
COCKPIT
The state-of-the-art instrument features a central LCD for displaying riding conditions plus speedo and rev counter, and another LCD to the left to display the adjustable features. Riders will find the multifunction cockpit well laid out, with menus that are easy to browse and set.
The electronics are simple to navigate, but it would be nice to be able to turn off the MTC on the fly, in the same way that the ride modes can be changed.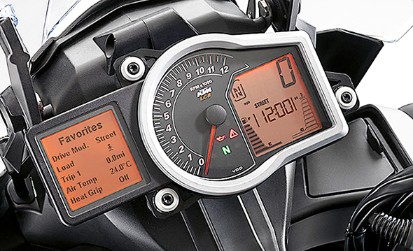 MODE SWITCH
Different modes can be selected with the mode switch on the left-hand side of the handlebar. It's a simple 'up' and 'down' through the menu selection with the left button, and confirm with the right button.
ERGONOMICS
The 1190R is comfortable for long stints in the saddle, although the seat could be a little softer, while the handlebars and footpegs offer a small range of adjustment.
The high seat height may be a challenge for riders under six feet tall, but that's the tradeoff for the extra suspension travel.
The ergonomics can be adjusted to suit riders of different heights and for different riding locations offroad or asphalt.
Two handlebar positions: horizontal =/- 10mm
Two footrest positions: diagonal 10mm high and back
Hand levers with 5 reach settings
ADJUSTABLE WINDSHIELD
The height can be adjusted to suit different rider heights by 25mm with an easily operated clamping mechanism.
Wind protection provided by the screen is excellent, with buffet-free airflow.
Summary
The KTM 1190R is a bike that is built for riders who have a good level of off-road skills and want to ride in places that others don't. If you're looking for your first adventure bike to try some off-road riding, then this isn't the bike.
It's not bad on the road but at no point is it great. What it lacks on the tarmac is only highlighted because of models like the BMW 1200GS or the 1290 Super Enduro which perform so well on the tarmac.
Does it work as an adventure bike? Absolutely! If you're looking to ride in as much difficult terrain as possible, then this bike would have to be at the top of your list.
Attach some soft panniers to carry a few extras and you're set for some overnight adventures.
As usual, KTM's Power Parts accessory division has a large range of bolt-on products to improve functionality, protect and personalize the 1190 Adventure R.
Adam Riemann of Motology films recorded a four-part series of videos of his adventures on the KTM 1190R
 If you would like to see parts 2, 3 joined by
Toby Price
& part 4 click
Here
Related Posts
Adam Riemann is famous for his MOTONOMAD trilogy of full-length feature films. MOTONOMAD 1 covered his travels from Austria to Egypt on two KTM500EXCs.
For more on that, go to my post: Adventure Motorcycle Travel DVDs
Planning a multi-day adventure ride? This checklist may be helpful: Adventure Motorcycle Riding Checklist
  2018 KTM500EXC-F Review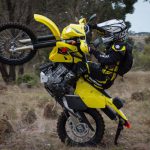 2018 Suzuki DRZ400E Review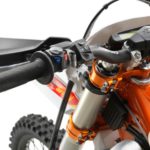 KTM Dirt Bike History
Have you owned one of the KTM series of adventure bikes? What are your thoughts on the 1190R? Please feel free to share your experience with readers in the comments below.
Please follow and like us: