While you may think that a specialized dirt bike is needed for dirt track racing, a flat tracker motorcycle can be converted from nearly any dirt bike. In this article, we look at 10 of the best Dirt Bikes to convert for flat track racing.
In the world of flat track racing, there are multiple parts to the dirt bike that must be upgraded or changed to provide the best riding experience as well as to adhere to the rules of the organizations. With flat track racing sharing many similarities to supermoto, you'll see many of the same parts being upgraded as well.
Parts such as suspension, wheels and tires, gearing ratios (sprockets), and the biggest change – the removal of the front brake.
While this may seem a bit daunting, you'll be happy to hear that there are still some dirt bikes that only require minor modifications to get you sliding in no time.
1. Honda CRF100F/XR100
The Honda CRF100F(or the older XR100 version) is a great flat tracker motorcycle for beginners as well as advanced riders.
You can be competitive on this dirt bike whether you're a child or an adult while only needing to make the following changes:
Tires: In flat track, the typical knobby tires are not allowed. Most riders switch to wider, 17" rims on the front and rear that accept wider tires such as the Dunlop K180A or Shinko SR267. If you're just looking for the bare minimum to race flat track, you can easily get away with using the stock rims and running a trials tire like the Shinko SR241 (make sure they are legal) or a smoother tire that will also fit on the stock rims such as a Dunlop K630.
While it wouldn't hurt to add some engine modifications and upgraded rims, this is one of the only bikes that can be trail-ridden one day and then flat-tracked the next after a simple tire swap.
Classes like the up-and-coming "Mad Dog" class keep the playing field even with highly modified bikes like the KLX125 (mentioned below) not eligible to enter.
2. Yamaha PW50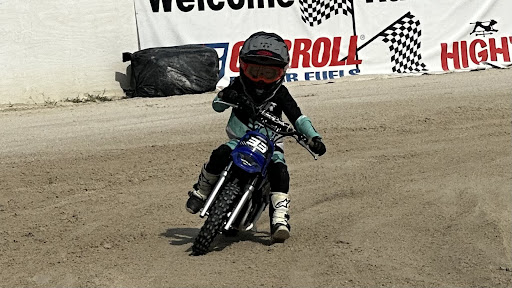 If you're interested in getting your son or daughter into flat-track racing, the Yamaha PW50 is undoubtedly one of the best choices.
With most organizations allowing the use of the stock knobby tire on this bike, this means all you have to do is load the bike up and bring your child to the track.
The Yamaha PW50 has been a go-to for parents since Yamaha began production in the early 1980s. While this dirt bike is a two-stroke, it features a smooth and predictable powerband that won't cause unexpected wheelies or slide-outs.
On top of this, the aftermarket support is unimaginable – meaning you can modify the bike as your child grows in confidence. Some parents may even decide to skip the step-up to a KTM or Cobra 50 and move their child right to the 65cc class after owning a PW50.
3. Kawasaki KLX125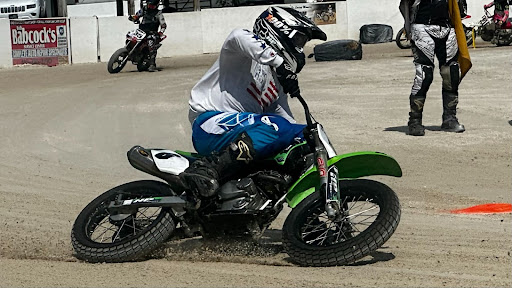 The Kawasaki KLX125 is one of the best dirt bikes to modify for adults and children who want to get serious with flat track, but don't want to race a big bike.
The Kawasaki KLX125 platform allows for a direct swap of the high-quality suspension from a KX85 which is then cut down to give the dirt bike a lower center of gravity.
The upgrades worth performing on a KLX125 for flat track racing include:
Lowered suspension:

The lower center of gravity allows for more consistent handling and a dirt bike that will go where you want it when you start sliding

Internal Engine Modifications:

Many of these flat track motorcycles run 140cc or 190cc big bore kits, with all of the other bells and whistles such as high-performance camshafts and pistons.

Exhaust:

What's the point in souping up the engine if you aren't going to uncork it? Most riders run a motocross-style aftermarket exhaust, however, you also have the option of a "downpipe" which routes the exhaust below the footpeg

Handlebars:

This is another option that is up to your preference. Some riders utilize a stock-style bar bend, some use more of a straighter handlebar, while others swear by a motorcycle-style handlebar.
4. Honda CRF150R
The Honda CRF150R is a great dirt bike that is completely competitive with the modified KLX125 or Sunday Motors S147 without adding any modifications to the engine.
Provided your organization allows a water-cooled dirt bike in the mini classes, all you will need is the following modifications:
Lowered suspension:

The CRF150R features premium suspension right out of the gate, however, you'll want it lowered a few inches so you can really put the power to the ground.

Wider 17" rims:

Running wider, evenly sized rims helps with handling and allows you to run tires designed specifically for flat-track. Some of the best tires to look for are the Dunlop K180A or Shinko SR267.

Handlebars:

As previously mentioned, you may feel more comfortable leaning the bike over and sliding with a certain style of handlebar.
5. Sunday Motors S124/147/187
The Sunday Motors dirt bikes are some of the only dirt bikes available that are built strictly for flat-track right out of the box.
This flat-track motorcycle features an S124 model, an S147 model, and an S187 model. Here's what is included with the Sunday Motors flat-track bikes:
A flat-track-inspired frame that resembles that of the bikes raced in the AFT Twins and SuperTwins

Wide 14" flat track rims on the front and rear with 130/70-14" flat track tires

Three options for engine sizes that allow you to ensure you're on the podium regardless of what class you ride

Flat track style handlebars

High-quality footpegs with a left rubber cover for when you're wearing a steel shoe.

Rear disc brakes
6. KTM 250SX-F
For someone serious about flat-track or looking to move up from a mini bike, the KTM 250SX-F may be the perfect option.
With this bike being a top contender for motocross racing, it would only make sense that this success carries over to flat-track racing. Riders like Dan Bromley have won multiple Flat Track Singles Championships while riding for KTM.
It may not be the safest decision to jump on a 450cc right from a mini bike. With that being said, a 250cc is a great middleman. If you prefer to buy new bikes, KTM has proven its worth by being the second most popular dirt bike brand (behind Honda). This data was gathered from a study of over 200 dirt bike riders with excessive amounts of experience.
7. Husqvarna FC450
As you may already know, Husqvarnas bear many of the same features that KTM offers on their dirt bikes. With this being said, the Husqvarna FC450 makes for a great flat-track motorcycle by upgrading the following components:
Suspension:

Just like on the smaller bikes, you'll want a lower center of gravity to allow you to smoothly slide around the track.
Wheels and Tires:

Same deal as with the KLX125 and CRF150R. The only difference here is that 250cc and 450cc flat track motorcycles both use wider 19" rims in the front and rear which accept the wide flat track tires.
At an amateur level, you can get away with leaving the engine stock. Modern 450cc dirt bikes have all the power you should need on a smaller flat track, where skill is going to be much more beneficial. 
8. Honda CRF250R
If you're looking to get into flat track racing on a big bike without spending the big bucks – the Honda CRF250R may be the perfect option for you. The CRF250R has been one of the most popular dirt bikes for many years and it makes perfect sense why.
These bikes can be bought used for a decent price making the Honda CRF250R great to convert for flat track racing. It is not uncommon to see used CRF250Rs for sale that have already been set up for flat track racing, which comes to show their popularity. 
Just like on the Husky FC450, you can send out your suspension to be lowered, swap out your rims and tires, and be completely capable of winning races. Just be sure your dirt bike has numbers!
9. Kawasaki KLX110
If you want a more fun approach to flat-track racing, pit bikes may be another great option. With the popularity of pit bike racing being more prevalent than ever, manufacturers have been struggling to keep up with the demand for 110cc dirt bikes.
Most organizations only allow for minor modifications in the 110 class, meaning with a set of flat track tires, you'll have no problem keeping up with the pack. 
The following rules typically apply to the 110 class, however, this will differ according to which organization is holding the race:
155cc max displacement

Stock style suspension

Stock frame

12" rear wheel

No front brake

No knobby tires
10. Cobra CX50
The Cobra CX50 is another great dirt bike if you'd like to get your child involved in flat-track racing. This is another dirt bike that will need no modifications to the engine to be able to perform as a winning flat-track motorcycle. One downside, however, is that most classes that a Cobra CX50 will be run in do not allow knobby tires.
The Cobra CX50 features three models to choose from, each with different sizes and characteristics:
CX50JR:

This is the "beginner" model, designed with performance and safety in mind
CX50SR King:

This model is for children that are ready to go fast and have the confidence to do so
CX50FWE:

This is the "Factory Works Edition" – think of this bike as something that a factory team rider would be racing, only in a miniature form
Guest Author: Ryan Dragunas
Ryan's love for speed started as a young dirt bike racer, adding cars into the mix once he acquired his driving license. His passion for flat track racing carried over to drifting once he learned that you can also slide a car. While his main focus tends to be dirt bikes or cars, there's almost nothing with an engine that will not get Ryan's wheels spinning.
Related Posts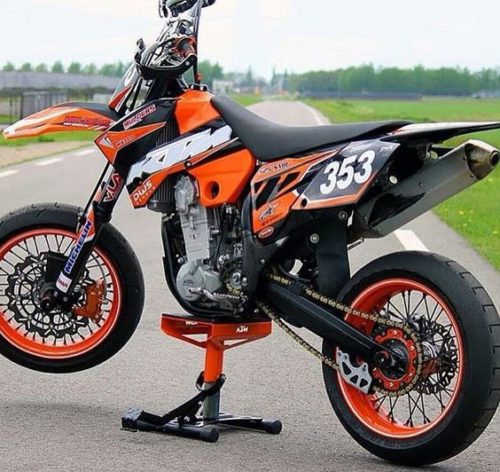 How To Convert Your Dirt Bike To Supermoto
Dirt Bike Types – How To Choose The Right One For You
Have you converted a dirt bike for flat track racing? Which bike did you choose? Please leave your thoughts in the comments below.
Please follow and like us: