YouTube is full of fantastic Dirt Bike channels. Whether you're looking for instructional videos or just fun stuff, there are loads to choose from. Here is a list of some of the best Dirt Bike Channels on YouTube.
These are the channels I watch frequently. This website is aimed at Dualsport, Enduro, and adventure riding, so these are the channels that would appeal to these riders.
There are loads of channels targeted at motocross, which aren't included below, although there is lots of content below that would appeal to any dirt bike rider.
Here is a selection of 7 of the best:
Channel subscribers: 719K
Adam Riemann is an Australian Dirt Bike icon with a background as a Dirt Bike magazine test rider, journalist, and photographer. He is a motocross, enduro, adventure rider, filmmaker, and a master wordsmith.
His Motology Films is an internationally recognized Motorcycle Film production company.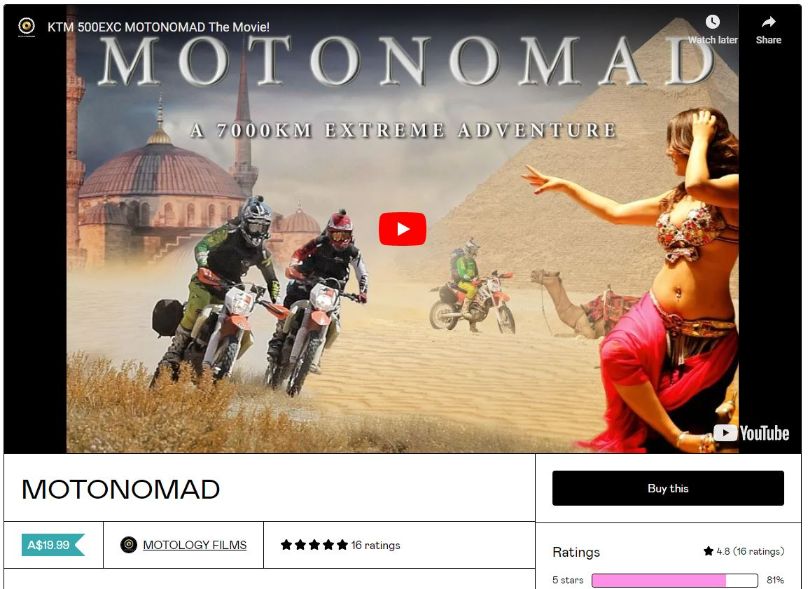 The MOTONOMAD trilogy started with two mates riding 7,000 km from Austria to the pyramids of Egypt, carrying everything they needed (including filmmaking equipment) on their KTM 500EXCs. No backup support crews here. Their drone footage is breathtaking.
A must for anyone who loves dirt bikes or adventure.
Channel Subscribers: 310K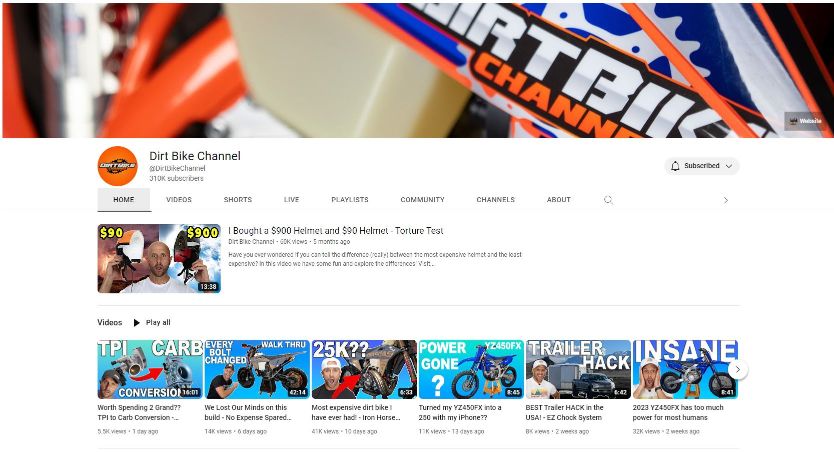 Your go-to dirt bike channel that has it all – bike and product reviews, riding tips, technical tips, and live Q and A podcasts. His reviews are honest and unbiased in any way.
Owned and operated by Kyle Brotherson in the U.S. There's even a dirt bike giveaway a couple of times a year, but only within the U.S.
Channel Subscribers: 211K
An Australian channel with videos on everything from riding and technical tips, to brutally honest product reviews and everything in between, all with a cross-training/hard enduro flavor.
They cover basic, intermediate, and advanced skills. They apply Trials techniques to Enduro techniques, with instruction from some of the world's best riders, even some tips from hard enduro master, Graham Jarvis.
The commentary is always hilarious, so if you love watching riders attempt seemingly impossible terrain, then you'll get a kick out of this channel.
Channel Subscribers: 4.62M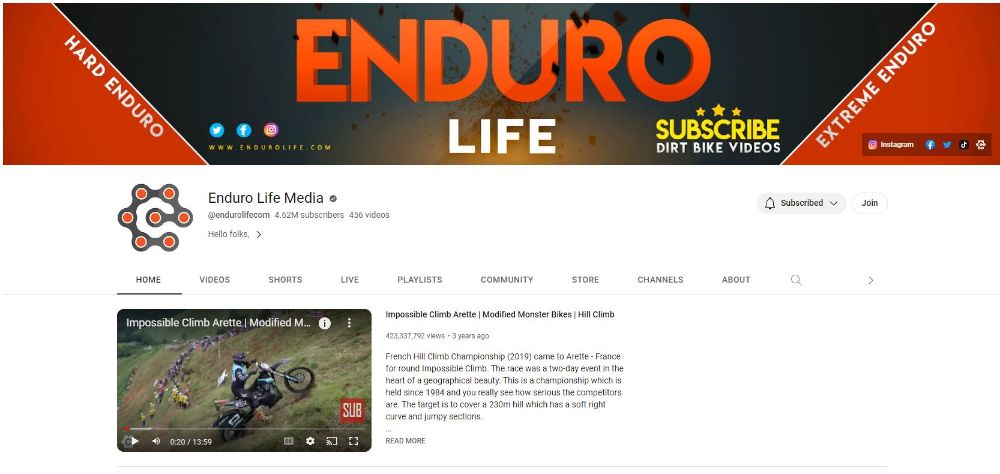 With over 4 million subscribers, this channel is a definite must on your viewing list. It features the most extreme hard enduro footage you will find on YouTube.
All the major hard enduro events are covered, and the hill-climbing videos are always good for some wipeouts. Not for the faint-hearted.
Channel Subscribers: 69.1K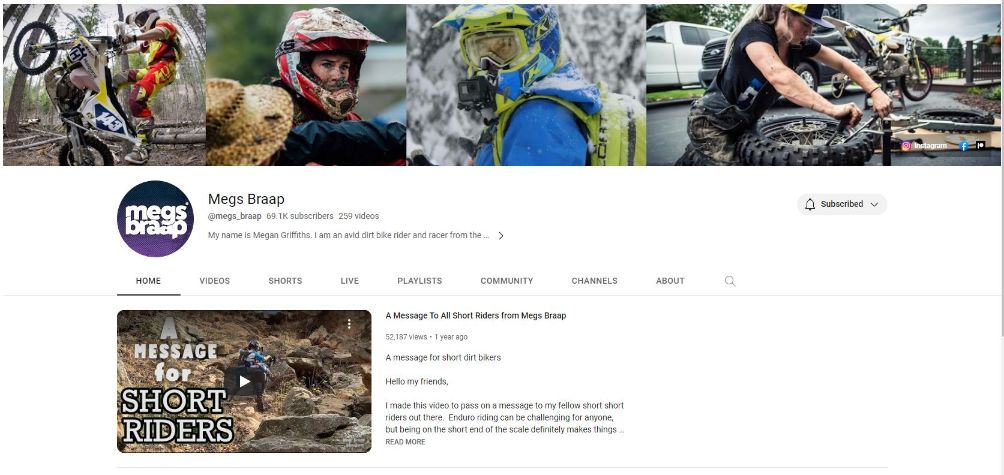 Megan Griffiths is a rider from the west coast of Canada. Her channel is full of great instructional videos for riding tips and technical setup tips.
There are also lots of ride reports from her adventures all over the U.S. and Canada.
She lives out of a trailer set up and runs ride clinics all over the country. She has a huge following on Instagram (@megs_braap) and posts daily.
Always distinguishable by the bare forearms when riding.
Channel Subscribers: 159K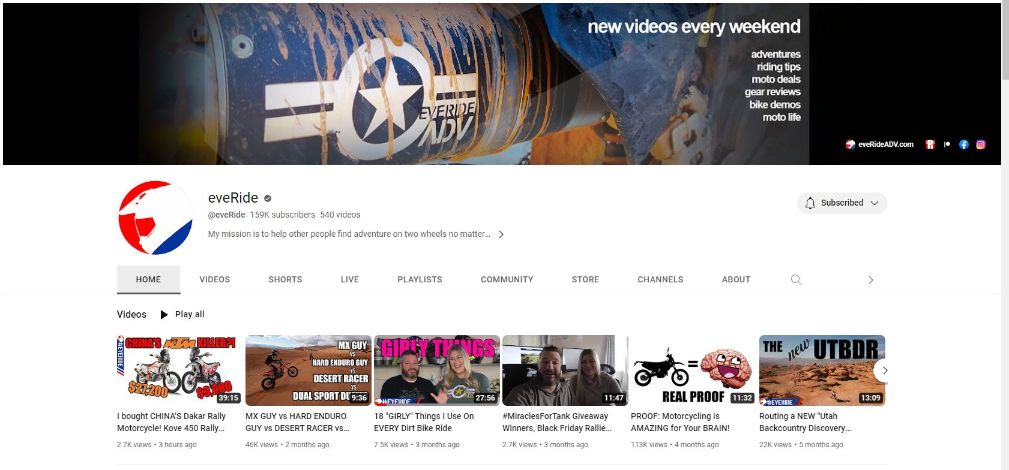 eveRide is a U.S. channel committed to helping people find adventure on dirt bikes. Tyler covers motorcycle deals, riding and setup tips, budget adventures, reviews, and ride reports.
The videos feature awesome cinematography and are family-friendly. Tyler is a very likable guy and is frequently joined onscreen by his devoted wife Jessy.
Channel Subscribers: 78K
If adventure motorcycle camping is your thing, this channel is a must. Tim is a long-time adventure motorcycle specialist and travels the U.S. on his 2015 BMW R1200GS.
His videos cover everything you need to know about motorcycle camping, including what to pack for your trip, gear reviews, trip reviews, great destinations, and much more. This channel is a must for any adventure rider.
Final Thoughts
These channels listed above are the go-to list that I have been watching for years now. You can use these channels to educate yourself on the technical side when you have an issue to solve on your bike.
You can use them for inspiration and motivation, or learn riding techniques for tricky terrain like log hopping or deep sand, or popping wheelies.
But most importantly, get out there and make it happen yourself. Enjoy the ride!
Related Posts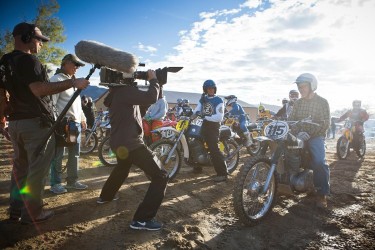 Dirt Bike Movies – 5 You Must See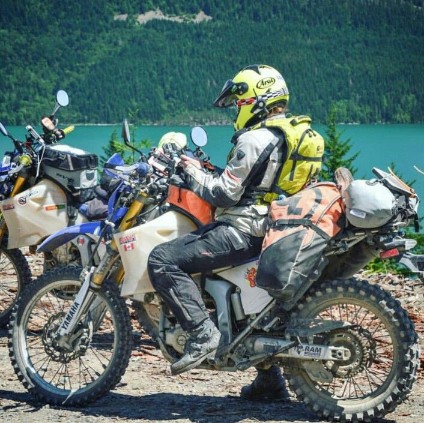 Adventure Motorcycle Travel DVDs – A Few To Inspire You
Can you recommend any other channels to include in this list? Please feel free to leave your comments below.
Please follow and like us: