The Wolfman Enduro Tank Bag is a universal bag geared towards Dual Sport bikes, and smaller adventure bikes. It is small in size, but big on functionality.
It has the same rugged and durable construction as all of Wolfman's other motorcycle luggage bags.
Wolfman is a family-owned and operated company in Colorado that has been designing motorcycle luggage for over 20 years.
The designers test and use the bags themselves every day, so what you get is a really high-quality product specifically designed for your needs.
Top 4 things to consider when choosing a Tank Bag:
Waterproof or can be made waterproof
Map pocket on top
Quick easy removal if leaving the bike unattended
Doesn't hinder your movement in off-road riding
The Wolfman Enduro tank bag is the middle size in a lineup of 3 tank bags which includes:
Tincup Pocket Tank Bag WP: 1.2 Liters/77 cu.in.
Enduro Tank Bag WP: 4 Liters/244 cu.in.
Blackhawk Tank Bag WP: 10 Liters/610 cu.in
Specifications:
Product: Wolfman Enduro Tank Bag
Weight: 1.3 pounds
Capacity: 4.0 Liter/244 cu.in.
Waterproof: Water-Resistant (Rain cover or internal liner available)
Construction: 1680 Denier Ballistic Nylon
Warranty: Limited on Manufacturing defects
Dimensions: Length:9″/23cm, Width: 5 1/2″/14cm, Height Front: 7 3/8″/19cm, Height Rear: 8 1/2″/21.5cm
Features:
Heavy Duty #10 YKK zipper
Foam structure to provide 'Soft Rigidity' keeps your bag in shape when not full.
4 point quick-release universal mounting system. You can remove the bag in a few seconds.
Removable exterior map pocket. You can just take it with you when you leave your bike.
Outside Mesh pocket to the rear. Handy for quick access to items.
Non-scratch, non-skid bottom. This means you won't scratch your tank, and it stays in place.
Reflex webbing accents for nighttime visibility. Always good to be seen at night.
Interior zippered mesh pocket (ideal for your phone) & key clip, so you don't lose your keys.
Made in the USA
What You Get
The Enduro Tank Bag is the same construction as all their other tank bags, just smaller. This means you can move around on the bike and not notice it's even there.
The construction is the same 1680 Denier Ballistic Nylon that is used on all Wolfman tank bags.
It is rigorous and durable enough to handle anything a Dual Sport rider can throw at it.
The base of the bag is a skid-proof and scratch-proof design, with a four-point universal mounting system. The four flaps are to make sure the straps and buckles don't rub on the tank and damage the paintwork.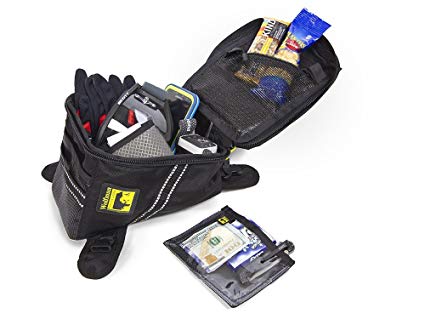 On the top is the removable map pouch which is also ideal for your mobile phone or GPS unit or a good old-fashioned paper map.
Under the pouch, there are two mounting harnesses with D hooks. These harnesses work by attaching an array of accessories in Wolfman's lineup.
Inside the bag, there is an additional zippered pocket on the underside of the lid, which is ideal for a wallet or phone, and there is a key clip at the back.
On the rear of the bag, there is an external pouch and carry handle, but the pouch has no zipper, so be careful not to carry valuables in there.
There is a weather-resistant flap over the main YKK zipper, but the bag is not 100% waterproof in itself.
There is also available a 100 % Waterproof Liner which fits inside the bag in a similar way to the Wolfman saddlebag Dry Bag Liners.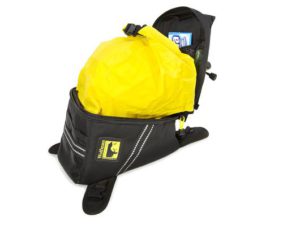 Note: The Enduro Tank Bag has been updated for 2020.
It is now waterproof so it no longer needs the waterproof liner. It has also been redesigned for a more usable ergonomic shape.

Sometimes unavailable on Amazon. Alternative link to Wolfman
Installation
The harness is a universal four-point quick-release mounting system.
There is a back mount and a front mount. The front mount simply goes around the bike's steering stem, and the rear mount goes around two different frame rails.
Installation is a breeze, so once the harness is mounted on your bike, you can simply pop the four buckles to take the bag wherever you want to go, motel or campsite, and leave the harness on the bike. There is a shoulder strap that is also available for the bag.
Pros:
Refueling is not affected by the bag's position
Quick easy removal with 4 snap buckles
Interchangeable mounting with the smaller Enduro Pocket.
Cons:
The bag is not completely waterproof in itself (2020 update now WP)
Final Thoughts
The Wolfman Enduro Tank Bag, being the middle size in Wolfman's range of tank bags is the ideal size for the Dual Sport or Enduro rider that wants to carry the bare necessities, but still be up for some aggressive riding without feeling constricted by the tank bag.
Maybe you just don't like riding with a backpack, but still want to have a place for your wallet, phone, keys, a few snacks, and maybe spare goggles or gloves.
As with all Wolfman bags, they are designed by the same people who use them every day, so you know you're getting something practical and usable, built with the rugged durability that we have come to expect from Wolfman products.
Related Posts
 7 Best Soft Panniers For Lightweight Adventure Bikes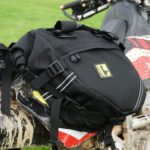 Wolfman Enduro Dry Saddlebag Review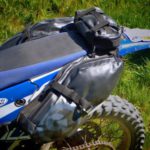 Giant Loop MoJavi Saddlebag Review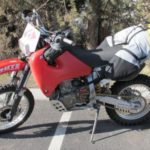 Giant Loop Coyote Saddlebag Review
Do you use a Wolfman Tank bag? Please feel free to share your thoughts with the readers below.
Please follow and like us: