GoPro created an entirely new industry with the introduction of the action cam back in 2004 and they are the market leader, but these days face serious competition now from the likes of Sony and Garmin in what is now a booming market. Here's a look at 5 of the best Action Cams for Dirt Bikes that are available today.
Action cameras are so versatile now, and when used with the right mounting system they can be attached to anything from helmets to handlebars, surfboards to skateboards, I've even seen footage from the back of an eagle.
Because they are so small and durable and can give the viewer the first person POV (point of view), they've become the gadget to have for extreme sports enthusiasts who are wanting to share their adventures.
What is the best action camera for you? It can be a daunting task deciding on what is best for you with such a huge range to choose from with a very technical set of features.
For this reason, I have selected what I consider to be 5 of the Best Action Cams for Dirt Bikes that can handle the rigors of off-road motorcycle riding.
For Dirt Bike riders the action cam has to be able to deal with vibration, dust, water, and even impacts with the terrain. It's a lot to ask of a camera.
Quick Summary
Here's a quick summary of the best action cams for dirt bikes reviewed here:
It's interesting to note that while the cameras in this review have literally hundreds of 5-star reviews and are top sellers, they also have a few less than favorable reviews, which I have reflected in the 'Cons' columns.
This is the case with almost any product you buy online, but I have included the best of them based on their qualities most sort after in the dirt bike world.
Given the huge degree of brand loyalty both for and against the name brands like GoPro, and the high level of technical understanding needed to get the best out of them, I suppose it is to be expected.
Top 4 things to consider:
The most important things to consider are what you want feature-wise and how much money you want to spend. For shooting super-smooth footage in 4K, and being able to control the camera hands-free using voice control, you're looking at spending upwards of $300.
Picture Quality:
Any Camera worth its salt has to be able to deliver a good quality picture. It's easy to become dazzled by the manufacturer's claims of resolution numbers and frame rates, but the picture quality is also affected by the lens and the processor in the camera.
While a lot of cameras shoot in 4K, some cheaper models use a frame rate of 15fps, which makes the video look more like security camera video. 4K resolution is only good if the frame rate is at least 30fps.
Ease of operation:
No matter how good the picture quality or other features, if you have difficulty in operation, you won't want to film much.
You want to be able to quickly set it up on the go, and with gloves on. How does it feel to handle, press the buttons, and swap batteries? Is it easy to navigate the on-device menus, and how well does it attach to your choice of mount?
Battery Life:
This is a big consideration but first, ask yourself how long you actually need to film for? Do you record segments of your ride, or record the entire ride? If you record in short bursts you probably don't need three-hour battery life.
Generally, a battery will last about an hour when shooting in 4K. The more features you enable, the shorter the life.
Value For Money:
Probably the most important question of all. Do you really need all of the latest features, highest frame rate, or longest battery life?
It's important to consider how you are going to use the camera and what features are most important to you. Maybe a lower spec camera is better suited to your needs.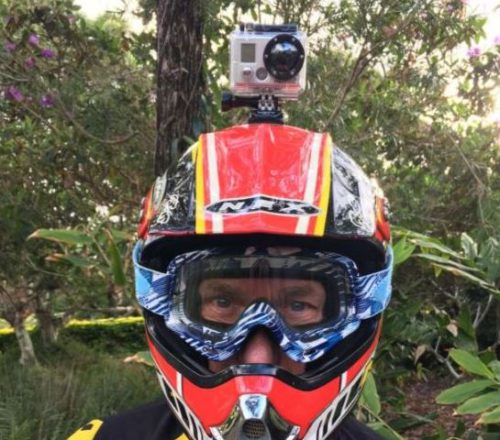 How To Choose An Action Cam
Everyone has different requirements from their action cam, so it is important to be familiar with the features available in order to make an informed decision. Here are some features to look for when selecting an action camera:
Motion Stabilisation:
This is pretty standard in action cams, it's the rating that varies. Motion stabilization is rated in stops. For example, a camera with 5 stops of image stabilization means that it will still capture a smooth video with a shutter speed 5 times slower.
High Resolution:
A 4K video camera is as good as it gets, but it takes up more space on the SD card and is more difficult to edit. It will also drain the battery life quicker.
Voice control:
A great feature to have especially for dirt bike riding where it's difficult to get a hand free at times. Cams like the GoPro Hero 7 allow you to operate it hands-free with commands like "GoPro, start recording" or "GoPro, take a photo"
Wi-Fi Connectivity:
Some cameras feature built-in Wi-Fi which allows wireless connection to a smart device. Some will let you live stream to social media sites like Facebook, Instagram, or YouTube.
Durable and Waterproof:
For Dirt Bike riding this is an important feature. Especially if you want to mount the camera to the bike. Resistance to vibration is an important factor to consider.
Waterproofing is another important feature, especially if you are likely to encounter stream crossings or wet weather in your riding. Some have built-in waterproofing and some come with a case that allows them to be waterproof up to varying depths.
Quick Adjusting Lens Sensors:
This adjusts to compensate for sudden changes in light conditions from bright sunshine one minute to darker conditions when entering bushy areas.
Multiple Mounting Options:
You'll want to keep your specific needs in mind. Certain form factors lend themselves better to certain activities. Different shape cameras allow for different mounting accessories and possibilities.
Having the option of mounting to your helmet top, side, or chin bar, as well as mounting to the motorcycle frame or handlebars is something to consider.
Quality Microphone system:
With noise reduction to avoid that dreaded wind problem, and a mic jack or option to use an external microphone.
Here is my selection of 5 of the best Action Cams for Dirt Bikes available today:
1. GoPro HERO7 Black Action Cam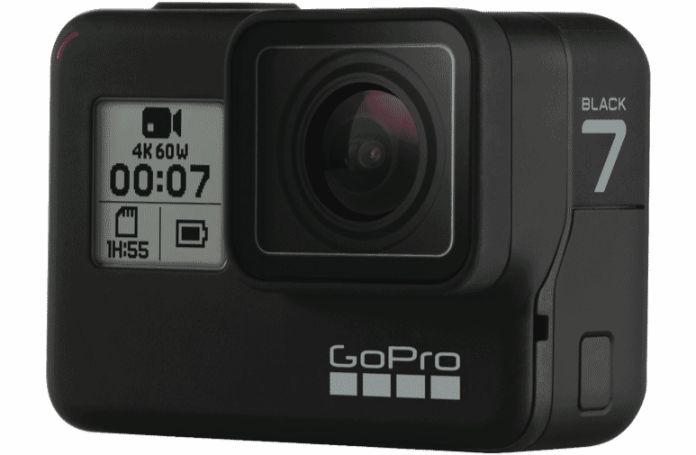 Specifications:
*Weight: 118g  *Waterproof: 10m  *4K video: 60fps  *1080: 240fps  *720: up to 240fps  *Stills resolution: 12MP  *Battery life: 1-3 hrs
---
GoPro released three new action cameras in September 2018, the Hero 7 Black, White, and Silver. The Black is their premium model, with the White and Silver being the stripped-down models.
The Silver has most of the features of the Hero 7 Black, minus the Hypersmooth, live streaming, and TimeWarp Video. It's also capped at 10-megapixel photos compared to 12-megapixels of the Black.
The White is GoPro's entry-level camera with a 10-megapixel sensor like the Silver, with most of the same features as the Silver except for the ability to shoot in 4K video.
The HERO7 retains almost the same camera design as the HERO6 and 5. The advantage of this is that you can keep using the same GoPro accessories, including many third-party accessories like mounts, cages, and adaptors.
The Hypersmooth feature adds gimbal-like stabilization to video footage, without the gimbal. You can shoot in Hypersmooth even when shooting at 4K 60fps full resolution, but Hypersmooth can't be enabled when shooting in 4:3 aspect ratio and also in Full HD at 240fps and 120fps.
The new TimeWarp feature is basically a timelapse video with Hypersmooth applied. This allows you to capture timelapse videos that are ultra-stable. You can record in 2X, 5X, 10X, 15X and 30X speeds.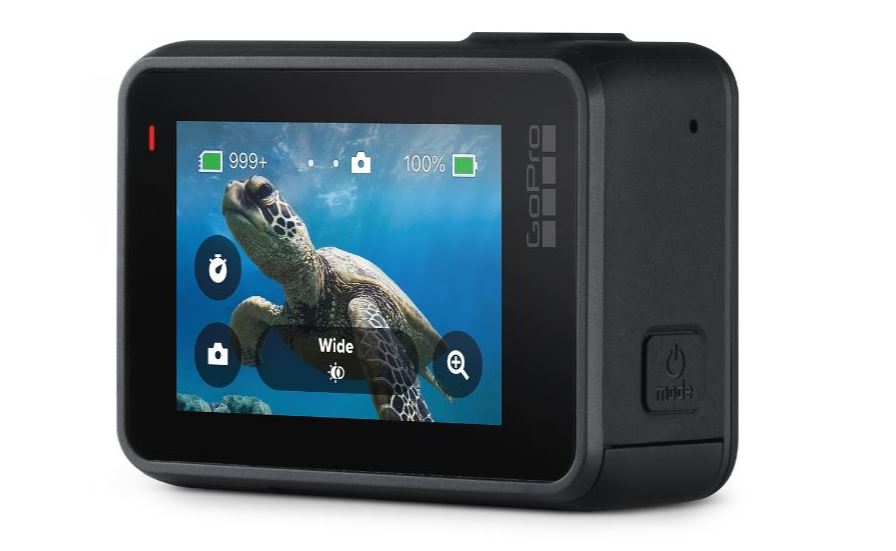 The touchscreen has also been revamped for the HERO 7 Black. Portrait mode has been added which allows you to shoot photos and videos vertically for Instagram Stories and IGTV.
The HERO7 Black now allows you to conduct a 720p live stream on Facebook using WiFi or a smartphone. You can easily use your smartphone to control the GoPro and review photos and videos immediately after you've captured it.
GoPro has been known in the past for having notoriously bad in-built microphones. Thankfully that has been improved for the HERO7 Black, however, there is no mic jack, only USB-C, and micro HDMI ports. If you want to use an external mic GoPro does offer a mic jack adaptor.
The battery life of the HERO 7 remains unchanged. The estimated battery life depends on how you use the camera but generally, one battery will last about an hour when shooting in 4K. It is still advisable to carry spare batteries with you.
Despite a few areas for improvement, GoPro has made significant and useful improvements with the HERO 7 Black, and it is easily one of the best action cameras on the market today.
Features:
Hypersmooth Video Stabilization for gimbal-like stabilization to deliver smooth footage
Time Warp Video to capture stabilized time-lapse videos
Super Photo to automatically optimize your shots using HDR
Rugged and Waterproof even WITHOUT a housing up to 33 ft (10m)
Voice Control to control your cam hands-free with voice commands like "GoPro, take a photo", and "GoPro, take a photo"
Live Streaming to share your videos to social media live as they happen
Shoot in stunning 4K60 Video and 12MP photos
Removable lithium-ion battery
Touch-sensitive 2-inch LCD screen
Vertical Portrait Mode for Social Media
Auto Backup to the cloud
8x Slo-Mo Video
Micro SD Card is required, sold separately
In The Box:
GoPro HERO7 Black Action Video Camera
Rechargeable Battery
The Frame (HERO7 Black)
Curved Adhesive Mount
Mounting Buckle
USB-C Cable
e-Manual
Pros:
Hypersmooth gives ultra-smooth footage
Uses the same cages and batteries as used on GoPro 5 & 6
New TimeWarp feature
Seamless smartphone integration
Cons:
Voice commands can be unreliable at times
No Microphone jack
Hypersmooth is automatically disabled in low light conditions
Battery life could be improved

2. Sony FDR-X3000/W Action Cam
Specifications:
*Weight: 114g  *Waterproof: 60m with included case  *4K video: 30fps (100mbps)  *1080: 120fps  *720: 240fps  *Stills resolution: 8MP  *Battery life: 2hrs 5mins
---
Sony has been producing SteadyShot capable Handycam camcorders for some time now and has refined the technology over the years to produce more stable footage.
Sony has managed to miniaturize its Balanced Optical SteadyShot (BOSS) technology to fit into an action cam.
The Sony FDR-X3000 offers optical image stabilization, something you don't get on a GoPro, which features digital image stabilization.
The BOSS technology is a completely floating lens unit that moves to counteract your hand or mounting position movements, which results in steadier footage and is widely regarded as superior to digital image stabilization.
Because the image stabilization is mechanical rather than electronic, it even works when shooting in 4K.
Another main factor that separates the Sony from most other action cans is the design. Rather than following the traditional form factor of a small box with a lens, Sony's action cams resemble little camcorders.
It measures 1.9″ high by 1.2″ wide by 3.4″ deep and weighs 4.1 ounces. It is finished in white and is resistant to dust and water. With the included waterproof housing it is rated to depths of 197 feet (60 meters).
Some people like the form, some don't, it all depends on how you use it. While it can't fit into the same tight spots as the box style, for dirt bike riders wanting a side helmet mounting, it's slim profile is ideal.
However, if you want to mount it to the helmet chin bar or chest, its extra length does make it protrude more. Sony's explanation is that they needed the length to fit the optical stabilization. Its shape does make it more ergonomic for hand holding.
Another feature I like is the standard tripod mount on both the body and external housing, which means you don't have to buy a lot of accessory mounts. If you already have GoPro mounts on hand you can still use them with the use of a small adaptor.
The FDR-X3000 is available in two models, the barebones FDR-X3000 and the FDR-X3000R, which comes with the Live-View Remote Control and a whole bunch of other accessories (Shooting Grip Tripod, Action Mounts, 64GB Card, Battery, Backpack kit)
Features:
Ultimate Image Stabilization with 'Balanced Optical SteadyShot' image stabilization which is significantly more effective than Digital Image Stabilization
Water-resistant body or use the included waterproof housing down to 197ft (60m)
Professional 4K quality ZEISS Tessar lens and Exmor R CMOS sensor
BIONZ X Image processor for smooth action up to 4K at 100 Mbps
Optional Live-View Remote (sold in kit version FDR-X3000R)
Tough body to endure harsh conditions is splashproof and freezeproof
Universal Tripod mount on cam body and also on Waterproof housing
Selectable viewing angle from Wide, medium, or Narrow
Adjust up to 3x smooth zoom mode while shooting
Built-in Wi-Fi, Bluetooth, NFC, GPS, HDMI, USB, and mic jack
12MP still images and up to 10fps in burst mode
Quality built-in stereo mic with wind noise reduction
Pros:
4K recording with optical stabilization
Powerful Zeiss lens and Exmor sensor
In-body Tripod mount
Good battery life (about 2hrs at 1080p 30fps and about 1hr at 4K)
Includes waterproof case
Excellent audio without the waterproof housing
Cons:
Monochrome information LCD only, but can be paired with mini-screen worn on the wrist (Live-View Remote Control)
Slow to power on when using the remote
Bulky waterproof case which reduces audio quality

3. Garmin VIRB Ultra 30 Action Cam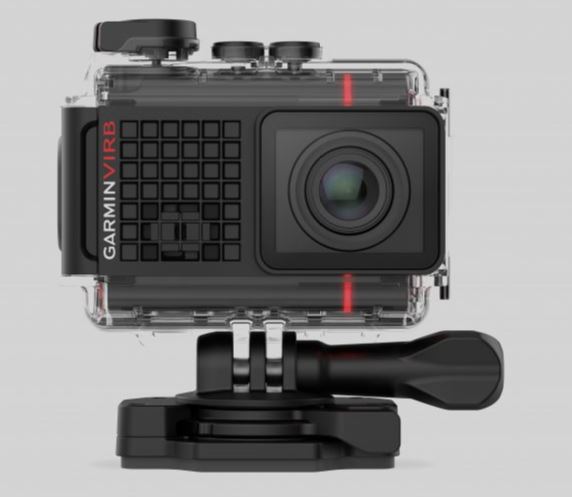 Specifications:
*Weight: 88g  *Waterproof: With included case  *4K video: 30fps  *1080: 120fps  *720: 240fps  *Stills resolution: 12MP  *Battery life: 2hrs 15mins
---
The Garmin VIRB Ultra 30 is the flagship action cam from Garmin. Similar to the VIRB XE it uses a similar form factor to the GoPro, but where the XE maxed out at 1,440p resolution, the Ultra 30 reaches 4K.
The original Garmin VIRB introduced motion sensors to the action cam market, and the VIRB Ultra 30 builds on that with 3-axis image stabilization, a 1.7-inch touchscreen, GPS capture, high-quality microphones, and a G-sensor.
It is popular with downhill mountain bikers because of the G-Metrix technology, as it captures performance data including speed, altitude, G-force, and heart rate: the latter if you pair the action cam with a compatible heart rate monitor.
Voice control is also one of the Ultra 30's key features. Voice commands can tell it to start, stop or pause filming, as well as 'remember that' to help with finding specific events.
The 1.75-inch LCD color touchscreen makes it easy to see what you are recording, and it functions inside the waterproof casing.
The camera comes with a waterproof case included which protects it for depths down to 40m. The microphone has a pass-through port that links to the external housing so that audio quality is not reduced.
A VIRB app is compatible with Apple devices, and you can activate YouTube HD live streaming.

Features:
Ultra HD Video for crystal clear 4K/30fps footage, 1080p/120fps or slow motion capability at 720p/240fps
3-Axis Image Stabilization which captures steady footage up to 1080p/60fps
G-Metrix Built-in GPS receiver, accelerometer, and altimeter, G force
LCD color Touchscreen 1.75-inch display
Wi-Fi remote control functions via smartphone
1/2.3-inch CMOS with 12 megapixels
Voice control to shoot hands free by using voice commands to start/stop/pause, take a photo or tag footage
Image stabilization (except 4K)
Sensor and peripheral connectivity via ANT+ and Bluetooth
Pros:
3-axis electronic image stabilization
Wi-Fi smartphone control including live streaming to YouTube
ANT+ and Bluetooth sensor connectivity
Voice control
Cons:
No image stabilization in 4K
Not waterproof without the case

4. Olympus TG-Tracker Action Cam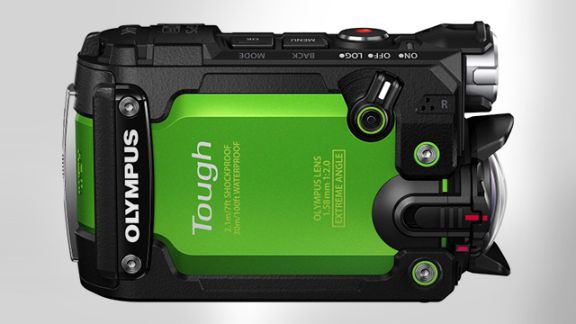 Specifications:
*Weight: 180g  *Waterproof: 30m  *4K video: 30fps  *1080: 60fps  *720: 240fps  *Stills resolution: 7.2MP  *Battery life: 3hrs
---
Olympus is a well-known camera company that has been around for decades. Like most brands, Olympus has entered the action camera market.
As a first-generation product, the TG-Tracker shows that Olympus can produce a unique action camera that stands out from the crowd in a very saturated market.
It seriously looks like it can take a beating and certainly stands out from the box type camera of its competitors. The design of the Olympus TG-Tracker is very similar to a miniature camcorder, it even sports a flip-out screen, which some people will like and some won't.
The TG-Tracker has a host of great features, including an ultra-wide 204-degree viewing angle, Digital Image Stabilization, 4K recording at 30fps.
There are five Action Track sensors to give context to your videos, including a barometer, GPS, eCompass, temperature sensor, and an Accelerometer.
It also has built-in Wi-Fi connectivity to make sharing easier.
The video quality stands up against some of the big-name action cams here, and at a comparatively low price point which makes it a good option if you want an all-rounder action cam without blowing the budget.
Features:
4K 30fps video capture
Dimensions: 93.2×56.5x35mm/3.67×2.22×1.37″
1.5″ LCD flip-out screen
5 Built-in sensors: GPS, eCompass, Accelerometer, Thermometer, Barometer,
LED headlight, Built-in WiFi
Digital Image Stabilization
Modes: Single shot, Burst, Time-Lapse, Continuous
204-degree extreme angle f2.0 High-Speed Lens
Waterproof to 100ft/30m without housing
Shockproof up to 2.1m/7ft, Dustproof
Ports: MicroSD with Class 10 & SDXC cards up to 128GB
Battery Life: 95 minutes of 4K at 30fps
In The Box:
Olympus TG-Tracker action camera
Strap, Mount Coupling Adaptor, Joint Screw, Standard Lens Protector, Steady Grip
MicroUSB cable, AC Adaptor
Pros:
Good price for all the tech
GPS and environmental sensors
Electronic stabilization works in 4K
Built-in 60-lumen light
Cons:
Ultra-wide lens leads to some distortion at edges
High frame rates limited to 720p
Mobile App can be confusing

5. GoPro HERO6 Black Action Cam
Specifications:
*Weight: 118g  *Waterproof: 10m  *4K video: 60fps  *1080: 240fps  *720: up to 240fps  *Stills resolution: 12MP  *Battery life: 1-3 hrs
---
If the GoPro HERO7 is a little more than you want to spend, but you love the GoPro HERO range, the HERO6 is a good cheaper option to consider. With the introduction of the HERO7, the price of the HERO6 has been significantly reduced.
It has most of the features of the newer HERO7 but you'll save yourself about $100 with the HERO6.
So what are the differences between the two? Overall the cameras are far more similar than they are different. There were a few key upgrades for the HERO7 which could potentially tip your decision between the two.
What does the HERO7 have that the HERO6 doesn't?
Timewarp video for stabilizing motion time-lapse
SuperPhoto for in-camera photo enhancing
960p video resolution
Short Clips, which are 15 or 30-second clips that are more convenient to share on social media
Portrait orientation when shooting video
Improvements to features for the HERO7:
Improved HyperSmooth electronic stabilization
Stabilization available at higher frame rates (eg 4K60)
Faster video framerates available at more resolutions
Tweaked menu system
HEVC encoding available for all video resolution/framerate combinations
The battery life is one thing that is significantly better in the HERO6. With the same kind of battery and recording modes, you'd expect the battery life to be the same, but in practice, the HERO6 is better. Possibly because of the ramped-up clock speed of the GP1 chip in the H7.
Externally they're basically the same, they're a slightly different shade of dark grey. The H6 has a lightly ribbed texture around the body, and the microphone hole on the top is slightly larger on the H7. They share the same weight, dimensions, buttons, compartment doors, and screens.
Both cameras can be controlled wirelessly with GoPro's mobile app using a combination of Wi-Fi and Bluetooth. Both cameras have voice control and are waterproof to 10m.
The most compelling reasons to choose the HERO7 over the HERO6 are the improved Hypersmooth video stabilization and the TimeWarp hyperlapse feature. Those aren't 'must-haves' for everyone, so when you consider the cost-saving of the HERO6, it may be a good option for you.
It's really good value considering the price has been reduced since the introduction of the HERO7.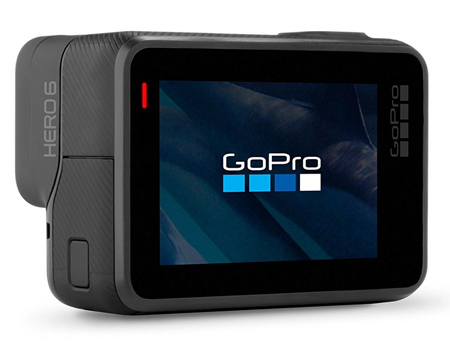 Features:
Hypersmooth Video Stabilization for gimbal-like stabilization to deliver smooth footage
Rugged and Waterproof even WITHOUT a housing up to 33 ft (10m)
Voice Control to control your cam hands-free with voice commands like "GoPro, take a photo", and "GoPro, take a photo"
Live Streaming to share your videos to social media live as they happen
Shoot in stunning 4K60 Video and 12MP photos
Removable lithium-ion battery
Touch-sensitive 2-inch LCD screen
Auto backup to the cloud
8X Slo-Mo video
Micro SD Card is required, sold separately
Pros:
Hypersmooth gives ultra-smooth footage
Waterproof to 10m without the case
Seamless smartphone integration
Cons:
Voice controls can be unreliable sometimes
Low light photos still need improvement in Auto mode
The touchscreen can be fiddly
Conclusion
You can't go wrong with any of the cameras here. They are all great at what they do.
Which action cam is best suited to your own particular needs is very subjective. The features like voice control, live streaming, or waterproofing that are important to one person may not be what others are looking for.
How you intend to mount your cam also has a large bearing on which is best for you.
As we're looking at the best action cam for dirt bikes, image stabilization, durability, and mounting versatility would be high on the priority list.
Top Pick: Sony FDR-X3000/W Action Cam. Why did I choose the Sony? Here are 4 good reasons:
The optical image stabilization of the Sony is superior to the electronic or digital image stabilization of most other cameras and even works in 4K. It puts Sony ahead of all of its competitors.
Sony's slim profile is well suited to top or side helmet mounting, perfect for dirt bike riders.
Sony's brilliant audio quality also sets it apart, and the external mic jack which the GoPro lacks is perfect if you want to rig up a helmet mic.
Battery life with the Sony is excellent, something which is still a problem in most others.
Best Budget Action Cam: Olympus TG-Tracker Action Cam.
The Olympus is tough, durable, and loaded with all the features of the more expensive cameras, all for about $200. It's Digital Image Stabilization even works in 4K. A name brand camera for a budget price.
Related Posts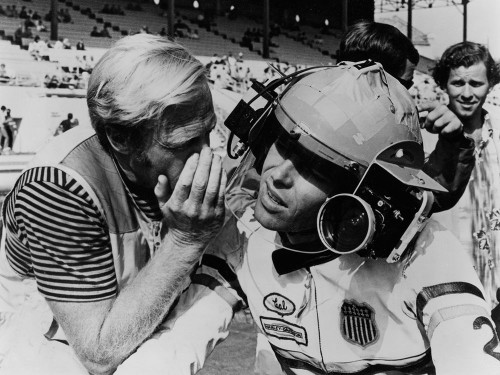 Action Cam Mounting Tips For Dirt Bike Riders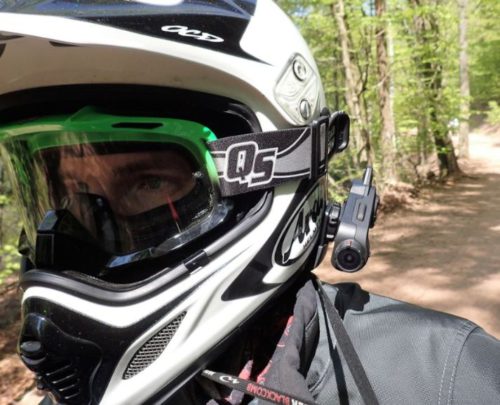 5 Best Motorcycle Bluetooth Headsets – Suitable For Dirt Bikes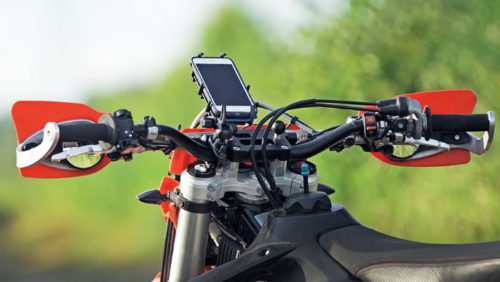 5 Best Motorcycle Phone Mounts – Tough Enough For Dirt Bikes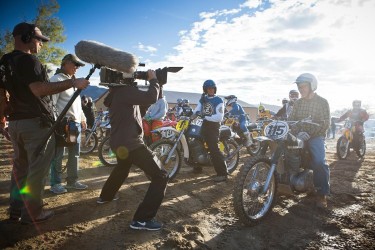 Dirt Bike Movies – 5 You Must See
Do you use an Action Cam? What is the most unique place you have mounted a camera?
Please follow and like us: