There's nothing worse than going to where your bike should be, only to find your pride and joy gone! So let's look at which is the best Dirt Bike lock available today.
There are so many motorcycle locks on the market today.  Most of them are more suited to street bikes because they are so often parked in highly visible locations, open to theft.
As dirt bike riders we face a different set of risks. Many dirt bikes have no key lock, no steering lock, and are not road registered so are very difficult for police to track. This makes them easy targets.
A determined thief with a bolt cutter or disc grinder can get past almost any locking method. The key is to make it enough of a hassle that they will look elsewhere for an easier target.
How to Choose a Dirt Bike Lock
Before you even spend any money on a dirt bike lock, there are many common sense steps you can do to reduce the chances of having it stolen in the first place.
Thousands of bikes are stolen every year. It's very rare to hear of someone getting their bike back, and if they do it's usually been thrashed and in need of repair.
Here are some prevention tips to take:
Record your bike's VIN number and engine number. You will need this information to give to the Police.
Get your bike insured. Although insurance doesn't prevent your bike from being stolen, it does give you some peace of mind when it comes to recovering the thousands of dollars you outlaid for your bike.
Take photos of your bike. It will help the Police and makes it easier to recognize.
Don't advertise the fact you have a Dirt Bike. The fewer people that know you have a bike in the garage the better. Don't leave the garage door open for hours on end. Work on and wash your bike out of sight from the street if you can. Plastering your car with dirt bike stickers also advertises the fact.
Set up your Garage security. If you are chaining your bike up, it is recommended to chain it to something immovable, like a Security Floor Anchor. It will stop thieves from wheeling the bike out or lifting it onto a truck or van. Loop the chain/cable through the main frame and through a wheel to make it difficult to move, rather than just a wheel that can be removed.
Be aware of who is around you. If you transport your bike on an open trailer or the back of a pickup, be aware of who is seeing you. Thieves are opportunists and see a bike being transported as a potential target. If you are in the pits at the track keep it in sight, bikes do get stolen there.
Immovable objects to lock to. If you're parking in the street is there a nearby lamp post or barrier to lock your bike to so that it can't be carried off?
For more prevention tips: Dirt Bike Security (Steps To Take)
Top 3 Things to Consider
Materials used:
Ideally, a chain that is made from case-hardened steel is much tougher and harder for a set of bolt cutters to get through.
Chains made from steel with a square or six-sided cross-section make it harder to cut with a bolt cutter.
Similarly, with a disc lock or padlock, a hardened steel shackle is the way to go.
Features:
If you are using a metal chain, one with a protective cover will prevent it from damaging your rims and frame.
Disc locks that feature a motion-sensitive alarm are definitely worth looking at. It's a small extra cost that has thieves running.
Brightly colored locks that draw attention can be all it takes to make them not even try.
Your Budget:
Like most things, you get what you pay for. The more you spend, the better security you get.
A cheap disc lock will act as a deterrent, but won't slow a determined thief for long. Ideally, a lock that features hardened or case-hardened steel has a better chance against bolt cutters. Evaluate your own set of requirements and look for the best lock within your budget.
Types Of Motorcycle Locks:
There are many different ways to secure your dirt bike, Each has its pros and cons.
Here are some of the best ways:
Usually a hardened steel chain with a nylon cover to prevent scratching the bike.
More secure than the disc lock and cable lock, but because of its weight, is more suited to securing your bike in the garage, where there is no weight issue if carrying it around in a backpack.
Fits through the holes in your front or rear brake disc. Probably the most common type of lock because they are compact, lightweight, and cheaper than other types of motorcycle locks.
The disadvantage of disc locks is that they don't anchor your bike to anything solid, so two people can lift the bike onto a pickup.
Motorcycle Disc Lock with Alarm:
Comes with an alarm that senses bike movement. A deterrent that may be enough to scare away opportunist thieves.
Allows you to anchor your bike to something immovable and solid. Usually made from a braided steel cable about 10mmm diameter.
A 2.5-foot-long cable will allow you to also secure a helmet to your bike, and a 4 to 7-foot-long cable will allow you to secure your bike to a floor anchor point or other suitable lamp post or rail. Make sure you run the cable through the frame and one wheel.
Cable locks are lighter and cheaper than chain locks, so easier carry around, but not as secure, and can be cut with ease by a bolt cutter. More of a visual deterrent.
A step up from disc locks. The advantage is that they are lighter than chain locks making them easier to transport. The shackle is a thicker diameter,  making it harder for bolt cutters to get a grip.
Make sure that the shackle is at least 15mm thick and hardened steel, with a secure locking mechanism
Fits over the handgrip and brake or clutch lever. They work by securing the brake or clutch lever to the handlebar grip. They are the cheapest and easiest to use, but also the easiest for a thief to bypass.
Not recommended if you are locking your bike in a high-risk area. Best used as a second line of defense in combination with another type of lock.
Has dual-purpose use because it allows you to securely transport your bike on a pickup, van, or trailer.
It can be paired with a lock to prevent theft.
If one lock is enough to slow down thieves, then two are better. If you combine a good disc lock with another form of lock like a chain lock, then the time required to get past two locks has to give you an advantage. One to lock the bike, and another to lock it to something solid so that it can't be carried off.
Best Motorcycle Locks
Here are 6 of the best motorcycle locks available, suitable for dirt bikes, street bikes, and bicycles, one from each of the most popular lock types.
After extensive research and reading all the reviews, these are among the best available in my opinion.
I hope this saves you some time and helps you make an informed decision with a lot of the groundwork having been done for you.
1.  AKM Anti-Theft Motorcycle Chain Lock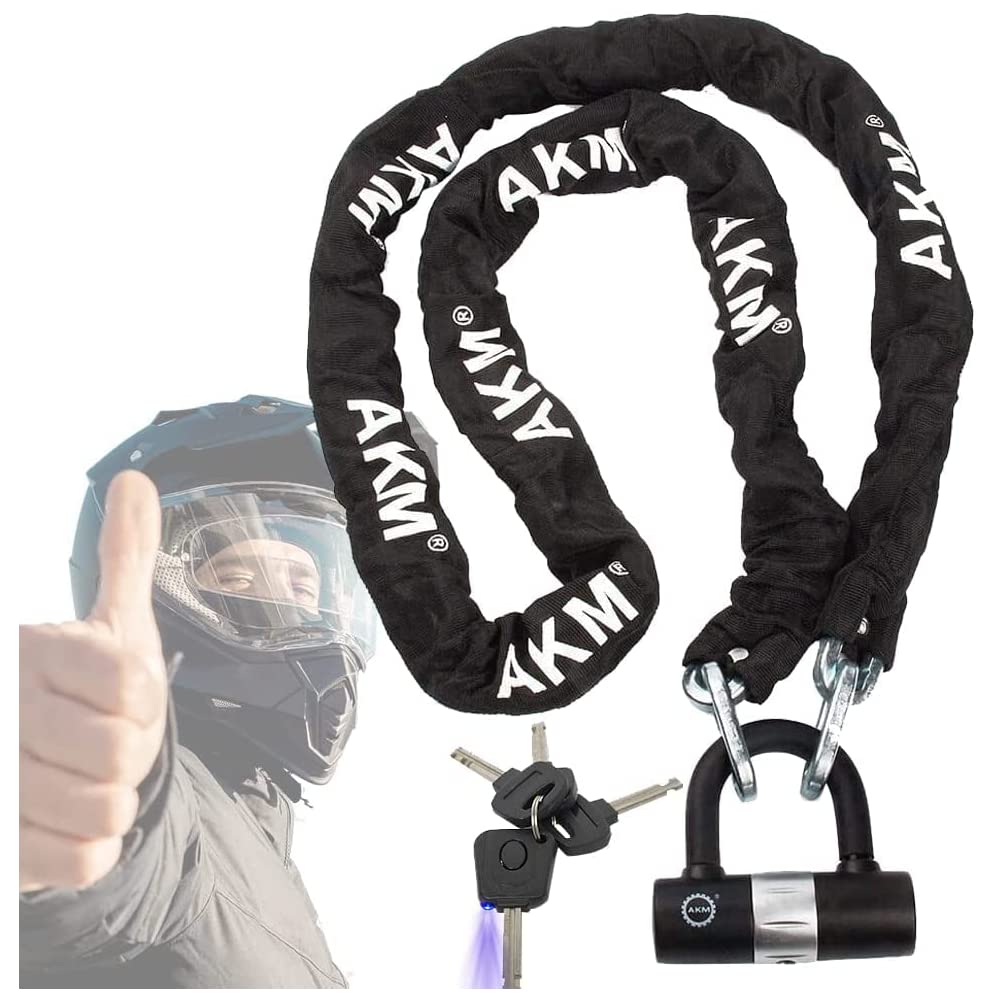 In researching dozens of the best heavy-duty chain locks and reading all the reviews, the main negative review on the big-name brands I found was that the chain was great, but the lock was the weakest link. Thankfully that is not the case with AKM chain lock.
The lock which can double as a disc lock comes with a 16mm diameter hard zinc alloy shackle that is resistant to cutting, sawing, and shearing. A simple twist insulates the lock hole from the elements. 4 individual keys are supplied, one with an LED light
The chain comes in lengths from 3ft/90cm up to 8.2ft/250cm with 10mm or 12mm diameter links which gives you a wide range of options. The links are 3T manganese steel which is hexagonal in section which makes it difficult for a bolt cutter to get a grip.
A nylon sleeve over the chain helps prevent scratches to your bike
Chain weight varies from 6.2lbs/2.8kg for the 3ft/90cm length, up to 14.7lbs/6.7kg for the 8.2ft/250cm
Pros:
Well priced
A multitude of uses possible with varying chain lengths available
The lock can be used on its own as a disc lock
Cons:
Weight can be an issue if transporting in a backpack, as with all heavy-duty chain locks
The lock must be closed to remove the key from the cylinder

2. Oxford Boss Disc Lock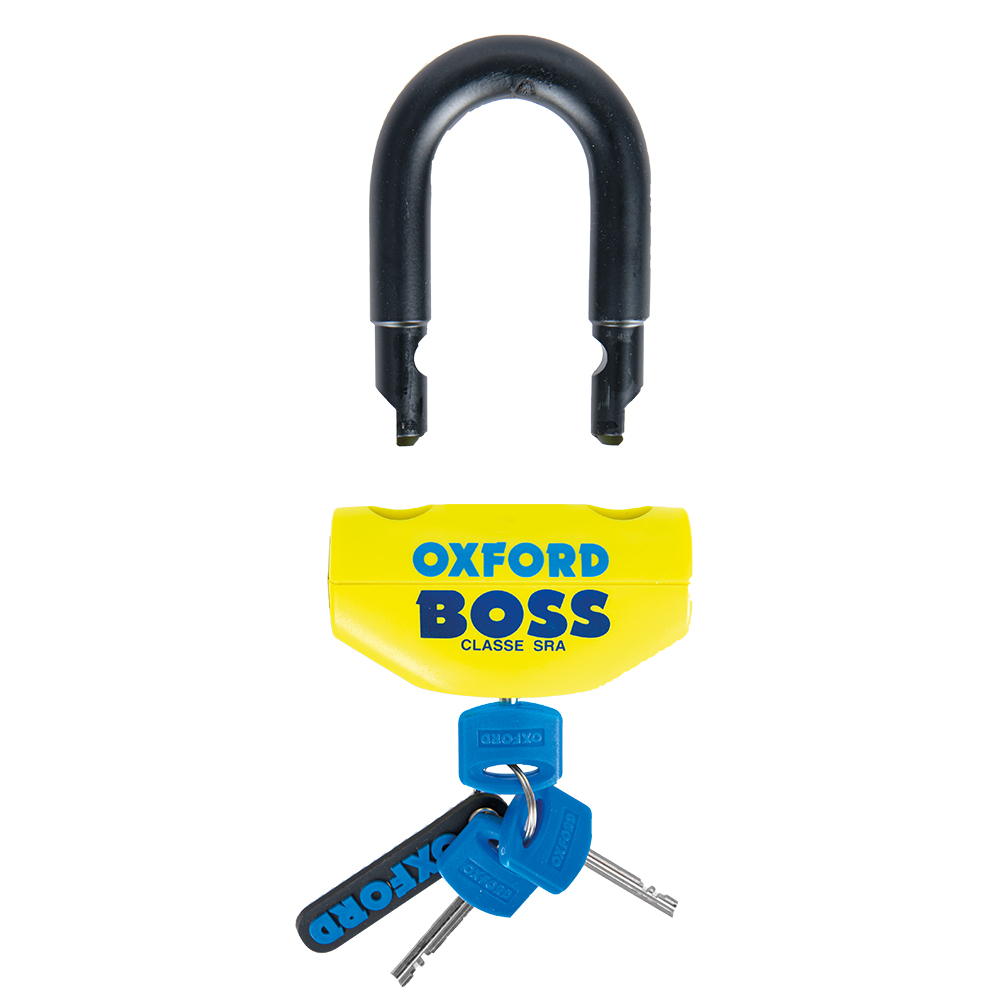 The Oxford Boss Disc Lock features a double lock mechanism with an armored casing. The shackle is a 16mm diameter hardened steel.
The Boss (16mm shackle) disc lock has been Independently approved and awarded Sold Secure Gold, SBSC Intygad Produkt, ART 4075, and Classe SRA.
Pros:
Cons:

3. XENA – XX6 Motorcycle Disc Lock Alarm Stainless Steel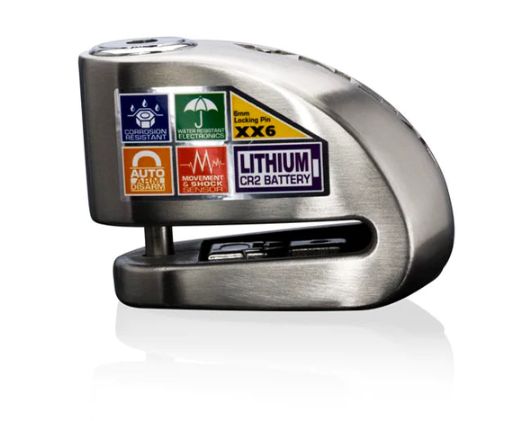 The Xena XX6 Disc Lock with alarm features a stainless steel body that is corrosion and ice-spray-resistant.
The lock is a pushdown locking system with a 6mm hardened steel pin.
The alarm features a 120dB alarm, Auto arm/disarm, and replaceable alarm module with shock and movement sensors.
Pros:
Cons:

4. Via Velo Heavy Duty Bicycle U-Lock with Cable
Here is a U-Lock that comes with a cable that gives you the 2-in-1 versatility to use just as a U-Lock, or with the cable to allow you to secure your bike to a suitable immovable object.
Although intended as a bicycle lock, this would be also suitable for use in securing a Dirt Bike.
It features a 14mm diameter hardened steel shackle, combined with a 10mm diameter by 5'10″/1800mm woven steel cable. It also includes a mounting bracket for mounting to a bicycle frame.
Technical Specifications:
9.84″/250mm length x 5.51″/140mm width x 0.55″/14mm diameter including rubber casing, heat-hardened steel shackle protects against cutting and leveraging.
Shackle steel hardness (Rockwell scale) HRC50-HRC58 (through-hardened); cutting force strength 34.3 kN; pulling force strength 29.3 kN.
The tough double-bolt crossbar locking mechanism offers twice the security against prying and jacking.
Pull and drill-resistant lock cylinder.
Pick-resistant lock stops knocking and bumping.
Flexible 10mm diameter by 5'10″/1800mm woven steel cable with a smoke-grey transparent PVC coating long enough to secure wheels and frame to an immovable object.
A convenient mounting bracket included ensures safe and compact storage for cycling use
2 keys specially designed to be difficult to copy.
Product weight 3.2 pounds (1.45 kg)
Lock Debris cover keeps debris out of the lock. PVC protective coating to protect your bike from scratches and resist corrosion
Pros:
2-in-1 use
light weight for carrying in a backpack
Well priced
Cons:
Any cable will not stop bolt cutters

5. ABUS U-Lock Granit Extreme 59 Bike Lock
The ABUS U-Lock Granit Extreme 59 Bike Lock is also suitable for dirt bikes and other types of motorcycles.
The hardened steel shackle is a 16mm square profile (19mm with the coating), which makes it difficult for bolt cutters to get a grip. Being a larger diameter than most chain links gives this U-Lock excellent security.
The 17″/42cm overall length gives you multiple options to be able to fix your bike to something immovable, or through the wheel and frame.
Features:
16mm square parabolic shackle (19mm with coating)
Double-locking mechanism securing the shackle in the lock body
The shackle, lock body, and structural parts of the locking mechanism are manufactured using specially hardened steel
ABUS XPlus cylinder for exceptionally high protection against picking
Two keys are included, one of which is an LED torch key
Manual cover to protect the keyhole from dirt and corrosion
ABUS Code Card for additional and replacement keys
Pros:
Heavy-duty shackle and lock body
Large enough to secure to post or rail
Cons:
Locks require regular lubrication

6. THE BULLY LOCKS GRIP LOCK
The lightest and most convenient type of lock. The high visibility makes it a great visual deterrent, and you won't forget it's in place and ride off with it like so often happens with a disc lock.
It is made from case-hardened steel with a reinforced nylon housing and is adjustable for 27-38mm grips and different lever lengths.
Riders should use this mainly as a visual deterrent if they're in a safe location, or in combination with another form of locking device if in a high-risk area.
Pros:
light and convenient
High visibility
Cons:
Not as secure as other forms of locking devices

7. Lock N Load Dirt Bike Wheel Chock System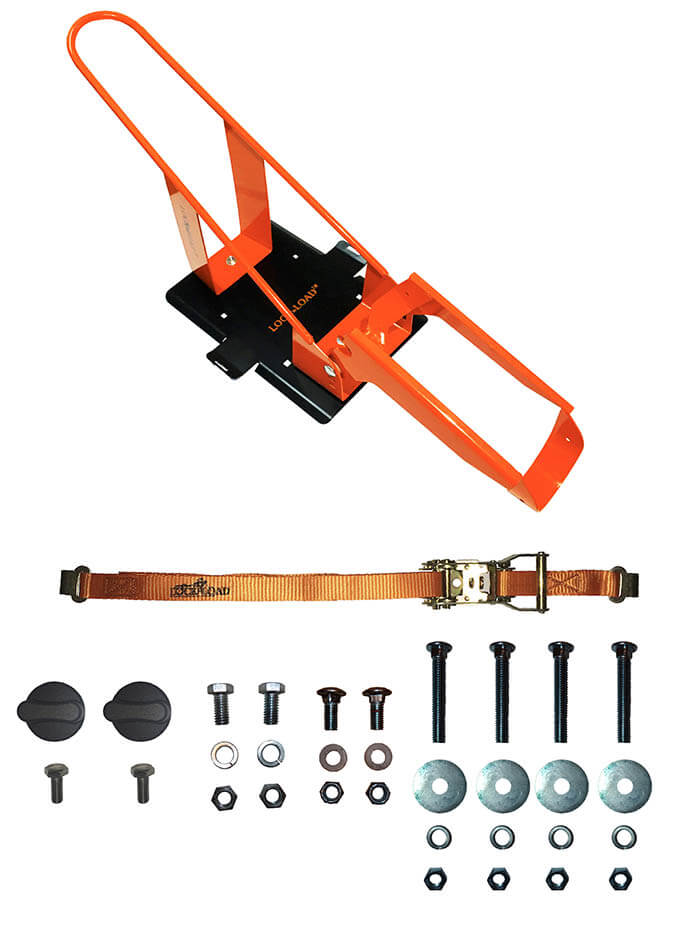 The Lock N Load Wheel Chock System has a dual-purpose use because it allows you to easily load and transport your bike on a pickup or trailer, and paired with one of the locking systems above, keeps the bike secure while being transported.
The BK500 is designed to snugly fit the front tire of all Motocross, Dual Sport, and Enduro bikes. A front tire tie-down strap and all the bolts and fittings are supplied.
The Quick-Disconnect system allows you to move the wheel chock between Garage Stand and Trailer/Pickup stand.
Pros:
Allows you to lock your bike to something solid
Keeps your bike upright to work on for garage use
Front wheel straps mean no compressing of forks to tie down
Cons:
Would recommend additional straps to footpegs or rear wheel when transporting

Summary
Even the best locks available from reputable, well-known brands like Kryptonite, Oxford, or Xena which have literally thousands of 5-star reviews, still have one or two negative reviews.
Either it works and your bike doesn't get stolen, or it fails, and your bike gets stolen. A determined thief with a disc grinder will get past almost anything.
Each lock type here has its pros and cons. The best setup is to use two or more lock types, one to lock the bike, and another to lock it to something immovable.
Combine that with the Prevention Tips above, and you've done all you can to safeguard your pride and joy.
Related Posts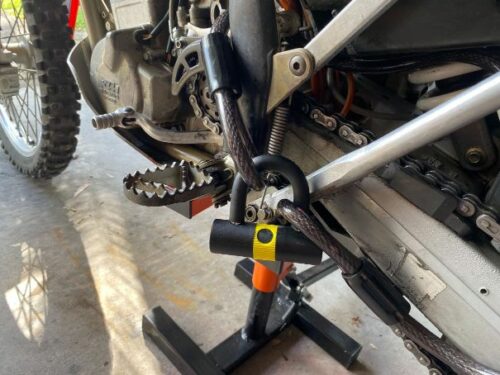 Dirt Bike Security Guide (Steps To Take)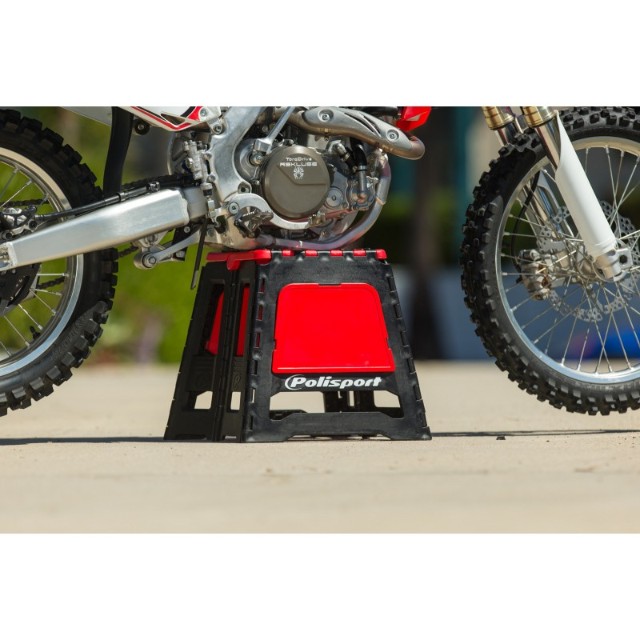 Best Dirt Bike Stands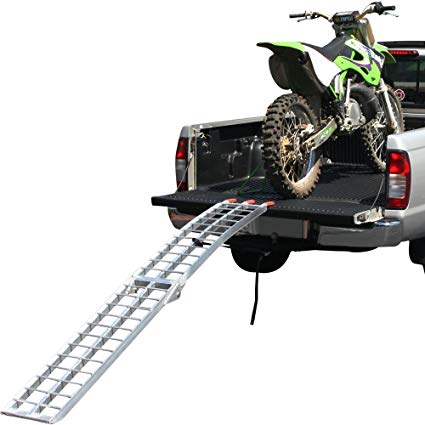 Best Dirt Bike Loading Ramps
  Best Motorcycle Hitch Carrier
Is there a motorcycle lock that has served you well and can highly recommend? Let us know your thoughts in the comments below.
Please follow and like us: