As dirt bike riders, we all remember the excitement of getting our first pair of new boots. Now as parents buying our kids dirt bike boots we get to live through that excitement again with our kids.
Whether we started riding as a kid, in our teens, or later in life, we can remember that new boot smell and wearing them around the house to break them in.
Most kids get into dirt bike riding because the family is already involved, in which case you will have a good idea of what you're looking for in boots.
If not, and you're new to the sport, this article will save you some time and help you find the best kids' dirt bike boots available for your child.
All of the boots included in this review are up to the same standards we would look for in adult boots.
They range in price from $109 up to $200 and include boots for the little kids, up to more experienced Youth riders.
Quick Summary:
Fox Racing Comp Kids MX Boots
Fly Racing Maverik Kids Boots
Alpinestars Kids Tech 3S Boots
Alpinestars Youth Tech 7S Boots
O'Neal Youth Rider Boots
O'Neal Youth Element Boots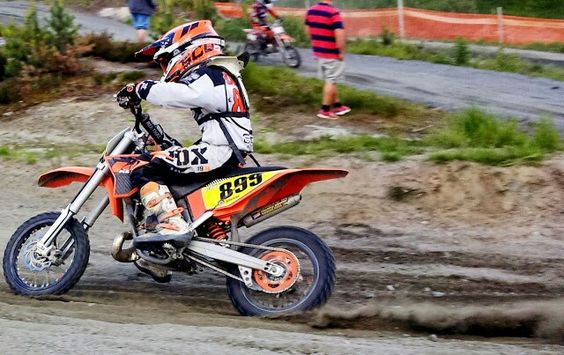 How to Choose Kids Dirt Bike Boots
Top 3 Things To Consider:
1. Safety Features:
Obviously, safety is the number one reason to wear dirt bike boots. Your child's legs from the knee down are especially prone to injury, especially in off-road riding.
Good boots protect your child's feet and ankles from being crushed between the ground and the engine and footpegs. They also protect the calf from the hot engine parts and exhaust, and from impacts.
Even without a fall, the feet and ankles need lots of protection.
Look for boots with ample TPU protection to the shin, ankle, and toe box.
A heat-resistant protective panel to the inner (medial) side of the boot is also an essential feature. It also doubles as a panel to aid grip and control of the bike.
A good outer sole is essential. Developments in recent years have now given you a choice between two sole types. The old-school stitched-on type sole, and
the bonded sole. It's a matter of personal choice as to which is better.
2. Boot Comfort:
Choosing boots of the correct size and fit and that are comfortable is vital. If your child isn't comfortable in their bike riding gear they will not want to wear it.
Comfortable boots not only make riding more enjoyable but also helps them become better riders.
An important part of boot comfort is flex at the ankle. It allows a good feel of the gear shifter and brake lever to control the bike.
Boots that are too stiff can make it difficult to feel the click of your shifter's movement. A boot that has adequate ankle flex is essential.
3. Your Budget:
As with anything you buy, you must first decide how much of your hard-earned cash you want to spend on your child's boots.
Obviously, the more you spend, the more protection you get. As with helmets, the technological developments in recent years have meant that some of the features once found in higher-priced boots are finding their way into mid and entry-level boots.
Common Features To Look For:
A buckle system that your child can easily use
A Slim Toe box to aid gear shifting
Impact-resistant TPU panels in hard-wearing areas
Flexible movement at the ankle and Achilles accordion flex zones
Medial side heat resistant panels- usually leather or synthetic leather
Interior ankle padding for comfort
Lateral ankle protection
Here are 6 of the Best Kids Dirt Bike Boots available today:
1. Fox Racing Comp K Boots
Designed based on the championship-proven adult's Instinct boot, the Kids Comp boot offers instant comfort. They are suitable for MX, trail riding, or any off-road use.
An internal lace system gives a custom fit around your child's ankle. A TPU shin plate, toe cap, and calf guard give young riders full coverage where the boot needs it most in hard-wearing areas.
Two buckles that allow easy entry and removal are designed for child-friendly use.
Leather panels to the medial side of the boot provide heat resistance and a good grip of the bike.
As your child's feet grow, the insole can be removed to give more room and longer use of the boots before going up to a larger size.
Features:
Recently updated design with new rubber outsole
Medial leather panels for better grip of the bike
Shorter height for flexibility and a better fit for kids
Top-boot gaiter to keep debris out
Easy-to-use buckles that are child friendly
Reinforced TPR shin plate for added protection
Removable insole allowing for growing room
Recommended use: Ages 4 – 6
Pros:
Good Price
Light and flexible – ideal for littlies
Cons:
Sizing on the small side. Best to go one size up from your shoe size
Sometimes unavailable on Amazon. Alternative link to Fox Racing
2. Fly Racing Maverik Kids Boots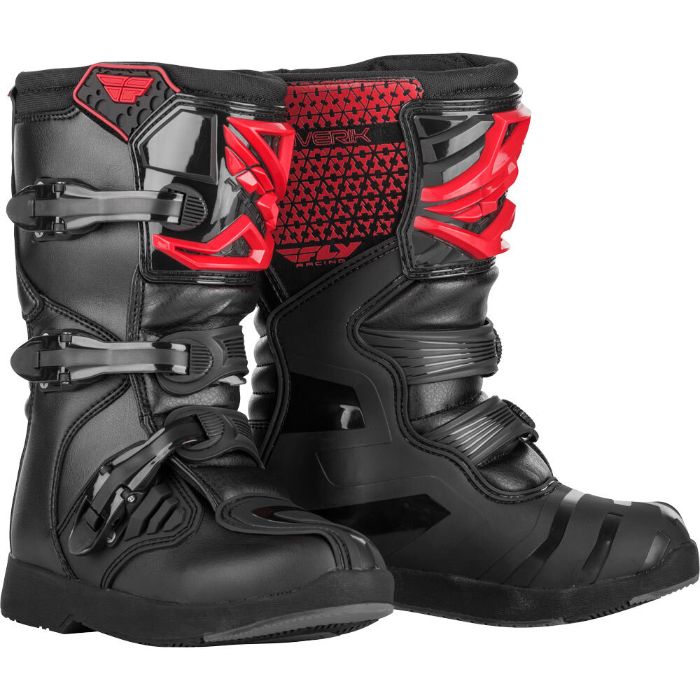 Fly Racing uses the same quality materials and components and features in their kids' gear as they do in their adult gear.
The new Maverik is ideal for use in motocross, trail riding with the family, or ATV riding.
They offer excellent foot flexibility due to the articulated ankle, which makes brake and gear shift movements easier. This is an important feature especially for kids who are just getting used to the feel of motocross-style boots.
The molded outsole gives a stylish slim look and the rubber compound to the sole helps keep a grip on the pegs.
They offer a good level of inner and outer ankle protection which is vital because this is the area that needs it most.
The heat shield to the inner calf is an essential feature and also offers a good feel of the bike.
Another important factor is the CE-approved rating, a desirable feature in dirt bike boots given the hard-wearing use they receive.
Features:
CE Approved to EN13634:2015
Molded outsole provides a modern stylish look and helps to keep the weight down
Outsole rubber compound provides a good grip on the pegs while remaining durable
Rubber heat shield is durable, resistant to melting, and provides a good grip on the bike
Elastic gaiter provides a comfortable rim around the calf while sealing the boot from debris entry
Innovative one-piece plastic injected fishtail midsole
Construction:
3D molded plastic shift panel with added texture at the tops of each foot that saves the boot from premature wear and helps with shifting
Articulated rear ankle provides subtle flexibility to foot movement, yet still provides support
Pre-shaped molded plastic 3D shin for impact resistance and comfort
Inner ankle protection is provided by durable plastic panels
Fit:
Adjustable quick-lock buckles provide a secure feel and an open design keeps dirt from clogging the function
Pros:
CE Certification
Articulated ankle movement
Cons:
Sizing on the small side. Best to go one size up from your shoe size.
3. Alpinestars Kids Tech 3S Boots
Here's another boot for the littlies. It is specifically designed for entry-level PeeWee riders. The new 2021 Tech 3S incorporates many of the features found in the Youth and Adult Tech 7 boots.
The two-buckle system is used on the kids' boots, making it easy for them to fit. The top fixing at the gaitor is velcro.
They are reasonably priced and being Alpinestars you know you're giving your child the best protection possible.
Features:
Constructed using coated leather upper and suede
Designed specifically for junior riders
3-stage instep flex zone for maximum comfort, control, and support
Exclusive rubber outsole design with unique side-wrapping design
External suede panel located on calf area of the boot to provide grip against the bike
Removable anatomic footbed
External PU shin guard for a high level of impact and abrasion resistance
Protection:
Internal toe and heel protection PU reinforcement molded into the inner structure for enhanced protection
Internal ankle protection molded into the internal construction of the boot
External PU molded toe protector providing the ultimate in grip and safety
Pros:
True to size.
Exceptional comfort and easy for littlies to put on and buckle up themselves.
Cons:
Can be a little stiff at first. Need a break-in period.
4. Alpinestars Youth Tech 7S Boots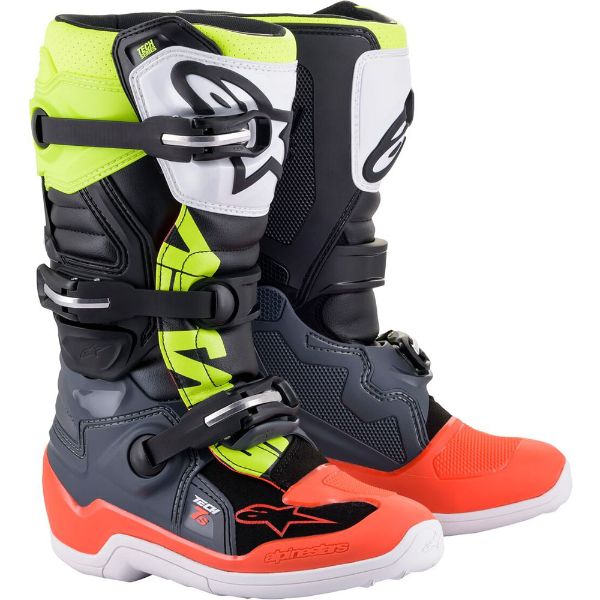 The Youth Tech 7S would be one of the most advanced youth boots available. The men's Tech 7 is used by top professional riders worldwide so you're giving your child the best possible protection with the Youth Tech 7S.
The Youth boot has been specifically designed for younger and smaller framed riders.
A key feature is the lateral pivot system which gives excellent flexion at the ankle. This gives a better feel of your foot brake and gear shift levers while also offering excellent support.
The Tech 7S is at the upper end of the Youth boots price range, but you know you're buying the best protection possible.
They are well suited for motocross racing or trail riding, whatever your use, they can handle the toughest terrain.
Features:
Excellent flexion is provided by a low profile medial and lateral pivot system to offer movement and support
Instep and Achilles accordion flex zones constructed for superior control and support
Compound sole is seamlessly integrated into the base structure for superior durability, high-performing rubber grip patterning, and feel. The sole is replaceable
Removable anatomic footbed for comfort and support ensures even weight distribution
Textile mesh with open cell foam for improved air circulation and comfort
The buckle closure system incorporates polymer and fiberglass buckle arms and high-impact aluminum bridge closures for durability and weight saving
Buckle system features memory and a quick release/locking system with a self-aligning design for easy, precise closure. All buckles are easily replaceable
Pros:
Lateral Pivot system
Top of the line
Cons:
5. O'Neal Youth Rider Boots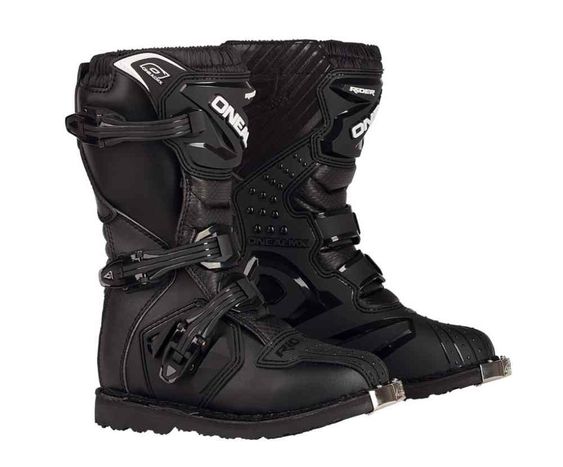 The O'Neal Youth Rider boot is an entry-level boot with a budget price that is perfect for a young rider just getting into dirt bike riding.
It's suitable for motocross racing, trail, or ATV riding and includes the same features as the adult Rider boot.
The adult Rider boot is my personal choice of boot which I have been using for about a year now, so I have no hesitation in recommending them.
The Youth Rider boot offers all the features of the adult version.
You can read the full user review in the post: O'Neal Rider Boots Review – A Great Entry Level
Features:
Injection-molded plastic plates for impact protection
Metal shank insert which reinforces the shape of the boot and adds support
Snap-Lock adjustable three buckle closure system
Stitched welt sole construction is properly balanced with no unstable rocking
The front metal toe guard prevents the sole from delaminating.
Moderate grip sole for MX, Enduro, Trail, or ATV
Extra comfort with an air mesh interior, generous heel support, and cushioned insole
Inside leg synthetic leather heat shield
Replaceable straps and buckles which are easy to operate
Rear pull tab for ease of fitting
Safety standards: EN 13634:2017
Pros:
Safety standard certified
All the protection features normally found in higher priced boots
Cons:
Buckles can be a little stiff to operate
6. O'Neal Youth Element Boots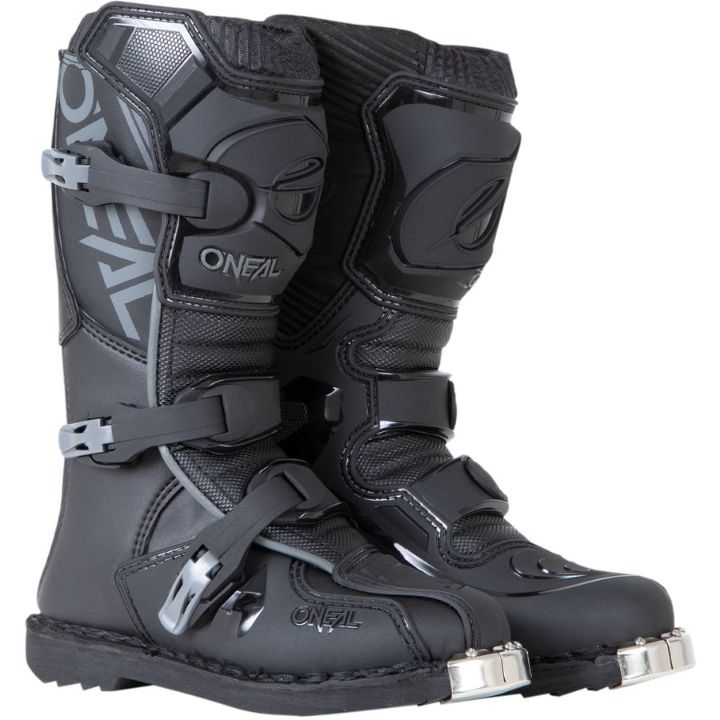 The Element Boot is another popular O'Neal boot that delivers excellent protection and performance thanks to the metal shank reinforcements paired with the injection-molded plastic protective plates.
It is ideal for all types of off-road riding from motocross to trail riding and ATV.
I personally have owned two pairs of the adult Element and had years of trouble-free use from each of them.
They have the stitched-on type sole, as opposed to the molded sole. It's a personal preference, but I've never had this type of sole fail on me.
Element boot is ideal for the whole family.
Features:
Injection-molded plastic plates protect against impacts.
Metal shank insert reinforces the shape of the boot and adds support.
Easy to operate, Snap-Lock adjustable three buckle closure system.
Durable Goodyear welt sole is properly balanced with no unstable rocking.
Metal toe guard to protect the sole against delaminating.
Moderate grip sole is great for track, trail, and ATV riders.
Air mesh interior, generous heel support, and cushioned insole for extra comfort.
Synthetic leather heat shield to prevent heat damage and aid in bike grip.
Replacement straps and buckles are available.
Pros:
Good Price
All the protection features normally found in higher priced boots
Cons:
Sizing on the small side. Best to go one size up from shoe size.

Final Thoughts
Selecting the right kids dirt bike boots to suit your own child's needs can be daunting with all the features available these days.
Thankfully, many of the features you find in adult boots are now also available in the kids' boots range.
Top Picks
You can't really say that one boot here is better than all the rest. It all depends on what age your child is, and the type of riding they do.
The boots in numbers 1 to 3 are kids' boots suited to very young riders and the Youth boots in 4 to 6 for older riders with a few years of riding experience.
The higher-priced boots of the Alpinestars Kids Tech 3S and the Alpinestars Youth Tech 7S would be the top pick of each age category.
That is not to say that the lower-priced boots of the O'Neal, Fox Racing, and Fly Racing would not be a good choice.
If your child is just starting out with their first few rides, you don't know if they are going to stay with the sport, so going with a more budget-friendly boot is the obvious choice.
You can always upgrade to a higher level boot when they grow out of them and you know that they are going to keep riding.
The gear selected above is all reasonably priced and of good quality from known and respected brands. I would be happy to put my own kids in any of this gear.
Hopefully, the information in this post can save you some time, with the groundwork and research having been done for you based on my 30 plus years of riding dirt bikes.
Related Posts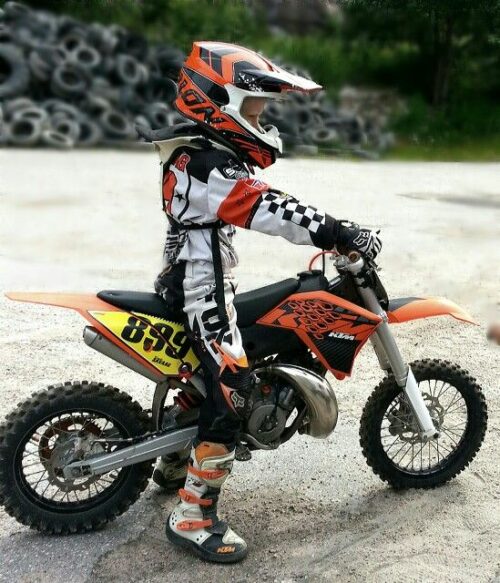 Kids Dirt Bike Boots Buying Guide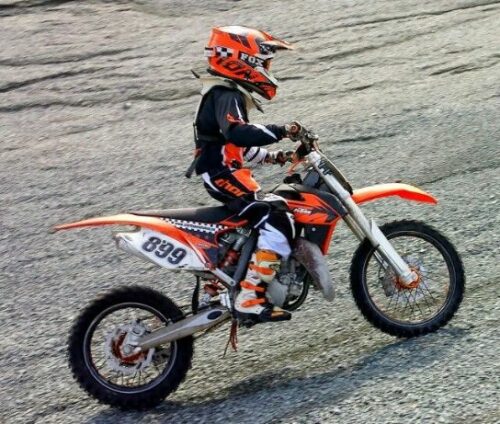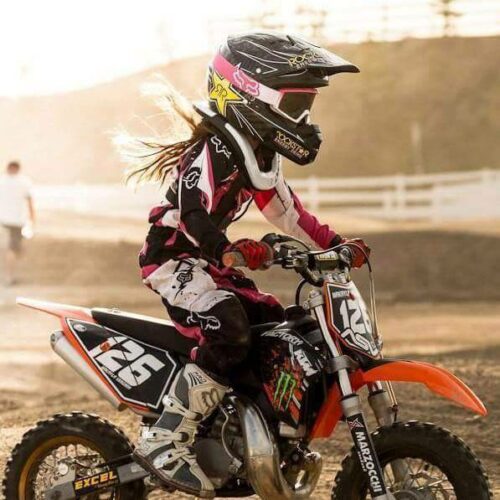 Kids Dirt Bike Helmets – Your Complete Buying Guide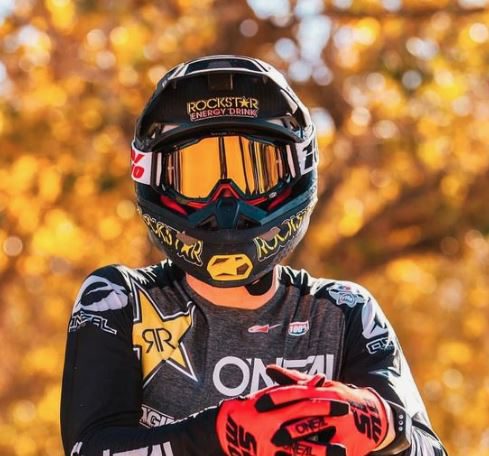 Dirt Bike Goggles – Your Complete Buying Guide
Are there any boots that you can recommend that should be included here? Please feel free to share your thoughts below.
Please follow and like us: