Electric dirt bikes or e-dirt bikes are rapidly growing in popularity. We are starting to see some major dirt bike brands getting on board to produce an electric dirt bike.
You can enjoy the benefits of an electric-powered bike while still getting the thrills of off-road riding as you do on your regular gas-powered dirt bike, but without the emissions.
There are many advantages to an electric dirt bike:
Zero emissions: A huge benefit when you consider the tightening emission laws, especially with two-stroke motorcycles.
Less Maintenance: No more regular oil changes, engine rebuilds, and air filter cleaning.
Less Noise: This is a huge factor when riding in forests or near other people. Many motocross tracks have closed or moved further out because of sprawling residential areas closing in on existing tracks.
Lower Running Costs: An electric motor will not require the same level of maintenance as an internal combustion engine (ICE), and there is no fuel and oil to be purchased regularly.
More Torque: 100% of their torque is available straight off the line.
The Disadvantages:
Purchase Price: E-bikes have been more expensive since their inception. A low-end e-bike can retail for as much as a top-end ICE bike.
Battery life: This has always been an issue for a lot of people. A lot of the extra cost is in the battery. Buying extra batteries may not be an option for a lot of electric motorcycle buyers.
Electric Dirt Bike Buying Guide – How To Choose
Choosing the right electric dirt bike to suit your particular needs can be confusing. There are a lot of specifications to go through, and they vary wildly.
It is important to understand a few basics before choosing:
Charging Time:
The charging time is always specified with the bike and can range from about 1.3 hours for a bike like the KTM Freeride EXC up to 9.7 hours for the ZERO FX ZF7.2.
Obviously the shorter the charge time, the better. A swappable battery is a definite advantage, as it allows you to keep a fully charged battery at the ready.
This will be a common feature as electric bikes become more common in motocross, and the battery can be easily swapped out between races.
KTM has been using their 'hot swappable' batteries in the FREERIDE E-XC for several years now. Riders can lift the seat and swap the battery in seconds.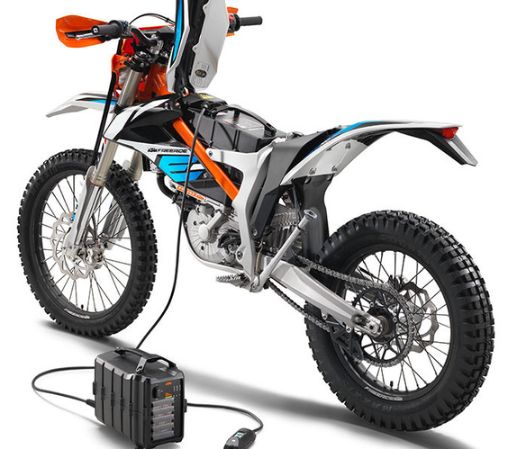 Range:
This is simply the distance the bike will travel on a single charge. Several factors influence this, most importantly the capacity of the battery pack.
Manufacturers specify this as an estimate in either minutes or distance traveled in km/miles. Other factors like how hard/fast you are riding, the motor size, power requirements, and the temperature you are riding in will affect this.
It is important to be aware of these estimates before you decide to buy.
Power:
The power of an electric bike varies considerably depending on the type of bike. You need to consider this based on your own previous experience with motorcycles and the type of riding you want to do.
The lightweight, almost mountain bike style e-bikes like the Bultaco Brinco R at 2 KW, the Sur-Ron X at 6 KW, and the Cake Kalk OR at 11 KW are ideal for inexperienced or lightweight riders.
If you are more experienced with gas-powered dirt bikes and used to an abundance of power, then the more powerful bikes like the ZERO FX ZF7.2 will be more suited to you.
You will still have to adjust to the instant torque, and no clutch characteristics of an electric bike though.
Seat Height:
Choosing a bike with the right seat height is crucial to your riding comfort and enjoyment, especially if you are purchasing a bike for a child.
Seat height is always listed in the specifications for the bike. The general rule is that you should be able to just touch the balls of your feet on both sides of the bike, with all of your weight on the bike.
If you can sit on the bike with both feet flat on the ground, then you are too big for the bike.
If you are looking for a bike for a growing child, you can allow a little bit for growth, like being able to touch one foot on the ground. You don't want to be having to buy another bike in about a year because they have outgrown it.
Below is a guide to help you match seat height to your child's age/height.
There are adjustments you can make to lower a dirt bike seat height, as outlined in this post: How To Lower a Dirt Bike Seat Height
Maximum Speed:
Maximum speed varies between models. Adult E-Dirt Bikes can have a top speed of between 34 to 84 mph (55 – 135 kph).
Kids electric dirt bikes have a lower maximum speed of between 13 to 17 mph (20 – 27 kph).
Speeds vary due to factors like rider weight, in-built speed settings, and options at purchase.
Weight:
The weight of electric dirt bikes varies greatly depending on the type of bike you are looking at.
The lightweight bikes like the Kuberg FreeRider weighing 36kg/79lbs, or the Bultaco Brinco at 39kg/86lbs would be more of a motorized mountain bike than a fully-fledged motorcycle, so are very lightweight.
When you compare them to the full-scale motorcycles like the ZERO FX ZF7.2 at 131kg/289lbs, or the KTM Freeride E-XC at 110kg/245lbs, then the weight increases dramatically. They weigh as much, if not more than an ICE (Internal Combustion Engine) bike.
It is a good idea to try out a bike before you buy it as a comparison to other bikes you have ridden.
It all depends on the type of riding you want to do, the terrain you ride, and your own bodyweight as to what is best suited to you.
Weight Limit:
Most e-bike manufacturers also specify a weight limit, which may be as low as about 70 kg (152 lbs) for an adult bike right up to about 155 kg (341 lbs) for a larger bike like the ZERO.
Advances in material technology in recent years now allow some pretty heavy loads to be placed on lightweight alloy materials, so some lightweight bikes can withstand high loads.
Look at the modern motocross bikes and the forces they withstand from massive jumps. Older bikes from decades ago would have broken in half if subjected to those loads.
Price:
Even before you start looking at the specifications of the E-bikes available, you need to consider your budget first. This will give you a range of bikes that are in your price range and eliminate those that are not, narrowing down the options, and saving you some time.
Prices can range from about US$5000 up to about US$14,000 for adult bikes, and for kids' bikes from as little as US$200 up to about US$1,800.
Electric Dirt Bike Batteries
Battery technology is constantly changing and improving. They are becoming lighter, smaller, and with longer ranges.
Most batteries used in electric dirt bikes are Lithium-Ion batteries. There are many different types and all have their own advantages and disadvantages.
They last longer than the old-style lead-acid batteries, but they do require specialized equipment to manage them.
Swappable batteries like used in the KTM Freeride E-XC allow riders to quickly swap the battery with a fully charged battery and get back to riding. This will be a common feature in years to come.
Electric Dirt Bikes For Kids
Razor MX650 Dirt RocketMost of the electric motorcycle manufacturers are producing bikes targeted at the kids market, so there is quite a selection to choose from.
There are a lot of advantages to choosing an electric bike for your child to learn on:
Versatile Power Delivery:
Most of the kids' electric bikes have 'tuneable' power. This means that the bike can be detuned to be really mellow and easy to use when they are just starting off.
As they gain more experience and become more confident, you can simply increase the power to suit their skill level.
Environmentally Friendly:
One of the biggest advantages of electric dirt bikes is that they don't make any noise. You can ride them almost anywhere, the local park, or any open space in your neighborhood.
You're not going to get noise complaints from neighbors or people nearby.
The noise factor with dirt bikes has always been an issue when it comes to finding places to ride. Some electric dirt bikes are street legal, so they can also be ridden on the road, like the KTM Freeride E-XC (can be made street legal in some USA states) and the Zero FX.
Easy to maintain:
Electric dirt bikes don't need anywhere near the same amount of maintenance as a petrol-powered dirt bike. No spark plugs, no oil changes, and engine rebuilds, no coolant, and no air filter cleaning.
There are still the basics like chain, brakes, suspension adjustments, and then you just have to make sure that the battery is charged. This is a big deciding factor for parents when considering whether to get them into dirt bikes.
Easier to ride:
No clutch or gear shifting. Great for kids just starting out. Since you don't have gears, there is no need for a clutch.
Some Concept Bikes We Hope To See In Production:
Yamaha Electric Motocross Bike – Prototype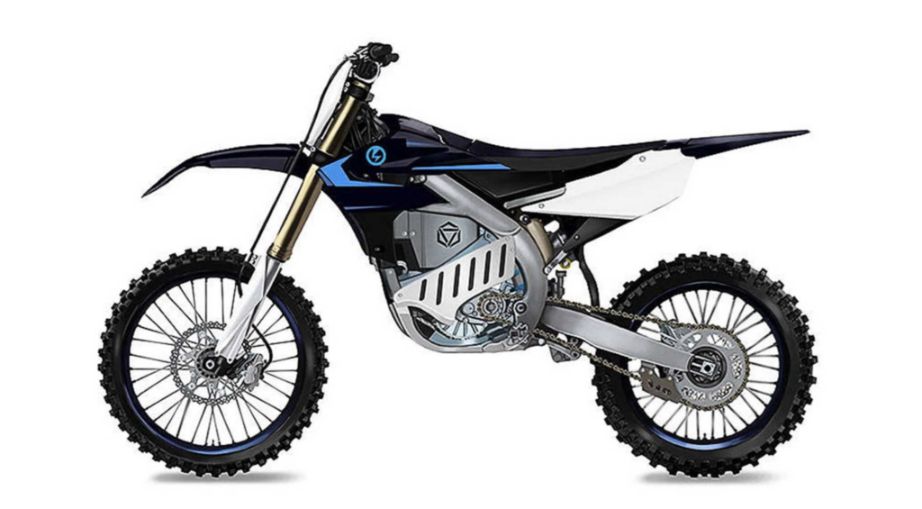 Yamaha Motor Europe has produced a prototype electric motocross bike in collaboration with battery system manufacturer SPIKE (now called ELEO), Dutch engineering company DOHMS Projects, and the Royal Dutch Motorcyclists Association KNMV.
The electric motor and battery system are retrofit into an existing YZ250F chassis.
The new bike will feature a swappable battery to allow riders to easily swap out the battery between races. This is a very important factor for electric dirt bikes as currently battery still life cannot match a gas-powered bike.
Another major factor of an electric dirt bike is power delivery. They have much more torque right from the outset.
"I am convinced that the electric machine we are building will soon be faster than the current generation of dirt bikes. The big advantage of an electric motor is that the torque is much higher. That gives more pulling power. You can drive a faster lap with it", said Bas Verkaik of ELEO.
A quiet dirt bike! Electric dirt bike technology is being pushed by ever-increasing noise and emission restrictions.
As electric dirt bikes make very little noise, motocross tracks under threat of closure due to noise restrictions can remain open as noise won't be a factor anymore.
Electric dirt bikes are also good news for trail riders who will be able to ride in areas without attracting noise complaints.
There is no word yet on when the Yamaha Electric Motocross bike will go into production. We will keep you posted.
Sur Ron Storm Bee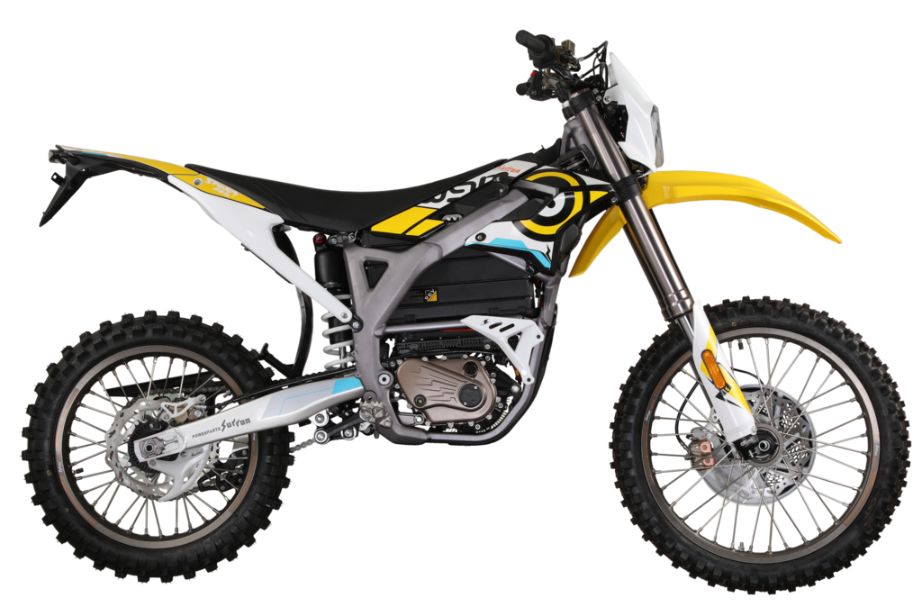 This aggressive-looking dirt bike made its debut at the EICMA Milan Motorcycle Show in 2019. It's a full-sized electric motocross bike designed for both beginner and Pro riders. It is Sur Ron's second production bike after the Light Bee X.
This bike has a serious dirt bike look about it. It is equipped with a 96V 48Ah lithium battery pack with an integrated charger and brake regen. It is not a swappable battery.
It has a 93-mile range at a speed of 31 mph. plus an additional 10 miles because of the brake regen.
The Storm Bee features a forged aluminum alloy frame which is durable and lightweight. Hydraulic disc brakes also feature ABS anti-lock braking. DVO adjustable front forks give 11.4 inches of travel, with a matching adjustable rear air shock.
A 22.5Kw motor propels the bike. It offers 520N-m (382 ft-lbs) of torque and provides awesome acceleration up to a top speed of 68mph/110 km/hr.
The charge time is 4 hours. Its weight is 260lbs/118kg and has a seat height of 36 inches/914mm, making it more suitable for taller riders.
The Sur Ron Storm Bee can be pre-ordered from the Sur Ron website as it is not yet available in the US at the time of writing. If you would like to check out one in person you can visit one of their dealers Luna Cycles in Long Beach California.
The Honda/Mugen Collaboration Prototypes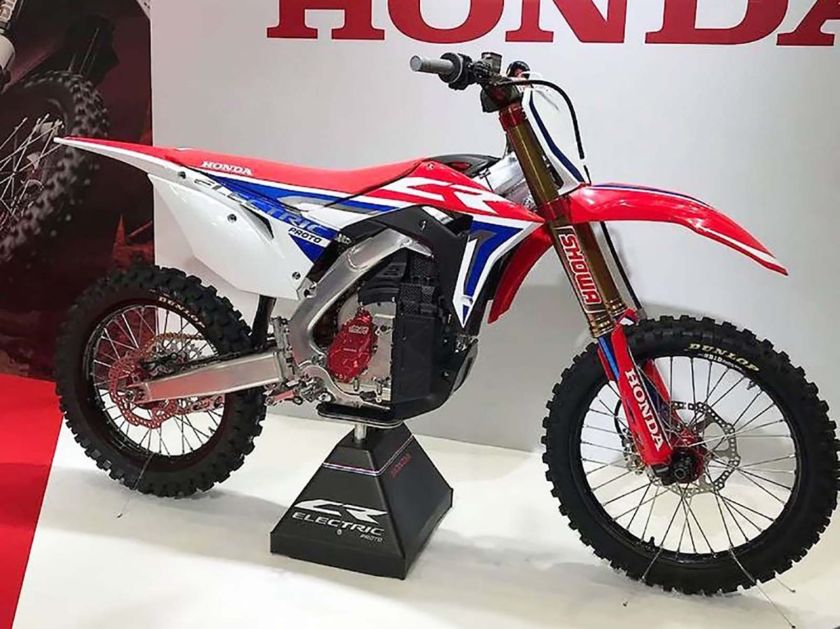 We are all familiar with Honda as one of the biggest names in the motorcycle industry.
Mugen is a Japanese motorsports company founded in 1973. They are an engine tuner and parts manufacturer that manufactures OEM parts for Honda. Mugen was co-founded by the son of Honda founder Soichiro Honda.
A few years ago, the Honda-Mugen collaboration produced two new prototype dirt bikes. The Honda CR and the Mugen E.Rex. The two bikes were almost identical except for the bodywork design.
The Honda CR took its inspiration from the CRF lineup. The Mugen took its design influence from the Shinden electric superbike which featured vortex-creating aerodynamic fairings.
The 'ribs' from the first E.Rex dinosaur design are still present but modernized to look more like cooling gills. It looks very striking, especially with the zigzagging side number plates.
Tech specs like battery size, motor power, and weight of the bikes are not available at this stage.
Nether Honda or Mugen are releasing updates about when the two concept bikes will be released to the public. Here's hoping we see them in the not too distant future.
Alta Motors Redshift MXR – Sadly no longer produced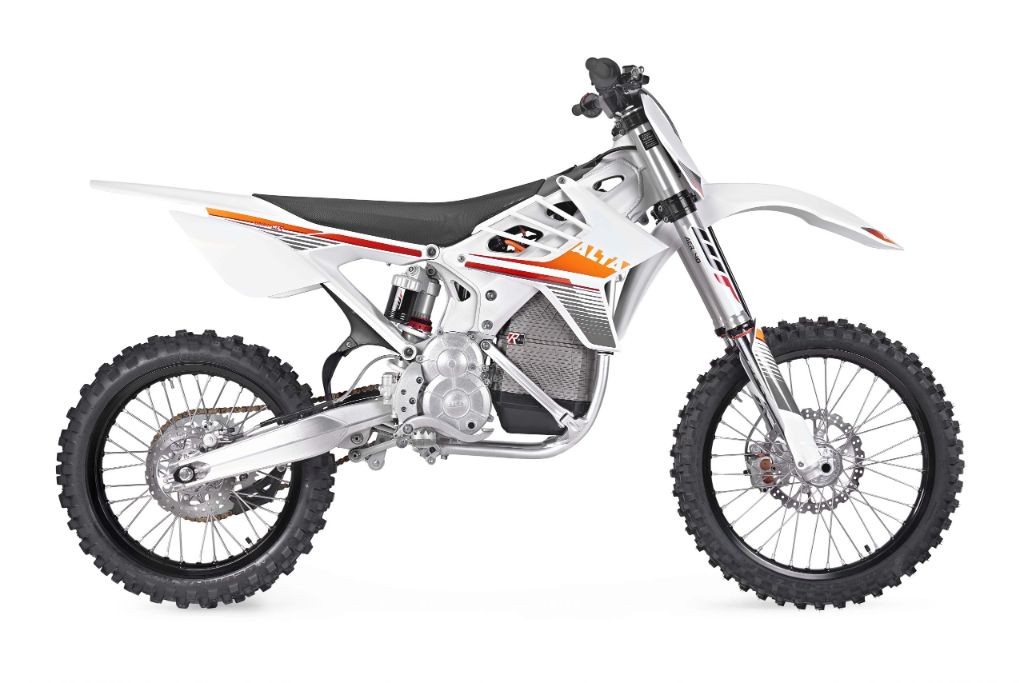 The Alta Motors Redshift was the only fully-fledged competitive electric motocross bike to be released into production. It was so good that it had even competed in the Erzberg Rodeo, one of the toughest extreme enduro events in the world.
It weighed in at a fairly hefty 117kg, was able to be recharged in 1.5 hours, and produced 50 horsepower, delivered via three different riding modes.
It was able to reach a top speed of 114 km/h, pretty impressive in the electric dirt bike world. It featured WP suspension front and rear.
The company was in financial difficulty when in 2018 Harley Davidson invested in the company to form a partnership for the development of electric motorcycles.
Harley Davidson had been struggling with electric motorcycle development even though they had recently introduced the Livewire (used by Ewan McGregor and Charley Boorman in the long-awaited Apple TV series 'Long Way Up'). The partnership would be mutually beneficial to both companies.
Six months into the partnership Harley Davidson ended the deal. They had decided to build their own Research and Development center in Silicon Valley.
By October 2018 Alta Motors had closed down. If you want to purchase one they are still available on the secondhand market.
Conclusion
We are seeing the dawn of a new era in dirt bike technology. Battery technology is not there yet, but get there it will.
If you need proof, you only have to look at the advances in cell phone battery technology. It wasn't that long ago that a cell phone was the size of a brick, now look at where cell phone battery technology is.
The benefits of electric dirt bikes (or any electric vehicle for that matter) are obvious. Less noise, less maintenance, zero emissions, lower running costs.
Combine that with the superior torque and pulling power of an electric motor, and you have a competitive dirt bike that can outperform a petrol-powered bike.
Once the battery technology improves and the swappable batteries allow you to quickly fit a fully charged battery, you will see increasing numbers of electric bikes in motocross competition and all other fields of dirt bike riding.
While we all love the smell and sound of two-stroke or four-stroke engines, it doesn't mean we have to give up on traditional internal combustion engines, but we have to look to the future.
It's exciting times ahead.
Related Posts
Best Lightweight Electric Dirt Bikes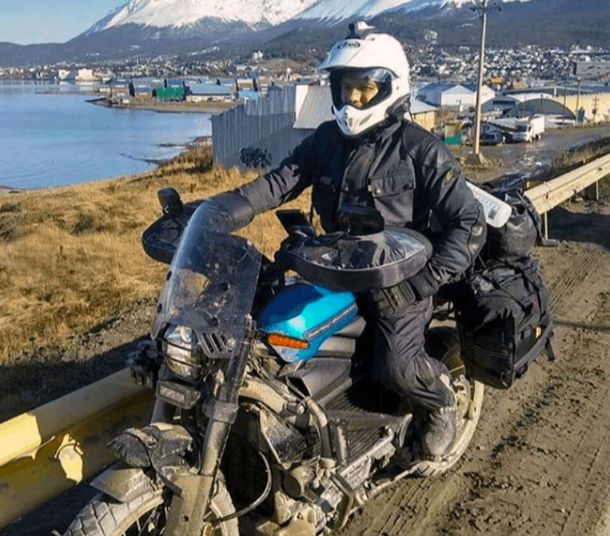 Long Way Up is underway – On Electric Bikes!
What are your thoughts on electric dirt bikes? Are they the way of the future?
Please follow and like us: