If you love off-road adventures like me, you know how electric dirt bikes changed the game! They are meant mainly for off-road terrains to thrill the adventure enthusiast in you!
The e-dirt bikes, as they are more commonly known, are eco-friendly as they are battery-powered. In addition to this, these bikes also produce fewer emissions. So you can hit the road with the same power of a traditional off-road motorcycle but in an eco-friendly, noiseless, and efficient way!
To ride through rough terrains, you need a powerful, strong e-dirt bike. But another critical aspect that is a prerequisite for most buyers is that the bike should be lightweight. 
If you desire to introduce your kids to this sport, even then, you need a lightweight bike that the kids can easily handle. Let's find out which is the best lightweight electric dirt bike for adults and kids. 
Best Lightweight Adult Electric Dirt Bike
| | | | | | | | | |
| --- | --- | --- | --- | --- | --- | --- | --- | --- |
| Bikes | Weight | Power | Charging Time | Range | Max. Speed | Seat Height | Weight Limit | Price |
| Kuberg FreeRider | 79.36 lbs or 36 kg | 14kW | 2.5hrs | 1-hour riding | 70 KMH or 43 MPH | 34.5 inches | 220lbs or 100kg | $5,007.68 |
| Bultaco Brinco R | 85.9 lbs or 39 kg | 2kW | 3 hours | 100 km in ECO mode | Gear Shift (9 speeds + Overdrive) | 41.7 – 45.8 inches | 307lbs or 139.5kg | $5,682.14 |
| Sur-Ron X | 110.2 lbs or 50 kg | 6kW | 2.5 to 3.5 hours | 96.5 km or 60 miles | 73 KMH or 47 MPH  | 33 – 34.6 inches | 220lbs or 100kg | $4,100.00 |
| CAKE Kalk OR | 152 lbs or 69 kg | 11kW | 3 hours | 3 hours riding | 90 KMH or 55 MPH | 35.8 inches | 152lbs or 69kgs | $13,000 |
| Escape R | 187.5 lbs or 85 kg | 11kW | 4.25 hours | 61 km or 38 miles | 69.2 KMH or 43.5 MPH | 32.3 inches | | $10,799 |
| KTM Freeride E-XC Electric | 244.7 lbs or 110.9 kg | 18 kW | 1.3 hours | 1.5 hours riding | 80 KMH or 50 MPH | 35.8 inches | 245 lbs or 110kg | $10,499 |
| ZERO FX ZF7.2 | 289 lbs or 131 kg | 34 kW | 9.7 hours | 146 km or 91 miles | 137 KMH or 85 MPH | 34.7 inches | 341 lbs or 155 kg | $11,295 |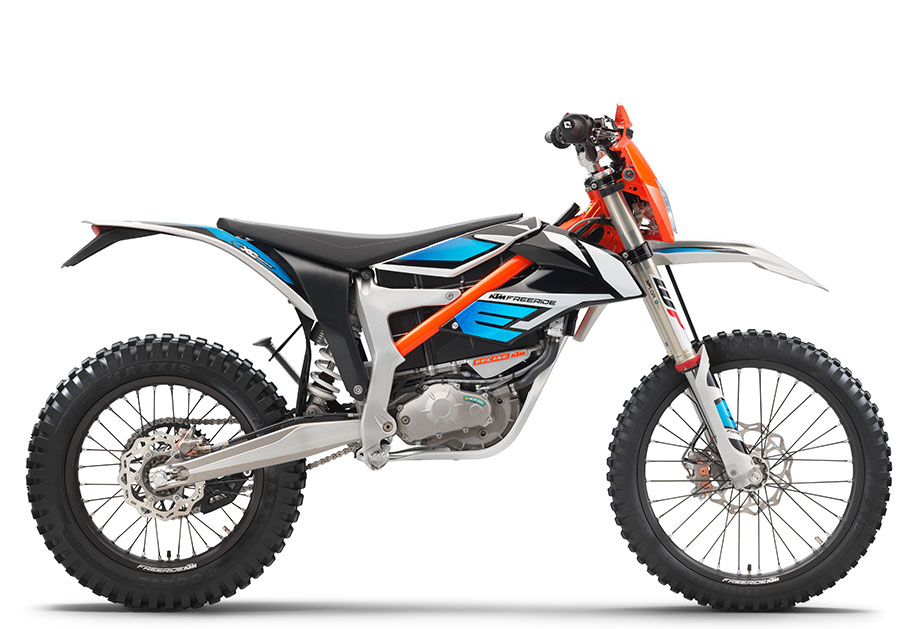 KTM is one of the leading manufacturers and sellers of bikes worldwide. This brand is most known for its expertise in off-road bikes.
The 2022 KTM Freeride E-XC is the newest generation bike. It employs an upgraded version of the 2021 formula disc brake that delivers better performances and overcomes the previous model's shortcomings. 
This model uses a Lithium-ion battery that takes up to 1.3 hours to get fully charged. This PowerPack can be removed, so you can purchase an extra battery and replace it while traveling. 
Thanks to the advanced grip of the handlebar and spacious footrest that allows unrestricted movement, the controls of this bike are ergonomic.
All in all, this KTM electric dirt bike is highly suitable for beginners above the age of 16 because of its user-friendly features.
Pro: Lowest charge time
Con: Low horsepower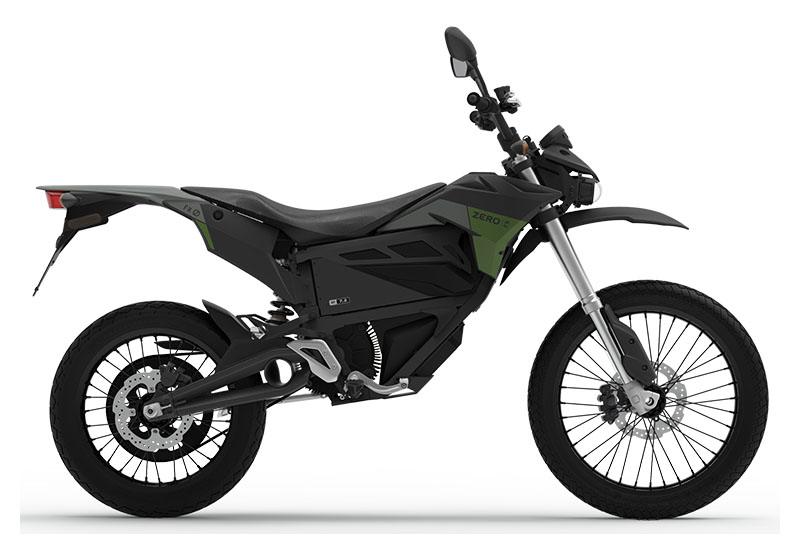 Zero motorcycles employ innovation and iteration to ensure that their bikes deliver premium performance.
This model has a sleek design backed by a powerful motor. It has a maximum speed of 85 miles per hour, which is the highest speed compared to other e-dirt bikes. 
One drawback of this Zero ZF7.2 model is that it has the longest charging time of 9.7 hours. It has an integrated battery that can not be swapped during a long journey. 
Did we mention that you can sync the bike with Zero Motorcycle App, where you can choose between eco or sports modes?
This mean machine can handle every on and off-road adventure that you will put it through! Although it is important to know that this e-dirt bike falls on the expensive side of the scale.
Pro: Fastest e-bike
Con: Longest charge time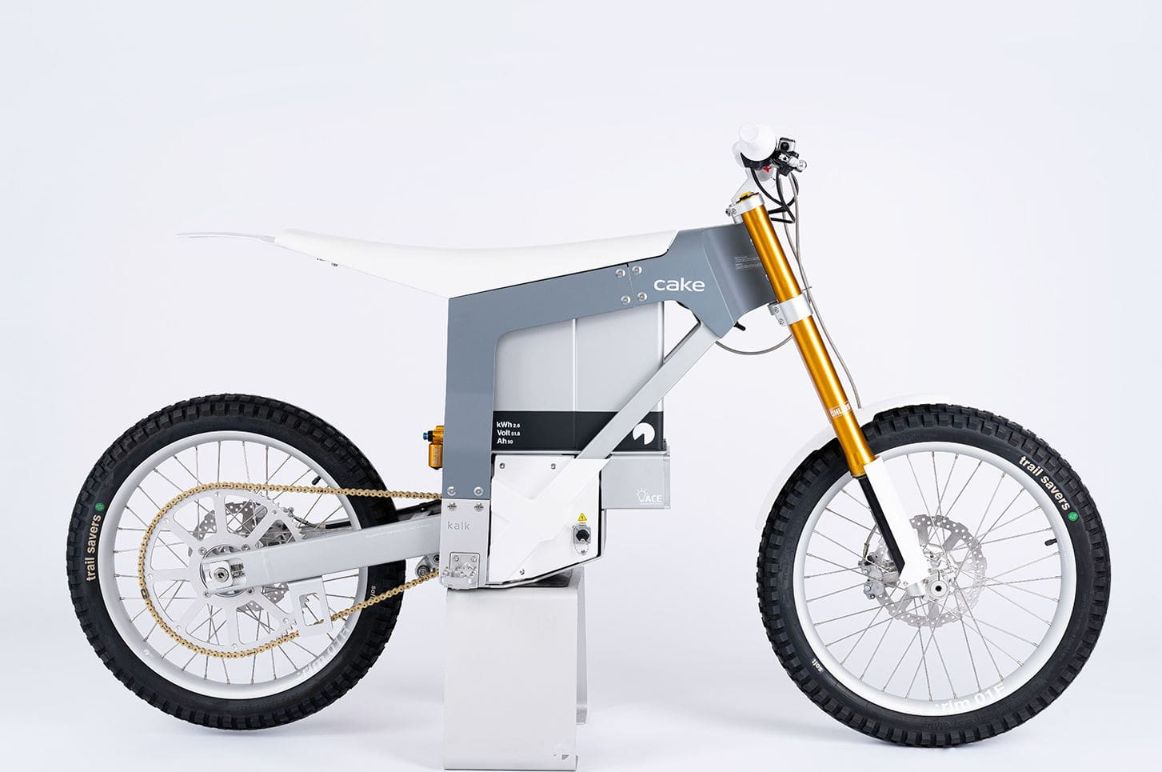 This bike company delivers high-performance electric bikes that are lightweight and innovative. 
The Kalk OR has a minimalist design with a focus on off-road performance. It offers quality and durability to its users, along with a lightweight body.
You can choose among three ride modes- explore, excite, and excel. The battery of this bike is removable, so you can charge it when it is on the bike or even when it is outside. 
This electric-powered bike runs for 3 to 4 hours in the explore mode, longer than other bikes. It also takes 3 hours to get fully charged.
However, this Cake e-dirt bike is more expensive compared to the others on our list. Therefore, we recommend this to committed enthusiasts instead of beginners. 
Pro: Long run time
Con: Expensive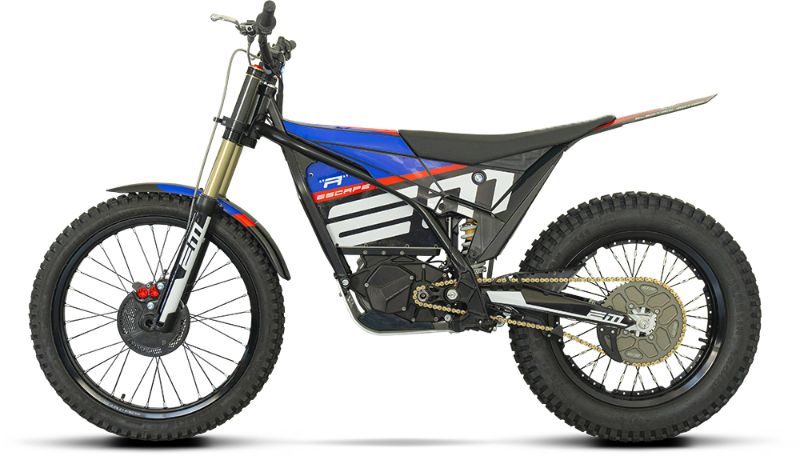 Electric Motion creates a technologically innovative range of bikes mainly meant for off-road adventures for young and older people alike!
This Escape R Dirt Bike has an attractive design and is built from premium quality materials. The Lithium-ion battery takes about 4.25 hours to charge, which can also be upgraded to charge in 3 hours with a 25A Quick Charger. 
Leaning slightly toward the expensive side, this e-dirt bike has a robust suspension and torque. You can choose from three different maps available to explore various paths. A lever allows you to switch from an electronic clutch to progressive electronic brakes easily. 
Escape R is a lightweight motorbike suitable for all skill levels, from beginners to professionals! 
Pro: Low seat height, feet can rest easily
Con: Low run time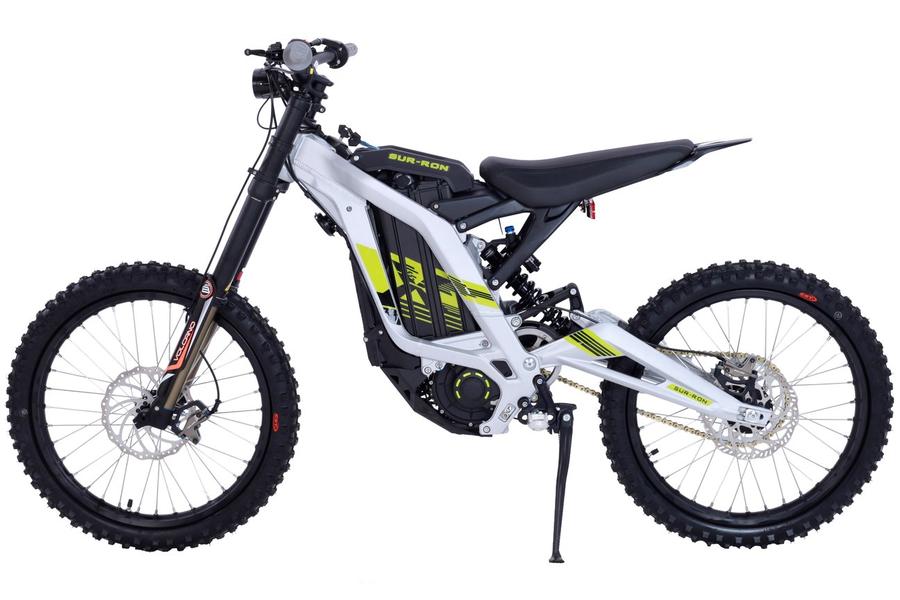 Sur-Ron designs and manufactures bikes that come to life with cutting-edge technology. This is a newbie in the game of e-dirt bikes and has already made its mark.
This motorbike is the most inexpensive choice on our list! You can replace the swappable battery while on a long journey.
One feature that we can not miss is that this Sur-Ron model offers regenerative coasting that charges the battery while you coast if you select sports mode.
This e-dirt bike is available in multiple colors and features an ergonomic handlebar for easy control. It demands low maintenance and emits less noise because the mini bike uses a Gold 0 Ring chain built for heavy-duty use. 
You do not even have to worry about the weather as it offers protection against rain, dirt, dust, etc. Chains are best to tackle dirt, but they need to be cleaned regularly, and if you don't do them properly, they can easily get damaged. 
Expedition Bee has made a detailed article about how to clean a dirt bike chain with 3 methods, you can read that out to know more. 
Pro: Highly affordable
Con:  Flimsy cable throttle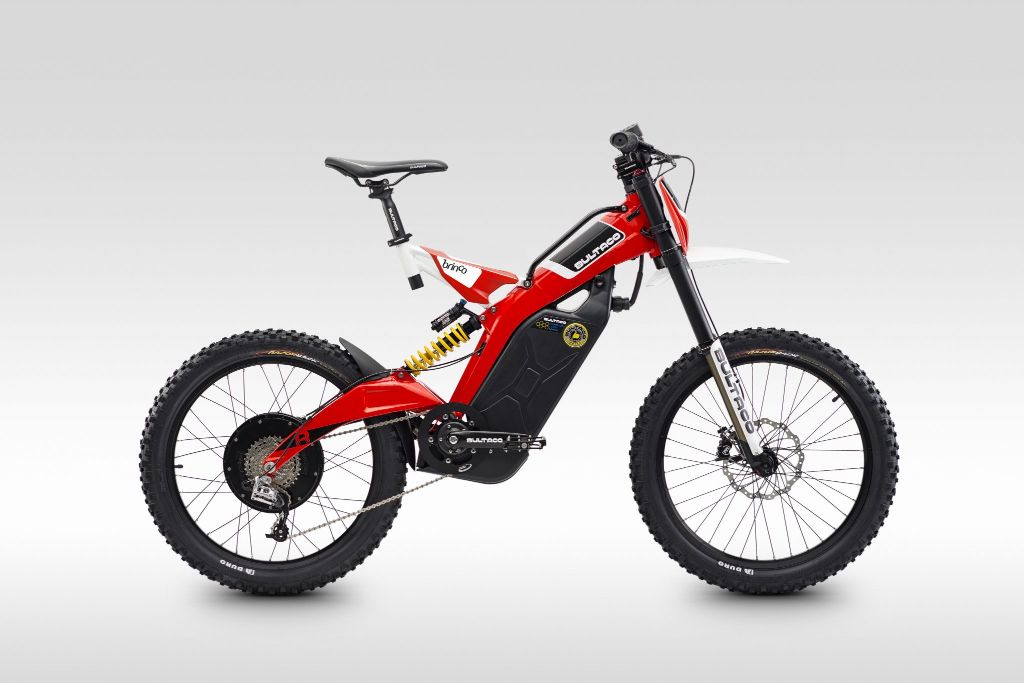 Bultaco bikes are robust and have a stylish appearance. The Brinco R model is a perfect amalgamation of a dirt bike and a mountain bike.
This classic motorcycle comes in two different colors, red and blue. It offers three different modes- Eco, Tour, and Sport. Moreover, there are pedals for cycling if you wish to do some cardio and save the battery's power. 
The battery featured by the bike is replaceable, so you can buy an extra battery and swap the two while on a long trip. 
The seat of this baby can be adjusted from 41.7 inches to 45.8 inches, making it higher than any other bike.
Thanks to the extremely lightweight body and ergonomic features, this hunk is ideal for off-road adventures, but we do not recommend this for public roads.
Pro: Seat height adjustable
Con: Low horsepower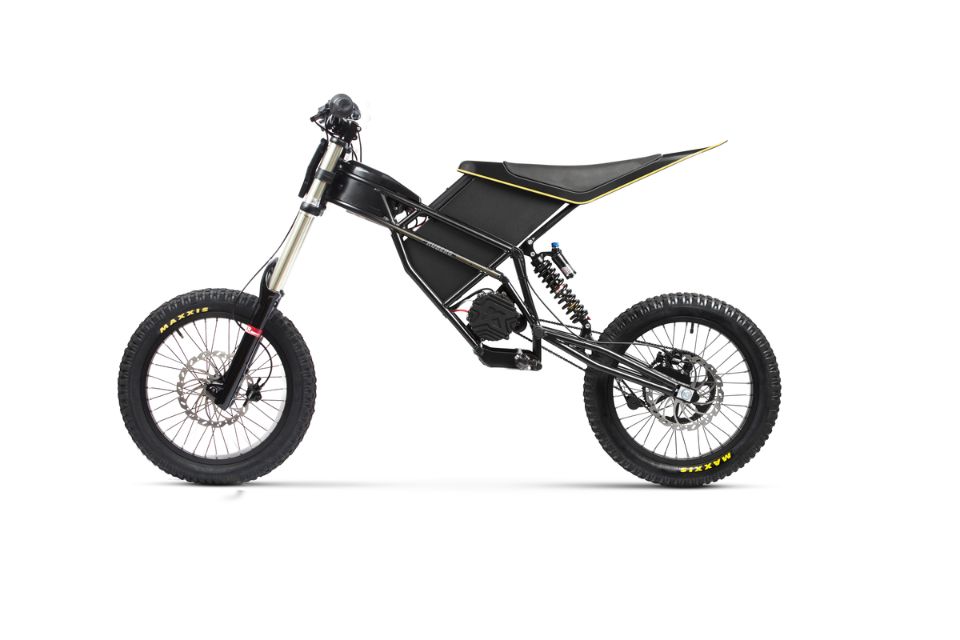 Kuberg seems to be among the most popular choices among the youth when it comes to an electric dirt bike.
The FreeRider model is suitable for teenagers and adults, beginners and professionals, as it is flexible and versatile. This black-colored beauty will enable you to kick dirt as you pass through the roughest terrain. 
Out of all the options that we have mentioned, this Kuberg e-dirt bike is the most lightweight, making it extremely easy to handle.
It features a rigid dual suspension that offers great supports for jumps and jerks on the rough paths. There are three different tire sizes available in this model that you can choose as per your needs. 
The Kuberg FreeRider e-dirt bike is affordable and makes for a smooth ride. In addition to this, it is also WiFi ready, so you can sync it with their app to turn your machine into a smart bike!
Pro: Lightweight (least of all)
Con: Less ride time
Best Lightweight Kids Electric Dirt Bike
| | | | | | | | | |
| --- | --- | --- | --- | --- | --- | --- | --- | --- |
| Bikes | Weight | Power | Charging Time | Range | Max. Speed | Seat Height | Weight Limit | Price |
| Razor  MX125 Dirt Rocket | 29.7 lbs or 13.5kg | 100 watt | 6 hours | 40 minutes of riding | 8 MPH or 13 KMH | 25.16 inches | 110 lb or 54 kg | $209.99 |
| Burromax TT250 | 54.6 lbs or 24.8 kg | 250 watt | 8 hours | 14 miles or 22.5 km | 14 MPH or 22.5 KMH | 24 inches | 250 lbs or 113 kg | $449.95 |
| MotoTec 24V | 66 lbs or 29.9 kg | 500 watt | 6 hours | 50 minutes of riding | 16 MPH or 25.7 KMH | 23 inches | 150 lbs or 68 kg | $450.77 |
| Kuberg Young Hero | 72 lbs or 33 kg | 3000 watt | 6 hours | 2 hours of riding | 17 MPH or 27 KMH | 25 inches | 220 lbs or 99 kg | $1,858.69 |
| KTM SX-E5 | 90.8 lbs or 41.2kg | 5000 watt | 70 minutes | 2 hours of riding | 45 MPH or 72 KMH | 26.9 inches | 99 lbs or 45 kg | $5,199 |
| Razor SX500 McGrath | 98 lbs or 44.5 kg  | 500 watt | 12 hours | 40 minutes of riding | 15 MPH or 24 KMH | 24 inches | 220 lbs or 100 kg | $659.99 |
| Razor MX650 Dirt Rocket | 98 lbs or 44.5 kg | 650 watt | 12 hours | 40 minutes of riding | 17 MPH or 27 KMH | 22 inches | 220 lbs or 100 kg | $729.99 |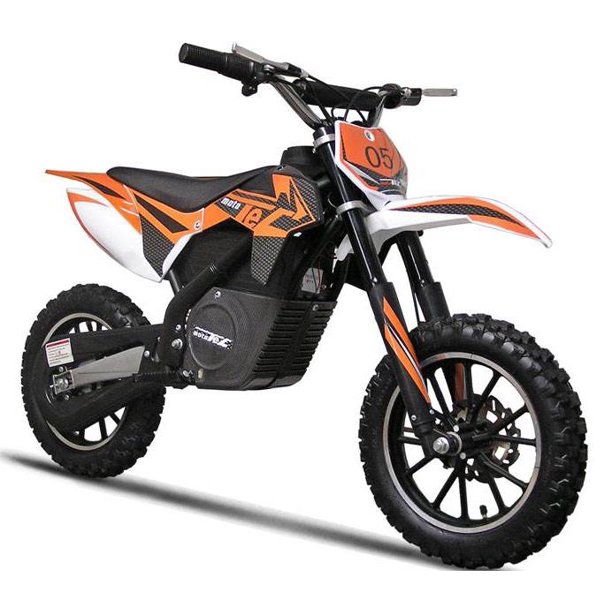 This MotoTec 24V e-dirt bag is ideal for young riders looking to feel that energy and zest while on an adventure. 
The replaceable battery can be swapped with another one if you want to give your kids a long, fun ride! 
It is suitable as an entry-level bike for some backyard fun or even the rocky terrains close by. You need not worry about the speed as it features parent selectable speeds from 5MPH, 10MPH, or 16MPH that can be set with a key lock!
With a sturdy black build, this bike looks super attractive and equips full suspensions and disc brakes. Multiple reviews suggest that the suspension makes noise often. However, it gives steady support. 
This e-dirt bike for kids is affordable and safe! 
Pro: Parent selectable speed
Con: Noisy suspension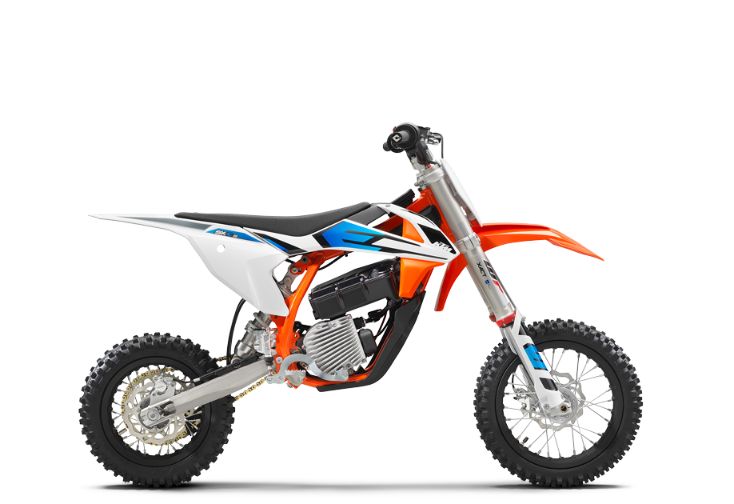 KTM always levels up with its diverse range of bikes for kids and adults alike. 
The SX-E5 is among the most expensive e-dirt bikes for kids. But it also offers excellent features like a low charge time of only 70 minutes that'll give around 2 hours of riding! It has the highest speed among all choices in this list, with 45MPH. 
Your beloved junior riders will definitely fall in love with this mini-bike for its sleek appearance and smooth performance. There are six different speeds that the parents can lock to avoid accidental switching.  
The ergonomic features of the bike will blow your mind! You can easily adjust the height of the seat as per your kid's requirements. 
The lithium-ion battery is swappable, and you can replace it with another battery to avail longer rides! It also features a powerful yet noiseless motor to give your kids the best rides of their lives!
Pro: Charges quickly
Con: Expensive
Burromax focuses on quality and safety, making its range of e-dirt bikes reliable and durable. 
The unique design of this e-dirt bike makes it look like a rugged motorcycle instead of a fragile toy. It offers user-friendly features with an adjustable handlebar and wide seat.
 It also has a maximum weight capacity of 250lbs, which is greater than its competitors can handle.
You can choose from two different speeds of 7MPH or 14MPH as per your kid's skills. This e-dirt bike is easy to use and control and suitable for kids above 12 years of age. It is available in three different colors- black, red, white, and blue. 
Pro: Maximum weight capacity is high
Con: Low maximum speed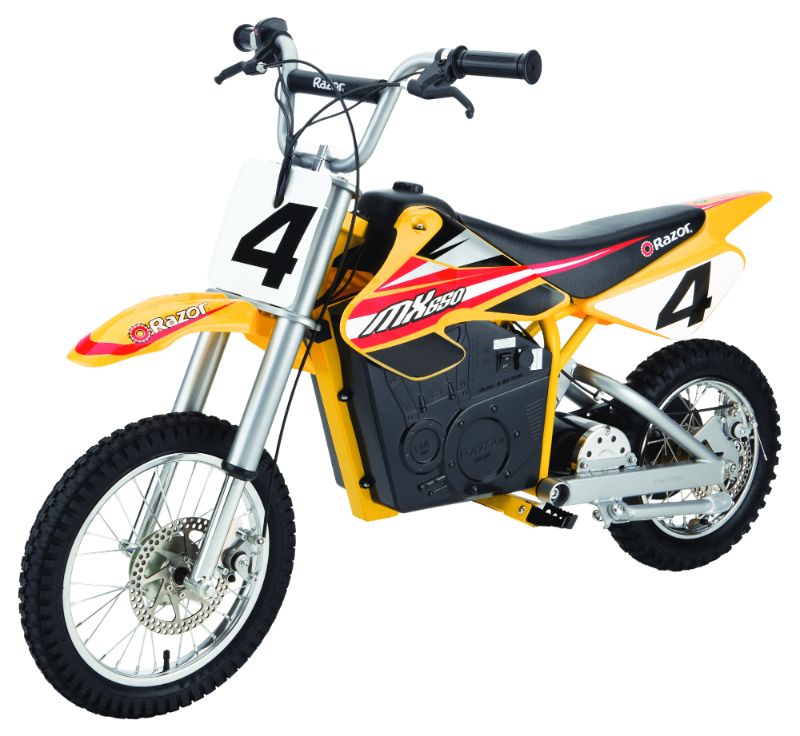 Razor manufactures motorcycles that feature the best of innovation and technology.
The MX650 Dirt Rocket is designed for giving the best performance in an uphill or off-road adventure. 
This e-dirt bike proves to be great to teach your kids how to learn a bike and give them a rusty road experience. It allows your kids to enjoy a smooth ride because of its comfortable, adjustable handlebars and tough grip.
If you jump over to Amazon to read the reviews by verified buyers, you will be convinced to buy this model! It has so many positive reviews and a 4.6-star rating. 
The motor of the MX650 is powerful, and it has a maximum speed of 17MPH. However, this e-dirt bike has a short battery life of about 40minutes. 
Pro: Sturdy and easy to use
Con: Short battery life
Razor is one of the leading manufacturers in the field of e-dirt bikes and has gained the trust and loyalty of many consumers.
The SX500 seeks inspiration from motocross rider Jeremy McGrath and employs nothing but the best design, geometry, and torque. It looks very trendy and cool; your kid is sure to love it!
Among all the kids' category options, the SX500 weighs the most due to its premium materials and sturdy build.  It is also a powerful motor, with two-speed options of 15MPH and 24MPH.
The dual suspensions and ergonomic handlebar give support and ensure safety. This mini-bike provides comfort like no other with a 25.16-inch seat height, wide seat, and excellent suspension; this mini-bike offers comfort like no other!
Pro: Easy to ride, comfortable
Con: Not durable
As you can see, Razor is dominating our list because they offer a plethora of great e-dirt bikes, and they all deserve to be on our list.
The MX125 weighs the least out of all the other bikes on our list, making control effortlessly easy. Apart from this, it is also the least expensive choice of all. Talk about an affordable yet awesome offer!
It is suitable for giving your new junior rider an adrenaline rush and making them fall in love with riding off-road! Suitable for ages seven and above, this bike is fun and safe!
The heavy-duty tires are suitable for rough and rocky terrains and deliver smooth performance. Your kids will learn balance and stability through this e-dirt bike within no time!
Pro: Affordable
Con: low horsepower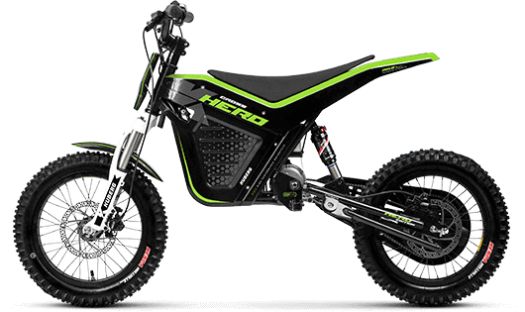 Kuberg is a European manufacturer of electric dirt bikes made of the highest quality material aimed to give maximum comfort and fun.
The Young Hero edition has two different models under its umbrella- Trial Hero and Cross Hero. Both these models have powerful motors that operate noiselessly. 
The bike has WiFi compatibility, so you can sync it with your smartphone to monitor all activities and features. You can also share your ride's details and statistics with others.
With a six-hour charging time, it runs for about 2 hours, more than most other mini-bikes. The tires are durable and will handle the roughest paths with ease and strong shock absorption. 
The maximum speed of these bikes is 17MPH, making a good brake system crucial. It has a replaceable battery, so you can swap it with an extra battery to get a long ride time! 
Pro: Long ride time
Con: Comparatively expensive
Electric Dirt Bike Buying Guide
It is very important to understand the basics of a product regarding how we determine whether it is compatible with our requirements and before making a choice out of multiple options as above, below are multiple criteria by which we review the product!
One must consider the price of the e-dirt bike before purchasing it. For adults, the price ranges from $5000 and can go as high as $13000; for kids, it ranges from $200 to $1800.
This becomes an essential feature as the height of the bike's seat must support you. If your legs do not reach the floor or are too long, it may cause some level of discomfort. And who wants to be uncomfortable while on an adventure?
Alas, check the charging time of the e-dirt bike. If it charges quickly, you can go out for an adventure within no time, and your kids can ride it in the backyard soon. 
How long does a single charge last? Does it last long enough for you to make it back home to charge the battery?
Of course, if you are a bikie, you love high speed, but ensure that you do not choose danger while having fun. Look at the maximum speed limit that the bike can go and make an informed choice. 
Conclusion
E-dirt bikes are a great alternative to the traditional gas-run bikes that emit more smoke, noise and are not eco-friendly. On the other hand, electric bikes have a great deal to offer; they are practically noiseless and highly eco-friendly.
Out of the several available options, we recommend the 2022 KTM FREERIDE E-XC for adults and Razor MX650 Dirt Rocket for kids because of their features and benefits. The final decision is entirely yours! Have a great adventure!
Related Posts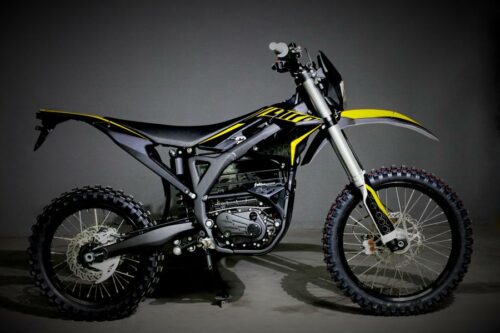 Electric Dirt Bike Buying Guide 2021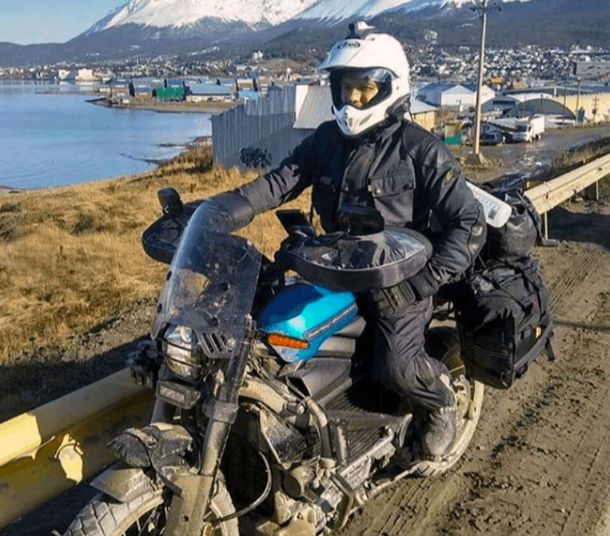 Long Way Up Is Underway – On Electric Bikes
Have you ridden an electric dirt bike, or do you own one? Is there one that should be on the list?
Please follow and like us: