So you want to know how to convert your dirt bike to Supermoto? It's becoming a popular conversion for dirt bikes.
If you've ever ridden a dirt bike on the street, you know how exhilarating it can be with the quick acceleration and nimble handling that a dirt bike gives you.
A Supermoto conversion will take your dirt bike performance to a new level on the street.
What Is Supermoto?
Supermoto is a relatively recent form of racing that combines three different motorcycling disciplines: Motocross, Road racing, and Flat-track racing.
The tracks alternate between three different track surfaces: The hard-packed dirt of flat track, the jumps and obstacles of motocross, and the paved tarmac of road racing.
Supermotos are certainly unique. You'd think that fitting a dirt bike with 17-inch wheels and sport tires would be a crazy idea, but these motorcycles excel on both road and hard-packed dirt.
Supermoto is one of the fastest-growing riding styles now, it's versatile, relatively cheap, and above all a fun form of motorcycling.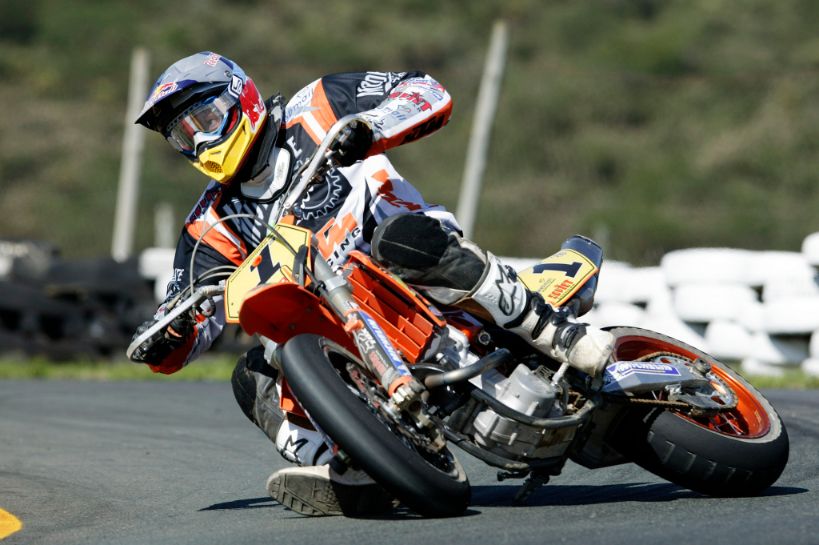 Even if you are not competing, the Supermoto bike has opened up a whole new world of street riding, attracting riders from both dirt bike and street bike backgrounds.
But there's more to it than just replacing the wheels and tires. The amount of work required is dependent on the type of bike that you want to convert.
If your bike is a Dual Sport or enduro bike that is already street legal and has lights, speedometer, horn, mirrors, and indicators then your job is a lot easier.
If your bike is a motocross bike without any street legal requirements, your job is much more involved. You will need to be modifying the whole electrical system of the bike, which unless you're a motorcycle mechanic, you may find a little daunting.
The exact specifics will be dependent on your particular bike, you will have to do your own research on what is required.
So for the purpose of this guide, we will assume your bike is already street legal, and your conversion is to improve its road handling performance.
If you sell your bike, you probably will not get your money back on the conversion, but if you keep all the parts, you can go back to the stock dirt bike setup if you choose.
In this guide, we will look at the parts you will need. You can acquire these parts individually, or there may be a complete Supermoto Kit available for your bike.
Wheels and Tires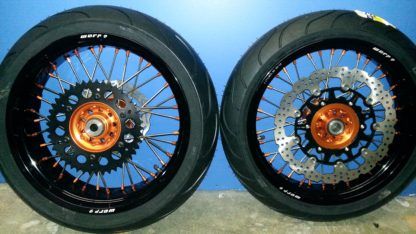 The most important part of converting a dirt bike to a supermoto is replacing the wheels and tires.
17-inch wheels front and rear are the most common for supermoto. The smaller diameter will lower the bike, making it handle better on the road, and the wider rim width and tires will get more rubber on the road.
3.5-inch front rims and 4 to 5-inch wide rear rims are pretty common. Bear in mind the wider you go, the more problems you will have with issues like the wheel rubbing on the chain and swingarm.
You may also have a chain alignment issue to consider due to the wider rear hub. This can be corrected with a spacer that sits on the engine side of the front sprocket.
Gearing Ratio/Sprockets
An easy way to gain more top-end speed for road riding is to change the gearing ratio between the front and rear sprockets.
The ratio determines how the engine RPM is translated into the rear wheel speed of the bike. Changing your sprocket sizes, front, rear, or both changes the ratio and how your bike puts the power to the ground.
A simple calculation will give you your bike's gearing ratio. If the stock sprockets on your bike are 17 teeth on the front and 45 teeth on the rear, then your gearing ratio is 45/17 = 2.647.
Use this as your baseline to work with.
If you would like more top-end speed for street use, changing the front sprocket to a larger size, say 18 teeth will change your ratio to: 45/18 = 2.50.
Your other option is to reduce the size of the rear sprocket to say 43 teeth: 43/17 = 2.52. The downside of this 'taller' gear ratio for a higher top speed is a more sluggish acceleration.
So put simply:
Larger front sprocket/smaller rear sprocket = higher top speed/less acceleration
Smaller front sprocket/larger rear sprocket = lower top speed/more acceleration
The choice is yours as to whether you change the front or rear sprocket or both.
To learn more about gear ratios: Motorcycle Sprocket Ratio Calculator
Brakes
If you are modifying a dirt bike to be able to go faster on the road, you are also going to have to upgrade the braking.
The front brake does most of the braking so you really only need to upgrade the front brake. The rear will be adequate as it is for most riders unless you are racing competitively.
Replacing the rotor with a larger one is an effective way to increase braking power. It produces more leverage due to the larger diameter. 320mm is a common rotor size for supermotos.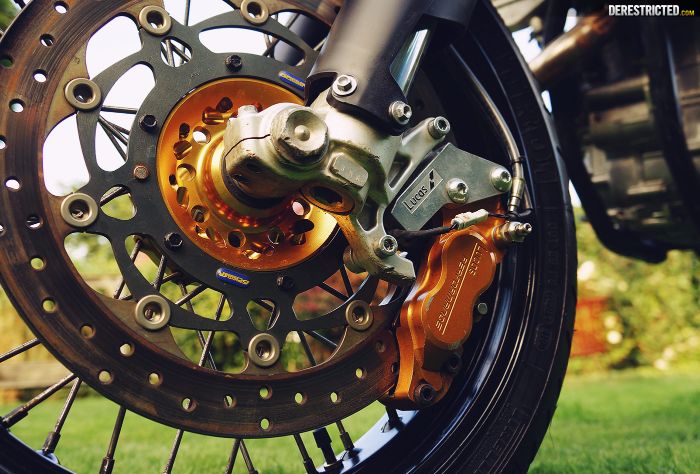 Caliper Mounting Location
The larger diameter rotor leads us to the next modification. The caliper will need to be relocated to suit the larger rotor. Relocation brackets are available which will need to be purchased with the rotor.
The stock caliper can be used in most cases, but upgrade calipers can also be used which will produce even more stopping power. Calipers are available with four or six pistons which give you more stopping power.
Braided Brake Line
A braided steel or aluminum brake line will provide a better feel when braking. They are designed to handle higher pressure and will give a less spongy feel when braking compared to the stock rubber hose.
Master Cylinder
Upgrading the master cylinder isn't really necessary unless you plan on racing in Supermoto events.
It can be quite an expensive upgrade and there are many options to choose from. You can retrofit one from a different bike, but you will have to do some research on what works for your particular bike.
Improved Lighting
The lighting is adequate on most dual sport bikes, so you will usually not have to worry about changing anything. Most states will require a headlight with a high/low beam.
A tail light/brake light that works on the rear brake, turn signals, horn and mirrors is also a minimum requirement.
Supermoto Kits
A complete Supermoto kit may be available for your bike which makes converting easier. What is included in the kit varies with the supplier and will have to be specific for your particular bike.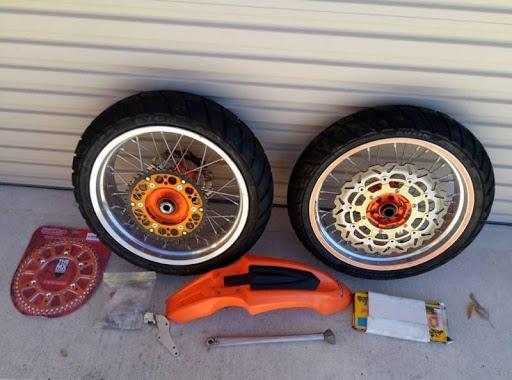 Here is a link that may be of some help to you: MotoXIndustries.com
What Bikes Are Most Suitable for Supermoto Conversion?
If you don't already have a bike to convert and are planning on buying one that is suitable, you can make things easier on yourself by doing some research on what bikes are more suited to converting.
Obviously, a Dual Sport bike that is already street legal will be a lot less cost and work than a motocross bike which was never designed for road use.
There are some features to look for in a dirt bike that make it well suited to riding on the road. These make them a great choice for Supermoto conversion:
A Four-Stroke Engine:
While the arm-wrenching powerband of a two-stroke is great off-road for quick bursts of acceleration, it is not so suited for the constant highway speeds required on the road.
This is where the four-stroke's smooth and predictable power delivery is an advantage, and they will be more comfortable at higher speeds.
The two-stroke also has shorter service intervals than a four-stroke, and you also have the issue of carrying bottles of two-stroke oil for premixing while on your road travels.
A Wide-Ration Gearbox:
A wider than normal 5 or 6-speed transmission is an advantage on the road. It eliminates the need for constant shifting to stay in the powerband and is well suited to street riding.
A Decent 12 Volt Battery:
A battery and generator that is capable of powering the lighting and electric start is a must.
Thankfully dual sport and enduro bikes have this all built-in, so it saves you the headache of installing a whole new electrical system on a dirt bike that was never designed for running lighting.
Many enduro bikes (like the KTM EXC series) have no main ignition switch with a key, so theft prevention has to be taken care of. It is a fairly easy problem to overcome, either with the use of a disc lock or by installing a key switch. Not a big issue, but something to be aware of.
A Factory Installed Headlight and Taillight:
All dual sport bikes and most enduro bikes come with a factory-installed headlight and taillight, which makes life so much easier for street legal Supermoto conversion.
An Electric Start and a Kickstarter:
With recent improvements in electric starting and battery technology, a lot of dirt bikes no longer have a kick start.
There's no denying that an electric start is great to have, but a kickstarter is still good to have if you get caught with a drained battery.
Large Displacement Engine:
While smaller displacement dirt bikes around 250cc may be fine off-road, they top out at much slower speeds than larger bikes like a 450cc. You don't want to be in the position of holding up traffic at highway speeds.
A dirt bike that is at home at higher speeds is something to look for when choosing a bike to convert.
A Decent Radiator:
Most dual sport bikes and some Enduro bikes come equipped with a large-capacity radiator. The Yamaha WR450F is a good example and even comes with an electric fan which helps the cooling, especially when you are sitting at traffic lights.
Liquid cooling is definitely an advantage over air-cooled engines, even more so when road riding.
Some Popular Bikes For Supermoto Conversion:
Suzuki DR-Z400
The DR-Z400 is one of the most popular bikes to convert to Supermoto. Its torquey engine is comfortable at highway speeds and has all the necessary street riding equipment, electric start, well-equipped instrument cluster, liquid-cooled, key ignition, and good lighting.
It's on the heavier end of the dirt bike range, but that is not really an issue on the road.
Suzuki has even released a Supermoto version to buy complete, the DR-Z400SM. The SM has 17-inch wheels front and rear with gold rims, 49mm Showa USD forks, and a 310mm diameter floating front disc brake.
Worth considering if you want to sidestep doing the conversion yourself.
Yamaha WR450F
The WR450F is another top choice for converting to a street-legal Supermoto.
It has all the necessary road legal gear, good lighting, liquid cooling, electric start, and a reliable 450cc engine that is capable of sitting at highway speeds.
It also features electronic fuel injection, the same 44mm Keihin system as the YZ450F. Five sensors monitor running conditions: Intake air pressure, lean angle, throttle position, water temperature, and air temperature.
It provides a smooth power delivery, crisp throttle response, and unwavering performance. A very popular Supermoto choice.
KTM 525EXC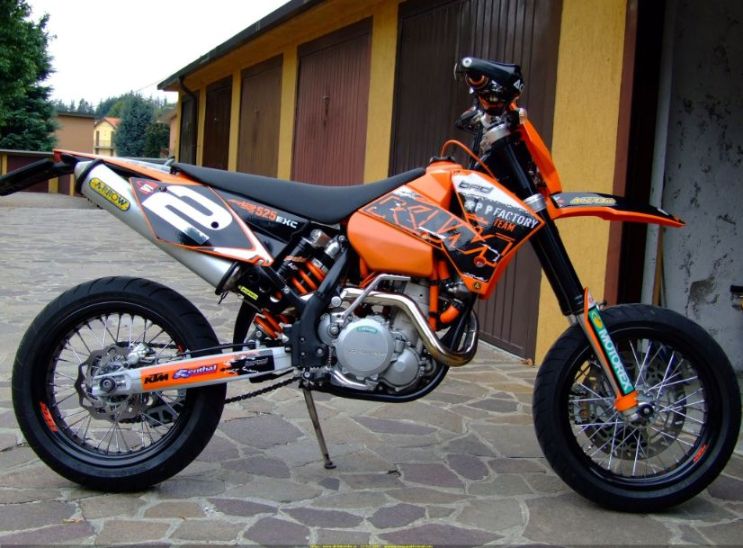 The 525EXC has long been a classic bike for Supermoto conversion. Look online and you will see many conversions have been done all over the world.
The 520 was renamed the 525 in '03 and remained almost unchanged except for cosmetic changes until 2007.
They came standard with all the quality components like taper handlebars, hydraulic clutch and brake, six-speed transmission, and all the street-legal gear for road riding.
It has both an electric start and a Kickstarter, something getting harder to find in newer bikes these days.
The PDS rear suspension is another positive because of its simplicity, as it has fewer parts to wear than the linkage suspensions.
The 525 is a powerhouse off-road and will cruise comfortably at highway speeds, so it makes a great Supermoto conversion.
Being an enduro bike, the EXC range does lack a key switch, so you will have to take steps for security while road riding. There are many Supermoto conversion kits available for this bike.
Final Thoughts
You can turn almost any dirt bike into a Supermoto. It's really a question of how much effort and money you want to put into it.
Many motocross bikes make excellent supermotos, and if you plan on racing Supermoto competitively they are a good choice.
If you just want to ride your dirt bike on the street, then converting a bike like a Dual Sport or Enduro that already has all the street-legal gear fitted will be saving you a lot of time and expense.
So no matter what bike you choose, whether you're converting the bike you have, or looking to buy one to convert, I hope this guide helps you with your conversion.
Welcome to the world of Supermoto!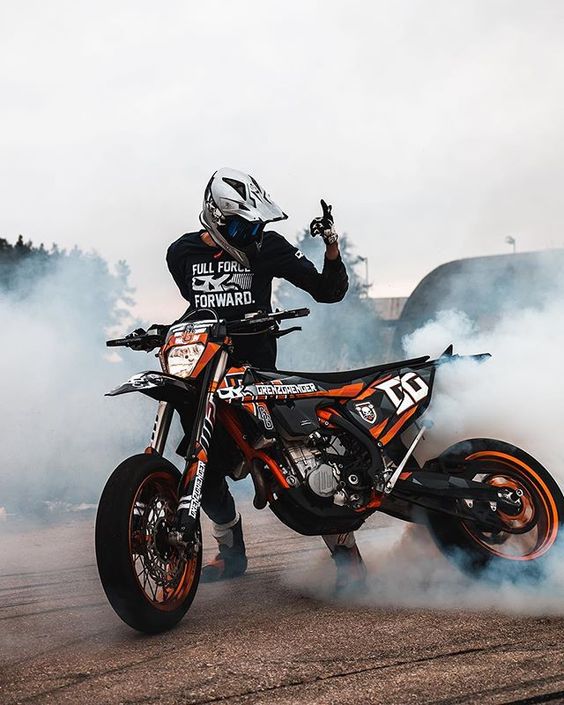 Related Posts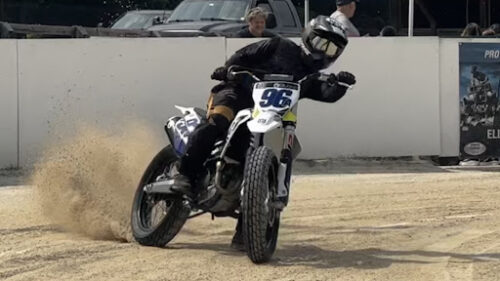 10 Best Dirt Bikes To Convert For Flat Track Racing
Dirt Bike Types – How To Choose The Right One For You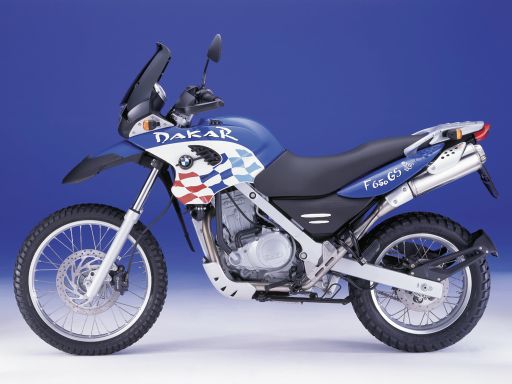 What Are The Differences Between Dual Sport & Adventure Bikes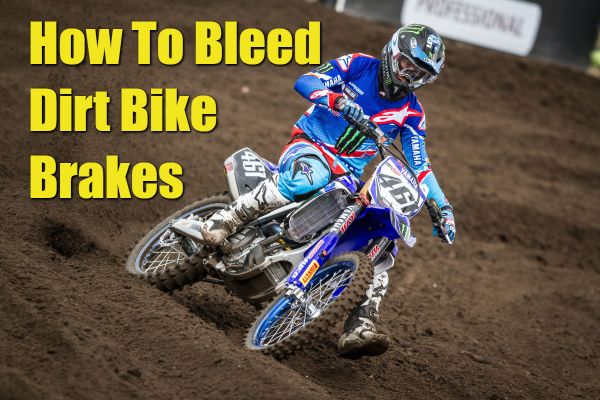 Have you done a Supermoto conversion? Is there a bike you can highly recommend for the conversion?
Please follow and like us: