When looking at the best Dual Sport helmets available to suit the type of riding you do, there are a few factors to consider.
If you've ever worn a motocross-style helmet and goggles for any distance on the road, you've realized that Moto/off-road helmets aren't designed for high-speed road use.
You'll get a neck workout if you ride for too long due to the peak (or visor), and there is the extra noise that comes through due to the large eye port and extra ventilation needed for off-road use.
Enter the Dual Sport and Adventure helmets, designed specifically for use both off and on-road.
The obvious addition to the purely off-road helmet is the face shield, something that is essential on the road but can be too hot and claustrophobic on tight lower-speed trail riding.
Traditionally a Dual Sport or Adventure helmet is not going to be as well ventilated as an MX style helmet, they are going to have a little more weight, and they are not going to be as comfortable on the street as a purely street bike helmet.
So you are giving up a little of the creature comforts on either side to achieve a compromise of a helmet you can use for both.
Quick Summary
Pushed for time? Here's a quick look at the Top 6 Best Dual Sport Helmets being reviewed here:
1. Bell MX-9 Adventure Helmet with MIPS – Top Pick
2. Arai XD4 Dual Sport Helmet – Best Of The Best
3. Fly Trekker Dual Sport Helmet – Best Bang For Buck
4. Klim Krios Karbon Adventure Helmet – Best Lightweight ADV helmet
5. LS2 Helmets Pioneer V2 Helmet
6. Scorpion EXO-AT950 Dual Sport Modular Helmet
Prices range from $150 to $740, so we have the best budget helmet through to the best of the best.
How To Choose The Best Dual Sport Helmet For You
One of the first things to ask yourself is: how much of your riding is on road, and how much off-road?
A good dual sport helmet is designed to do both, but there are features to look for when selecting a dual sport helmet that will be more suited to one than the other.
Top 3 Things To Consider:
1. Impact Protection:
Obviously, the first requirement of any motorcycle helmet is to protect your brain – you only get one. The good news is that with the latest technological advances in safety and design, you get a lot of the features of the top-of-the-line helmets filtering down to the entry-level helmets at around the $200 mark.
A good example of this is the Bell MIPS technology in the MX-9. (At No. 1 in this review)
2. Ventilation:
Something that is very important in off-road riding with slower speeds and more physical exertion. Generally the more vents the better for dual sport helmets, and closable.
Having said that, if you live in a warmer climate, and most of our riding is off-road you will probably never close them. I never have.
3. Weight:
The lighter weight helmet is something that is desirable for off-road use. For some riders this is a top priority, others not so much. The Klim Krios Karbon (at No. 4 in this review) is the lightest dual sport helmet available today.
You have to take into account though, what sacrifices in safety have been made to achieve the weight saving?
Other Desirable Features To Look For:
Padding on the inside of the chin guard
Cut-outs in the lining to accommodate a Bluetooth communication system
Vents that can be opened and closed
Large eye port for good off-road visibility and to fit goggles
Good sound insulation at highway speeds
Built-in tinted drop-down sun shield
Emergency Cheek Pad Release System
Here are what I consider the 6 Best Dual Sport Helmets, compiled from my experience of over 30 years of racing and riding dirt bikes of all types.
1. Bell MX-9 Adventure Helmet with MIPS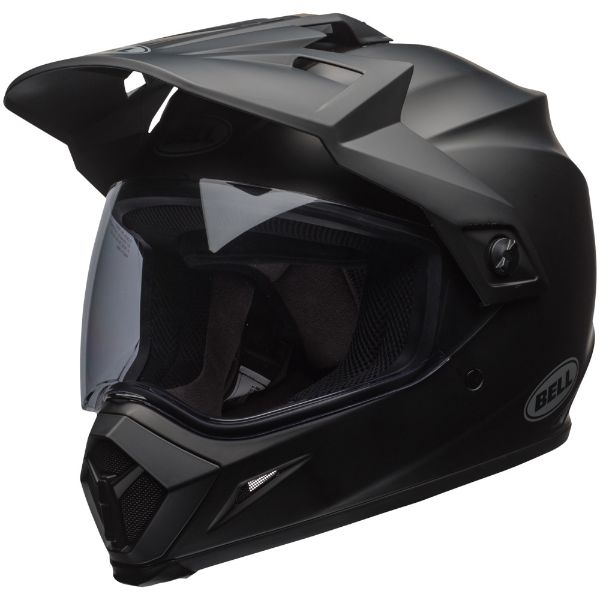 Bell has been making top quality motorcycle helmets for decades. They introduced the first full-face helmet back in 1966.
I've owned Bell helmets since the early '80s with the Bell Moto 3. (Recently re-released – refer Bell Moto 3 Helmet review for more on this classic retro).
The MX-9 Adventure is Bell's first foray into dual sport helmets and is designed for riders that spend an equal amount of time on the road as they do in the dirt. It's a 50/50 dual sport helmet that draws technology from both their street and off-road lines.
The MX-9 now comes with the revolutionary MIPS. MIPS is an innovative Multi-Directional Impact Protection System that is designed to allow small amounts of shell movement in rotational and angular impacts and reduce the sudden stopping motion of the brain within the skull.
In other words, it's basically a low-friction membrane between the helmet liner and the helmet foam that allows for a controlled amount of rotation, which helps disperse some of the energy that would otherwise be directed into your head. More about it in the video below.
MIPS is a truly revolutionary step forward in technological advances in helmets.
The newly designed MX-9 comes with other new features like the polycarbonate shell which replaces the old composite materials.
The Velocity Flow Vent system gives good ventilation, vital for off-road roading.
An EPS-lined chin bar and padded chin strap are other nice features.
Swapping the face shield is easy, just remove the two toolless visor screws and it pops right off. It can easily be done trailside if you wanted to switch to a different tint or use goggles. Bell offers 10 different shields in a wide range of colors and tints.
The face shield is thicker to compensate for the large eye port and fairly flat to avoid distortion in vision around the chin guard.  This has meant that there is a small return at the bottom of the shield to seal against the helmet. This only becomes an issue with the shield partially raised but has made the shield more rigid. There are two part-open indent positions.
The helmet comes with a clear shield. Goggles can be used without having to remove the face shield.
The visor has two positions of adjustment by removing a top screw and is in a good neutral position which allows plenty of airflow between the visor and helmet.
But like any dual sport helmet, it can create some buffeting at high speeds. It can easily be removed for street riding if you are doing a long street ride.
The channeled moisture-wicking liner is removable for washing and keeping the helmet fresh, essential and common on most helmets now.
At 1,680 grams (3.7 pounds) it is not as light as a motocross helmet, and about 40 grams heavier than the Arai XD4, but doesn't feel heavy when riding.
The new MX-9 reminds us that Bell is still a powerhouse in the industry, and proves that a quality dual sport helmet doesn't always have to come with a huge price tag.
The low $200 price range makes this entry-level helmet excellent value for money.
Sizes: XS, Small, Medium, Large, X Large, XX Large, XXX Large.

Features:
MIPS Multi-Directional Impact Protection System for dramatically improved rotational impact energy displacement
Lightweight polycarbonate shell
3 shell and EPS sizes
Integrated face shield for more comfort when road riding with 2 stop positions
Velocity-flow ventilation system for cooling and comfort
Moisture-wicking, removable/washable air channeled comfort liner
EPS-lined chin bar
Adjustable mouth vent to regulate your air-flow
Padded chin strap with D-ring closure and strap keeper
Five-year warranty
DOT and ECE certified
Weight: 1,680 grams (3.7 pounds)
Pros:
Lightweight
MIPS
Large eye port fits most goggles
Cons:
Slight distortion in vision on the lower edge of the shield
Only the chin vent is closable. All others are always open

2. Arai XD4 Dual Sport Helmet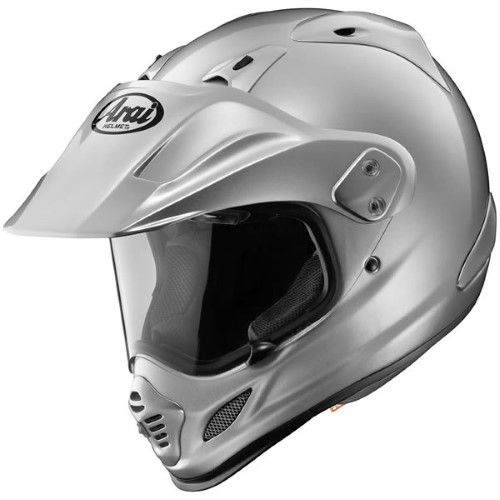 The Arai XD4 is widely regarded as the best street/dirt crossover helmet that money can buy. It's at the upper end of the price range, but you know you're getting the best in terms of features, and safety.
The new Arai XD4 is best suited to the intermediate oval head shape. The new shell shape provides better aerodynamic stability at higher speeds, an important factor for the road riding section of your adventure rides.
This can be a problem with a lot of other Dual Sport helmets while road riding. They're not so comfortable on the higher-speed road sections.
The ventilation of the XD4 is excellent. The airflow has been nearly doubled with the new top-diffuser-vent ports, the new side cowl vents, and a new chin vent that has more intake ports.
Combine this with the new brow vents at the top of the XD4 face shield and you have all the airflow you need, especially important for off-road riding at slower speeds. All vents can be opened and closed easily with gloves on.
The face shield is of good quality and props open in a couple of positions. It is relatively flat compared to a lot of helmets, which means there is less distortion of your vision.
The peak can even be adjusted up or down while you're riding. No screws to mess around with for adjusting the position. It can be removed completely with a coin inserted into the 4 screws.
The viewport is large enough to be able to wear goggles if you choose while riding off-road. A good option to have when riding at slower speeds in some tricky terrain.
A unique feature is the ability to customize the fit with the patent-pending FCS (Facial Contour Support) cheek pad design. It uses an exclusive 5mm peel-away custom-fit layer.
All the internal lining is removable and replaceable and made of a wicking material that draws sweat away from your skin.
The weight of 1642 grams means it isn't the lightest helmet available, but Arai would argue that it needs to be this weight to offer the safety levels that they demand. The helmet doesn't feel heavy because the weight is well-balanced.
There are recesses at the sides internally to fit a Bluetooth communication system if you choose.
The XD4 is now debuting the Emergency Release Cheek Pad Release System. It is the very first emergency release cheek pad design, developed to allow easier access to an injured rider.
The cheek pads slide out easily via the integrated pull-tabs built into the underside of the cheek pad. This makes helmet removal much easier for trained medical personnel.
Sizes: XS, Small, Medium, Large, X Large, XX Large.
Features:
New exhaust ports added to the top diffuser vents which nearly double the airflow while using the same (4) 10mm vent holes in the helmet shell
New shell shape for better aerodynamic stability at higher street speeds, which works with the high flow peak and new larger sculpted side cowl vents
New chin vent with more intake ports
New 5mm peel-away temple and cheek pads which add another level of customization of fit, providing a little extra width if needed
Fully removable replaceable and washable interior: Comfort head liner, cheek pads, and chinstrap covers
'Dry-Cool' technology to keep you dry and cool for greater comfort
New FCS (Facial Contour Support) cheek pad design
Now comes standard with the visor fitted with Pinlock Posts
Brow vents to the new XD4 face shield which provide airflow to the temple area of your head
Weight: 1,642 grams (3.62 pounds)
Pros:
Well vented
Quiet
Large Port to fit goggles
Emergency release cheek pads
Snell & ECE rated
Cons:
Pricey but top of the line

 Fly Trekker Dual Sport Helmet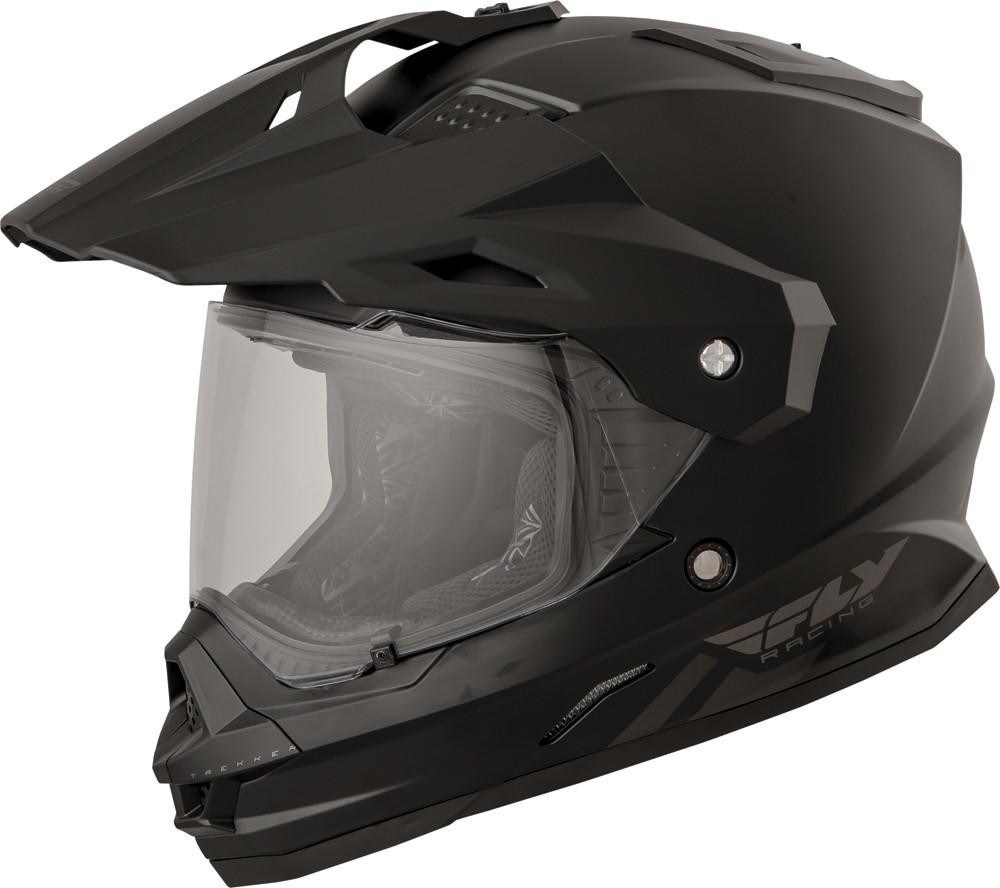 The Fly Trekker Helmet is an entry-level helmet for the Dual Sport and Adventure Touring market. Fly Racing is not a name familiar to street riders but off-road and motocross riders have been familiar with the name for years. They sponsor many top riders and events.
Fly Racing started out manufacturing motorcycle handlebars and helmets and has grown into one of the leading apparel brands for competitive racing protective gear, helmets, boots, jerseys, goggles, and much more. They also produce apparel for street, snow, water, a line of luggage, vehicle accessories, and casual wear.
The Fly Trekker is their entry into the Dual Sport and Adventure scene in the sub $200 price range.
It is a well-constructed helmet with many of the features found in many higher-priced helmets.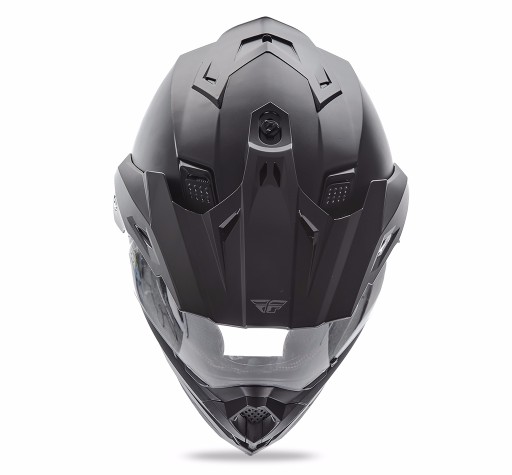 What makes this helmet special is the ability to ride with any combination of the shield, visor, and goggles. The face shield is designed to accommodate goggles and goggle straps even when in the closed position.
Shield changes are quick and easy and need no tools. The shield has a durable scratch-resistant coating and offers 100% UVA/B protection. The multi-position ratcheting means you can just open the shield a crack to prevent most fogging.
Ventilation on this helmet is exceptional with 8 intake and 8 exhaust vents. Airflow is forced through aligned vent channels in the EPS liner and exits out of multiple rear exhaust vents.
Naturally, the Trekker meets or exceeds DOT and ECE 22/05 safety standards.
Sizes: XS, Small, Medium, Large, X Large, XX Large.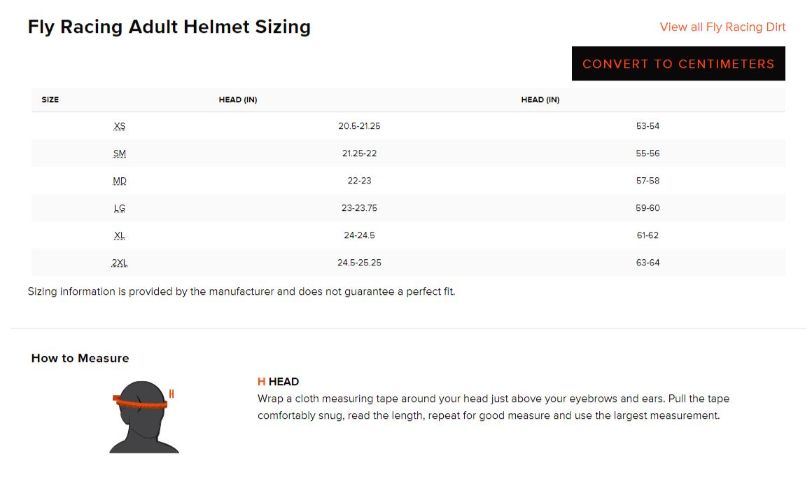 Features:
Dual Density EPS liner helps reduce the shock of impact by creating a more progressive impact absorption zone
DOT & ECE Approved Advanced Poly Alloy shell construction which combines high-strength poly materials to create an aggressive design that is durable and lightweight
The newly redesigned face shield comes equipped with a new shield lock system and features multi-position ratcheting and can be fully hidden from your line of sight in the up position. The design also allows for goggles to be worn, and you can still lower the visor, a great feature when it starts raining.
Now included for the face shield are the new side plate covers for use when the peak is removed and the face shield is kept on for that full face street look
The new 'Coolmax' inner lining is fully removable and washable, a must to keep it smelling fresh. The ear pockets are roomy. They are not lined at the shell. There is a provision to allow the fitting of a Bluetooth speaker communication system.
The multi-port ventilation system with 16 total vents: 8 intake vents and 8 exhaust vents. An essential feature for summer and winter riding.
Adjustable vents include: 1 mouthpiece, 2 brows, and 2 rear
The peak has a single screw on the top allowing about 1 inch (25mm) of adjustment.
3M Highly visible reflective stickers
Weight: 1,795 grams (3.96 pounds)
Pros:
Large eye port will fit most goggles
Excellent ventilation
Quiet on road
Good price
Cons:
Face shield curvature at chin guard can cause some distortion in vision
For a full review of the Fly Trekker: Fly Trekker Helmet Review

4. Klim Krios Karbon Adventure Helmet
The Klim Krios is the lightest dual sport helmet on the market. Its 1,500 gram (3.3 pounds) weight is achieved with the use of a full carbon fiber shell which features a wide carbon weave that has been hand laid for a perfectly consistent shell thickness and integrity.
The aerodynamics of visor-equipped helmets at high speeds is always a huge challenge. Klim has developed an aerodynamic visor with large airflow vents and spoiler attributes to help stabilize the rider's head while at speed.
You can quickly transition the Krios from street to off-road use or any four riding modes quickly and without tools. The quick-release shield and visor system requires only a simple 90-degree quarter turn to lock/unlock.
The liner is made of 'Klimatek' fabric over 'adaptive smart foam' which has anti-microbial/bacterial and moisture-wicking properties. Removing it is straightforward, but can get a little tricky getting it back in and aligned.
The ventilation is very good. The chin bar inlet gives good airflow, but it can't be closed. The forehead vent flows well and can be closed.
It's not necessary to remove the visor to use a pair of goggles, simply flip the face shield up.
A handy notch in the left side neck roll allows you to tidily wire a Bluetooth unit. The helmet is reasonably quiet for an adventure helmet. It is necessary to cut the liner foam to accommodate your speakers.
Sizes: XS, Small, Medium, Large, X Large, XX Large, XXX Large
Features:
A hand-laid full-carbon shell which features a wide weave and gives the helmet its super light weight
Aerodynamic visor and spoiler which works to stabilize the riders head when at speed
'Klimatek' Fabric liner systems which utilize adaptive smart foam technology for a comfortable fit, and anti-microbial/bacterial fast-wicking textiles to draw sweat away from your skin
Quick-release shield and visor system which requires only a simple 90-degree quarter-turn to lock/unlock
Intelligent ventilation system which ensures you keep cool in hot conditions
Airflow through the chin vent and closable top vent
Includes chin curtain
Quickly transition from street to off-road or to any of the four riding modes without needing tools
Klim Radius goggle compatible
2 shell sizes: SM-MD, LG-3XL
Pinlock-ready Polycarbonate anti-scratch face shield
Meets or exceeds ECE and DOT standards
Weight: 1,500 grams (3.31 pounds)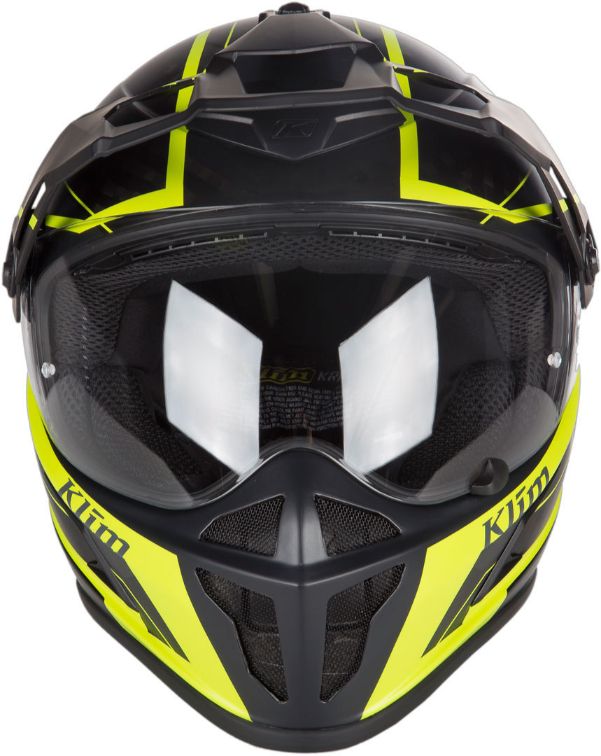 Pros:
lightest ADV helmet on the market
Pinlock no-fog equipped
Carbon fiber construction
Cons:
Very thin visor
Thin padding at top of the head area may be a pressure point for some
Chin vent always open
Currently unavailable on Amazon. View upgrade model at Klim

5. LS2 Helmets Pioneer V2 Helmet
The LS2 Pioneer is a feature-packed dual sport helmet suitable for newer riders at a budget-friendly price.
The shell is made from what LS2 calls a 'Kinetic Polymer Alloy' which is a strong, light composite material and offers a small amount of flex to absorb the shock variations. It is manufactured in 3 shell sizes so that you can be sure of a personalized fit, and is the 'Long Oval' head shape.
The interior padding is lined with a breathable hypoallergenic fabric that is removable and can be washed to keep your helmet smelling fresh.
The helmet is well ventilated with seven intake and five exhaust vents and does a good job allowing airflow, however, the top and rear vents don't close, so this is more of a warm-weather helmet. The chin vent allows a generous amount of airflow and is the only vent that can be closed.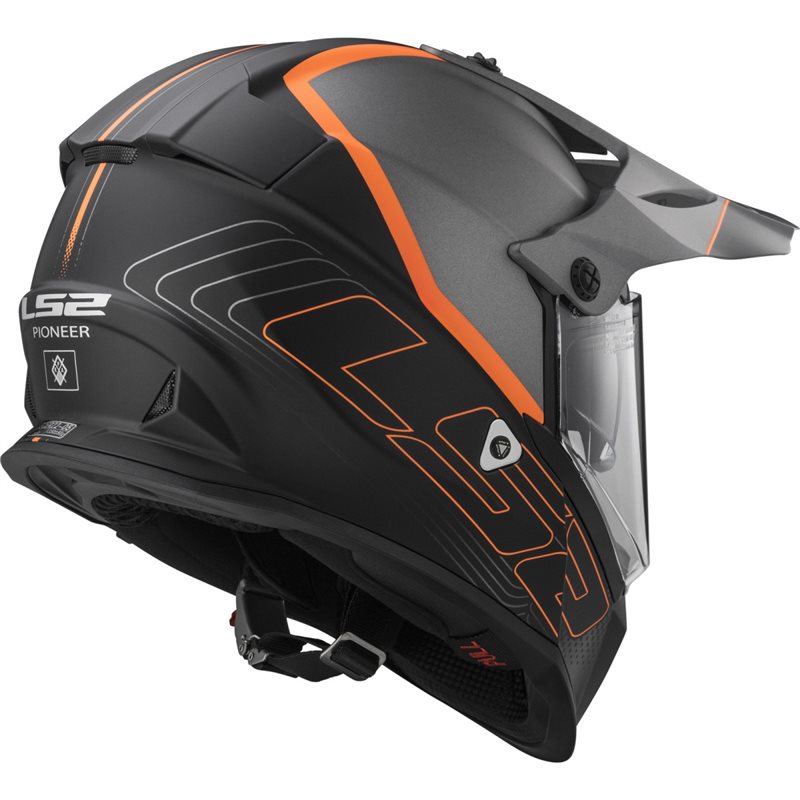 The shield is scratch and UV resistant and optically correct, which means it does not distort the vision and has the fog-resistant 'FogFighter' treatment to prevent the shield from fogging up in wet and hot conditions.
The helmet offers a twin shield system with an inner sunshade to protect your eyes from the sun. A sliding switch on the left side of the helmet operates it.
The helmet comes with a clear shield, but there are other shield color options available that can be purchased separately.
A large eye port means it will fit most major brands of goggles. It's not necessary to remove the visor to use a pair of goggles, simply flip the face shield up.
The visor is well vented and allows you to cruise at highway speeds without a neck workout, and also very securely fixed with four points of contact with the helmet.
The Pioneer comes with a quick-release chin strap with a ratcheting closure rather than a double D-ring which is convenient for easy fitting and removal, even with gloves on.
The cheek pads are cut from high-quality foam with 3D laser technology and it even comes with an emergency cheek pad release system, so that the pads can be removed before the helmet, helping prevent further neck injury after an accident.
You are certainly getting more than you are paying for with this helmet. It is a good value helmet with great graphics and a stylish design.
Sizes: XS, Small, Medium, Large, X Large, XX Large, XXX Large
Features:
Kinetic Polymer Alloy (KPA) composite shell
Multi-density EPS liner
3 shell sizes: XS-SM, MD-LG, XL-3XL for an accurate fit
Twin Shield System with inner sun shield to shade your eyes
Scratch/fog/UV-resistant face shield
Removable and washable liner and cheek pads to keep your helmet fresh
Emergency release cheek pad system
Quick-release ratcheting closure chin strap
Dynamic Flow-through Ventilation to keep you cool
Meets DOT & ECE 22.05 safety standards
Weight: 1527g (3.36 pounds)
Pros:
Emergency release cheek pads
Dropdown sun visor
Ratcheting closure for easy on/off
Cons:
Non-closing vents (except on chin bar)
Can be noisy at highway speeds
No cutouts for Bluetooth speakers. You have to cut them out of the foam

6. Scorpion EXO-AT950 Dual Sport Modular Helmet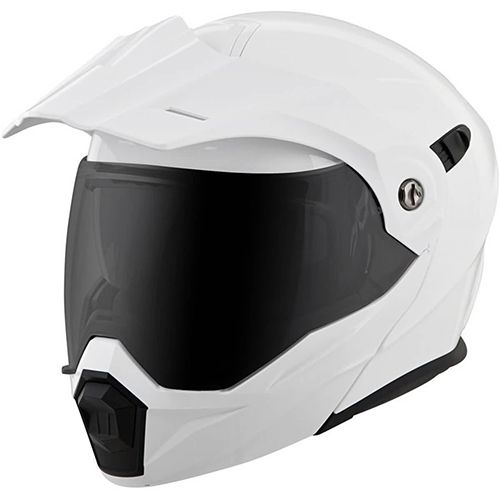 Versatility is key with the Scorpion EXO-AT950 Dual Sport Modular Helmet. The modular design allows you to completely open the chin guard giving you the benefits of an open face helmet.
This allows you to open it at a gas station or red light, take a quick drink or snack, ask directions or just let some fresh air in.
The visor and face shield can be quickly removed by simply removing one screw on each side using a coin or flat blade screwdriver. Two cover plates can be fitted to keep a clean look with the visor removed. The visor position is not adjustable.
The Polycarbonate shell comes in 3 sizes so that you can get the best fit possible, and there is a spoiler at the rear of the helmet to help reduce buffeting at speed.
The eye port is large enough to suit almost any goggles and give you good peripheral vision.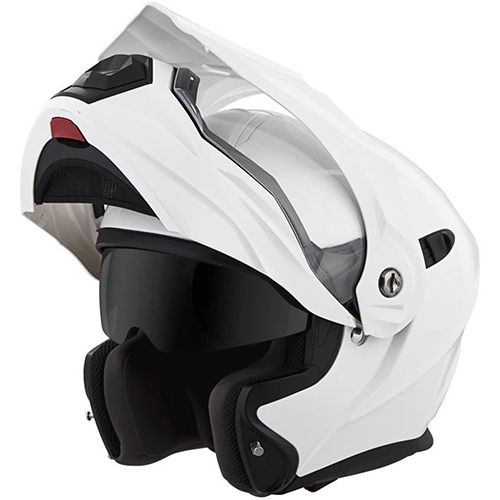 The face shield is optically correct, meaning that there is no visual distortion due to the curvature of the shield. There are 3 indent positions for partial opening, and the surface has an anti-scratch hardened coating and has 100% UV protection.
Both the face shield and drop-down sun visor have an anti-fog coating. The drop-down sun visor can be lowered with the chin guard in the up position.
The 'KwikWick II' Anti-Microbial liner is moisture-wicking to draw the sweat away from your skin, and it is removable and machine washable to keep it fresh.
Speaker cut-outs are provided in the liner for a Bluetooth communication system. No cutting is required by you.
Sizes: XS, Small, Medium, Large, X Large, XX Large, XXX Large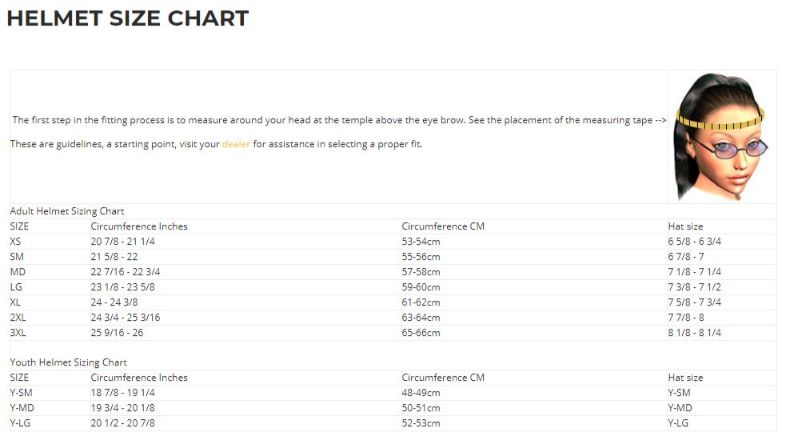 Features:
Advanced LG Polycarbonate Shell comes in 3 sizes for the best fit for you. It has been developed exclusively by Scorpion and engineered to minimize weight and disperse impact
Dual-density EPS liner helps reduce the shock of impact by creating a more progressive impact absorption zone
Aero-Tuned Ventilation System: Dual position mouth vent and a large intake port at the top of the helmet to force airflow through flow channels in EPS liner to 2 large exhaust vents at the rear of the helmet
'Everclear' No-Fog Faceshield which is optically correct with an anti-scratch hardened coating. 100% UV protection
Oversized Eyeport for greater peripheral vision and downward visibility. Can accommodate most off-road goggles
'EverClear' Speedview Drop-down SunVisor that eases eye strain in varying light conditions without having to change face shields. 'Everclear' No-Fog coating to both sides
'KwikWick II' Anti-Microbial Comfort liner which is easily removable and washable
'Kwikfit' cheek pads allow easy on and off if you wear eyeglasses
Easy-Use Flip-up Chin Bar operated with a red button at the bottom of the chin bar
Communication system Speaker Pockets
Removable Block-off plates for visor fitting
Removable Chin Curtain
DOT Approved
5 Year Warranty
Weight: 1,723 grams (3.80 pounds)
Pros:
Bluetooth speaker cut-outs incorporated
Integrated tinted drop-down shield
An optically correct face shield
Cons:
Not as vented as some other helmets
Drop-down shield actuator can be hard to operate with gloves on
Chin Curtain best removed when using a communication system

Summary
Top Pick: Bell MX-9 Adventure Helmet with MIPS
If safety is your top consideration, and you don't want to spend $400 to $500, then look no further than the Bell MX-9. With the new revolutionary MIPS technology, it's top-level safety at an entry-level price.
Best Of The Best: Arai XD4 Dual Sport Helmet
It's top-of-the-line when you simply want the best, with no compromises, and don't mind paying the price.
Best Bang For Buck: Fly Trekker Dual Sport Helmet
At under $200 and full of features you find in helmets double the price.
Best Lightweight Adventure helmet: Klim Krios Karbon Adventure Helmet
This helmet has a huge following in the Adventure riding world, especially for riders looking for a lightweight helmet as a priority.
There are heaps of reviews on Amazon about these helmets and almost all are overwhelmingly positive. Click the links to read what users are saying about them.
Related Posts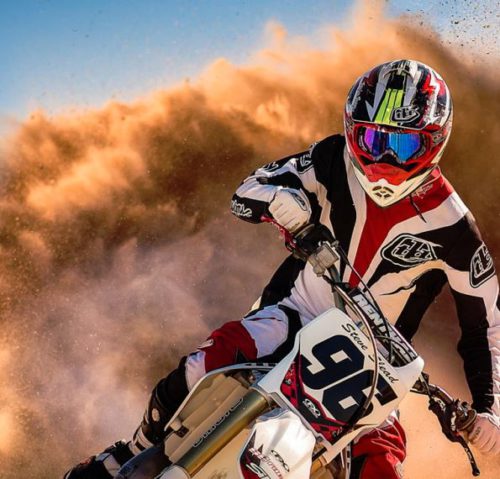 Buying A Dirt Bike Helmet – What You Need To Know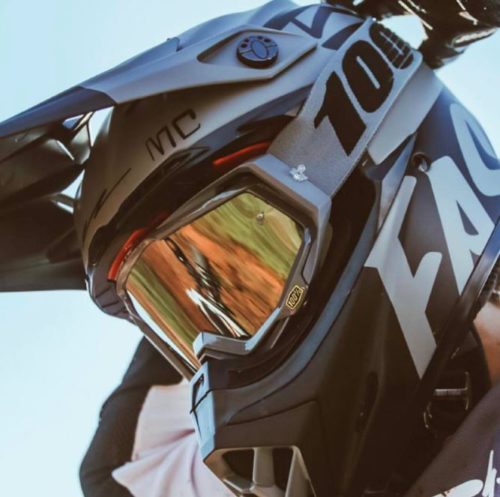 5 Best Dirt Bike Helmets 2020 – Top Of The Line
6 Best Dirt Bike Helmets (2020 Update) – Entry Level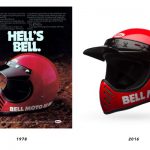 Bell Moto 3 Helmet Review – A Classic Retro
Have you used any of the helmets in this review? Are there any that should be included? Please share your thoughts below.
Please follow and like us: