Adventure motorcycle touring requires your gear to be versatile enough to handle a wide variety of environments. The best adventure motorcycle jackets are designed to handle dry and wet weather riding, hot and cold temperatures, and give you protection from the elements both on and off the road.
They should also be comfortable, armored, have plenty of pocket storage, and should easily transition between the different types of terrain.
Adventure motorcycle jackets typically come in two types: 'All-in-one' or 'Bring-your-own layers':
The 'All-in-one' jacket usually comes with a thermal inner liner that is removable and a waterproof outer shell. They are designed to handle several seasons by modulating the one jacket to handle the varying conditions throughout the year.
The 'Bring-your-own layers' option gives you an armored shell with waterproof protection and vents for warm weather, but no additional layers for dealing with the cold. The idea is that you invest in your own base or mid-layers depending on the conditions you are riding in.
The outer shell of both options is highly abrasion-resistant and impact armor is normally included.
Quick Summary
Here's a quick look at 5 of the best adventure motorcycle jackets reviewed here:
Firstgear Kathmandu Jacket – Top Pick
Klim Dakar Jacket – Best Entry Level  
Pilot Trans.Urban Jacket V2 – Best Bang for Buck
Klim Carlsbad Off-Road Motorcycle Jacket
Alpinestars Andes V2 Drystar Jacket
Prices range from $230 up to $580 so I have focused on the lower to mid-range multi-season jackets, all excellent jackets in their own right, depending on what your needs are.
How To Choose An Adventure Motorcycle Jacket
Top 5 Features To Look For :
1. Waterproofing: A waterproof jacket is a must for adventure riding, and street riding for that matter. No matter where you ride, sooner or later you're going to get wet.
2. Ventilation: Adventure and Dual Sport riders are looking for a jacket outer layer that is both breathable and waterproof. The two are almost a contradiction in terms, but both are required. Waterproof zippered vents to help increase airflow when things heat up is a must. The more the better. A removable inner liner is a bonus, although they tend to restrict the ventilation to some extent.
3. Protection: If you've ever come off your bike on the road, you know that impact and abrasion resistance are vital in an adventure riding jacket. Not so critical on the dirt – speeds are slower, and dirt is softer than tarmac but still important. A jacket with CE-certified body armor inside for protection is something to look for.
4. Versatility: An adventure riding jacket must be adjustable and customizable, depending on the environment you are encountering that day. Look for removable liners, adjustable waist, collar, wrist, and compression straps to prevent flapping in high wind.
5. Storage: A good adventure jacket should have plenty of secure pockets to stash your valuables without having to worry about losing them. You may be traveling for a few days or more, so plenty of waterproof pockets is vital. They need to be easy access, waterproof, and extra handwarmer pockets are a bonus when you're off the bike.
Here are my 5 top choices for the best adventure motorcycle jackets available today, compiled from my 30 plus years experience of Dual Sport, Enduro, and most recently Adventure riding.
1. Firstgear Katmandu Jacket
The Firstgear Kathmandu is a four-season jacket that has everything you could want in an adventure or dual sport jacket while still being at an affordable price. It has an extraordinary array of vents, is fully waterproof and breathable.
The shell is constructed from 'Hypertex' waterproof and breathable 420 Denier rip-stop nylon and 300 Denier high-density nylon.
It features a removable insulated liner with controlled venting in the chest, armpit, and back for extra warmth in colder temperatures.
Even with the inner liner removed, the outer shell is going to give you a waterproof jacket due to the 'Hypertex' waterproof lining on the inside.
In wet weather, the under helmet rain hood can be removed from the collar and worn to prevent rain from running down the back of your neck. The double storm flap over the main zipper at the front keep the driving rain out.
There are plenty of waterproof pockets, four at the front, and a massive 14″ rear dry pouch with a waterproof zipper and flap for storing your inner liner.
D30 armor at the shoulders and elbows is CE-rated and state of the art, and there is an EVA dense foam back pad.
A great feature I especially like is the 1.5-liter hydration bladder with a removable backpack which is included. Saves you from buying one if you don't already have one.
Ventilation is great on this jacket with two 8″ vertical chest intake vents with waterproof zippers, two 9″ armpit intake vents, and two 9″ vertical rear exhaust vents on the back.
There is plenty of adjustment to allow a customized fit with the bicep and forearm compression straps, stretch panel at the inner elbow, and velcro closure at the wrist so you can cinch it down really well.
The waist also has velcro adjustment, and there's even a sliding snap closure on the collar to adjust a comfortable fit around your neck.
Plenty of reflective panels make sure you are seen by other vehicles at nighttime.
The Firstgear Kathmandu Jacket has been a very popular choice for a number of years, and for very good reason. It has enough features to satisfy even the most serious rider.
Features:
EXTERIOR
'Hypertex' waterproof and breathable outer shell constructed of 420 Denier rip-stop nylon and 300 Denier high-density nylon
1.5-liter hydration bladder in a removable backpack with front left and right restraining loops for the bladder tube
Double storm flap front with snap and hook/loop closure that covers a #8 YKK Vislon two-way main zipper to keep the elements out
SAFETY
Fully adjustable D30 T5 CE Armor in the shoulders and elbows which delivers the same protection as standard CE foam armor, but is thinner and more flexible
EVA dense foam back pad included
CARGO
Large rear dry-pocket with 14″ mouth to stow insulated liner or other personal items. It is sealed with a waterproof zipper and flap with spring snaps and hook/loop closure to keep it safe from the elements
Dry pockets to keep your small items dry – four at the front with flaps, protected by #5 YKK rubberized zippers on the chest pockets, and envelope closures on the bottom pockets
VENTILATION
Maximum airflow is achieved with two 8′ vertical chest intake vents and two 9″ armpit intake vents
Two 9″ vertical rear exhaust vents
FIT/COMFORT
Adjustable waist belt with hook and loop closure
Collar closure utilizes a slider snap that allows up to 1-1/2″ adjustment for a personal fit
Integrated into the collar is an under-helmet rain hood which keeps water from running down your neck
Breathable and waterproof stretch material to the elbow and underarm for increased flexibility
Compression straps on the bicep and forearm to adjust to fit your arm
The adjustable cuff uses hook and loop closure for a custom fit
OTHER FEATURES
Removable fully insulated thermal liner with wind blocking adjustable neoprene cuffs to keep out the cold
Interior pocketing in all Firstgear jackets are in the same location, whether the liner is in or out. On the left side chest high is a mobile device pocket with a flap closure using hook and loop to secure. On the right side is a cargo pocket that is 12″ wide and 8″ tall for your larger items
Jacket-to-pant 10″ full zipper which fits easily through liner portal and attaches to overpants
Reflective taping front and back to increase your visibility at night
5-year manufacturers warranty

Pros:
Removable inner thermal liner
CE certified armor
Hydration pack included
Excellent ventilation and adjustability
Cons:
Back protector is only a dense foam and not CE certified
Firstgear Kathmandu pants are available to match your jacket. Refer to my post: 5 Best Adventure Motorcycle Pants


Features:
'Hypertex' waterproof and breathable outer shell constructed of 420 Denier rip-stop nylon and 300 Denier high-density nylon
Overpant is sized to fit over your clothes; simply buy the size you normally wear
Fully adjustable D39 T5 CE armor in the hips and knees
Back of waist yoke, crotch, inner thigh and knee back features a waterproof and breathable stretch fabric that adds flexibility and reduces binding
Chamude suede knee patches minimize tank scratches
2. Klim Dakar Jacket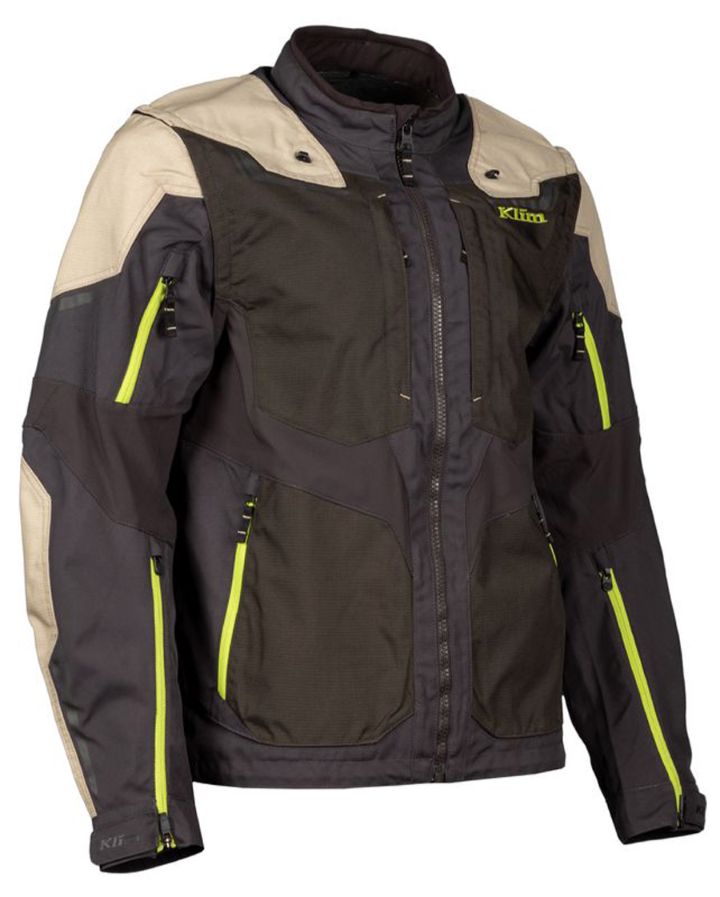 The Klim Dakar Jacket is a lightweight multi-season jacket designed for the harshest off-road conditions. It has been a popular jacket for dual sport riders and adventure riders for several years.
Klim has gone back to the drawing board and fully redesigned it for 2019.
Most of the fabrics weren't even available when the first version came out. Karbonite Micromesh stretch-woven nylon makes up large parts of the shell, which makes for excellent mobility and air permeability.
Karbonite Micromesh allows more airflow than solid woven fabrics but less than fully open mesh, which makes it great for warm weather. The Ripstop overlays for durability in hard-wearing areas are still there.
The zip-off sleeves and tail pouch storage is also there for when temperatures get up.
Ventilation has been improved in the upper and lower sleeves. When combined with the Micromesh panels you now have more options between fully closed sleeves and the sleeveless vest.
The whole jacket is significantly lighter than the previous version, which is great for off-road mobility, without compromising protection.
The armor pocket system for optional D30 armor has also been upgraded. The pockets now hold the armor in the shoulders as well, and they remain with the sleeves when you remove them.
This now gives you the option for a fully D30 armored non-Goretex jacket if you choose. However, the jacket is still designed to fit over an off-road pressure suit and the armor pockets remain low profile when not in use.
The 3M Scotchlite Reflective material has been upgraded to Scotchlite C790 Carbon Black Reflective material which offers a black low-profile appearance until illuminated. It provides reflectivity when needed, but maintains a clean look until then.
The Klim Dakar is an affordable entry-level jacket that has the versatility and quality of a lot of top-end jackets, without the top-end price tag.
Features:
EXTERIOR
Highly Durable Lightweight 600 Denier Chassis
Karbonite Micromesh Back And In Stretch Zones
Karbonite Ripstop Overlays On Shoulders/Elbows
500D 4-way stretch zones
Zip-Off Sleeves Store In Back Pocket
3M Scotchlite Reflective Material Shell/Construction
ARMOR
D30 compatible (not included)
Includes Back, Shoulder, and Elbow Pad Pockets
Shoulder armor pockets are functional even with zip-off sleeves (No shoulder armor while sleeves are removed)
CARGO
2 Chest pockets
2 Hand pockets
1 rear pocket for storing sleeves
2 Chest liner pockets
VENTILATION
2 Large adjustable wrist vents with zippers
2 Bicep vents
2 sleeve hole vents
2 back vents
Collar tab back
FIT/COMFORT
Improved athleticized overall fit and comfort
Comfort collar
Fit compatible with D30 L1/L2 armor of Klim Tactical shirt (optional)
OTHER FEATURES
3M Scotchlite C790 Carbon Black Reflective material
Bio-motion recognition
3-season off-road/dual sport ready

Note: The Klim Dakar jacket is currently unavailable on Amazon. Alternative link to Klim
Refer to the chart below or go to Klim Sizing Chart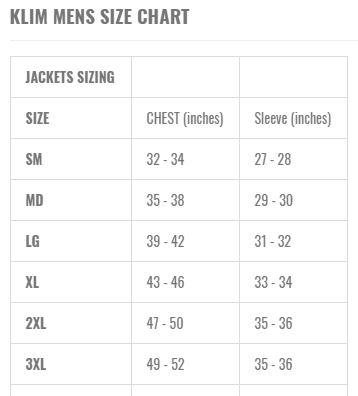 Pros:
Good price
Durable construction with zip-off sleeves
Plenty of pockets and ventilation
Cons:
Armor not included. Available as an optional extra
Klim Dakar pants are available to match your jacket. Refer to: 5 Best Adventure Motorcycle Pants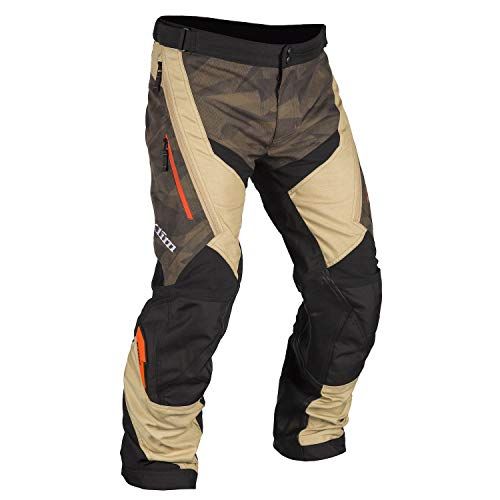 Features:
840D Cordura integrated into knees and seat
Genuine leather on inner knees add grip and protection
New breathable stretch-woven panels at the back waist, above the knees, back of legs, and in the crotch
New printed fabrics on abrasion-resistant high tenacity 600D Cordura
Karbonite Ripstop Cordura nylon on cuffs, with Velcro adjustment
Adjustable zippered thigh vents for airflow
DWR treatment for water resistance
Billowed cargo pockets on thighs
Silicone waistband to keep pants up and jersey tucked in
Side waist adjustments
D30 compatible armor pockets in the hips and knees
3M Scotchlite reflective material on the back of the leg
Moisture-wicking breathable liner with stretch zones
Vented TPU accents on the knees
Embroidered Logos
Refer to the chart below or go to Klim Sizing Chart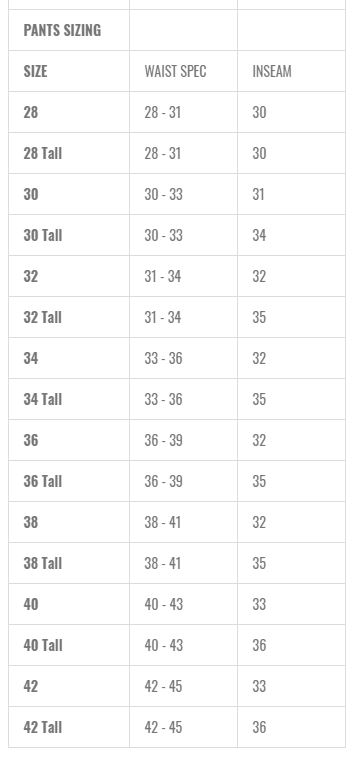 3. Pilot Trans.Urban Jacket V2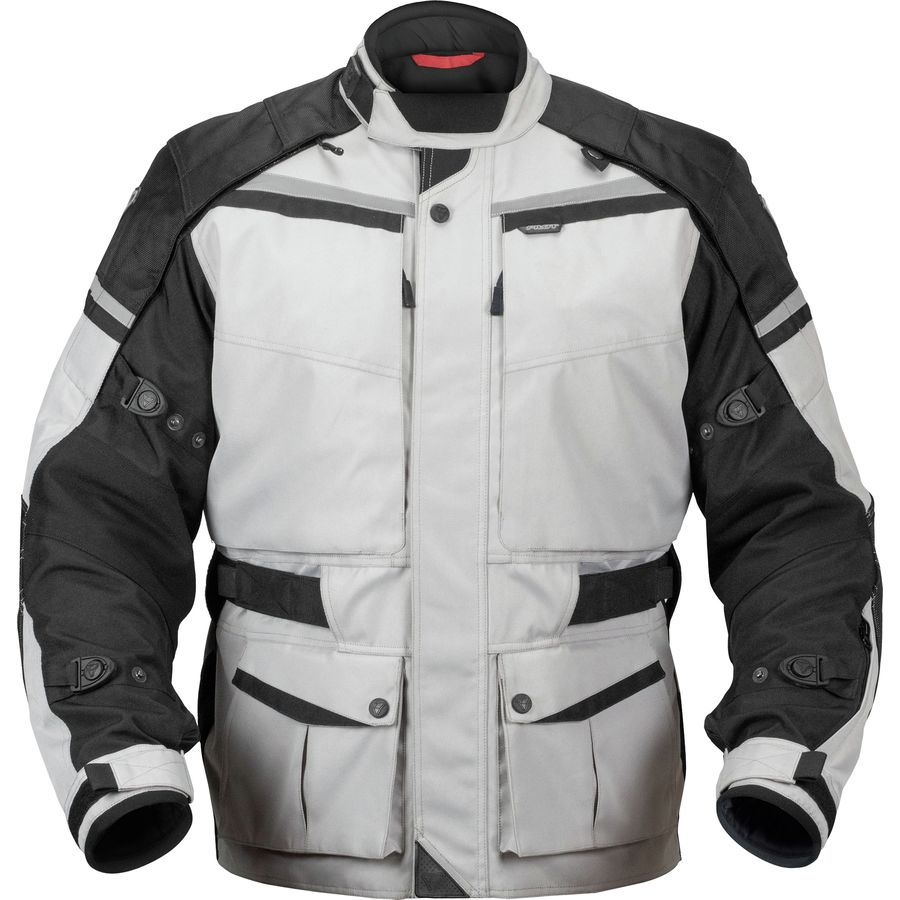 The Pilot Trans.Urban Jacket V2 is a 3/4 length waterproof multi-season jacket that features a removable Thermolite warmth liner.
Pilot is a reputable motorcycle equipment brand known for its high quality and durable designs. Pilot has taken an already excellent jacket and updated it without spoiling what was already present, added just $15 to the price of the original.
It features a level of craftsmanship and quality materials that you would be lucky to find in a jacket twice the price.
The biggest change in the Trans.Urban V2 is the addition of CE-rated Core Force Active armor in the shoulders and elbows. This armor remains flexible and forgiving when worn, but stiffens, absorbs, and disperses forces on impact.
While the back pad is not CE approved, it can be upgraded if you choose, and there's even a removable CORE chest protector that can be purchased separately if you are seeking even more protection.
The shell is made from what Pilot refers to as 'Pilotex NPF' which is a relatively thick weave of nylon/poly fabric. Most of the outer shell is made from a 600 Denier weight, with the impact areas getting an additional overlay of a 1680 Denier material for additional abrasion resistance.
This adventure Touring jacket has ample storage pockets, all of which are marked with Pilot's exclusive 'RedTab' visibility system. The 'RedTab' system is a convenience feature that makes it easy to find openings and connection points inside the jacket.
All of the snaps on the outside of the jacket are covered with a soft coating to prevent scratching the paint on your bike.
The widely adjustable sleeve cuffs have large pull tabs terminating on the top of the wrists. A nice feature is the 'at hand' pocket on the left forearm for placing small items like ID/credit cards etc.
Venting is always a challenge on a jacket that uses a waterproof mid-liner. The REISSA liner is breathable, but like most waterproof liners, it can only let so much air through. There are large vents in the sleeves that start near the neck and run down to mid-bicep. Between the shoulder blades is a large horizontal exhaust vent.
The cargo pockets provided are more than adequate, both exterior and interior. The two chest pockets have vertical access openings. Vertical zipper openings make it much easier to access the pocket than top loading pockets, which force you to put your arm in an awkward position. Side-loading pockets are easy to access by using either hand.
Pilot has duplicated the three lining-based pockets in the thermal liner so whether you are using the liner or not, the pockets are still in the same place.
Sizing seems to be more accurate than the first version and the Trans.Urban gives you a wide range of adjustments to accommodate any differences in sizes.

Features:
EXTERIOR
Constructed of Pilotex fabric including 600D NPF, 1680D ballistic NPF overlay panels at the shoulders and elbows, and two-way stretch 1000D FlexDura on the inner elbow for ease of movement with triple and double stitched seams for increased strength
Overlay panels on shoulders and elbows have no center seam for increased strength and abrasion resistance
SAFETY
Removable CE approved Core Force Active armor technology in the elbows and shoulders that flexes and conforms to your body for comfort but hardens and disperses force upon impact
Back pad can be replaced with an upgraded Pilot Core CE Level 2 micro-cellular polyurethane back pad (sold separately)
CARGO
Long vertical zippered chest map pockets with key clip
Lower snap-down envelope pockets and handwarmer pockets
'At-Hand' zippered left wrist pocket for quick access to small items like garage door opener, credit cards, ID, etc.
Lower back zippered storage pass-through pocket can store warmth liner when not in use
Internal zippered chest pocket with Velcro hook-and-loop cell phone and drop pockets on both zip-out liner and jacket shell
Cable assist loop near the collar to hold cable for MP# players, phones, etc.
Cable pass-through in the lower left pocket allows for heated clothing controls or other devices to be at hand while riding
VENTILATION
Waterproof zippered air intake and exhaust vents on the upper chest, arms, and back for total airflow
FIT/COMFORT
Waterproof, windproof, and breathable REISSA membrane allows moisture out, not in
Heavy-gauge two-way main zipper with three-layer wind/rain flap for total protection from the elements
Zip-out sleeve-length Thermolite warmth liner
Rolled neoprene collar and cuffs with microfiber lining
Hidden snap-down collar keeper allows air in while preventing collar flapping
Adjustable snap-down sleeve straps for the perfect fit, with or without a warmth liner
Adjustable Velcro hook-and-loop waist straps with elastic pulls to dial in your fit
OTHER FEATURES
RedTab visibility system allows pockets and attachment points to be easily seen in low-light conditions
3M Scotchlite stripes on chest, arms, and back for 360-degree visibility
Elastic thumb loops to keep sleeves in place when using cold-weather gloves
Rubber head Pilot snaps which will not scratch your bike
Available Pilot Core chest protector (sold separately) attaches in jacket, is easily adjustable, and secures in place
8″ double-sided attachment zipper included allows for attachment to any pair of pants
Two-year warranty
What's new for the V2 over the outgoing model?
All new CE-approved Core Force Active armor technology which is made of polyurethane foam and is soft and flexible and conforms to your body for comfort but hardens and disperses force upon impact
Newer low-sheen Pilotex 600D NPF material is used
Neck height has been lowered 1cm for a more comfortable fit
All new Pilot TRIAD logos are used on upper arms, inner woven label, and snap heads
Zipper pulls added to the main zipper, upper chest pockets, and air intakes
Neck flap uses new micro male Velcro hook-and-loop
Removed lightweight material on wind flap and replaced with stronger 600D
Larger cell phone pocket to accept new size phones on the market
TPU pulls on waist straps replaced with elastic
PPSS System – Panel to Panel/Seam to Seam sewn-in Velcro hook-and-loop for high strength

Pros:
CE approved armor
Waterproof
Lots of pocket storage
Removable Thermolite liner for cold weather
Great price
Cons:
Thermolite Warmth liner tends to reduce ventilation
The Pilot Motosport Dura Over Pants are a good match for this jacket.
Refer to: 5 Best Adventure Motorcycle Pants
4. Klim Carlsbad Off-Road Motorcycle Jacket
The Carlsbad is a new addition to Klim's ADV lineup for adventure riders looking for a lighter less bulky option.
Klim now has an ADV section for riders who spend most of their time off-road and a Touring section for riders who spend the bulk of their time riding on the road.
The Carlsbad is designed to replace the Klim Latitude as an ADV/off-road jacket, with the Latitude now being part of their Touring line for riders who spend more time riding on the road.
The Latitude has a few features geared towards street riding, whereas the Carlsbad's overall cut and feature list favor the adventure/off-road rider.
The overall cut and fit are a bit freer to allow for the extra movement required for off-road riding. The torso doesn't taper much and this jacket doesn't have side waist adjusters which makes for a simpler, lighter design.
The jacket is fitted with D30 armor in the shoulders, elbows, and back. It is fully tested and rated to CE standards.
There are plenty of pockets for storing all your gear and the four front pockets are all waterproof. The two front cargo pockets with top flap openings are easy to access with your gloves on, and the side access pockets behind are great for keeping your hands warm when off the bike.
The multi-season Carlsbad is perfect for riders looking for good protection and premium features but doesn't want the weight and bulk normally associated with those types of jackets. It fills the gap between Klim's bombproof
Badlands
jacket and the lightweight
Traverse
jacket perfectly.
While it does have a higher price tag, it represents great value with all it has to offer.
Features:
EXTERIOR
Gore-Tex Performance shell which is guaranteed to keep you dry
500D Karbonite Ripstop Fabric in the shoulders and abrasion zones
YKK zippers
Glove-friendly zipper pulls
SAFETY
D30 CE Level 1 armor to the elbows, shoulders, and back pad
CARGO
2 Front water-resistant pockets
2 Front handwarmer pockets
2 Chest pockets
2 Internal pockets
1 Emergency Info card pocket on the forearm
VENTILATION
2 Forearm vents and 2 Chest/abdomen vents
2 vertical back vents
FIT/COMFORT
Backpack compatible
Forearm quick-adjust strap
Collar hold back function
Bottom hem cinch
Jacket to pant connector
Glove-friendly zipper pulls
OTHER FEATURES
Compatible with upgrades (sold separately): Klim backpacks, Kidney belt
Headphone routing port
Black 3M Scotchlite Reflective material
Note: The Klim Carlsbad jacket is currently unavailable on Amazon. Alternative link to Klim

Refer to the chart below or go to Klim Sizing Chart
If you are planning on wearing the jacket over a pressure suit and removing the armor from the jacket, you may need to go up a size.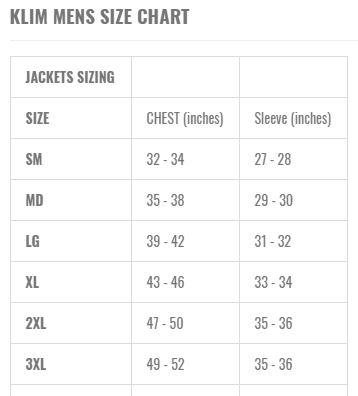 Pros:
CE rated armor
Gore-Tex shell
Plenty of pockets and ventilation
Cons:
Chest protector option would have been nice
Klim Carlsbad pants are available to match your jacket. Refer to: 5 Best Adventure Motorcycle Pants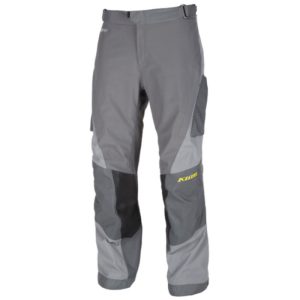 Note: The Klim Carlsbad pants are currently unavailable on Amazon. Alternative link to Klim
Features:
Guaranteed To Keep You Dry Gore-Tex performance shell
500 Denier Cordura Ripstop fabric in abrasion zones
D3O CE Level 1 hip and knee armor included
Leather inner knees with DWR (durable water repellent) treatment, overlaid on inner leg panels for wear and heat resistance
Black 3M Scotchlite industrial-grade reflective materials for increased low-light visibility
YKK zippers
Glove-friendly zipper pulls
Refer to the chart below or go to Klim Sizing Chart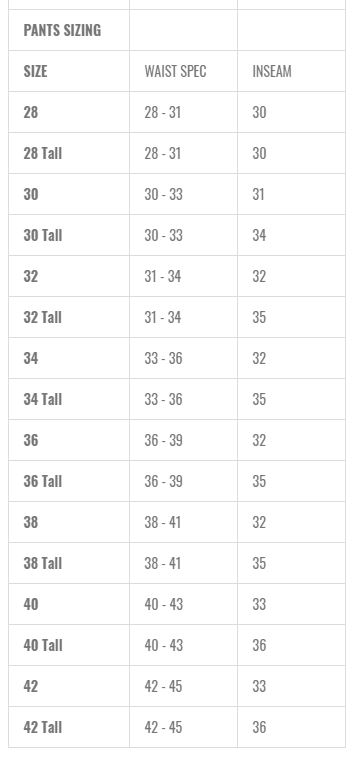 5. Alpinestars Andes V2 Drystar Jacket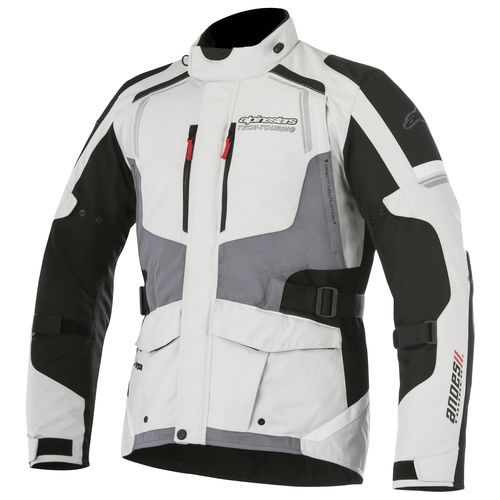 The Alpinestars Andes V2 Drystar Jacket is a two to three-season (Fall, Winter, Spring) light adventure, touring, and commuting jacket.
Alpinestars has upgraded their popular Andes Drystar jacket in 2017 with a focus on styling adding a handful of refinements to the Jacket.
It still has a non-removable waterproof liner, and a removable thermal liner inside the jacket, but on the outside the styling is new and a bit more refined and streamlined look.
There are new heavy fabric overlays on the shoulder area, a simplified collar with a soft edge, and improved chest venting that flows directly to the body past the waterproofing.
The ventilation of the jacket is improved thanks to the new Direct Ventilation System. It incorporates two wide air inlets in the chest, with heat-sealed zippers that direct airflow directly to the body. The air exits through two vertical zippered openings in the back.
Detachable shoulder and elbow armor are CE certified. It does not come with a back protector, but you can upgrade the jacket with the Nucleon back and chest protector from Alpinestars.
Comfort features include a soft neck lining to prevent chafing, adjustments to the sleeves, cuffs, and waist, and the main zipper flap at the collar even has a hook to hold it in the open position on those hot days.
Alpinestars has made a jacket that is superior in many aspects to the previous model without an increase in price. Overall it's the same reliable Andes jacket with some extra features that raise the bar even higher.
Features:
EXTERIOR
Advanced reinforced poly-fabric textile and Drystar waterproof and breathable construction
Reinforced polymer-printed texture in critical elbow and lower arm areas for abrasion resistance
Pre-contoured sleeves with accordion stretch panels on elbows
ARMOR
Internal impact protection is provided by removable CE-certified elbow and shoulder protectors
Pockets for optional chest and back protection (Nucleon chest and back protector available)
CARGO
Upper chest zippered hand pockets feature an internal cord that works in tandem with a ventilation opening to ensure personalized levels of ventilation
Front waterproof cargo pockets for convenience and peace-of-mind closure
Large external utility pocket on lower back plus waterproof internal pockets and insert wallet pocket
External zippered pockets for safe peace-of-mind storage
VENTILATION
Newly developed Direct Ventilation System (DVS) zippered chest air intakes and back exhaust ports
FIT/COMFORT
Integrated soft edge collar and 3D mesh construction for comfort over long distances
Pre-contoured sleeves with accordion stretch panels on elbows
Premium YKK zipper with double sliders for main front closure offers adaptable and secure convenience
Removable long-sleeve thermal liner (100g body/80g sleeves) ensures comfort on hot or cold days
Velcro brand waist adjustment fastener for a highly customizable fit
OTHER FEATURES
Reflective graphics details and logos improve rider visibility in varying light conditions

Pros:
CE rated armor
Plenty of pockets and ventilation
Cons:
Chest and back protectors not included
Summary
A lot is required of an adventure jacket, versatility is the key factor here.
Top Pick: Firstgear Kathmandu Jacket
This jacket has all the features you'd expect in a top-end jacket, but at a price that won't blow the budget. With CE-rated armor, removable thermal liner, plenty of pockets, good ventilation, and waterproof. Sure, it's not Gore-tex, but for a lot of riders, that's overkill. What's not to love about this jacket?
Best Entry-Level Jacket: Klim Dakar Jacket
An already great jacket is now made even better for 2019. Has the versatility of adding armor, wearing it over your armored pressure suit, or zipping off the sleeves and using it as a vest. In the mid $200 price range it is affordable, and it's a Klim.
Best Bang For Buck: Pilot Trans.Urban Jacket
At the bottom end of the price range, this jacket is loaded with features you get in a jacket twice the price. CE-rated armor, removable liner, waterproof, and from a well-known and respected brand.
The Klim Carlsbad Jacket and pants deserve a notable mention. For the rider who spends the vast majority of their time off-road in extreme weather conditions, the super-lightweight Gore-Tex Carlsbad is an excellent choice. It is about half the price of the bombproof Klim Badlands which is in the $700 plus price bracket.
Widely regarded as the best of the best, I have not included the Klim Badlands here because, for the vast majority of riders, you are paying for features that you will never use. For the full-time round-the-world adventurer, there is none better, but for most it is overkill.
If you can't justify spending $700 on an adventure riding jacket, all of the jackets above do an excellent job of providing the features you need, depending on the conditions you ride in for an affordable price.
Related Posts
5 Best Adventure Motorcycle Pants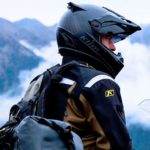 6 Best Dual Sport Helmets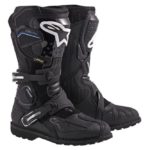 10 Best Boots For Enduro and Dual Sport Riding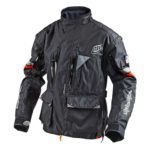 Troy Lee Designs Adventure Hydro Off-road Jacket Review
Is there an adventure motorcycle jacket you have been using that you can highly recommend? Do you own any of the jackets in this review? Please feel free to share your thoughts below.
Please follow and like us: